Sunbasket is one of the oldest and best-known meal kit services in the country. It is a boxed meal delivery virtually every American has heard of. Unlike some of its top competitors, it has been rising in popularity ever since its launch. This is not because it is the cheapest option on the market.
In fact, Sunbasket prices are just slightly above the industry average. Keeping this in mind, we wanted to find out why so many meal kit fans prefer this service over other, possibly more affordable solutions. We also wanted to know whether Sunbasket is actually worth the cash.
In this article, you can find out how much meal kits at Sunbasket cost, how they compare to conventional home cooking as well as other meal kits and takeout, and whether the service is a good fit for your household's needs and budget.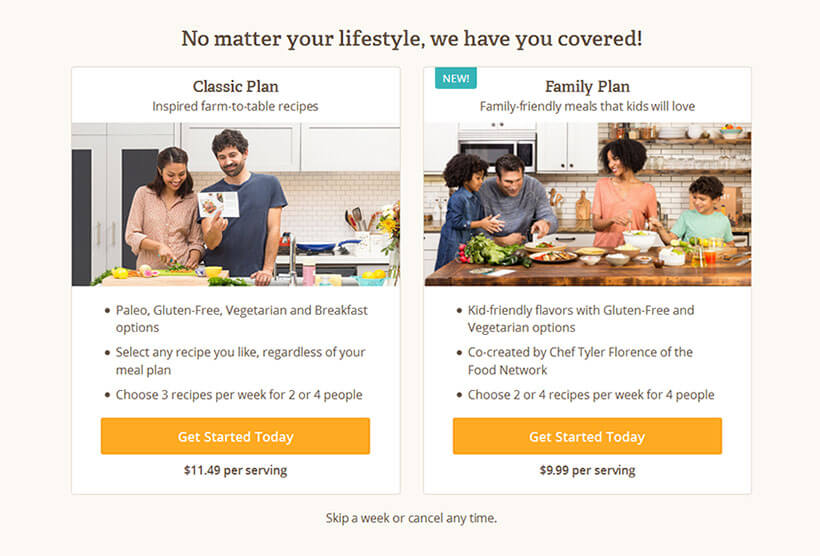 What You Get In A Sunbasket Delivery
Your weekly delivery from Sunbasket can contain 2, 3 or 4 meal kits for 2 or 4 people. Included in the box are all the ingredients you need to prepare the meals, except for pantry staples like salt and pepper. Along with the food, you get a fancy recipe booklet with detailed instructions and tips for preparing each dish.
The ingredients you get are pre-portioned, farm-fresh, and individually packed in unusually high-quality containers and sachets. The service does not claim that every single ingredient it delivers is certified organic. However, everything we got from Sunbasket so far was organic, with no exceptions. Plus, the food is often quite exotic and not available at an average store.
Therefore, you can expect to get ingredients that may be more expensive than your usual choices. The amounts are carefully calculated so there is no waste, but there is always enough food for a satisfying meal.
How Much Does Sunbasket Cost
The average price of a Sunbasket meal is $11.49 per portion. The prices range from $10.99 to $12.99 per serving. The total cost of your weekly delivery depends on the menu you order from and the number of meals you cook per week.
Sunbasket has 2 weekly menus: Classic and Family. If you order from the Classic menu, you have 11 meal plans to choose from: Carb-Conscious, Paleo, Mediterranean, Lean & Clean, Gluten-Free, Vegan, Quick & Easy, Vegetarian, Diabetes-Friendly, Pescatarian, and Chef's Choice (you can learn more about each plan in our full Sunbasket review). You can cook for 2 or 4 people and order 2-4 recipes per week. You can choose any of the 18 recipes on the weekly menu and enrich your orders with add-ons like 5-minute salads, healthy breakfasts, soups, snacks, dips, sweets, pantry items, and cooked proteins.
With the Family menu, you can opt for 1 of the 2 kid-friendly meal plans – Chef's Choice or Vegetarian. You can order 2, 3 or 4 meal kits per week, each serving 4 people. Every week, there are 6 new picky-eater-approved recipes to choose from.
Sunbasket Classic Plan Cost
If you opt for the Classic menu, the prices remain the same, no matter which of the 11 meal plans you choose. You pay less per serving if you order more recipes per week. More specifically, you pay:
$12.99 per serving if you order 2 recipes for 2 or 4 people;
$11.99 per serving if you order 3 recipes for 2 or 4 people;
$10.99 per serving if you order 4 recipes for 2 or 4 people.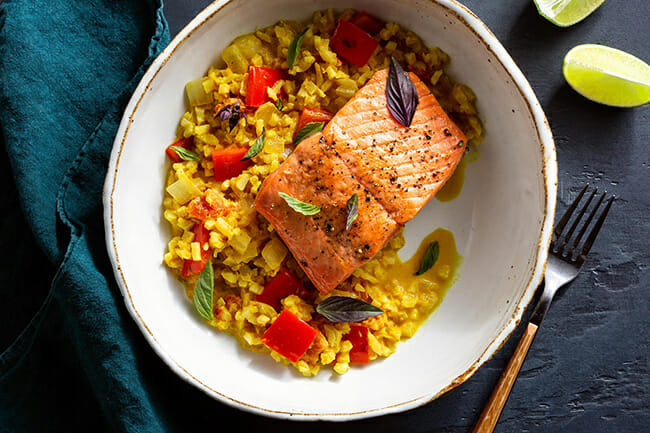 Therefore, the total cost of your delivery with the Classic plans is:
$51.96 per week for 2 recipes for 2 people;
$71.94 per week for 3 recipes for 2 people;
$87.92 per week for 4 recipes for 2 people;
$103.92 per week for 2 recipes for 4 people;
$143.88 per week for 3 recipes for 4 people;
$175.84 per week for 4 recipes for 4 people.
Keep in mind that shipping costs are not included in the prices shown above.
Sunbasket Family Plan Cost
The Family menu with its 2 meal plans is the more affordable option. Whether you opt for the Chef's Choice plan or the Vegetarian plan, you always pay $10.99 per serving, regardless of how many recipes you order per week. This means that you pay:
$87.92 per week for 2 recipes for 4 people;
$131.88 per week for 3 recipes for 4 people;
$175.84 per week for 4 recipes for 4 people.
Like with the Classic plans, shipping is not included in the prices listed.
Sunbasket Shipping Costs
Sunbasket offers free shipping on your first delivery as a welcome gift. After that, each delivery comes with a flat shipping fee of $6.99. While there are still some meal kit services that offer free shipping on all or most orders, charging $6.99 per delivery is pretty much the standard nowadays. Several of the most affordable meal kit services charge a few dollars more to compensate for the low prices of their meal kits. With these facts in mind, we can conclude that Sunbasket charges the same shipping fees as most of its competitors.
Sunbasket Coupons & Special Offers
The folks at Sunbasket are well aware that apart from offering superior-quality service, the best way to attract new customers and grow the customer base is by offering attractive discount coupons and special deals. At all times, there are at least 1 or 2 active Sunbasket coupons that you can find on our Coupon page. Quite often, you can save up to $100 on your future orders, so be sure not to miss out on these excellent deals.
Another way to save cash with Sunbasket is by participating in its referral program. At the moment, the service is offering its most generous referral bonus to date. For every successful referral, you get a $40 credit and your friend gets $40 off the first order. Your credit is automatically applied to your upcoming delivery. You can use 1 referral bonus per order.
Sunbasket Returns & Refunds
Sunbasket wants you to be happy with your deliveries 100% of the time. That is why it offers refunds in case you are not satisfied with the food you received. If something is wrong with your shipment, you can make use of its 100% money-back guarantee by contacting its staff within 7 days of delivery. Just explain what the problem is and the service will give you a full refund.
Is Sunbasket Worth It?
Having covered the key facts about Sunbasket's pricing, refund policy, and savings opportunities, we will now proceed to the most interesting part of this article. Let us find out exactly how Sunbasket stacks up against its alternatives and discover whether getting a Sunbasket subscription is a smart purchasing decision.
Sunbasket Vs. Competitors
With the exception of several pricier options, like Terra's Kitchen, PeachDish, and FreshDirect, Sunbasket charges about $1-$2 more per serving in comparison to its main competitors. In other words, you can spend $4 to $30+ less per week if you opt for one of its less expensive alternatives, such as Blue Apron. The question is whether this difference in weekly costs is somehow justified. To answer frankly, it is.
First of all, whichever meal kit service you opt for, you are highly unlikely to get ingredients that are superior in quality to the food you get from Sunbasket. This is one of the top reasons why home cooks return to Sunbasket after trying out other services. Always fresh, more than 99% organic, and frequently luxurious and hard to come by, Sunbasket ingredients are possibly the best we have tried in our many years of testing and reviewing meal kit services.
Second, the company offers more innovative and creative recipes than most other meal kit deliveries. This may be a positive or negative feature, depending on how much you like discovering new flavors. However, there is no doubt that unique recipes designed by a top San Francisco chef should cost more than recipes that can be found in virtually any cookbook for beginners.
Third, Sunbasket caters for an extraordinarily vast range of dietary needs. While many of its top competitors offer recipes that are as simple and time-saving, they still have a long way to go before they manage to cover as many special diet options as Sunbasket.
The fact that Sunbasket has an in-house nutritionist is another special quality that should not be overlooked. Having every recipe approved by a nutritionist does not come free of charge, but it does guarantee every dish is healthy, well-balanced, and well-suited for different dietary needs. This added benefit certainly comes with extra costs, but we find it to be highly valuable.
In sum, Sunbasket makes sure its meal kits are worth the money you pay and superior to various alternatives by providing:
Exceptionally high ingredient quality;
Unique and always interesting meal ideas;
Unusually vast range of options for special diets;
Recipes approved by an in-house nutritionist.
Sunbasket Vs. Takeout
Now, this is a tricky one. When it comes to the difference in prices, it all depends on your takeout choices, so it is hard to make a precise comparison in that department. What is clear is that takeout gets points for being the easier solution when you are tired and hungry and do not want to cook. On the other hand, Sunbasket is the healthier option of the two and generally allows you to enjoy a greater variety of dishes and flavors.
Sunbasket Vs. Conventional Cooking
Price-wise and quality-wise, cooking with Sunbasket is similar to conventional cooking with ingredients purchased at Whole Foods and artisan shops. However, there are a few reasons why it can be significantly more cost-effective than this alternative. With Sunbasket, you do not have to buy a whole bottle of sauce you rarely use if all you need is 1 tablespoon or an entire cauliflower head if you only need a few florets. You buy just the right amount of food the recipe requires, so no money is wasted and all the ingredients are used up.
Thanks to careful portioning, you further avoid cooking more food than you can or should eat. Virtually every home cook has prepared too much food on more than 1 occasion and unfortunately, large amounts of leftovers often end up in the trash. This has many negative consequences, including spending money on food that goes uneaten. Sunbasket lets you cook meals in healthy portions that perfectly suit the needs of an average adult, thus supporting good eating and spending habits.
Since Sunbasket brings you enough food for 2-4 meals per week, you do not have to go to the store that often. On a yearly basis, this saves you plenty of gas money. Not to mention that if you were to cook such unique exotic meals on your own, you would have to visit many stores that are not nearby and even then, you may not find all the ingredients needed, which makes Sunbasket's service even more valuable.
Of course, it is far from true that you could not spend significantly less money cooking on your own if you opted for recipes that require few ordinary ingredients. However, if you normally opt for creative recipes and less conventional foods, Sunbasket can actually be a more affordable solution once you factor in the food waste and grocery shopping expenditures associated with conventional cooking.
Sunbasket Is A Good Choice For…
While we would not recommend Sunbasket to home diners on a rather tight budget or individuals who are especially picky and rather stick to well-known classics, we can think of a number of different kinds of meal kit fans who would find Sunbasket to be more than worth it. Based on everything said so far, we believe that Sunbasket is a great fit for:
Health-conscious couples and families;
Home cooks who prefer organic food;
Families and individuals with 1 or several special dietary requirements (e.g. food allergies, diabetes, carb restrictions or veganism);
Home diners who want to discover new cuisines, recipes, and flavors;
People who enjoy cooking and want to improve their culinary skills;
Busy young professionals who need quick solutions for healthy modern cooking;
Eco-conscious people who want to reduce their food waste and carbon footprint;
Meal kit fans who appreciate variety, customizability, and flexibility;
People who want to stay fit;
Individuals who want to enjoy a more diverse and balanced diet.
To conclude, Sunbasket is more than worth it if you are careful about what you eat, love cooking, and enjoy discovering exciting foods. It is not the most affordable meal kit service in the country – but for a good reason, as it is designed for people who want to greatly improve their diet and cooking skills without sacrificing their free time. Now that is a service worth paying for.