Compare Prices
The following price comparison is designed to help you easily figure out which of our top-ranked family meal delivery services best fits your budget. We have brought all the pricing information to one place, including the shipping costs and details about the companies' delivery areas, so you can identify the perfect fit in a single glance.
Company
Avg. Meal Price
Shipping
Delivery Areas
The Good Kitchen
Avg. Meal Price
Shipping Cost
$0
Delivery Areas
Home Bistro
Avg. Meal Price
Shipping Cost
$15.95-$59.95
Delivery Areas
Veestro
Avg. Meal Price
Shipping Cost
$0
Delivery Areas
Magic Kitchen
Avg. Meal Price
Shipping Cost
$18.00-$20.00
Delivery Areas
Personal Chef To Go
Avg. Meal Price
Shipping Cost
$0
Delivery Areas
Metabolic Meals
Avg. Meal Price
Shipping Cost
$19.95
Delivery Areas
Top Chef Meals
Avg. Meal Price
Shipping Cost
$19.95
Delivery Areas
Benefits Of Meal Deliveries For Families
Family meal delivery services allow you to break the pattern and enjoy something a little different but still highly convenient, affordable, and healthy. If you are going to trust someone with your family's nutrition, it should be a highly reliable, reputable, and trustworthy meal delivery for families that will keep things fresh, both proverbially and literally.
Improved health and proper nutrition are the main upsides of top-quality meal delivery services. A reputable family meal delivery will never put anything but the best on its menu, providing your family members with all the nutrients they can possibly need on a weekly basis. You can expect only organic, locally sourced, and GMO-free produce without any artificial components that can endanger your health. The proteins will be grass-fed and pastured without any hormones and antibiotics. The origin of the food will be documented and the meals will be prepared in certified kitchens with a restaurant-grade level of hygiene. All in all, the family meal delivery services on our list will deliver only the best of the best in terms of ingredients, meals options and flavors, diet plans, professional staff, and meal-prepping protocols.
Another important benefit is the fact that family meal delivery is incredibly convenient and flexible. Ready-made meals are ideal for big families and they are an incredible time-saver. Whether you opt for these meals just one or two nights per week, when you are particularly exhausted or simply want to spend time with your family doing something else together, or you sign up for five or more meals per week, it will certainly make your life easier.
How Are Meal Deliveries For Families Different
Good meal delivery services for families offer many options not just in terms of subscription plans but also regarding the number and variety of meals, the frequency of deliveries, and more.
Meal deliveries for families offer fresh ingredients, sometimes organic, often seasonal and usually obtained from trusted, known sources. Some of them take special pride in their relationship with local farmers and take extra steps to ensure the food they are providing is not only tasty and fresh but also sourced in ethical ways.
If you are interested in non-GMO food, free of preservatives and artificial additives, with zero hormones and antibiotics, these family meal delivery services are again a good choice. They realize that people are paying more and more attention to what they are eating and especially what their children are eating.
On top of that, many of them work with experts who make sure their meals meet all the nutritional requirements and different needs of families, from special diets for people with certain medical conditions to food allergies and intolerances.
Quality meal delivery services for families will always specify every single ingredient in their meals, especially the allergens, as well as the calorie count and the nutritional value (protein, vitamins, minerals, carbs, sugar, sodium, etc.) so that you know just what you are getting.
While there are many family meal delivery services out there, not all of them provide satisfactory services, especially for families with kids. Those that feature a specific family plan or are easily customizable so that you can shape them into exactly what you need may, however, prove to be an ideal choice for you and your loved ones.
Choosing The Best Meal Delivery Service For Families
Cooking for the whole family and trying to accommodate everyone's personal taste and preferences is not easy. Meal delivery services for families are an excellent solution since they allow you to save a lot of time you would otherwise spend slaving away in the kitchen.
In order to bring you only the best family meal deliveries on the market, we explored all the relevant companies and filtered out the subpar ones by implementing a rigorous set of ranking criteria. This left us only with the top-quality meal deliveries that passed our test with flying colors. In order to shed some light on our process, we will share some of the most important ranking factors with you.
Meal options and variety are our primary ranking factors. We want to see a wide spectrum of available meals that are able to satisfy everyone's dietary needs and preferences. We give extra points for meal customization since there are definitely some ingredients you'll want to eliminate from your diet. On top of that, we pay special attention to rotating menus that offer fresh ideas and new tasty meals every week.
Nutritional value and portion sizes are also very important. We only want family meal deliveries that can meet the nutritional requirements of every family member and offer smaller portions for kids.
Finally, we are interested in the overall flexibility of the subscriptions and the company's pricing policy. You want to be able to cancel or pause your subscription if something unexpected comes up or skip your weekly delivery without penalties. Lastly, we thoroughly inspect the overall price-to-value ratio in order to get you the best deal for your money.
Best Meal Deliveries For Families
What all of our top picks have in common is that they are currently the best on the market. Now it is time to discover what makes each of these meal deliveries for families unique. Explore their distinctive features in the mini-reviews below and choose the one that best satisfies your personal needs.
1. The Good Kitchen


The Good Kitchen is a meal delivery service that provides your family with tasty and nutritious meals without any sugar, soy or gluten. All of the vendors it works with are carefully vetted to make sure their practices align with the company's core values.
The Good Kitchen offers a wide variety of delicious meals made of grass-fed, pastured, and antibiotic/hormone-free proteins and organic, non-GMO, and seasonal produce. It is suitable for families of all sizes, allowing you to order anywhere between 5 and 35 servings of meals of your choice and have them delivered weekly, biweekly or monthly.
2. Home Bistro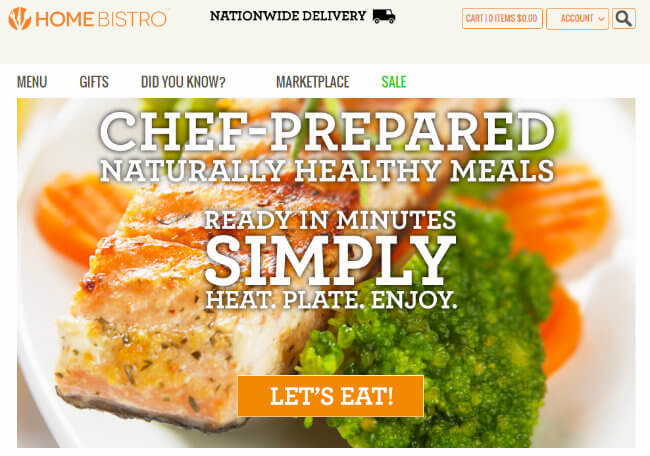 Home Bistro is a meal delivery service specializing in high-quality, delicious, chef-prepared meals ideal for the entire family. The company allows you to pick your own dishes and create a personal meal program instead of serving you with a pre-determined set of options.
Home Bistro is an ideal solution for families whether you're looking to create a gourmet meal program or just want to eat healthily and lose a couple of pounds. It sources only the most natural ingredients, so you won't have to worry about hazardous chemicals in your food.
3. Veestro


Veestro is centered around the idea that plants are the greatest food on earth and focuses on delivering high-quality vegetarian and vegan dishes right to your home. The family meal delivery handpicks all of the ingredients used in its meals and uses only the freshest components available. You can choose between 4 meal categories: meal packs, a la carte, weight loss, and juice cleanse.
The company only offers vegan-certified, preservative-free, and non-GMO meals with a decent choice of gluten- and dairy-free meals.
4. Magic Kitchen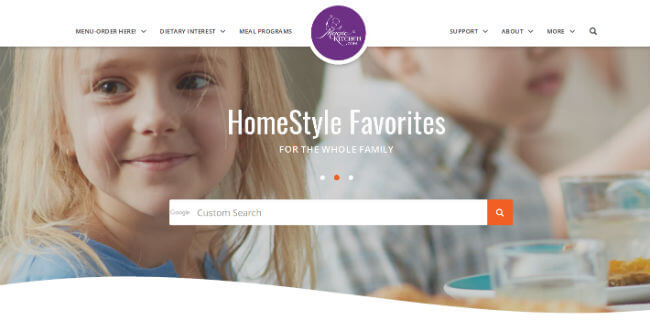 Magic Kitchen is a meal delivery providing a variety of optimally balanced, nutritious, and perfectly flavored meal packs designed for the whole family. If you're looking for an excuse to finally bring your whole family together to the kitchen and enjoy a nice dinner everyone will love, you may want to try Magic Kitchen and its great selection of family-sized meals and desserts.
5. Personal Chef To Go

Personal Chef To Go is a meal delivery service that offers restaurant-grade food ideal for your entire family. The company focuses on creating meals that are both delicious and healthy. The meals are sent fresh (never frozen) and ready-to-eat and are primarily inspired by the Mediterranean cuisine, which doesn't only taste phenomenal but is also good for your heart.
The meals are perfectly balanced in terms of nutrients and contain a wide spectrum of lean proteins, vegetables, dressings, fruit sauces, whole grains, and legumes.
6. Metabolic Meals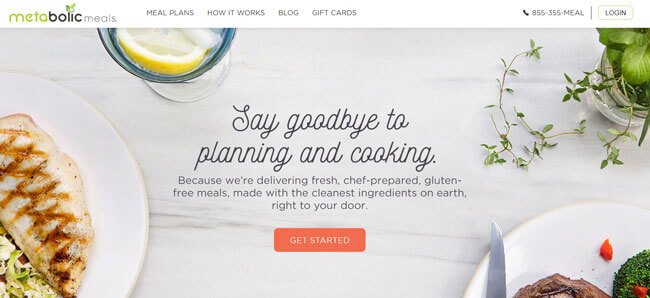 Metabolic Meals is a meal delivery service that focuses on helping you and your family lose weight and maintain your progress in the future. The company offers an impressive menu filled with chef-prepared delicacies made with the freshest and cleanest ingredients and created to simultaneously shed those pounds and boost your health. Every meal uses only organic produce and grass-fed, antibiotic-free proteins.
Additionally, you can pause or cancel your subscription whenever you choose or simply skip a delivery, no questions asked.
7. Top Chef Meals


Top Chef Meals offers a wide spectrum of tasty, healthy, and budget-friendly meals to individuals who have no time to cook for themselves and their families. The company features a multitude of delicious meals spread into different categories, such as Paleo, meals for seniors, meals for people who want to lose weight, a la carte meals, etc.
The team features more than a dozen culinary experts and prepares amazing breakfasts, lunches, dinners, desserts, and extras for your entire family. You can also pick your side dishes.