Compare Prices
The following price comparison is designed to help you easily figure out which of our top-ranked kid-friendly meal delivery services best fits your budget. We have brought all the pricing information to one place, including the shipping costs and details about the companies' delivery areas, so you can identify the perfect fit in a single glance.
Company
Avg. Meal Price
Shipping
Delivery Areas
Little Spoon
Avg. Meal Price
Shipping Cost
$0
Delivery Areas
The Good Kitchen
Avg. Meal Price
Shipping Cost
$0
Delivery Areas
Yumble
Avg. Meal Price
Shipping Cost
$0
Delivery Areas
Nurture Life
Avg. Meal Price
Shipping Cost
$6.00
Delivery Areas
Top Chef Meals
Avg. Meal Price
Shipping Cost
$19.95
Delivery Areas
Best Kid-Friendly Meal Delivery Companies
What all of our top picks have in common is that they are currently the best kid-friendly options on the market. Now it is time to discover what makes each of these meal delivery companies unique. Explore their distinctive features in the mini-reviews below and choose the one that best satisfies your little ones' personal needs.
1. Little Spoon

Little Spoon is an organic meal delivery for kids that offers incredibly healthy baby blends made of fresh, nutrient-packed, organic ingredients. Its menu includes blends recommended from 4, 6, 8, and 12 months and you can order 1, 2 or 3 blends per day. Created by pediatricians and dietitians, all Little Spoon blends are designed to perfectly suit the dietary needs of kids at different stages of development. The blends are free from artificial products, preservatives, and additives.
2. The Good Kitchen

The Good Kitchen is a healthy meal delivery that offers excellent meal plans particularly designed for children. Its goal is to re-invent the lunchbox and help you save time while choosing only the best for your children. All of the company's meals for kids are free from antibiotics and added hormones and sugars and made of organic, non-GMO ingredients only. Choose one of the 3 pre-defined kids meal plans or create a custom plan with 7-35 meals per week.
3. Yumble

Yumble is a kid-friendly meal delivery service that takes the freshest, seasonal, mostly organic ingredients and turns them into fun and healthy meals for children aged 1 to 12. Its menu features 18 lunches and dinners and 4 healthy snacks that can serve as breakfasts as well. Special diet options include vegetarian, egg-free, gluten-free, and dairy-free meals and the dishes are usually free from nuts. Order 6, 12 or 24 meals per week.
4. Nurture Life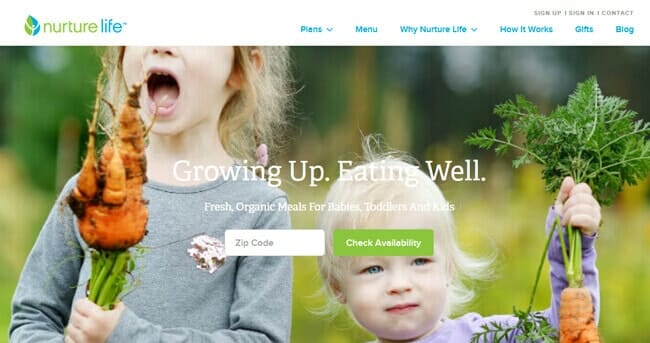 Nurture Life is a kids meal delivery that exclusively offers kid-friendly meals designed by an experienced chef and pediatric dietitian. It has 7 different menus for babies, toddlers, and kids. There are 3 menus for babies aged 6+, 8+, and 10+ months, each featuring 10 dishes, one 16-item menu for toddlers, and 3 menus for children aged 4-8, 9-13, and 14+, each including 16 yummy meals. The meals are fresh and organic and include vegetarian, vegan, gluten-free, soy-free, egg-free, and dairy-free dishes.
5. Top Chef Meals


Top Chef Meals is an affordable healthy meal delivery with an impressive selection of wholesome, ready-made meals and a special menu designed for kids. Encouraging children to make healthy food choices, Top Chef Meals designs wonderfully nutritious meals that are colorful and fun to eat. All items on the menu for kids are complete meals that include an entrée, a side dish, and a smoothie. The prices are surprisingly good and shipping is free if you order 21 meals.