Benefits Of Gluten-Free Meal Kit Delivery
Going gluten-free is a must for individuals with celiac disease. However, it can bring amazing health benefits to everyone who is even remotely sensitive to gluten. From better digestion to osteoporosis and infertility prevention, a gluten-free diet can have a host of positive effects on your body. Still, cooking sans gluten comes with a unique set of challenges.
Groceries that do not contain gluten are pricier by default. Furthermore, they are not always easy to find and identify. While many stores nowadays have gluten-free sections, the selection of products in these sections can be rather limited. It is also true that there are still numerous stores that do not categorize their products by gluten content, which means that shoppers need to read each product's label carefully before purchase. This makes grocery shopping rather time-consuming and multiple trips to different stores may be required to get all the necessary gluten-free alternatives.
Most people believe that steering clear of gluten simply means avoiding foods such as regular pizza, bread or beer. However, the list of forbidden items is much longer than expected. Gluten is hiding in many surprising sources, such as deli meat, chewing gum, salad dressings, mustard, veggie substitutes for meat, and even certain toothpastes and skin care products. With so many potentially unsafe options, cooking without gluten may seem incredibly difficult if not impossible.
Fortunately, meal kit services are becoming increasingly aware of this problem. In the recent years, a large number of meal kit deliveries have started offering no-gluten ingredients and recipes in an effort to provide easy cooking solutions for people with gluten-free lifestyles. What is more, some of them have surprisingly rich gluten-free offerings that allow their patrons to enjoy highly diverse diets instead of limiting their menus to just a couple of safe dishes.
With gluten-free meal kit delivery services, cooking can finally become a pleasure. You can explore new recipes and constantly discover delicious new gluten-free alternatives to traditional foods. You can have your ingredients handpicked for you and always be sure that your meals contain nothing that could jeopardize your health. You can prepare your meals in less time, with less effort, and forget you ever struggled with finding the right meals to cook and the right ingredients to use. Finally, you can enjoy cooking and eating the same way you would if you had no dietary restrictions whatsoever, which is invaluable in itself.
What Makes The Best Gluten-Free Meal Kit Delivery Services Different
The companies featured on our list of the best gluten-free meal kit delivery services work hard to ensure absolute customer satisfaction during every step of the process. They make ordering easy, offer a variety of quick, simple, and tasty gluten-free recipes, deliver healthy, nutrient-packed ingredients, and provide good value for money.
User-Friendly Menus
The best gluten-free services have menus that are cleverly designed to make gluten-free items readily visible. These dishes are adequately labeled, neatly categorized or available within specialized meal plans and therefore always easy to spot. You do not have to read through all nutrition labels to find out whether the dish you like suits your dietary needs. You can skip straight to picking and choosing and place your order quickly and easily.
Great Variety
Unlike many other meal kit services, these companies have made gluten-free options a standard part of their offer. They do not just feature a couple of gluten-free items every now and then but instead continuously work on expanding the range of no-gluten recipes on offer. They may even provide dedicated gluten-free menus that contain a multitude of meal ideas for different preferences.
Simply put, they allow you to enrich your gluten-free cookbook and enjoy greater variety than you would if you were planning your meals on your own. They help open up your culinary horizons and show that even though you are cooking without gluten, there is still an infinite range of delicious options to try out and look forward to.
High Ingredient Quality
People with gluten-free lifestyles need to choose carefully when shopping for groceries, since many gluten-free products contain unhealthy substitutes or additives. The best gluten-free meal kit delivery services apply the same cautious selection method when sourcing their ingredients.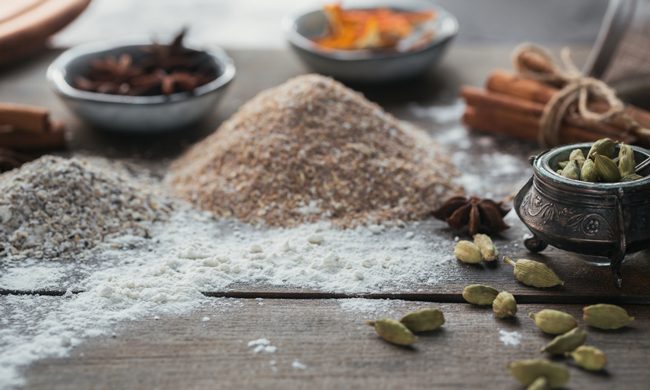 Instead of settling for just any food that does not contain gluten, they seek products that are much healthier than gluten-containing options. They avoid foods that are processed beyond recognition and stick to natural options free from unnecessary artificial substances. They source fresh, often organic produce, provide amazing gluten-free pastas, make their own no-gluten sauces from scratch, and invest extra effort into making sure the meals you cook are good for your body. Their ingredients are of high quality and you can taste it in every bite.
Good Prices
Although the best meal kit delivery services provide superior-quality meal kits, they do not charge 30 bucks per portion. Since their goal is to make gluten-free options more readily available, they keep their prices reasonable so virtually anyone can afford to use their services. They know that it is better for their bottom line to sell more instead of charging more. As a result, they provide meal kits that may even allow you to spend less in comparison to shopping for quality gluten-free groceries yourself.
Choosing The Right Gluten-Free Meal Kit Delivery For You
If you are wondering how to recognize a good gluten-free meal kit delivery, we are here to help. We have been reviewing meal kits for quite some time. After testing numerous services, not all of which were as good as we hoped, we have come to realize that there are certain features that every meal kit delivery should possess in order to satisfy the needs of a specific customer profile.
Keep reading to discover which factors we focus on when making our selection and what you should seek when choosing the right gluten-free meal kit delivery for your needs.
Meal Options
With the best gluten-free meal kit delivery services, you always have numerous options at your disposal. You can cook gluten-free dinners that focus on meat, seafood or veg. You can pick items that are not just free from gluten but do not contain other common allergens either. You can opt for low-fat or low-calorie dishes or indulge in a rich gourmet delight.
These services often allow you to get more than just dinner kits. They provide various extras that can keep you nourished throughout the day. These may include tasty breakfasts, speedy lunch salads, delicious dips, comforting broths, and a variety of other gluten-free items that can enrich your menu, improve your health, and satisfy your appetite.
Variety
Many services that offer gluten-free dishes have rich menus. However, not all of them feature no-gluten items regularly.  Even when they do, they may offer just 1 or 2 options.
Our top picks never fail to include gluten-free options in their menus. They provide scrumptious dishes from various cuisines and strive to satisfy different tastes. They try to accommodate different cooking styles and generally allow their gluten-sensitive patrons to enjoy amazing variety. In a word, they make sure you never look at their menus and discover that there is nothing that would suit your taste and needs.
Nutritional Value
Enjoying a well-balanced diet is always important, regardless of potential dietary restrictions. When creating our list of the best gluten-free meal kit delivery services, we spend a lot of time determining whether the meals you can make with these services are as nutritious as they should be. We examine the kinds of gluten-free alternatives these companies use and determine whether their meals contain sufficient quantities of micro- and macro-nutrients.
We make sure you do not just get meals that have been modified to exclude gluten-containing ingredients, like chicken fettuccine Alfredo but without the fettuccine. We look for services that craft innovative dishes that make good use of gluten-free substitutes and allow for a complete and balanced nutrition.
Portion Size
Gluten-containing ingredients are often used to make meals more filling. However, that does not mean that a gluten-free meal cannot be satisfying. With the best gluten-free meal kit delivery services, you can cook meals that are tasty, healthy, and perfectly portioned.
Having in mind their patron's dietary needs and appetites, these services offer portions that guarantee you never leave the table hungry. However, they do not go to the other extreme either. They provide just enough food to keep you happy and healthy without the risk of overeating.
Flexibility
Meal kit subscriptions are convenient, as long as they do not interfere with your plans. The best gluten-free meal kit delivery services are the ones that provide flexible subscriptions that can be easily modified to suit your changing needs.
Whether you are going away on a holiday, have too much food in your fridge that you do not want to go to waste or you simply want to try out something different, these companies can work around you schedule. They allow you to change your orders, skip deliveries, and pause or cancel your subscription in mere minutes. They do not force you to stick to your subscription even when it does not work for you. Instead, they provide excellent service whenever you need it and respect your wishes when you have other plans.
Pricing
While we primarily focus on quality and do not recommend gluten-free meal kits just because they are cheap, price is an important criterion in our selection process. To make sure our list of the best gluten-free meal kit delivery services is truly useful to our readers, we never feature services that do not suit most budgets. We look for pricing that is fair and corresponds to the quality of meal kits on offer.
Furthermore, we give preference to companies that offer satisfaction guarantees and nice discounts for first-time customers. Our goal is to recommend meal kits that you can try out without overstepping your budget and ensure that you get your money back in case you are not completely satisfied with the service.
Best Gluten-Free Meal Kit Delivery Companies
If you are ready to pick your new favorite gluten-free meal kit delivery, here are some details that can help you make your final choice. We will now highlight the main reasons why we believe that our top picks are the best gluten-free meal kit delivery companies in America. Discover what makes them different and better than the others and select the one that best suits your cooking and dining preferences.
1. Green Chef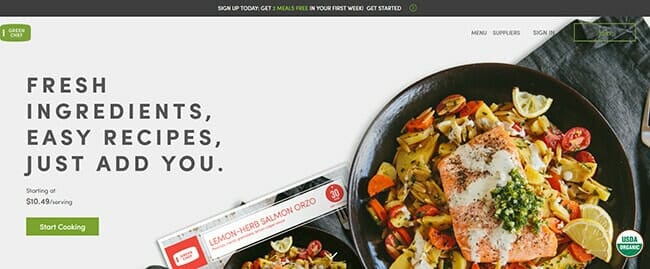 With Green Chef, you have not 1 but 2 certified gluten-free meal plans at your disposal. Whether you want to try out keto or Paleo recipes, Green Chef has got your back. Its dedicated gluten-free menus include 6-7 meal ideas per week and you can choose any 3 that suit your taste.
The company's meal kits are not only convenient and speedy but they also contain nothing but certified organic ingredients. Amazing taste and easy prep are guaranteed with Green Chef's signature spices, sauces, and dressings.
2. Sun Basket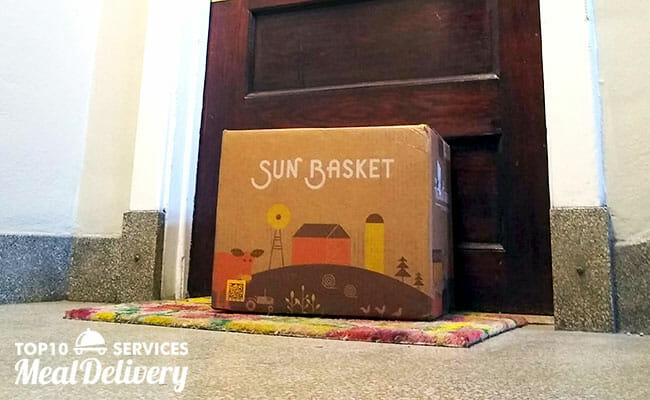 Sun Basket is a gluten-free meal kit delivery that focuses on organic ingredients and healthy, nutritionist-approved recipes. It offers a variety of meal plans for special diets, including a gluten-free plan suitable for 2 or 4 people. Choose 3 out of 8 or more creative gluten-free recipes per week and cook your meals in just about half an hour.
If you are craving some tasty extras, you can opt for gluten-free 5-minute salads, veggie snacks, sauces, soups and broths. All deliveries come with a satisfaction guarantee.
3. Marley Spoon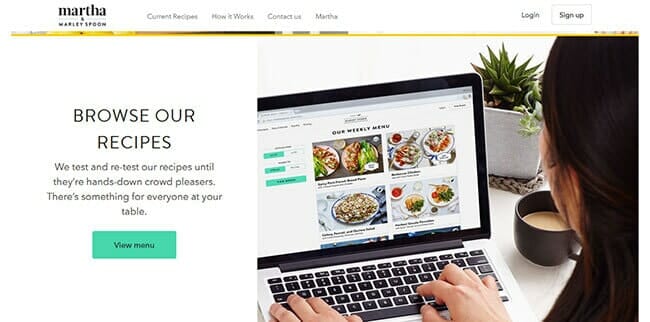 If you have ever dreamed about cooking like Martha Stewart, Marley Spoon can help turn your culinary dreams into reality. It sources its recipes directly from Martha's cookbook and gets its ingredients straight from the farm.
Out of nearly 2 dozen meal ideas on its weekly menu, at least several are gluten-free. You can cook for a family of 2, 3 or 4 and make scrumptious meals that are free from gluten ingredients and perfectly suit your taste and appetite.
4. Home Chef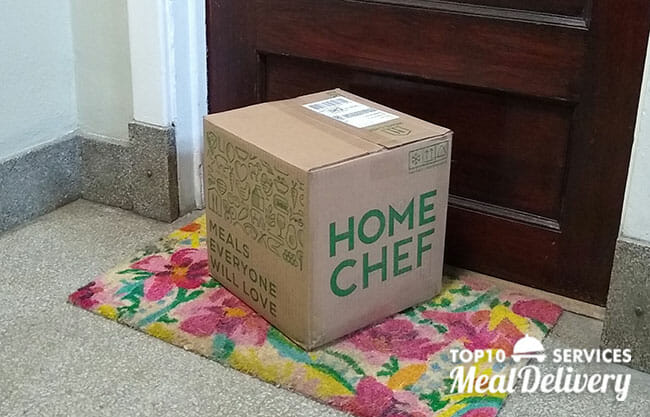 Home Chef is an ideal choice for home cooks who want to cook gluten-free but do not have much culinary experience. Its recipes are quick and easy and normally take between 5 and 35 minutes to make. Its selection of gluten-free recipes is not limited to dinners and includes no-cooking lunches as well as delicious smoothies.
Every week, you can choose from 6+ no-gluten recipes and cook 2, 3, 4, 5 or 6 times a week for 2, 4 or 6 people. As a new customer, you get to state your dietary preferences and receive recipe recommendations that perfectly suit your needs.
5. Hungryroot
With Hungryroot, you can completely avoid gluten in a single click and enjoy easy cooking with ready-to-heat and ready-to-cook meals and meal components. You can choose between the Small, Medium, and Large meal plans suitable for singles, couples, and families and adjust your taste preferences to exclude gluten and anything else you dislike. The meals never take more than 15 minutes to make, they are quite affordable, and they always come with free shipping.
6. What A Crock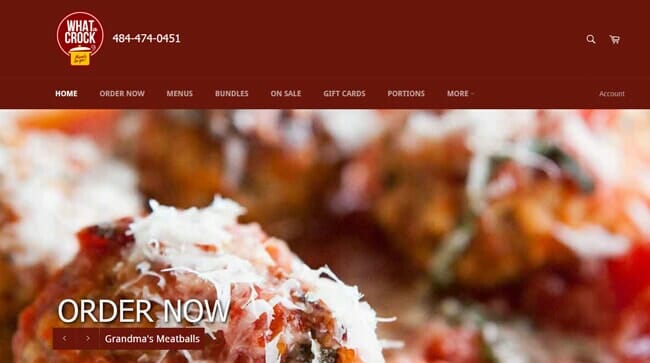 What A Crock brings you crock-pot-ready meals, desserts, and extras that can feed anywhere between 1 and 6 people. Its gluten-free selection includes about 15 delicious recipes designed with a variety of tastes and preferences in mind. Its ingredients are all-natural, pre-chopped, and expertly browned by its culinary team.
With What A Crock, your only job is to choose your meals, wait for them to arrive, and slow-cook them with no prep and minimum cleanup. You can order with or without a subscription and opt for home delivery or local pickup.
7. Purple Carrot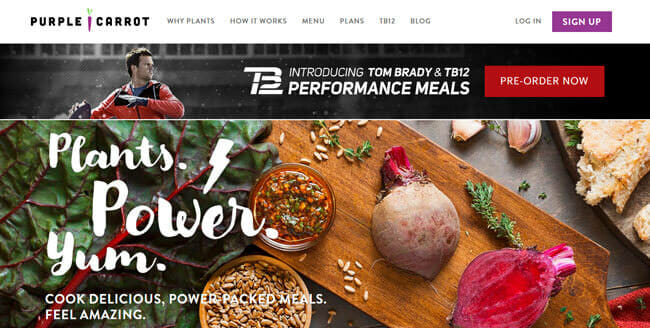 Purple Carrot is a popular vegan meal kit delivery that offers 100% gluten-free meal kits for individuals with healthy and active lifestyles. It focuses on quick and easy dinners that can take less than half an hour to make.
In addition to dinner recipes, the service provides healthy gluten-free extras, including 4-serving breakfasts and 2-serving lunches that you can prepare in no more than 5 minutes. Shipping is included in the price, so there are not extra costs.
8. HelloFresh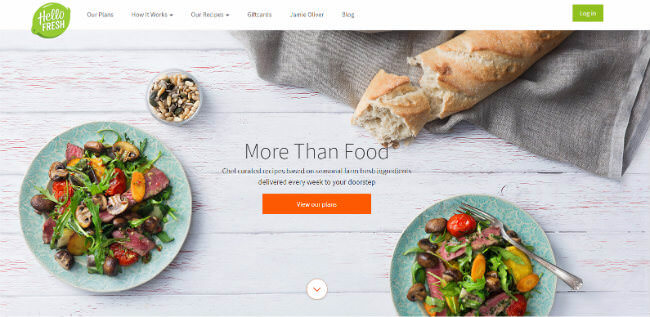 HelloFresh is a meal kit service that provides only the freshest, natural ingredients and recipes that anyone can follow. Its gluten-free meal ideas are suitable for couples and families and include vegetarian and omnivore dishes from the most famous world cuisines.
You can choose to cook 2, 3 or 4 dinners per week and opt for calorie-smart, gourmet, one-pot, and a variety of other exciting dishes. Improve your home dining experience with fine wines from the HelloFresh wine club.
9. FreshDirect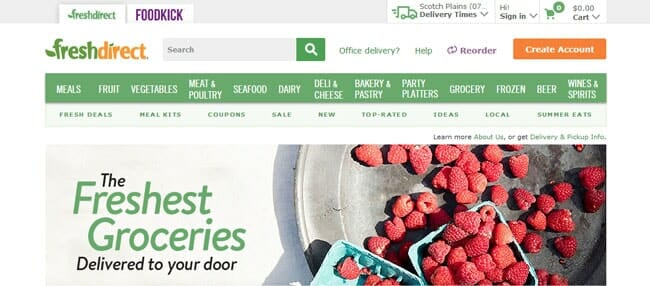 FreshDirect is an online store with more than 3,000 food items, dozens upon dozens of which do not contain gluten. The company's gluten-free meal kits are quick, simple, and filled with organic and all-natural goodness. Each kit yields 2 servings and there are plenty of meaty and meat-free options at your disposal.
In addition to the kits, you can order pre-made gluten-free meals, sides, and salads, as well as beverages and groceries. You can shop whenever you want and the fresh items you purchase can last for up to 7 days in your fridge.