Compare Fees
Company Name
Average Delivery Fee
Additional Fees
Grubhub
$0 – $10
Yes
Uber Eats
$0.99 – $8
Yes
Seamless
$0 – $8
Yes
DoorDash
$4
Yes
Postmates
$0.99 – $9.99
Yes
Delivery.com
$0 – $10
No
goPuff
$1.95
No
BeyondMenu
$0 – $10
No
How Food Delivery Apps Work
From the customer's point of view, the concept of food delivery apps is simple. These online and mobile platforms bring all the popular restaurants in a certain area to one place. They allow their users to explore delivery and takeout options in their city, go through digital menus, and order and pay in a click or tap. They eliminate the need for paper menus and streamline the ordering process.
However, many users are still puzzled about the way these apps operate. To help you get a better understanding of their inner workings, we will now draw a quick sketch showing how food delivery apps actually work.
Key Features Of Food Delivery Apps
Nowadays, most food delivery services have their own iOS and Android apps but allow you to order via their websites as well. Whether you are using the mobile or online version, you get to:
Register in a minute by filling out a signup form requiring basic information like your name, email address, and phone number;
View all the restaurants available in your city;
Get crucial information like the estimated delivery time, delivery minimum, distance, and delivery fee;
Sort and filter eateries by important factors like affordability, cuisine, and rating;
Search for specific foods and restaurants;
Browse digital menus;
Add items to your bag in a click or tap;
Check out in seconds using your preferred payment method (e.g. credit card, PayPal or cash);
Get information on the estimated time of arrival;
Get notified when your order arrives.
Certain food delivery apps offer extra features and perks that make them more convenient and appealing. These may include:
Scheduling an order up to a week in advance;
Tracking your order in real-time;
Instant reordering;
Savings opportunities like rewards programs and exclusive promos.
Such additional options mark the difference between average food delivery apps and the best ones on the market.
How The Restaurants Are Selected
You may wonder what determines whether a certain restaurant will be available within a food delivery app. The truth is that restaurants get to decide for themselves whether they want to be featured. In the case of restaurant chains like McDonald's, each individual restaurant can opt in or out, which is why all the top restaurants are not available in every city a food delivery app covers.
When building and expanding restaurant selections, food delivery app representatives reach out to restaurants and offer them a spot on their platforms, under specific conditions that vary from one app to another. Then the restaurant owner decides whether the potential partnership can be beneficial to the business and whether it can increase both the customer base and the revenue.
Therefore, whether your favorite restaurant will be featured depends on its partnership with the food delivery platform. The best food delivery apps often have exclusive partnerships with the most popular restaurants like Taco Bell or KFC, which allows them to attract more users.
Who Makes Deliveries
The majority of the best food delivery services have their own couriers. That way, they ensure that you can order your favorite food even if the restaurant in question does not offer delivery. On top of that, this enables services to offer order tracking. That means that you do not have to call the restaurant to check on your order since you get to track its status within the app.
However, there are still many food delivery services that do not hire drivers. They exclusively cooperate with restaurants that have their own delivery staff and only function as intermediaries that facilitate the ordering process. If there are any undesired delays, you need to get in touch with the restaurant directly.
How Food Delivery Apps Make Money
When it comes to food delivery apps, the general rule is that you can register and use them free of charge. Therefore, it makes sense to wonder how they acquire the funds necessary to support their operations.
Different food delivery apps employ different financing methods. Usually, they feature restaurants on their platforms in exchange for a commission. Most of the time, the position the restaurant gets on the list is determined based on how much it is willing to pay. Some food delivery services have both sponsored and standard listings while others give more prominent spots to restaurants that pay extra. This is the primary source of income for food delivery apps in general.
However, food delivery apps that have their own couriers also make money by charging delivery fees. Certain apps increase their revenue through additional charges, such as service fees or fees charged during busy hours.
Why Food Delivery Apps Are Better Than Calling A Restaurant
Many founders of food delivery services claim that they designed their apps because they found paper menus to be outdated and wanted to offer a better and easier way to order food. Therefore, these apps are specifically designed as superior alternatives to ordering from a restaurant directly. The additional benefits they allow you to enjoy include:
Having numerous delivery and takeout options in one place;
Easily discovering new restaurants to try out;
Browsing eateries by parameters that matter most to you, such as pricing, speediness, and food selection;
Placing your order online in seconds, without waiting;
Ordering from restaurants that do not otherwise offer delivery;
Getting real-time updates on order status;
Choosing the exact delivery time and date that works for you;
Saving money with special app-specific discounts;
Having multiple payment options at your disposal, including both online payments and cash.
All these handy options, which are just a click or tap away, make food delivery apps far better than calling a restaurant. From convenience and variety to saving time and often money, they offer virtually everything traditional ordering method lacks. While their benefits for the restaurant industry may be questionable, there is no doubt that they represent a welcome innovation and improvement from the customer's perspective.
How To Choose The Right Food Delivery App For You
Food delivery apps are supposed to make your life easier and let you get what you want, when you want it, without leaving your house or office. All the best food delivery apps on our list are designed in accordance with these requirements. However, which of them can work best for you depends on your individual needs. We bring you a quick guide that can help you make the right choice based on your location, cravings, budget, and schedule.
Where You Live
As unfair as it may be, the range of food delivery services at your disposal is inevitably determined by your location. If you do not live in a big city like San Francisco or New York, chances are the range of services that operate in your area is limited. At the moment, there is not a single food delivery app that covers all larger cities across the country.
However, there are a few online food deliveries that boast much larger delivery maps than their competitors. These primarily include DoorDash and Postmates, both of which operate in a couple of thousand cities in all 50 US states. Therefore, if availability is the main issue, these services are our top recommendations.
What You Crave
Some food delivery app users could easily eat pizza every day of the week, some prefer the Mediterranean cuisine, and others have special dietary requirements and need to choose restaurants accordingly. The best food delivery apps can satisfy all these preferences and then some. However, the question is whether the selection of restaurants in your area corresponds to your cravings and whether your favorite eatery is actually featured in the app.
While all notable food delivery apps cooperate with thousands of restaurants, the range of options available tends to vary from one city to another. With smaller and younger services, you usually cannot count on exclusive partnerships and great selections in all areas.
On the other hand, there are apps like DoorDash and Grubhub that can even surpass your expectations in terms of variety. These popular online ordering platforms feature some of the top restaurants that are actually not available on any other app. Plus, they make it easy to instantly narrow your choice down to what you crave, whether it is a specific food type or a particular dish you love. In other words, the range of options available with these apps maximizes the chances that your next meal will be the one you are sure to enjoy.
If you find yourself craving ice cream at 1 AM or need more drinks for your party, our top list features a perfect solution for that as well. With goPuff, you can have virtually any convenience item you need delivered to your doorstep in half an hour even after the stores close.
How You Want To Pay
The top food delivery apps greatly differ in terms of the forms of payment they accept. Generally speaking, they all accept credit cards, but the same is not true for alternative payment methods and cash. If you prefer the likes of PayPal, Venmo, and Apple Pay, then your best choices are Grubhub, Uber Eats, and Seamless. These apps also accept cash, but not in all areas and not with all restaurants. If you want to be sure you can pay and tip in cash, Delivery.com and GoPuff can satisfy your needs.
How Much You Want To Pay
When choosing the best food delivery app for your needs, fees are always among the key decision-making factors. If you are looking for an app that charges zero fees, we strongly recommend going with Delivery.com. It charges nothing for the service, so you only pay the restaurant for the food and potential delivery costs. Delivery.com also lets you discover restaurants that offer free delivery in a single tap, which means that you can easily pay for food only.
If you appreciate budget-friendliness and transparent costs, goPuff is another excellent option. Like Delivery.com, it charges no additional fees and the delivery fee is always the same and under $2.
In case you order frequently, you may want to consider services that offer monthly subscriptions. For example, Uber Eats and DoorDash let you pay a single monthly fee and enjoy free delivery on all eligible monthly orders. As long as you order more than 3 times a month, your subscription is sure to pay off.
When You Want Your Food Delivered
An important feature that not all food delivery apps offer is delivery scheduling. Imagine you are at work and dreaming about a hot meal waiting for you when you come home. Or maybe you are planning a party in a couple of days and you want to take care of all the food and drinks ahead of time.
With apps like Uber Eats, Grubhub, and Seamless, you get to decide exactly when you want your order delivered. Whether it is ASAP, at a specific time during the day or in a week, they can make it happen.
How Hungry You Are
Regardless of when you decide to have your food delivered, you most certainly want it to arrive on time. You do not want to find yourself wondering what is taking so long and whether you can expect to wait for 10 more minutes or another hour.
Some of the top food delivery apps have particularly good solutions to this problem. Not only are their couriers punctual, but they offer live delivery tracking as well. They let you know the status and location of your order at any point, along with the estimated delivery time. In particular, we are talking about Uber Eats and Grubhub, which provide full insight into the delivery process and guarantee speedy delivery.
Another service that does extremely well in this regard is Postmates. It even has its own delivery robots that never get stuck in traffic and make sure your food arrives hot and on time.
Best Food Delivery Service Apps
What all of our top picks have in common is that they are currently the best on the market. Now it is time to dig deeper and discover all of their unique advantages. Explore their distinctive features in the mini-reviews below and choose the one that best satisfies your needs.
1. Grubhub (Web/Android/iOS)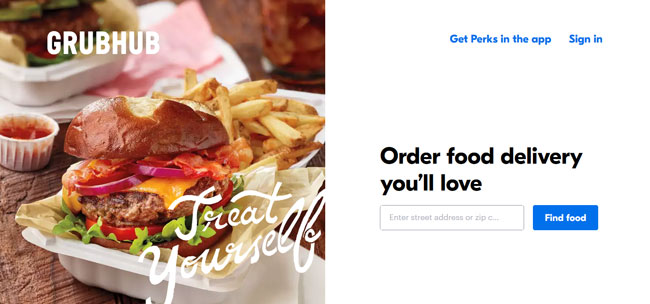 Grubhub is one of the biggest players in the food delivery business, cooperating with more than 140,000 restaurants in over 2,700 US cities and London. It lets you browse local eateries by everything from cuisine to affordability, schedule deliveries up to a week in advance, enjoy live order tracking, and save cash with special discounts.
With Grubhub, you pay for the food plus a delivery or service fee. The delivery fee normally ranges from $0 to $10, with many restaurants offering free delivery. You can pay with credit cards, PayPal, Venmo, Apple Pay, Android Pay, Amex Express Checkout, gift cards or cash.
2. DoorDash (Web/Android/iOS)
DoorDash has an impressive restaurant selection, with more than 340,000 eateries featured on the platform. It operates in more than 4,000 cities in 50 US states and Canada. It lets you search for specific foods and establishments and browse local restaurants by cuisine, rating, and affordability. Live order tracking and delivery scheduling are available as well.
The average delivery fee on DoorDash is $4 and the service fee is usually under $1. Orders under $10 come with a small cart fee amounting to around $2. You can avoid paying for delivery on orders over $15 by opting for DashPass, the company's monthly subscription that costs $9.99 per month. Accepted forms of payment include credit cards, Google Pay, Apple Pay, and gift cards.
3. Uber Eats (Web/Android/iOS)
The Uber Eats food delivery app features 50,000+ restaurants in over 700 cities in the US and worldwide. It lets you search and browse local restaurants by cravings, pricing, and more and instantly find what you need. It allows you to get your order ASAP or schedule up to 7 days in advance and always know where your order is with in-app tracking.
Uber Eats charges a delivery fee ranging from $0.99 to $8.00. Other fees that may apply include the 15-20% service fee and the small order fee. You can avoid paying for delivery and get a 5% discount on all $15+ orders by opting for the $9.99 monthly subscription. Payment options include credit and debit cards, PayPal, Venmo, Apple Pay, Uber Cash, and gift cards.
4. Seamless (Web/Android/iOS)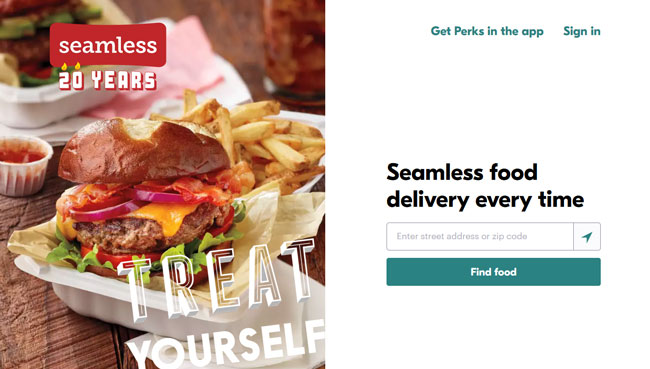 Seamless is one of the oldest food delivery apps, operating since 1999. It has more than 25,000 restaurants in its selection and it is available in over 900 US cities and London. It makes browsing and choosing easy with handy filters that let you identify the speediest, cheapest, and tastiest options. You get to enjoy regular status updates and schedule deliveries up to a week in advance.
Apart from the food value, potential costs include a delivery fee or a service fee, depending on the restaurant. The average fee is $4 to $8 per delivery. For payments, you can use credit cards, PayPal, Apple Pay, Android Pay, Venmo, Amex Express Checkout, eGift, and even cash.
5. Postmates (Web/Android/iOS)
Postmates is a top-of-the-line delivery service that delivers food, drinks, and virtually everything else you need from over half a million stores and restaurants across the US. It lets you conduct specific searches, schedule deliveries up to 7 days in advance, request expedited delivery, and track your order in real-time. It is known for exceptional efficiency and speedy delivery.
The service is available in more than 3,500 in all 50 US states. It accepts credit and debit cards, Google Pay, and gift cards. It charges a 9% service fee, a delivery fee ranging from $0.99 to $9.99, a $1.99 fee for smaller orders, and a blitz fee during peak ordering times. If you want to avoid delivery, blitz, and small cart fees, you can subscribe for just $8.33 per month, with a 7-day free trial.
6. Delivery.com (Web/Android/iOS)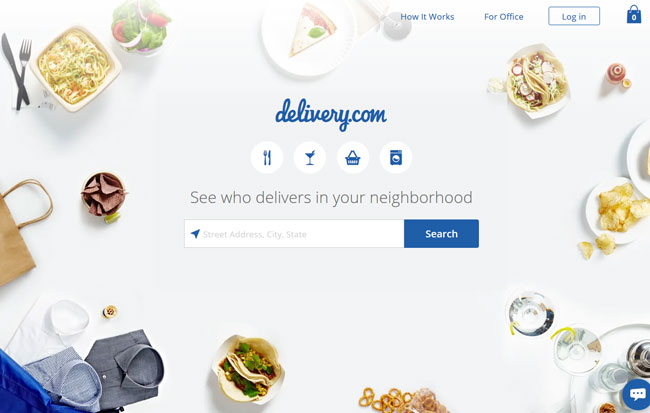 Delivery.com is one of the most affordable food delivery apps available. It delivers food, drinks, and more in 100+ cities in the US. Currently, it cooperates with more than 12,000 merchants. Its online and mobile platforms are designed with easy browsing in mind, featuring tons of filters that let you browse eateries by a range of criteria, from popularity and distance to rating, speed, and dietary requirements. You can receive your order ASAP or schedule up to 7 days in advance.
The best of all is that Delivery.com charges no fees. Therefore, all the money goes to the restaurant and you only pay for the food and delivery. In many cases, delivery is free. You also get to save cash with the company's rewards program and promos. Payment options include credit cards, PayPal, Google Pay, Apple Pay, VISA Checkout, Masterpass, gift cards, Delivery.com credit, and cash.
7. goPuff (Web/Android/iOS)
Different from other food delivery apps featured here, goPuff focuses on convenience items. It does not only deliver but also stocks over 3,000 convenience products ranging from snacks, ice cream, and frozen meals to toiletries and household items. Since it has its own warehouses, you can order and receive deliveries even after the store closing hours.
The service is available in over 150 cities across the US. As far as fees are concerned, you only pay the delivery fee that always amounts to just $1.95. Deliveries are usually made within 30 minutes. You can pay with debit cards, credit cards or cash.
8. BeyondMenu (Web/Android/iOS)
Although inferior to other options on our list, BeyondMenu is a food delivery app that is popular enough to be worth mentioning. It claims to operate in 2,000+ US cities and cooperate with more than 15,000 restaurants specializing in 25 different cuisines. It lets you discover the nearest and cheapest options in a click or tap and search and filter local restaurants by cuisine and food type. You can place ASAP delivery orders or schedule up to a week in advance. The service even functions as a restaurant reservation service.
On BeyondMenu, delivery fees range from $0 to $10+ but in most cases, you pay between $1 and $3 per delivery. No additional fees are charged. Accepted forms of payment include credit cards, PayPal, and cash.