Delivery.com Review
Efficient & Budget-Friendly Online Food Delivery
Advertiser Disclosure
This website features affiliate links. For purchases made via these links, we earn commissions that allow us to keep producing helpful content. To find out more
click here
.
Close
There are more than a few food delivery platforms that are more famous than Delivery.com, but there are not many that are more affordable. Since we find budget-friendliness to be a highly attractive feature, we decided to test out Delivery.com and find out what makes it unique and how it compares to other popular food delivery solutions. Read all about our findings and impressions in this honest Delivery.com review.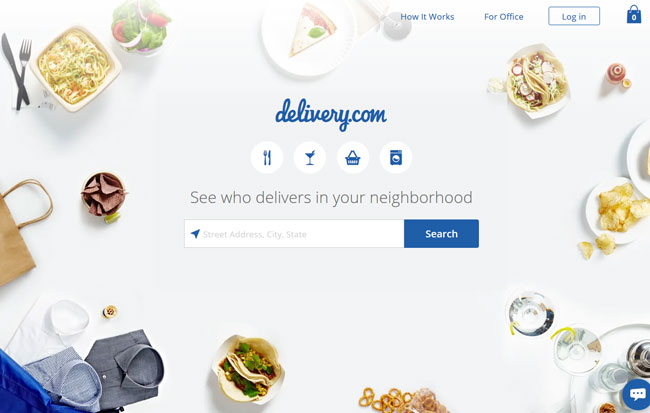 What Is Delivery.com
Delivery.com is an online food delivery service that cooperates with more than 12,000 different merchants and boasts no fewer than 2,000,000 users. It delivers restaurant meals, alcohol, and much more in over 100 cities across the United States.
The service has been on the market since 2004, it is privately held, and it is headquartered in New York. It functions as an online marketplace where both goods and services are just a click away. It lets you order anything you need for pickup or delivery whether you are at home, at work or anywhere else. You can access its ordering platform via browser or by using its free Android and iOS apps.
While this Delivery.com review will exclusively focus on the food delivery segment of the company's operations, it should be noted that Delivery.com goes way beyond just bringing you food you crave. In addition to individual food deliveries, it provides catering, alcohol, grocery, gift, and laundry delivery. Therefore, whether you are hosting a party, stocking your fridge, lacking time to shop for a gift or looking for laundry washing, folding, dry cleaning, and tailoring services, you can rely on Delivery.com to pick up what you need and deliver it to the location of your choice.
In comparison to its top food delivery competitors, Delivery.com has a smaller number of cities on its delivery map and it does not have as many eateries featured. However, as you are about to find out, it has multiple advantages that make it a superior option, such as the absence of unnecessary fees, easy ordering, reordering, and scheduling, and effortless browsing.
How Does Delivery.com Work
To order food via Delivery.com, you should enter your address, view the restaurants and fast-food eateries available in your city, choose the one you like the most, and just add everything you want to order to your virtual bag before checking out.
If you are a first-time user, you need to create an account before you can order. You can register both via the Delivery.com website and via the service's dedicated mobile apps. You can place individual and group orders and opt for delivery or pickup.
Registration
Delivery.com has made sure that the registration process is quick and painless. It involves just one simple step and requires you to provide nothing but your first name, your last name, your email address, and the password you wish to use to protect your account.
You cannot create multiple accounts with one email address. However, this should not be a problem since you can use a single account to have your food delivered anywhere you wish. Within your account, you can add as many different addresses as you want and edit or delete any of them anytime.
Ordering
Once you become a registered user, it is time to choose your location and place your first order. You can start browsing the available options for either delivery or pickup, depending on your preferences.
For each restaurant you see listed, you get all the most important information even before you select it. You instantly get to find out how affordable it is, how far away it is from your location, and how long you can expect to wait for your order to arrive. You also get to see the minimum order value, the delivery fee, and customer rating. Therefore, you get plenty of relevant facts before you proceed to explore the menu.
You can have the featured restaurants sorted by popularity, rating, distance, minimum, and estimated delivery time. You can even sort them alphabetically.
Furthermore, you can have the available eateries filtered by category, prominent feature, and cuisine. You can view restaurants or catering businesses. You can explore eateries that are new on Delivery.com, the ones that are good for groups, the ones that provide free delivery or the ones currently offering special discounts and promos.
When browsing by cuisine, you can choose specific dishes like steaks or tapas, filter by geographical origin and go with French, Irish or Tex-Mex food or view the restaurants that suit specific dietary requirements, such as kosher, vegan, vegetarian, and gluten-free.
By applying additional filters, you can narrow your choice down to restaurants with a specific rating (1-5 stars), price range ($-$$$$), delivery minimum (less than $5 – less than $20) or delivery estimate (fewer than 30 minutes – fewer than 60 minutes).
Finally, you can always use the search function to find the cuisine, food type or exact dish you want to get. This is often the quickest way to identify the right restaurant.
Once you find the right eatery, you can start exploring the menu. To fill your bag, you should just select what you crave, decide on the quantity, potential add-ons, preparation method, and other details, add special instructions if needed, and click or tap the Add To Bag button. When you are done choosing and editing your bag, you can once again go over all the items you selected, view all costs and your order total, and choose the Go To Checkout option. This concludes the ordering process.
As mentioned earlier, you can get food just for yourself or you can create a group order and invite friends or colleagues to edit the bag once you are done. If you are ordering for the office, be sure to make use of corporate discounts.
It is also important to keep in mind that you can use the reorder carousel to repeat a previous order in a single click or tap and save tons of time.
Payment
With Delivery.com, you have a variety of payment options to choose from. You can pay for your deliveries with:
All major credit cards;
PayPal;
Google Pay;
Apple Pay;
VISA Checkout;
Masterpass;
com gift cards;
com credit;
Cash.
The cash payment option is a great advantage that not many food delivery platforms offer. However, you should keep in mind that it only becomes available after your first order.
Delivery
So far in this Delivery.com review, we have mentioned that the service is available in more than 100 US cities. Its food delivery map includes 25 US states and Washington DC.
You can order your meals via Delivery.com if you live in Alabama, Arizona, California, Colorado, Connecticut, Florida, Georgia, Idaho, Illinois, Indiana, Kentucky, Maryland, Massachusetts, Michigan, Missouri, Montana, Nevada, New Jersey, New York, Oklahoma, Oregon, Pennsylvania, Texas, Vermont, Virginia, Washington, and Wisconsin. The full list of cities is available on the official Delivery.com website.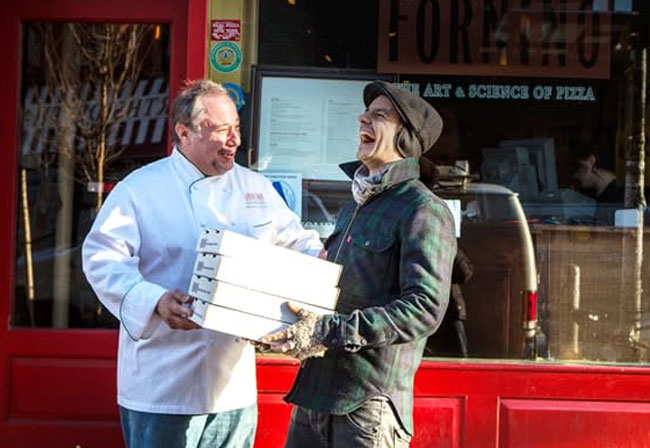 When ordering, you can choose whether you want to receive your delivery as soon as possible or you want to schedule it for a later time or date. You can choose the exact time window that works for you and schedule up to a week in advance.
Unfortunately, since Delivery.com does not have its own delivery staff, the order tracking option is not available. You get to know when you can expect your order to arrive, but if there are delays or similar issues, you need to reach out to the restaurant or get in touch with Delivery.com's customer support representatives and ask them to check on your order for you.
How Much Does Delivery.com Cost
Now, this is the most amazing part. Using Delivery.com costs absolutely nothing. The service does not have drivers of its own, so the restaurants are the ones that determine the delivery fee. It does not charge a service fee, it has no special fees during busy hours, and there is no surcharge if you order small amounts of food.
In other words, Delivery.com takes zero money from you. You only pay the restaurant for the food and delivery. However, since many restaurants on the platform offer free delivery, that means that you often pay for food only, plus sales tax if applicable.
If you are wondering how this is possible, here is a simple answer. Delivery.com has decided to charge restaurants instead of patrons. It takes a percentage of every order's subtotal (tip excluded) and it also obtains funds through advertising. Restaurants can pay to appear in sponsored listings, thus increasing their visibility and Delivery.com's revenue. However, they cannot pay to get a higher spot in the standard listings.
Therefore, if you are not a fan of food delivery platforms that charge numerous fees that significantly increase your total, Delivery.com was made for you. You can use it completely free of charge and even save cash thanks to the company's rewards program.
For every $1 you spend ordering via Delivery.com, you get 20 reward points. Once you collect enough points, you can redeem them and get Delivery.com credits or rewards. For every 5,000 points, you get a $5 credit, for 9,500 you receive a $10 credit, and 18,000 points bring you a $20 credit. If you collect 100,000 points, you can exchange them for a Chromecast. With 250,000 points in your account, you can get a Roku 4 player. Finally, 500,000 points can be exchanged for the latest iPad mini 4.
Before we move on, there is one more savings opportunity worth mentioning. By visiting the Promo page, you can find the latest deals and discounts you can get on your next delivery. Usually, there are numerous promos to choose from, so be sure to check them out before ordering and get your food at better prices.
How To Work For Delivery.com
In the previous sections of this Delivery.com review, we mentioned that the service does not hire drivers, unlike most other food delivery options on the market. Therefore, it does not constitute an option for those looking to make some extra money by making deliveries.
On the other hand, Delivery.com does always have a few openings you can apply for. You can view them in the Careers section of the company's official website. By choosing the position you are interested in, you get to view the entire job ad and fill out the application in a minute, after which you simply wait for Delivery.com to get in touch with you if you get selected.
How Much Does Delivery.com Pay
If you started working for Delivery.com, your salary would of course depend on the position. According to Indeed and Glassdoor, customer service representatives usually earn about $13 per hour, 27,900 per year on average. Account managers can expect to earn $36,000 to $39,000 per year, product managers earn $81,000 to $98,000 per year, and senior software developers can earn up to $101,000 per year.
Delivery.com Pros & Cons
To make sure Delivery.com meets all your standards and expectations, it is important to know its biggest advantages and disadvantages. With a short overview of its pros and cons, you can easily decide if Delivery.com is the right food delivery app for you.
Pros
Charges no fees
Excellent filtering and sorting options
One-tap reorder
Schedule up to 7 days in advance
Rewards program
Regular promos and discounts
Cons
No order tracking
Limited restaurant selection and delivery map
Bottom Line
If Delivery.com allowed you to track your order in real-time and featured more restaurants in more US cities, it would certainly be at the very top of the market. The absence of fees is a major plus and browsing and ordering is even easier than with some of its biggest competitors.
Not only do you get to order without worrying about additional costs, but you also get to save money with rewards and promos. Reordering requires a single click or tap and scheduling for a later date and time is perfectly easy. You can receive your order in less than half an hour and quite often, you do not even have to pay for delivery.
At the end of this Delivery.com review, we can say that we truly have nothing bad to say about this service. We just hope that it will continue to grow and thus offer more delicious options to a greater number of hungry users across the country.
Delivery.com FAQ
Where is Delivery.com available?
Delivery.com is available in 100+ cities in 25 US states and Washington DC. To check whether your city is a part of the company's delivery map, go to the Delivery.com website and view the list of cities provided on the homepage.
How much does Delivery.com charge?
Delivery.com charges absolutely no fees. You only give money to the restaurant you choose. You pay for the food plus delivery unless the restaurant offers free delivery. Sales tax is also charged if applicable.
How much should I tip on Delivery.com?
Delivery.com lets you decide how much you want to tip. However, the general rule is to leave a tip amounting to 10-20% of the order value.
View All FAQs