goPuff Review
Breakfast, Booze & Beyond Delivered 24/7
Advertiser Disclosure
This website features affiliate links. For purchases made via these links, we earn commissions that allow us to keep producing helpful content. To find out more
click here
.
Close
When reviewing food delivery services, we mainly focus on companies that cooperate with restaurants and make it easy for you to have your next meal delivered. However, with goPuff, we are willing to make an exception. This unique online delivery platform brings you everything you can find at a convenience store, from snacks and ice cream to drinks and pet food. It guarantees speedy delivery for a small fee and it has its own warehouses, so you can order anytime, even when stores are closed.
In this goPuff review, we will explore all the reasons why this service has become so popular in recent years and find out whether there are any downsides you should be aware of before ordering.
What Is goPuff
goPuff is an online delivery service that specializes in convenience items. It operates in more than 150 US cities and stocks and delivers over 3,000 different products ranging from pre-packaged foods and alcohol to toiletries and household essentials.
The company is headquartered in Philadelphia and it opened its doors in 2013. It was founded by Yakir Gola and Rafael Ilishayev, two ambitious Drexel University students who identified a gap in the market while stocking up on snacks and basics during their busy days at college. They realized there should be an easier and quicker way to get all the products you need on a daily basis, without wasting time on multiple trips to the store.
They decided to create what they call a convenience store on wheels. They immediately started working on an ordering app and it took them only three months to turn their idea into a business. At first, they made deliveries themselves, but their business soon started growing at a fast rate. Nowadays, goPuff has more than 1,500 employees and it is constantly conquering new markets.
What makes goPuff so convenient and consequently popular is the fact that it lets you stock up on all the convenience items you need at any time of day or night. The service is available 24/7 in markets that it entered early on and from at least noon until 4:30 AM in more recently launched markets. On top of that, its fees suit all budgets, which is another reason why it is gaining new users as we speak.
How Does goPuff Work
To use goPuff, you just need to download and install its dedicated Android or iOS app or visit its official website and create an account. From there, you just enter your address, select the items you want delivered, and wait for your order to arrive.
Since the products you order are not located in stores but in goPuff's warehouses, you can expect your order to arrive more quickly than it would with similar delivery services. There is no minimum order value and you can order any product, whenever you need it, in whatever quantity.
Registration
Registering on goPuff comes free of charge and the process takes a minute. You start by entering your phone number and verifying it with the 4-digit code sent to you via SMS. Then you can proceed to provide your basic information, including your name and email address, as well as your physical address, so goPuff could know where the goods you order should be delivered.
The moment you set up your account and provide your address, you can start browsing and ordering items. You cannot have multiple accounts linked to the same email address, but you can change your location and account details at any time.
Ordering
When building your order with goPuff, there are two basic ways to speed up the process. The products are divided into categories and subcategories, making it easier to find what you need. If you have no time to browse, you can make use of the search function and look for exact products or product types.
Among over 3,000 products available, you can find breakfast items, ready-to-heat meals and groceries, healthy foods, frozen goods, non-alcoholic and alcoholic drinks, snacks, and ice cream, as well as over-the-counter meds, sexual health and feminine care products, home essentials, personal care products, pet products, and smoking accessories.
To build your order, you simply need to click or tap the items you want to receive, choose the desired quantity, and click or tap the Add To Cart button. At all times, you can review the cart, remove items, and add new ones until you are happy with the selection of products in your order. Then, all that is left for you to do is proceed to checkout and choose your preferred payment option.
Payment
While goPuff is flexible in many ways, it supports surprisingly few payment methods. When paying for your delivery, you can use:
Debit cards;
Credit cards;
Cash.
The service accepts all major cards, including VISA, American Express, MasterCard, and Discover. When it comes to cash, it is an option that is not available in all markets, so be sure to have your card ready just in case.
Delivery
While goPuff's delivery map is expanding fast, the service still has a long way to go before it achieves nationwide coverage. Like we mentioned previously in this goPuff review, it is currently available in more than 150 major cities across the country, including Atlanta, Austin, Boston, Chicago, Denver, Houston, Philadelphia, Seattle, and many others.
You can view all the cities covered on the homepage of goPuff's official website. However, the quickest way to check whether the service delivers to your area is to enter its online or mobile platform and provide your address.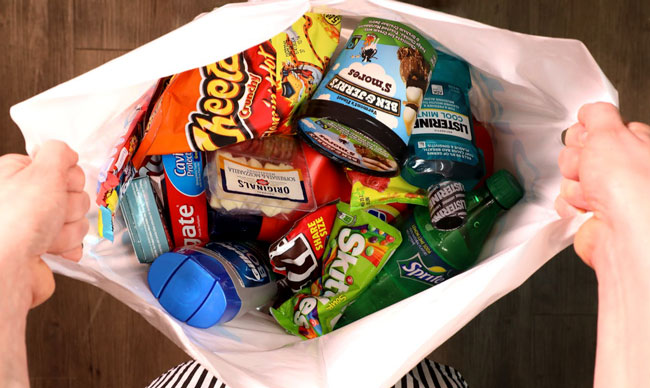 With goPuff, there is no delivery scheduling and orders are generally fulfilled ASAP. Once you place your order, you can track its progress within your account. You can check on your order status at any time and find out how long you need to wait and whether your order is being packed, on its way to you or at your doorstep.
Normally, goPuff deliveries should arrive within half an hour. However, it is not uncommon for deliveries to be late. If you are having issues with your order, you can get in touch with the company's support staff and immediately resolve the problem.
How Much Does goPuff Cost
As mentioned previously in this goPuff review, one of the greatest advantages of this service is that it is affordable. It only charges a small flat delivery fee, with no additional costs. While other similar services may charge extra fees for small carts and orders delivered during busy hours, deliveries from goPuff always cost the same.
The delivery fee invariably amounts to $1.95 per delivery. Therefore, there are never any surprises at checkout.
In addition to paying for the food and delivery, plus sales tax if applicable, you also give a tip. The recommended tip amount is 10% to 20%, but you get to choose how much you want to give based on your preferences, budget, and satisfaction with the service.
How To Drive For goPuff
Like most food delivery services, goPuff hires a large number of independent contractors in charge of making deliveries. You can apply to become a goPuff driver by visiting the company's official website, clicking Become A Driver Partner, and filling out the short application form.
No previous work experience is required. You only need to be 21 or older, own a car and a smartphone, and have a valid US driver's license and vehicle insurance and registration. You should also have a checking account for direct deposit and you should pass a background check along with a pre-paid alcohol delivery training course, if necessary.
As a goPuff driver, you get to make your own schedule and decide when and how long you want to work. However, you do need to schedule your block in advance and show up at the local goPuff warehouse on time. Unlike with other food deliveries, you do not go to restaurants and stores, you do not wait to pick up your order, you just drive the goods from the warehouse to the customer's location, which saves time and effort.
How Much Do goPuff Drivers Make
With goPuff, your earnings include a per-order commission (base pay plus mileage) and 100% of the tips you get from customers. You can expect to earn between $10 and $15 per hour. What is good to know is that goPuff offers a guaranteed hourly minimum, which normally ranges from $10 to $14, depending on the area. Therefore, you cannot earn less than $10 per hour.
If you work longer hours (10+ hours/day), the hourly minimum increases by about $4 to $5. This is a great benefit that not many similar companies offer.
Therefore, while you should not expect to earn tons of cash by delivering with goPuff, you do get a guaranteed pay and all the tips. Plus, your job can be much easier compared to other food delivery options since you do not have to run across town to pick up orders. This can save you tons of gas money as well.
goPuff Pros & Cons
To make sure goPuff meets all your standards and expectations, it is important to know its biggest advantages and disadvantages. With a short overview of its pros and cons, you can easily decide if goPuff is the right food delivery app for you.
Pros
Over 3,000 convenience products stocked and delivered
Available round the clock
Reasonable flat delivery fee
No extra costs
Easy browsing
Most deliveries made within 30 minutes
Cons
Few payment options
Limited delivery area
No delivery scheduling
Bottom Line
As we are finishing off this goPuff review, we can say that in spite of some minor flaws, the service lived up to our expectations. It is convenient, affordable, and available day and night. Most of the time, deliveries are speedy and there are more products to choose from than we imagined.
The delivery map is still rather small, but the good news is that it is actively expanding. With more cities covered and a couple of alternative payment options added to the list, goPuff may just become one of America's favorite ways to shop for food and essentials.
goPuff FAQ
Where does goPuff deliver?
goPuff delivers to more than 150 cities across the US. To check whether it operates in your area, you can visit the goPuff website and enter your address or view the list of cities featured on the homepage.
How much is the goPuff delivery fee?
With goPuff, the delivery fee always amounts to $1.95.
How much should I tip on goPuff?
On goPuff, the recommended tip amount is 10-20% of the order value.
View All FAQs