Grubhub Review
140,000+ Takeout Options At Your Fingertips
Advertiser Disclosure
This website features affiliate links. For purchases made via these links, we earn commissions that allow us to keep producing helpful content. To find out more
click here
.
Close
If you order food often, you have probably heard of Grubhub, one of the top food delivery platforms in America and London. It lets you instantly discover popular local restaurants that deliver to your address and place a delivery or pickup order in a few clicks. Over the years, it has partnered with thousands of takeout restaurants, leaving its users spoilt for choice.
In this Grubhub review, we reveal everything that is right and wrong about this food delivery giant, so take a few minutes to discover both the perks and the downsides of being a Grubhub user as well as a Grubhub driver.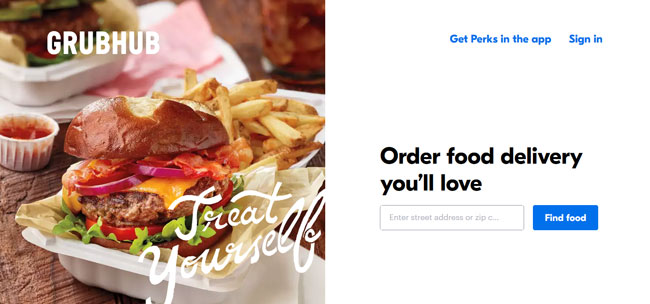 What Is Grubhub
Grubhub is a food delivery marketplace that lets you view local restaurants' menus, order your favorites online, and enjoy fast delivery. It features over 140,000 restaurants located in more than 2,700 cities across America as well as in London.
With more than 120 different cuisines covered, the platform has something for virtually every taste. It offers an easy way to discover new restaurants in your area and have all noteworthy takeout options at your fingertips. With useful options like order tracking, instant reordering, and delivery scheduling, it saves you time, eliminates guesswork, and makes it easy to get just what you need, when you need it.
Headquartered in the city of New York, the company has been operating since 2004. It is the brainchild of Mike Evans and Matt Maloney, two web developers who got tired of paper menus and decided to come up with a much easier way to order takeout.
America loved their idea and we are not just talking about hungry diners. Two years after the launch, Grubhub's founders managed to win the University of Chicago Edward L. Kaplan New Venture Challenge. In the following years, the fledgling startup attracted considerable private funding, which allowed it to grow into the big player it is now.
If you are wondering how big it actually is, let us just say that on a yearly basis, Grubhub helps sell over $5 billion worth of food. It has more than 22 million active members and it processes nearly 460,000 orders per day. These numbers speak in favor of Grubhub being one of the most popular food delivery platforms out there.
How Does Grubhub Work
Ordering food with Grubhub is perfectly easy. You create an account, enter your exact address, browse the local restaurants and their menus, and build your order. You decide what you want to get in your takeout bag and choose whether you want to have it delivered or prepared for pickup. You also get to decide when you want your food to be at your doorstep or ready and waiting for you at the restaurant of your choice.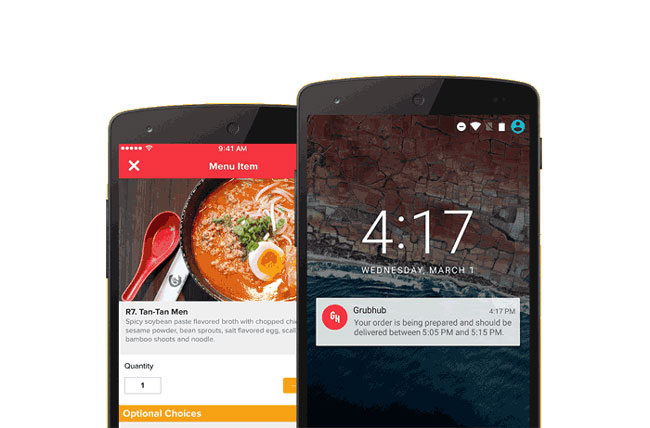 Your account comes with no strings attached. There are no subscriptions of any kind and you can order as often as you want.
The prices of food items are the same as in restaurants or lower. Thanks to special Grubhub deals, coupons, and promos, you can pay even less than if you were ordering from restaurants directly.
You can use the Grubhub platform online via your browser or via dedicated Android and iOS apps. Supported browsers include Internet Explorer 11+, Edge, Firefox, Safari, and Chrome. Once you place a couple of orders, you can have fun with voice control and reorder with Alexa.
Registration
With Grubhub, the registration process takes less than a minute. You need to fill out a quick form and provide your first name, last name, and email address. Then you should just come up with a strong password and that is it. You can start browsing local restaurants and choosing your next meal.
As you can see, you provide no sensitive data when creating an account. You only enter payment information like your credit card number during the secure checkout process. If you wish, you can let Grubhub store your payment info in your account. In that case, we recommend being extra careful when choosing and storing your password, to prevent phishing.
Ordering
The ordering process is equally simple. You start by browsing the selection of restaurants at your disposal. If you wish, you can search by cravings, that is, enter the food you want and let Grubhub narrow your choice down to restaurants that have it on their menus.
Furthermore, you can browse the most popular or the highest-rated restaurants only or view the ones that are closest to you. You can filter them by cuisines like Asian or Greek or by food types like ice cream or ramen.
Depending on the local selection, you may find gluten-free, kosher, vegetarian, and similar special diet options among cuisine filters, but the same does not go for popular choices like keto and Paleo. Therefore, it would definitely be nice if the filter range was expanded to allow for even easier browsing.
If you need more help zooming in on the right restaurant, you can use the additional filters. You can view establishments that are new on Grubhub, browse the ones that allow you to track your order, filter by rating ranging from 1 to 4 stars, search by affordability ranging from $ to $$$$$, and explore restaurants that can deliver your food in 45 minutes, 60 minutes or anytime. You can also narrow your choice down to restaurants that offer free delivery, but you cannot have all restaurants sorted by delivery costs.
Once you find a restaurant you like, you can click on it and view its menu, get basic facts about it like its location, hours, and phone number, and read customer reviews. You can see whether there is a minimum order and usually you get to know how much you can expect to pay for delivery.
To build your order, simply click the desired items, decide on the quantity, enter special instructions if you have any, and click the Add To Bag button. Certain items may come with optional add-ons like drinks and desserts, which can sometimes be added free of charge.
Up until the point you choose to place your order, you can add and remove items an infinite number of times, empty your bag or move to a different restaurant and start a new order. Once you are happy with your order, you should just go to your cart and click the Proceed To Checkout button.
Payment
With your order ready to be placed, all that is left for you to do is select the payment method that works for you. The options at your disposal include:
All major credit cards including VISA, MasterCard, Discover, and American Express;
Paypal;
Venmo;
Apple Pay;
Android Pay;
Amex Express Checkout;
Grubhub Gift Cards;
Cash upon delivery.
Keep in mind that all payment methods are not available both in-app and via browser. Furthermore, the range of options may differ from one restaurant to another. For example, not all restaurants allow you to pay cash. You can view the available payment methods for every order at checkout.
It is important to know that no matter which option you choose, you are charged immediately after you place your order. Therefore, be sure to double-check your cart before completing the checkout process.
Delivery
Earlier in this Grubhub review, we mentioned that the service is available in more than 2,700 US cities plus London, UK. The US states within Grubhub's delivery map include Arizona, California, Colorado, Connecticut, Florida, Georgia, Illinois, Maryland, Massachusetts, New Jersey, New York, Pennsylvania, Texas, Utah, Virginia, and Washington, as well as the District of Columbia. You can view the full list of cities covered on the company's official website.
As far as delivery times go, you have several options at your disposal. You can request that your order be delivered ASAP. Alternatively, you can choose a specific time during the day, like 5 PM, 5:15 PM, 5:30 PM or 5:45 PM. Fifteen minutes is the minimum increment, so you cannot choose a time like 4:37 PM. Finally, you can schedule your delivery up to 7 days in advance and once again, you get to choose the time that works for you.
With select restaurants, you can make use of the order tracking option that lets you know exactly where your order is at any given time and how long you can expect to wait. You can view your order's status in the Your Orders section of your account. For full information, you can check the order confirmation email you received and click the Track Your Order link.
From there, you get to check the estimated time of arrival, discover the order number that you can use if you want to contact the restaurant to check on your order, and you can track the order progress. There are 4 order status options: order sent, in the works, out for delivery, and delivered. For every completed step, the exact time is provided so you have full insight at all times.
How Much Does Grubhub Cost
Creating an account on Grubhub does not cost a dime and you can use the platform completely free of charge. You only need to pay for the food you order and cover the potential additional costs. By additional costs, we mean the delivery or service fee, tips for the restaurant and the driver, and sales tax if applicable.
The delivery fee depends on the restaurant. Certain restaurants have minimum orders but in return offer free delivery. Others may not have any minimums but may charge delivery fees that can go up to $10 or more.
For most restaurants, you can view the delivery fee in advance, as it is shown above the menu, right next to the minimum order. However, with certain restaurants, you only get to discover the delivery costs after you build your order. This is certainly annoying and we hope that Grubhub will start displaying delivery fees consistently in the future.
As far as tips are concerned, you get to determine the amount on your own. You give tips to the restaurant and the driver separately. Keep in mind that the delivery fee does not go into the driver's pocket, so it does not qualify as a tip either. The recommended minimum tip is $5 or 20% of the order value, whichever is greater.
How To Drive For Grubhub
Grubhub is always looking for drivers, so you can apply anytime. By visiting the For Drivers section of the company's official website, you get to learn all the key facts about being a Grubhub driver and fill out the application form if the conditions meet your expectations.
To get started, you need to provide your first and last name, along with your email address and phone number. Then, you select your state and city of residence and state whether you drive a car, scooter, motorcycle or bike.
Keep in mind that all modes of transportation are not available in all cities. In some cases, you can only apply if you own a car or a motorcycle. It is also important to note that as an independent contractor, you drive your own vehicle, that is, the company does not provide anything apart from the payments per delivery.
Once you provide the most basic information, you need to answer a few short questions. You are asked whether you have worked for Grubhub before and whether you are 19 or older, which is a prerequisite, and then you need to enter your zip code. Then, you confirm your preferred mode of transportation and the first part of the application process is over.
Normally, new applicants are put on a waiting list. If you get selected, you are required to authorize a background check and if you pass, it is time to take care of all the necessary paperwork, go through the onboarding process, and set up a direct deposit, so you can receive the cash you earn.
Once you successfully go through all the steps and become a Grubhub driver, you get to choose when you want to work and set up a schedule that suits your needs. During the hours you choose, you receive delivery requests and you get to decide whether you want to accept or decline. In other words, you are practically your own boss.
How Much Do Grubhub Drivers Make
Since delivery requests are not equally frequent in all cities and you decide on your hours and whether you want to accept or decline a request, the total earnings significantly vary. The minimum pay is $10 per hour and the average pay is about $12 per hour. Based on the average earnings, if you were to work 40 hours a week, your annual pay would amount to about $24,000. However, you can earn twice as much or even more if you are lucky and choose your requests wisely.
What you should know is that your earnings include the base delivery pay plus 100% of the tips you get from users. The delivery pay depends on the mileage and the rates vary from one region to another. When you receive a request, you are instantly shown the mileage and the total amount of money you would earn, with tips included, so you can determine whether the delivery is worth accepting.
In the past, the mileage (and consequently the delivery pay) was calculated based on a straight line. Drivers complained about this system being unfair, as it does not correspond to the reality and does not factor in the time invested. In 2019, a new model was adopted, which takes into account both the mileage and the estimated driving and waiting time. This should result in a higher pay in most cases and thus constitutes good news for new and current drivers.
Grubhub Pros & Cons
To make sure Grubhub meets all your standards and expectations, it is important to know its biggest advantages and disadvantages. With a short overview of its pros and cons, you can easily decide if Grubhub is the right food delivery app for you.
Pros
Over 140,000 restaurants available
Multiple payment options
Order tracking and scheduling
No registration or membership fees
Both online and mobile platforms available
Special discounts and promos
Cons
Delivery fee is not always shown in advance
Needs more useful filters
Limited geographical coverage
Bottom Line
At the end of our review of Grubhub, we can conclude that the service has more perks than downsides. Its restaurant selection is huge and covers an impressive range of cuisines. The registration process is quick, ordering is easy, and payment options are numerous. We like that you can use Grubhub completely free of charge and that you can even save cash in comparison to ordering directly from the restaurant.
However, there certainly is room for improvement. Even though there are plenty of filters to aid you in your search, popular special diets and delivery costs are just some of the parameters we would like to see added. Speaking of delivery costs, they are often not disclosed in advance, which we strongly dislike. Finally, Grubhub's delivery map could obviously use further expanding.
Nonetheless, we believe that this food delivery marketplace has a lot to offer to a hungry diner and does not ask for anything in return. It is constantly growing and improving and more than likely to have more of your favorite restaurants than similar platforms. Therefore, be sure to give it a try the next time you are in the mood for takeout.
Grubhub FAQ
How can I cancel my Grubhub order?
To cancel an ASAP Grubhub order, contact the support staff via phone or live chat. Orders cannot be canceled once the food is prepared. Scheduled orders should be canceled 4+ hours in advance (Order page -> View details -> Cancel).
How can I delete my Grubhub account?
To delete your Grubhub account, get in touch with the support staff via phone, live chat or email and state your desire to remove your account along with the reasons why you want your account deleted.
How much does Grubhub charge for delivery?
On Grubhub, the delivery charge varies from one restaurant to another and normally ranges from $0 to $10.
How much should I tip on Grubhub?
Grubhub recommends leaving a tip equal to or greater than 20% of the order value. It is considered bad etiquette to tip less than $5.
View All FAQs