Seamless Review
Online Food Delivery With A Long Tradition
Advertiser Disclosure
This website features affiliate links. For purchases made via these links, we earn commissions that allow us to keep producing helpful content. To find out more
click here
.
Close
As far as food delivery apps go, Seamless is one of the oldest and best-known options on the market. In spite of its turbulent history, it has managed to stay afloat and keep on growing, with millions of users getting their meals via its website and mobile apps.
With such a large user base, Seamless must be doing something right, but as you may have heard, it is not without its flaws. Read this thoroughly researched Seamless review to find out what to expect and what to look out for when ordering food via Seamless.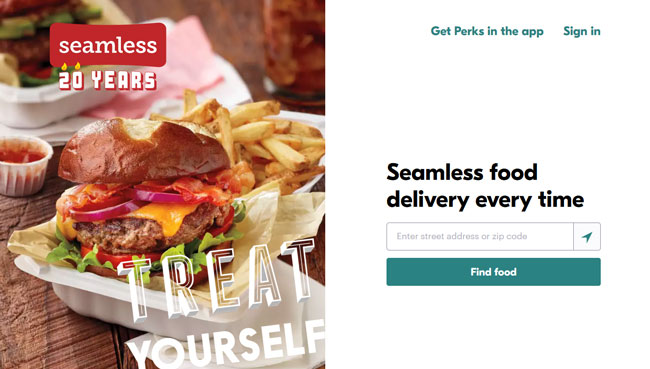 What Is Seamless
Seamless is an online food delivery service that allows its users to place delivery and pickup orders from thousands of restaurants in more than 900 cities in America and some of the most popular eateries in London. It has been around since 1999.
The company was launched by Paul Appelbaum and Jason Finger, two NYU Law graduates who identified the need for a new food ordering system for the new era. They created an online platform called SeamlessWeb, where corporate customers could order food from local restaurants and get the fuel they need to survive long working hours. For about 7 years, the company seemed to be doing rather well, until it was acquired by Aramark in 2006.
Between 2006 and 2011, SeamlessWeb went through a dark period marked by a lack of investments. It was struggling to keep up with the competition that was growing bigger and stronger. Fortunately, the year 2011 brought it considerable funds provided by Spectrum Equity Investors. This allowed it to move away from Aramark and regain its independence.
The company immediately changed both its name and focus. It was renamed as Seamless and it started catering for individual customers instead of limiting its services to businesses. Its revenue increased quickly.
In 2013, Seamless merged with Grubhub, another popular food delivery platform, thus forming GrubHub Seamless, an entity that is now known as Grubhub, Inc. This merger helped Seamless double the number of restaurants on its platform, boasting about 25,000 takeout and delivery options in its offer.
Today, Seamless is one of the biggest food delivery marketplaces in the US. Restaurants may not love it due to the commissions it charges, but it is still responsible for the large portion of these restaurants' revenues and it certainly makes food ordering much easier for hungry patrons nationwide.
How Does Seamless Work
Becoming a Seamless user takes a mere minute. You simply need to visit its website or install its Android or iOS app and complete a quick registration process. As a registered user, you can immediately start ordering food and receiving deliveries.
Once you sign up, the entire ordering and delivery process involves just a few steps. You enter your exact address, explore the restaurants nearby, choose the one you like, decide what you want to eat, go to checkout, and wait for your order to arrive or get prepared for pickup, depending on your preferences.
Once Seamless receives your order, it gets in touch with the restaurant, communicates your desires, and takes care of the payment process. When the food is ready, you are notified that it is time for pickup or a delivery request is sent to the nearest courier whose job is to pick up the order and bring it to your doorstep.
Registration
Registering on Seamless is a one-step process. You fill out a registration form that asks for your first name, last name, email address, and password. You are not asked to provide your credit card number or enter any sensitive information during signup.
You can only create one account with one email address. However, you can have more than one delivery address stored within the same account, so there is no need to register more than once.
Ordering
Once you create your account and enter your physical address, you can move on to the fun part and that is choosing and ordering your next meal. Seamless will show you all the restaurants available in your area and you can choose how you want to browse them.
You can browse by collection and view the top-rated or the most popular restaurants near you, explore the ones that can deliver to you the fastest, and check out those that can deliver in 45 minutes or sooner. It is a good idea to check out the Delicious Deals collection as well since this is where you can find special deals and promos and get great food while paying less.
Furthermore, you can browse restaurants by cuisine and discover local Asian fusion and poke restaurants, burger joints, vegetarian eateries, bakeries, cafes, steakhouses, and much more. Unfortunately, Seamless has so far neglected to include filters that would allow you to find allergy-friendly options, but we hope that the situation will change soon.
If you have super-specific cravings, you can use the search function to find your favorite restaurant or places where you can get the food you are in the mood for. You can search for everything from pizza to your favorite Starbucks coffee and build your order in seconds.
If you are still unsure what you want to get, Seamless can help you find the right restaurant more easily. You can filter restaurants by rating, price range, and delivery time. You can view restaurants that are new on Seamless, restaurants that allow for order tracking, and restaurants that offer free delivery. Finally, you can sort your options by distance, delivery estimate, delivery fee, and delivery minimum. Therefore, there are a lot of ways to identify the right solution for your current needs.
To learn more about the restaurant that piques your interest, you just need to select it and view its menu, location, phone number, working hours, and reviews left by hungry diners like yourself. If you like what you see, you should just choose the items you want to order, decide how many portions of each item you want to get, and add everything you are craving to your bag. You can add special instructions for the restaurant if you want certain ingredients left out or have any other requests.
You can edit your order an infinite number of times before you finally place it. You can remove items you added by accident or get more of what you are craving. The ordering process allows for full personalization. You can even decide whether you want to get napkins and utensils or wish to do your part in saving the planet and eliminate unnecessary plastic and paper waste.
Payment
Like most food delivery platforms, Seamless supports a variety of payment methods. You can pay for your orders using:
Any major credit card like MasterCard, VISA or American Express;
PayPal;
Apple Pay;
Android Pay;
Venmo;
Amex Express Checkout;
eGift;
Cash.
The last option mentioned above separates it from a number of its competitors. While some food deliveries are moving toward the adoption of the cash payment system, the majority of them are not there yet. However, it is also true that cash is not an option for all restaurants even with Seamless.
Delivery
At the beginning of this Seamless review, we mentioned that the service is available in over 900 cities in the US and that it caters to London customers as well. At the moment, you can order food via Seamless if you live in Arizona, California, Colorado, Connecticut, the District of Columbia, Florida, Georgia, Illinois, Maryland, Massachusetts, New Jersey, New York, Pennsylvania, Texas, Utah, Virginia or Washington.
To find out whether your city is on the delivery map, you can view the list of cities on the Seamless website. Alternatively, you can just enter your address and see if any restaurants show up in the results.
All restaurants on the platform come with delivery estimates, which range from just 20 to more than 60 minutes. That way, you get to choose restaurants based on delivery speed. If you are really hungry, you can tell Seamless to deliver your order ASAP. If you can wait or have specific plans, you can choose a specific time during the day or schedule your delivery up to 7 days in advance. If you choose to place an order for another day, you can pick the exact time as well.
Before its merger with Grubhub, Seamless did not allow you to track your order. Instead, you always had to check with the restaurant directly to discover your order status. Now, certain restaurants come with the order tracking option that lets you know when your order is received, when the restaurant staff gets cooking, when the courier starts driving or cycling and when the food reaches your address. You can view this information in your account. Unfortunately, this feature is still not available for all restaurants.
Generally speaking, Seamless is not known for slow deliveries, but delays are not as infrequent as one might hope. Still, it rarely happens that the delivery is more than 10 minutes late.
How Much Does Seamless Cost
Certain food delivery platforms charge several fees that significantly increase the total cost of your food. Seamless lets you register and use the platform free of charge. What you can expect to pay apart from the price of the food includes the potential delivery or service fees and sales tax, along with the tip amount of your choice.
While you can sort restaurants by delivery fee to avoid paying more than you would like, you usually cannot view the delivery fee in advance. It only shows up at checkout. The fee is determined by the restaurant. It generally amounts to $4 – $8 per delivery, but it tends to vary immensely.
With many restaurants on Seamless, you get free delivery, but you still need to pay a service fee, which is quite similar to the delivery fee in most cases.
When it comes to tips, you can give them to both restaurants and drivers. While you can choose the amount yourself, Seamless does suggest tips amounting to about 20% of the food value.
How To Drive For Seamless
To become a Seamless driver, you need to be 19 or older, have a valid driver's license and registration, and own a car, scooter, motorcycle or bike of your own, as the service does not provide its own delivery vehicles. The service does not seem to have a strict limit on the number of independent contractors it hires, so you can apply whenever you want and start earning money really soon.
To get started, you should visit the Seamless website and go to the Drive With Us section. There, you can find a signup form that asks you to enter your first name, last name, email address, and phone number. In the next step of the signup process, you provide information like your state and city of residence and preferred mode of transportation. Lastly, you need to confirm that you are at least 19 years old and check whether the mode of transportation you selected is available in your area. If not, you should choose another option from the list provided for your city.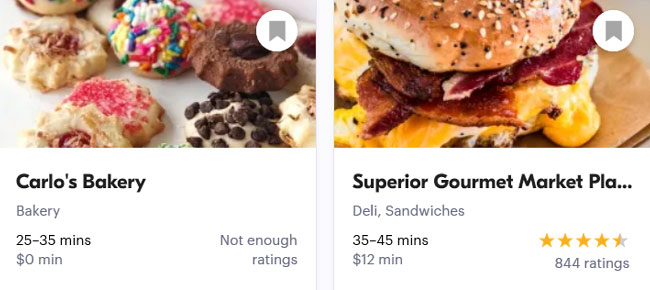 Signing up should take a minute or two and then you simply wait and see whether your application was accepted, so you can move on to handling the paperwork and getting acquainted with your new job. You should know that as a part of the standard procedure, Seamless asks new drivers to pass a background check.
Since Seamless merged with Grubhub a few years back, becoming a Seamless driver also means that you get to drive for Grubhub. You get to choose your own working hours and you can accept or decline every delivery request you receive. However, if you live in an area where the company provides a minimum hourly pay (normally $10) regardless of the number of requests received, you should know that in order to get the minimum pay, you need to accept at least 90% of requests.
How Much Do Seamless Drivers Make
How much you can earn by driving for Seamless depends on the hours you choose, the number of hours you work per week, and the kinds of delivery requests you choose to accept. On average, Seamless drivers earn about $11-$12 per hour. This means that if this was your primary job and you delivered food with Seamless 8 hours a day, 5 days a week, you could expect to earn between $23,000 and $25,000 a year, based on the average pay. However, many Seamless drivers report earning much more. Here is why.
Your earnings per delivery include the delivery pay calculated based on the mileage and the time you spend fulfilling the delivery request plus 100% of the tip you get from the customer. When you receive a request, you get information on the distance and how much money you can earn, with the tip included. That way, you get to determine for yourself whether the cash is worth the trip.
Seamless drivers who earn more than others usually work during busy hours like lunch, so they receive tons of requests and they can choose the ones with higher tips. They also choose to work in poor weather, which increases the chance of a bigger tip. Since Seamless recommends tipping the driver 15-20% of the order value, you can earn quite a lot by accepting larger orders. Therefore, there are plenty of ways to increase your earnings with Seamless by adjusting your schedule adequately.
Seamless Pros & Cons
To make sure Seamless meets all your standards and expectations, it is important to know its biggest advantages and disadvantages. With a short overview of its pros and cons, you can easily decide if Seamless is the right food delivery app for you.
Pros
More than 25,000 restaurants
Available in 900+ US cities and London
Schedule delivery up to 7 days in advance
Cash payments with certain restaurants
Easy browsing with multiple filters and sorting options
Only charges delivery and service fees
Cons
Order tracking not always available
Not allergy-friendly
Delivery costs rarely disclosed upfront
Actual delivery time may differ from the estimated time
Bottom Line
As we are finishing off this Seamless review, we have to say that although this food delivery platform has been around for many years, the general feeling is that it is still a work in progress. It does feature many restaurants and its geographical coverage is more than decent. It does not charge any unnecessary fees and it lets you pay any way you want to. It allows for easy browsing, although it still lacks some important filtering options. Overall, it should satisfy the needs of most users.
With a few extra tweaks and greater cost transparency, it would definitely get an exceptionally high rating. At the moment, it is a really good option for hungry diners across America and London, but there is still work to be done before we can describe it as the best of the best.
Seamless FAQ
How much is the Seamless delivery fee?
The Seamless delivery fee varies depending on the restaurant. Certain restaurants offer free delivery while with others you pay a fee that usually ranges from $4 to $8.
How much should I tip on Seamless?
The recommended tip amount on Seamless is 15% to 20% of the order value.
How do I cancel my Seamless order?
To cancel your Seamless order you should contact the restaurant directly. Open your email confirmation to find the restaurant's phone number. After canceling, respond to the confirmation email to notify Seamless about the cancelation.
View All FAQs