BeyondMenu Review
An Easier Way To Order Your Favorite Food

Advertiser Disclosure
This website features affiliate links. For purchases made via these links, we earn commissions that allow us to keep producing helpful content. To find out more
click here
.
Close
If you are looking for a new food delivery app to try out, you may have stumbled across BeyondMenu, a small online food delivery company that lets you place delivery and takeout orders and even make reservations at local restaurants, all via its online and mobile platforms.
At first glance, it does not have anything extra to offer in comparison to its competitors, but we decided to try it out anyway and see if it is worth your trust. Keep reading this BeyondMenu review to discover everything we (dis)liked about this service.
What Is BeyondMenu
BeyondMenu is an online food ordering service that cooperates with thousands of restaurants across the US. It lets you view local restaurants' menus, order what you love, and have your order delivered or prepared for pickup.
The company is based in Rosemont, Illinois and it has been around for about half a decade. It claims to have more than 15,000 restaurants featured on its platform, but we cannot confirm that the number is that large based on our research for this BeyondMenu review. Keeping in mind the complaints many restaurant owners filed with the Better Business Bureau, it may be that numerous restaurants have stopped cooperating with the service since the claim was published. This leaves us skeptical but curious to find out more.
The service's online and mobile platforms could be described as basic at best, but they are easy to navigate. They give you instant access to the local restaurant selection, offer multiple ways to speed up your search for the right eatery, and provide all the most relevant information about each establishment featured.
Compared to ordering from a restaurant directly, BeyondMenu has a few advantages. First of all, you get to discover new restaurants in your area. You have a variety of delivery and takeout options at your fingertips, so you do not have to spend time googling or collecting and flipping through paper menus. You further get to order online and everything you crave is a tap away. In other words, you get to order more quickly and easily and even enjoy added benefits like effortless delivery scheduling and exclusive coupons.
How Does BeyondMenu Work
Ordering food via BeyondMenu is entirely simple. You create an account, provide your address, view the local restaurants, fill your bag with menu items that suit your taste, choose between delivery and pickup, and go through the checkout process. The company also acts as an online restaurant reservation service, which is not highly common among food delivery companies.
You can access the BeyondMenu online platform via your browser or you can order via its dedicated Android and iOS apps. Either way, you should be able to set up an account in a minute and place your order or make a reservation in a few clicks or taps.
Registration
BeyondMenu's signup form requires you to provide only the most basic of information. You need to enter your first name, last name, email address, and phone number. Furthermore, you should come up with a password to use when logging in. With all this information provided, you can just click the signup button and start ordering.
While you cannot create multiple BeyondMenu accounts with a single email address, you can add multiple physical addresses to your account. Therefore, you can use the service whether you are at home or traveling, as long as the city you are in falls within the company's delivery map.
Ordering
We have to say that BeyondMenu has done a rather good job when it comes to the browsing and ordering process. When you first enter your address, you get to find out how many restaurants you have at your disposal. At a glance, you can discover the key facts about each restaurant, including the rating, the delivery fee, the minimum order value, and the distance from your location.
If you are not into random browsing, you can use filters, sorting options, and the search function to find exactly what you need. You can sort the available restaurants by distance, delivery minimum, and delivery fee. You can search for specific food types and dishes and see which restaurants have them on their menus. You can view only the restaurants that offer free delivery or coupons or limit your choice to the ones that are currently open or offer only delivery, without the pickup option.
Restaurants can be filtered by 25 different cuisines. You can search by origin and opt for Mexican, Mediterranean or Pakistani food. You can browse restaurants that specialize in pizza, pasta or salads. Finally, you can take a look at the healthy options or focus on eateries that have kids menus. However, if you have any food allergies or special dietary needs, you are out of luck since BeyondMenu has not introduced any particular special diet filters just yet. It only lets you narrow your choice down to vegetarian or halal options.
Once you are done browsing and identify the restaurant you want to order from, you can proceed to build your order. When you see something you like, you simply select that item, choose the size, quantity, toppings, and add-ons, and enter special instructions if you have any. Then you tap or click the Add To Order button and you can move on to the next item. Unfortunately, you cannot view photos of the dishes, which may make it difficult to decide whether the item in question suits your taste and cravings.
If you make a mistake, you can easily correct it before placing your order. Once in your bag, items can still be edited or deleted. Just make sure you review your order before going to the checkout page since changing a processed order is not possible with all restaurants.
Payment
At checkout, you can choose the desired payment method and save it within your account for future use. The company accepts three basic forms of payment, including:
All major credit cards (VISA, Discover, American Express, and MasterCard);
PayPal;
Cash.
For added convenience, you can check out using the credit card scanning function in the BeyondMenu app. However, since certain BeyondMenu users reported having issues with credit card payments, it may be a good idea to opt for cash to prevent potential problems.
Delivery
According to BeyondMenu's LinkedIn profile, the service is available in more than 2,000 cities in the US. However, the company's official website only lists 20 cities as parts of its delivery map. These include Austin, Baltimore, Boston, Charlotte, Chicago, Columbus, Dallas, Houston, Indianapolis, Jacksonville, Long Beach, Los Angeles, Milwaukee, New York, Philadelphia, Phoenix, Sacramento, San Antonio, Virginia Beach, and Washington.
For the purpose of this BeyondMenu review, we tried using the service to browse local restaurants in other major cities like San Francisco and Portland. As it turns out, the service does feature restaurants in these cities as well. However, there is no complete list of cities covered on its website, so the only way to find out whether BeyondMenu can deliver to you is to enter your address and see if any restaurants show up as available options.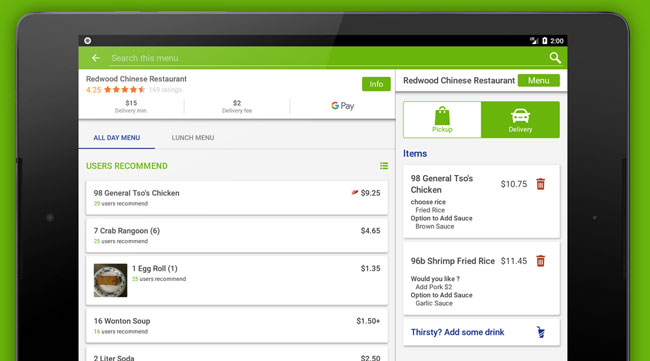 When placing a delivery order, you can choose to have your food delivered ASAP or schedule your delivery for a later time and date. You can schedule up to 7 days in advance and choose the 15-minute window that suits your plans.
Live order tracking is not an option, but you do get an order confirmation and the estimated time of arrival. In case of a delay or a similar issue, you can get in touch with BeyondMenu's support staff or contact the restaurant directly.
From our experience, deliveries are prompt, but it is worth noting that user experiences vastly differ. Some report getting their orders sooner than they hoped while others complain about deliveries being more than 15 minutes late. Obviously, such problems can be the restaurants' fault, but without more specific information, it is hard to say for sure who is to blame.
How Much Does BeyondMenu Cost
Pricing is one of the more positive aspects of BeyondMenu. The company does not charge service fees and small cart fees and it does not charge extra during busy hours like lunch. You can expect your total to include the value of the food, a delivery fee, a tip, and sales tax if applicable.
Delivery charges vary from one restaurant to another. More often than not, they range from $1 to $3, but in some cases, you may need to pay a delivery fee amounting to $10 or more. Of course, you can always avoid the fee by opting for a restaurant that offers free delivery.
As far as the tip goes, you can decide on the amount in advance or tip the courier in cash upon arrival and give a tip that corresponds to your level of satisfaction. Suggested tip amounts include 10%, 15%, and 20% of the order value, but you can pick a custom amount as well.
If you want to save cash on your BeyondMenu order, you can view the currently available discounts and promos listed on the company's online and mobile platforms.
How To Drive For BeyondMenu
Unlike most of its competitors, BeyondMenu does not provide an application form for drivers on its official website. We did some research and based on the information we gathered, it seems that BeyondMenu does not hire drivers at all. Instead, it cooperates with restaurants that have their own delivery.
Keeping this in mind, we advise you to consider other popular food delivery services if you are interested in being a full-time or part-time courier. If you still wish to work for BeyondMenu, you can get in touch with its hiring staff by sending them an email (the address is career@beyondmenu.com) and see if there are any vacancies you could apply for.
BeyondMenu Pros & Cons
To make sure BeyondMenu meets all your standards and expectations, it is important to know its biggest advantages and disadvantages. With a short overview of its pros and cons, you can easily decide if BeyondMenu is the right food delivery app for you.
Pros
Thousands of restaurants featured
Multiple filtering and sorting options
Delivery scheduling
Accepts cash
Cons
Does not have a stellar reputation
Poor platform design
No food photos
No order tracking
Bottom Line
While writing this BeyondMenu review, we tried to be as objective as possible and we wish to remain impartial until the end. Therefore, we have to say that although we wanted to like this service, we found more than one flaw that prevents us from recommending it wholeheartedly. With restaurants complaining about the way this company does business and customers reporting late deliveries and payment issues, it seems that BeyondMenu has to make some important changes before it can be described as an excellent online food delivery option.
Furthermore, we do not appreciate the lack of food photos or the absence of live order tracking. The platforms are not well-designed or modern and we struggled to find important facts like whether the service employs drivers or not.
What we do like about BeyondMenu is that the ordering process is quick and easy. Our deliveries arrived on time, which is a plus but obviously cannot be generalized to all deliveries. Since the service does not charge any additional fees and allows you to pay in cash, you can give it a try risk-free and decide for yourself whether it suits your needs. Still, if we are being honest, it is certainly not the best food delivery service we have tried so far.
BeyondMenu FAQ
How much does BeyondMenu charge for delivery?
With BeyondMenu, the delivery fee depends on the restaurant. It generally ranges from $0 to $10+, but most of the time, you pay $1 to $3 per delivery.
How much should I tip on BeyondMenu?
BeyondMenu suggests leaving a tip equal to 10%, 15% or 20% of the order value.
View All FAQs