Little Spoon Review
Fresh, Healthy, Organic Baby Food

Advertiser Disclosure
This website features affiliate links. For purchases made via these links, we earn commissions that allow us to keep producing helpful content. To find out more
click here
.
Close
Being a parent means having to make important, possibly life-altering decisions every minute of the day. Taking care of your children's nutritional needs can be a particularly big challenge, especially if the little ones are too young to clearly vocalize their needs and desires (not that it gets any easier when they grow up). There is much to learn about what children need to eat at every stage of their development and there are consequently numerous dilemmas that you need to deal with on a daily basis.
Little Spoon is a California-based meal delivery service designed to lift a huge weight off your shoulders by providing fresh, organic blends that are in perfect accordance with your child's nutritional and developmental needs. The blends are created in consultation with a team of experts on feeding babies and toddlers, including a professor of pediatrics, a pediatrician, and a registered dietitian and certified dietitian nutritionist.
In this Little Spoon review, we bring you all the most relevant information about this new meal delivery service for babies.
How Little Spoon Works
Once you decide to become a Little Spoon subscriber, you get to fill out a questionnaire that allows its team to get to know your child a bit better. The information you need to provide includes your child's name and birth date, as well as nutritional preferences. You will be asked whether your child eats pureed food, finger food, a combo of the two or has not yet started eating solids and whether you mostly make the food yourself or buy it at a store. You will further be asked to describe your child's eating style, ranging from very picky to adventurous, and tell the team whether your child is allergic to something and whether or not you want the blends to include meat.
After you complete the questionnaire, you can decide whether you want to order 1, 2 or 3 blends per day. You get to choose the blends you want your child to enjoy during the week. Deliveries are made every other week and include two weeks' worth of blends.
There is no minimum subscription duration, so you can skip a delivery, change your subscription plan or cancel your subscription at any time. What we particularly liked while researching for this Little Spoon review is the fact that the blends come with a satisfaction guarantee.
What Makes Little Spoon Different
Good baby food is hard to come by. Store-bought food often sits on the shelf for too long, is highly processed, and contains a lot of sugar and preservatives. Pouches may be convenient, but they do not encourage the development of oral muscles and prevent the child from touching, seeing, and smelling the food. Home-made baby food is always a good option, but parents do not always have the time to make every meal of the day themselves.
With Little Spoon, you get fresh blends made of organic ingredients that contain nutrients essential to your child's development during the first years of his or her life. These blends do not contain any artificial products and the use of preservatives and additives is avoided through the application of a technique known as high-pressure processing. This technique eliminates the presence of harmful bacteria and preserves the nutritional value of the blends.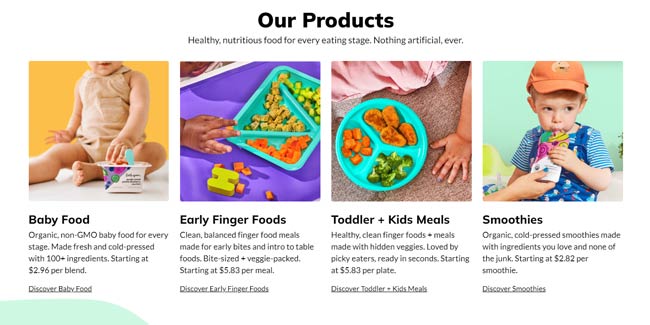 The name of the company reflects one of its main goals: allowing babies to learn how to chew and get used to different food textures. By teaching your child to eat with a spoon, you are also reducing the risk of choking and supporting the healthy development of muscles and motor skills.
Not only is every blend created with different developmental stages in mind, but every box Little Spoon ships is customized to suit the needs of every individual child. While the company is still unable to provide blends for children with severe food allergies, the blends are made in an allergen-friendly environment. Therefore, they are suitable for children with mild food allergies, although it is recommended to talk to your pediatrician before opting for Little Spoon meals.
Every blend comes in a PET plastic container, with a PP plastic spoon included. The packaging and spoons are BPA-free, so they are perfectly safe. What is more, both containers and spoons are 100% recyclable.
Meals And Recipes
Little Spoon meal options
At the moment, Little Spoon offers 26 different baby blends. They can be divided into 4 categories based on the age of the children whose needs they suit. At your disposal, you have blends recommended from 4, 6, 8, and 12 months.
There are 3 blends suitable for children aged 4 months or older and these include pear, mango, and apple blends. They boost immunity, aid vision development, alleviate constipation, and help maintain bowel regularity.
For babies aged 6 months or older, Little Spoon has developed 9 more complex blends rich in vitamins and fiber. They contain the healthiest of veggies and fruit, including kale, beet, spinach, avocado, broccoli, banana, carrot, pea, and pear, as well as other good ingredients, such as flax, turmeric, hemp, and spirulina. All of these ingredients perform various important functions, such as controlling water balance, maintaining healthy blood pressure, aiding bone development, and supporting nutrient absorption.
For babies aged 8 months or older, the company offers 8 blends rich in healthy oils, seeds, veggies, and fruit. These stimulate healthy brain function, build up the immune system, protect children from infections, and have positive effects on all major organ systems.
Finally, Little Spoon offers 6 blends suitable for children aged 12 months or older. Apart from the ingredients present in other blends, these include ingredients such as brown rice, beans, and corn, as well as various herbs, which support the digestive system, promote detoxification, and contribute to the development of healthy bones, while also possessing anti-inflammatory and anti-viral properties.
While the selection of blends does not change on a weekly basis, new items are regularly added to allow children to experience new flavors and reap the benefits of different ingredients. Although not too numerous, the blends are carefully designed and provide babies with everything necessary to keep them happy and healthy. We hope that the company will soon offer even more options for the youngest ones.
Pricing
Little Spoon baby blends do not have individual prices. The price you pay per blend depends on the number of blends you order per week. If you choose to order 1 blend per day, you pay $4.04 per blend. For 2 blends per day, you pay $3.50 per blend. Finally, if you decide to order 3 blends per day, you pay just $2.96 per blend.
There are no extra costs, as shipping is free of charge on all orders.
Blends
Blends per day
Weekly price
Price per blend
1
$24.43
$3.49
2
$44.94
$3.21
3
$57.54
$2.74
Delivery Areas
Until recently, Little Spoon blends were only available in some parts of the US and customers were put on a waiting list, so they had to wait for an invite before they could order. Fortunately, the company is now able to ship throughout the US, except for Hawaii and Alaska, and the blends are shipped as soon as you order them.
Little Spoon Pros And Cons
To make sure Little Spoon meets all your standards and expectations, it is important to know its biggest advantages and disadvantages. With a short overview of its pros and cons, you can easily decide if Little Spoon is the right meal delivery service for you.
Pros
Fresh, organic blends for your baby
Created in cooperation with pediatricians and nutritionists
Carefully selected ingredients that support development
Every box customized to suit the needs of your child
Available throughout the contiguous US
Flexible subscription
Free shipping
Cons
Somewhat lacking in variety
Sample Dishes
With Little Spoon, you get delicious meals prepared by pro chefs at affordable prices. To find out what kinds of delights you will receive in your delivery, we have chosen a couple of sample dishes that accurately represents its offer and can help you decide if it is the right service for you.
Beet Tahini Chickpea-Apple Brown Rice Cardamom
Pea Apple White Bean Butternut Squash Sage Millet Ground Chia
Pea Carrot Apple Dill Coconut Oil
Red Lentil Chickpea Apple Curry Coconut Milk
Bottom Line
Little Spoon gives parents a wonderful opportunity to provide their children with only the healthiest food that perfectly suits their needs and aids the healthy development of the entire body, including the brain and central nervous system. As seen in our Little Spoon review, everything is fresh, organic, and non-GMO and approved by experts with extensive knowledge on the needs of babies and toddlers. The prices are surprisingly reasonable, considering the quality, and shipping is free of charge. We are glad to see that this lovely service is thriving and now offering its blends to parents and babies throughout the contiguous US.