Compare Prices
Company
Avg. Meal Price
Shipping
Delivery Areas
Wild Alaskan Company
Avg. Meal Price
Shipping Cost
$$0-$9.95
Delivery Areas
Lobster Anywhere
Avg. Meal Price
Shipping Cost
$29.00
Delivery Areas
FultonFishMarket.com
Avg. Meal Price
Shipping Cost
$0
Delivery Areas
Vital Choice
Avg. Meal Price
Shipping Cost
$6.95
Delivery Areas
Lobster Gram
Avg. Meal Price
Shipping Cost
$30.00
Delivery Areas
Benefits Of Seafood Delivery
If you have never ordered seafood online before, you may be skeptical about the whole concept. We are going to be honest and say that we were skeptical at first, too. Seafood is not easy to ship safely and without seeing it for yourself prior to purchase, it is hard to know whether it is as good and fresh as you want it to be.
However, our experience has helped us discover that getting great seafood is now actually easier online. Currently, there are more than a few seafood delivery services that beat even some of the best fish markets by a mile.
A good seafood delivery service allows you to:
Get seafood straight from the boats instead of settling for re-frozen products;
Enjoy fresh fish and shellfish whenever you want, wherever you are;
Choose from a vaster range of seafood items than virtually any store boasts;
Enjoy the convenience of home delivery;
Buy your seafood at lower prices thanks to seafood deliveries' direct cooperation with fisherfolk;
Never struggle to find the exact seafood item that you need.
It is a well-known fact that supermarket seafood can hardly be described as fresh. Even if it was farmed or caught in the US, chances are it was frozen and then shipped to China, where it was thawed, processed, frozen again, and shipped back. During transport, it often thaws again and needs refreezing. Then it spends a bunch of time in storage facilities, transport again, and finally, it may sit in your local store's frozen section for a while before it ends up in your cart.
Seafood that is not kept in a freezer but instead sits on a bed of ice is not fresh either. Normally, it is frozen fish that has been thawed and placed on ice and it may have even been thawed before.
Eating fish at least once per week can lower your chances of developing heart disease by 15 percent.
For these reasons, supermarket seafood is often watery, nutrient-poor, and far from an ideal choice. If you do not have an amazing fish market nearby, seafood delivery is probably the only way to get seafood that is actually worth putting on your plate.
Seafood delivery services eliminate the extra middlemen, minimize the time your seafood spends in transport, and bring you optimally fresh products that still smell of the ocean, regardless of your location. What is also great is that they often sell their seafood at great prices due to the shortened supply chain and direct partnerships with fishermen and fisherwomen.
Since they specialize in seafood, they always have all the popular items available and many of them have impressive selections that include every product you can or cannot name. That means that you never have to change your dinner plans since you can always find just what you are craving and have it delivered straight to your doorstep in as little as 24 hours.
In short, seafood delivery services have made it possible for everyone across America to enjoy fresh fish and shellfish of their choice at any time and easily achieve the goal of 2 servings of seafood per week.
What Makes The Best Seafood Delivery Services Different
As suggested earlier, freshness, quality, and trustworthiness are some of our key selection criteria, but they are not enough for a service to be featured on our list. The best seafood delivery services are the ones that work extra-hard to make their customers happy and provide special perks that you can hardly enjoy elsewhere. Their unique appeal may lie in anything from the vastness of their offers to the affordability of their products.
Enjoying seafood on a regular basis is great for your brain. Observational studies have revealed that a diet rich in seafood can slow down mental decline associated with aging. Furthermore, people who always have fish on their weekly menus have more gray matter in the brain centers responsible for memory and emotion control.
Here are some examples of what makes the best seafood delivery services different and superior to the rest:
Unparalleled product variety;
Exclusive focus on wild and sustainable seafood;
Exotic, hard-to-find products;
Availability of extra items like seafood dinners, chowders, and surf & turf packs;
Live specimens available for delivery;
Attractive discounts and membership perks;
Free shipping on select items and larger orders;
Convenient and affordable subscription options;
One-off orders with no minimum value;
Money-back guarantee on all orders.
These are just some of the qualities we look for in our top picks. Essentially, our goal is to bring you a list of seafood delivery services that are in one or more ways better than any other solution available, so every delivery could put a smile on your face.
How We Chose The Best Seafood Delivery
Nowadays, it seems like you need to be a seafood expert in order to avoid getting Nile tilapia instead of sea bass or farmed instead of wild-caught salmon. Fish fraud is an upsettingly common issue and seafood is being mislabeled and sold at inadequately high prices in stores, markets, and restaurants across the nation.
According to a recent study conducted by the Oceana conservation group, consumers who are paying for high-quality fish are frequently getting cheaper alternatives, with the most prominent examples being snapper and sea bass, which are mislabeled about 50 percent of the time. Likewise, shellfish is often sold as sustainable while in fact it is not and you can easily get a soft-shell lobster instead of the hard-shell specimen you wanted.
According to the US Department Of Health, you should eat seafood twice a week to keep your body in good shape.
Since shopping online prevents you from seeing and smelling your seafood before it reaches your doorstep, it is hard to be sure that you have made the right choice and that you are getting what you have paid for. That is why we are here to do the research for you, meticulously test every attention-worthy seafood delivery out there, and recommend only those that you can trust.
When choosing the best seafood delivery for you, we start by exploring each service's sourcing and handling practices in order to identify the ones that:
Cooperate directly with fishermen and fisherwomen, thus guaranteeing superior freshness;
Provide seafood that is sustainably harvested;
Source locally whenever possible;
Offer precise information on seafood origin and grade;
Handle seafood in state-of-the-art facilities;
Process, ship, and deliver their products as quickly as possible for optimal safety.
After we identify our short-listed candidates, we proceed to hands-on testing. Simply put, we order fish and shellfish from all seafood delivery services that satisfy the abovementioned criteria in order to determine whether they live up to their promises. We select the companies whose seafood is:
Premium-quality, preferably wild-caught;
Delivered perfectly fresh (e.g. in the case of live seafood) or fresh-frozen;
Adequately labeled with no signs of fraud;
Conveniently packaged;
Delicious.
In the final, third step of our selection process, we identify the seafood delivery companies that do not only deliver the freshest, highest-quality fish and shellfish but also provide:
Excellent seafood selection;
Good price-to-value ratio;
Easy ordering;
Extra-fast delivery;
Reasonable shipping fees;
Satisfaction guarantee.
If all of these requirements are met, the seafood delivery in question deserves a spot on our list and your weekly menu.
Compare Seafood And Prices
After many weeks of meticulous analyses and testing, we have selected the absolute best seafood delivery services on the market. However, only you can decide which of our top picks is the best choice for you. Keep reading to get more useful information about the offers of our top-rated seafood delivery companies and discover whether their prices suit your budget.
1. Wild Alaskan Company
Wild Alaskan Company is definitely one of the most trustworthy seafood delivery services around. It exclusively sources its fish from the finest wild fisheries in Alaska and the Pacific Northwest. Its selection includes premium-quality, fresh-frozen sockeye and coho salmon, pacific cod, pacific halibut, and Alaska pollock.
Everything you get from Wild Alaskan Company is sourced in small batches, wild-caught, sustainably harvested, and processed in the USA. The company's fish is never farmed or genetically modified.
As a customer, you can choose from 3 subscription boxes: Wild Salmon, Wild White Fish, and Wild Combo (salmon and white fish). You can order 12 or 24 six-ounce packs and have them delivered monthly or bi-monthly. The prices are reasonable and shipping is free on 24-pack boxes. Deliveries are made via express ground and air service and come with a 30-day money-back guarantee.
2. Lobster Anywhere
For over 3 decades, Lobster Anywhere has been delivering the finest and freshest seafood to restaurants and homes across the US. It gets its products straight from the boats of local lobstermen and fishermen and delivers them to your home within 24 hours. While best known for its live Maine lobster, it offers a variety of other items that are worth a try.
You can order subscription-free and get a single item or as much seafood as you need. In addition to live lobsters available in 6 sizes, you can order lobster tails in 4 sizes, lobster meat, lobster roll kits, lobster dinners, New England desserts and sweets, lobster bisques, delicious sea scallops from New Bedford, and premium black tiger colossal shrimps.
Being a Lobster Anywhere customer comes with numerous perks, including quantity discounts, free shipping on select items, participation in the company's rewards program, and a 100% satisfaction guarantee on all orders.
3. FultonFishMarket.com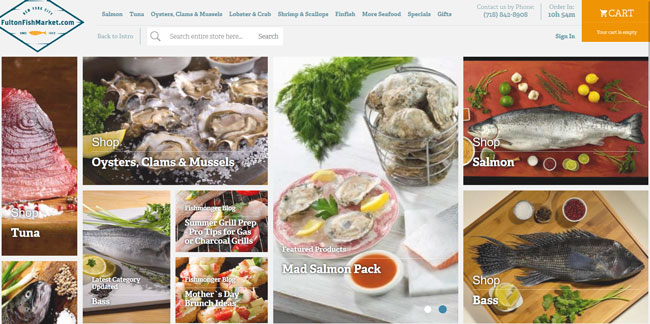 FultonFishMarket.com is a veritable seafood lover's paradise. It provides fish and shellfish from all over the US and the world and manages to satisfy a whole range of preferences by offering farmed, wild-caught, whole, filleted, frozen, and fresh specimens.
You can shop at your leisure and there is no minimum value. Every time you stop by, you can choose from dozens upon dozens of items divided into around 45 product categories. You can opt for salmon, tuna, oysters, clams, mussels, lobsters, crabs, shrimps, scallops, finfish like bass, catfish, and cod, as well as delicacies like grey mullet roe and frog legs. The service even offers convenient holiday and special occasion packs like the Be My Valentine package and the Dinner Party box.
In case you are not entirely happy with your order, you can easily get a refund. Shipping is free on all orders over $100.
4. Vital Choice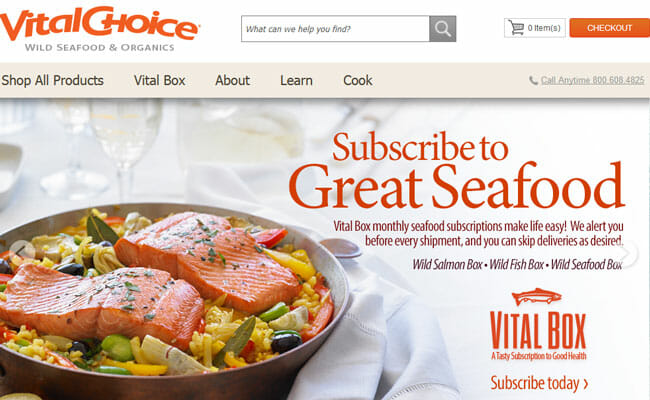 Vital Choice is more than a seafood delivery. It is a premium source of both wild fish and shellfish and various organics. It lets you shop with or without subscription and choose from 100+ items that can help you maintain a perfectly healthy diet.
If you wish to receive hand-selected seafood every month, you can choose between 3 subscription boxes – Wild Salmon, Wild Fish, and Wild Seafood. Alternatively, you can handpick the products in your cart yourself, order whenever you like, and get wild salmon, halibut, ahi tuna, cod, Chilean sea bass, sablefish, scallops, spot prawns, shrimps, lobsters, calamari, and a variety of other seafood delights. You can further opt for extras like premium grass-fed meat, omega-3s and supplements, and organic food and seasonings like soups, broths, marinades, spice blends, and even chocolate.
All orders come with a satisfaction guarantee and shipping is free on continental US orders worth $99 or more.
5. Lobster Gram
With a 4.8-star rating in Google Trusted Stores and mentions in programs and publications like Oprah and Wall Street Journal, Lobster Gram is one of the most trusted and best-known seafood delivery services in America. Its product range is immense and includes freshly fished specimens that can be delivered fresh or frozen.
At Lobster Gram, you can shop whenever you want, with no subscription required. You can get live lobsters, lobster tails, shrimps, scallops, clams, mussels, crabs, and much more. Apart from fresh and frozen seafood, the company sells lobster meat & roll packages, surf & turf packs, and lobster dinners with sides and desserts, as well as premium meat cuts, soups, chowders, appetizers, and a variety of other prepared dishes.
The service is available nationwide and offers a 100% happiness guarantee on each item it ships to your home.