Wild Alaskan Company Review
Advertiser Disclosure
This website features affiliate links. For purchases made via these links, we earn commissions that allow us to keep producing helpful content. To find out more
click here
.
Close
If you like your fish wild and sustainable and want to have it on your table more often, Wild Alaskan Company can work great for you. This New York-based seafood delivery service lets you have all-natural fish of your choice delivered to your home at a frequency that works for you. Ever since its launch in 2017, this company has only cooperated with the best wild fisheries in Alaska and the Pacific Northwest in order to bring you fish of superior flavor and freshness.
In this Wild Alaskan Company review, we are introducing you to the full spectrum of the service's offer, so you can easily figure out whether it is the right fit for your taste, household, and budget.
How Wild Alaskan Company Works
With Wild Alaskan Company, you do not get a huge assortment of products to choose from. The company sources its fish in small batches and you simply get to become a member of its seafood lover's club and claim your share of the monthly catch. At your disposal are 3 subscription boxes for different tastes: Wild Salmon, Wild White Fish, and Wild Combo.
Regardless of whether you decide to get salmon, white fish or a combination of the two, you can choose from 2 box sizes. Namely, you can get 12 or 24 packs of fish per delivery, with the packs averaging at about 6 ounces. You can further decide whether you want to get deliveries every month or every other month.
Once you choose your preferred fish type, box size, and delivery frequency and complete the checkout process, you just need to wait for about a week to get your first order. You can expect your subsequent deliveries to arrive at the same time of the month as your first box.
If you wish to take a break and stop receiving orders for a while, you can pause your subscription at any time or end it altogether. You cannot pause or cancel your membership yourself, but you only need to send an email to the folks at Wild Alaskan Company and they will do it for you. It should take them half a minute to process your request.
What Makes Wild Alaskan Company Different
The main differences between Wild Alaskan Company and other services of its kind are rather easy to spot. First, the company only sources wild and sustainable fish. Second, it prefers quality over quantity, which is why it only offers a limited range of premium fish. Third, it has opted for the subscription-based model so it can source your fish right on time and ensure that what you get in your box is always perfectly fresh and of the highest quality.
The fish you get from Wild Alaskan Company is never farmed or genetically modified. It is frozen as soon as it is caught for optimal safety and nutritiousness. It is sourced from wild fisheries that are sustainably managed and work in harmony with the ocean. It is caught and processed in the USA.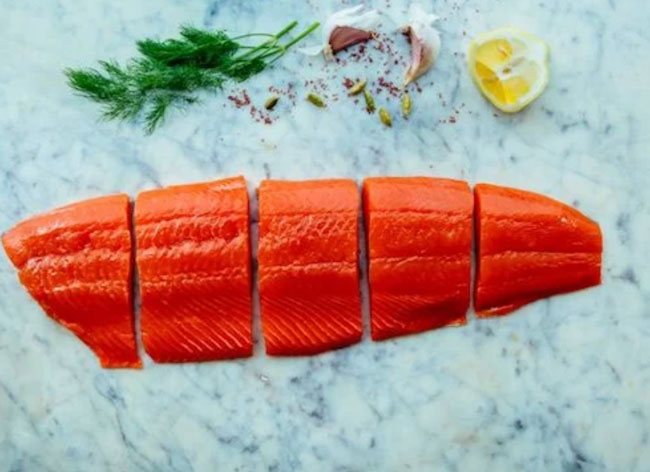 The folks at Wild Alaskan Company have been forming partnerships with the best and most responsible Alaskan fishermen and fisherwomen for 3 generations in order to be able to be your most trusted supplier of the finest treasures of the sea. Therefore, you can be sure that by subscribing to this service, you are getting nothing but the best for your family.
As a company that stands behind its products, Wild Alaskan Company offers a 100% satisfaction guarantee on all deliveries. If you are unhappy with the fish you receive for any reason, you have 30 days to reach out to the service's customer care team and request a replacement or get all of your money back.
Wild Alaskan Company Products
As stated previously in this Wild Alaskan Company review, the service does not offer many products, but it does choose every single product with care. The selection of items you receive depends on the subscription box you opt for.
If you go with the Wild Salmon box, you can expect to get sockeye salmon or coho salmon. With the Wild White Fish box, you can get an assortment of fish including pacific cod, pacific halibut, and Alaska pollock. With the Wild Combo box, you can enjoy a bit of everything, that is, salmon, cod, halibut, and pollock.
From time to time, the service adds new types of fish to its selection. When this happens, you get an email informing you about the latest addition to the offer, so you can know what to expect in your upcoming deliveries.
Apart from being wild, sustainably sourced, and fresh-frozen, Wild Alaskan Company fish is also individually portioned and packed and ready to cook. When you receive it, you just need to pop it into your freezer. When you are ready to enjoy, thaw it in your fridge for 8-10 hours or pop it into a zip-lock bag, keep it in a cold bath for 45 minutes, and it is ready to hit the pan, oven or grill.
If you could use some advice on how to prepare your fish, you can find tons of useful cooking tips and recipes on the official Wild Alaskan Company site. The service does not only provide excellent meal ideas and prepping and handling advice but offers useful beverage pairing suggestions and hosting ideas as well. In short, it provides everything you need to enjoy the finest, perfectly cooked and served fish all year long.
Pricing
Our Wild Alaskan Company review would not be complete without a clear pricing overview. Since the service offers subscription boxes instead of selling individual products, the pricing is extremely simple. All 3 subscription boxes cost the same and the price only depends on how many packs of fish you want to receive in your deliveries.
If you choose to get 12 packs per box, you pay $121.93 plus a $9.95 shipping fee per delivery. This means that you pay $10.99 per 6-ounce pack.
In case you want to get 24 packs per box, your monthly or bi-monthly total amounts to $239.76 and shipping comes free of charge. Therefore, you pay $9.99 per 6-ounce pack.
There are no additional costs like membership or handling fees; everything is included in the price.
Delivery Areas
Wild Alaskan Company ships throughout the continental United States. As expected, it delivers all over Alaska as well. It is still working on a solution that would make it possible to ship its fish to Hawaii.
Your orders are shipped in insulated coolers and the service uses plenty of dry ice to make sure your fish arrives frozen. Depending on where you live, your boxes are shipped via express ground or air service to minimize the time your fish spends in transit.
Wild Alaskan Company Pros & Cons
To make sure Wild Alaskan Company meets all your standards and expectations, it is important to know its biggest advantages and disadvantages. With a short overview of its pros and cons, you can easily decide if Wild Alaskan Company is the right company for you.
Pros
Premium-quality, wild, and sustainable salmon and white fish
Never farmed or genetically modified
3 different subscription boxes available
Quantity discounts
Free shipping on larger boxes
30-day money-back guarantee
Cons
Limited product selection
Absence of customization options
Bottom Line
At the end of our Wild Alaskan Company review, we can conclude that we truly love what this service has to offer. It does not have a huge selection of seafood products and its boxes are not customizable – but for a good reason. The company's goal is to bring you only the freshest, highest-quality fish that is always wild and sustainably sourced and never farmed or genetically modified. It exclusively cooperates with fisheries you can trust and offers a 100% satisfaction guarantee on all orders, so you do not have to worry about wasting your cash on fish you do not love.
Simply put, Wild Alaskan Company chooses what is good for you, the fish, and the ocean and offers a service that is worth paying for.