FultonFishMarket.com Review
Greater seafood variety than you imagined
Advertiser Disclosure
This website features affiliate links. For purchases made via these links, we earn commissions that allow us to keep producing helpful content. To find out more
click here
.
Close
New Yorkers have been getting their fresh seafood at the Fulton Fish Market since 1822. Every day, more than 1 million pounds of seafood pour into this legendary market, originating from both the US and fishing boats around the world.
You may be happy to learn that seafood lovers nationwide can have their favorites shipped straight from the Fulton Fish Market to their homes via the eponymous delivery service that handpicks all the finest specimens available and makes them available for online purchase. If you are interested in ordering, stick around as we lay out all the important facts about this service in our FultonFishMarket.com review.
How FultonFishMarket.com Works
At FultonFishMarket.com, you can shop however you please. The service is not subscription-based and your one-time orders can include as many or as few items as you need. You can shop at any time and there is no minimum order value or weight.
Sometimes referred to as the Amazon of fish, the shop is filled with all kinds of treasures of the sea. You can get everything from tuna steaks to frog legs. For your convenience, the selection is divided into 8 sections, including Tuna, Salmon, Oysters, Clams, & Mussels, Lobster & Crab, Shrimp & Scallops, Finfish, More Seafood (e.g. caviar and the like), and Specials.
When ordering, you should keep in mind that the selection of items available depends on the day's catch. That means that sometimes you may order seafood that does not end up in fishermen's traps and boats.
If you order an item that is currently not available, the service promises to get in touch with you via phone and email as soon as possible and ask you whether you want your delivery to be postponed or wish to receive an adequate, chef-selected substitute. Alternatively, you can simply remove the unavailable item from your order, in which case you are not charged for the canceled item.
What Makes FultonFishMarket.com Different
The crucial difference between FultonFishMarket.com and other seafood delivery services can be summed up in one word: variety. There is hardly any service that offers so many distinct items and provides so many different options. You can opt for farmed or wild-caught, locally sourced or imported, frozen or fresh, whole or filleted. All the seafood is of high quality and normally delivered only a day after catch.
For every item in the shop, the service provides plenty of details that can help you make an informed purchasing decision. You can learn everything about each product's origin, the way it is raised, the way it should be cooked, its taste and texture, nutritional value, and more. You even get to discover some fun facts about your favorites, explore the company's cookbook, and watch how-to videos that can help you prepare your seafood the right way.
If you know someone who would appreciate a good seafood gift but are not sure about that person's preferences, you can purchase a FultonFishMarket.com gift card. The company's gift cards are sent via email, they come with personal notes, and they can be worth anywhere between $1 and $1,000.
FultonFishMarket.com Products
Previously in this FultonFishMarket.com review, we have mentioned that the company's offer is divided into 8 sections, which in turn include about 45 different seafood categories. Due to the immense variety, we cannot mention each product individually. Therefore, we will now go over all the main product categories so you can get a sense of what you can find at the shop.
Salmon
In the salmon section, you can find farmed and wild-caught salmon that can be fresh, frozen or smoked and frozen. Depending on your preferences, you can opt for portions, whole salmon, head-off salmon or sliced salmon and choose specimens from the USA, Scotland, Iceland, Denmark or New Zealand.
Tuna
Tuna products are less numerous than salmon items and mostly include fresh, wild-caught yellowfin (ahi) tuna. Usually, you can choose between 8-ounce portions and loin.
Oysters, Clams & Mussels
Oysters come in 2 varieties, including Pacific and Atlantic. They are normally shipped live and they are usually farmed, although wild oysters are frequently on offer as well. If you are interested in clams, you can opt for live, hard-shell or soft-shell, farmed or wild-caught clams from the USA or New Zealand. As far as mussels go, you can order live, farmed or wild mussels from Canada, New Zealand or the US.
Lobster & Crab
Lobsters are shipped both live and frozen and come from the US, New Zealand, Canada, Brazil, and the Dominican Republic. The service often offers Maine lobsters, but you should call to check for availability prior to purchase. You can opt for whole lobsters and langoustines, lobster tails, and cooked knuckle and claw meat.
Like lobsters, crabs are shipped live or frozen. They are normally wild-caught and mostly originate from the US and Russia. You can opt for stone, snow, blue soft-shell or red king crabs and get them whole or purchase legs or crabmeat.
In case you want to add some crayfish to your order, you can get live, wild-caught crayfish from the US, available in 5-pound bags.
Shrimp & Scallops
Shrimp and prawns can be purchased fresh or frozen and they usually come from Mexico, Argentina, Panama, the US, Vietnam, and Thailand. You can choose between farmed and wild-caught specimens. Scallops generally originate from the US, they are wild-caught, and they are usually shipped fresh.
Finfish
The company boasts an incredible selection of finfish. You can get bass, catfish, cod, drum, flounder, sole, halibut, herring, sardines, jacks, mackerel, Pollock, shark, swordfish, sturgeon, and tilapia, to name but a few options. Whether you prefer your finfish whole or filleted, wild-caught or farmed, fresh or frozen, you can find what you need at FultonFishMarket.com.
Other Seafood
In this section, you can find all kinds of exotic items. Apart from the more familiar octopus and squid, you can get frog legs, unagi kabayaki, grey mullet roe, osetra caviar, sea urchins (the edible part), and various kinds of smoked seafood like sablefish and sturgeon.
Specials
The Specials section is mostly reserved for holiday and special occasion packs. Usually, there are about 10 options available and you can opt for the Paella Dinner box, the Dinner Party box, the Oyster Lovers package, the Be My Valentine package, and more.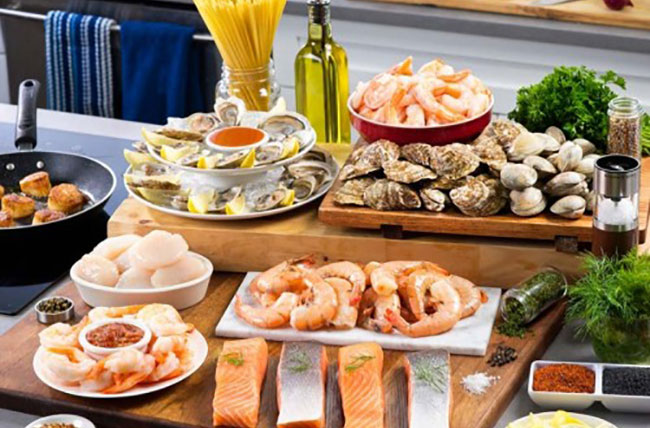 Pricing
FultonFishMarket.com is not the absolute cheapest seafood delivery service on the market, but its prices are fair and rather affordable. For example, you can expect to pay $27 for a live, wild-caught lobster weighing 1.25 pounds or $15 for an 8-ounce portion of fresh Atlantic salmon. Even its most exotic and luxurious items are not extremely pricy, as you can get a 4.6-ounce tray of sea urchins (uni roe) for $40 and a pound of frog legs for $16.60.
In comparison to its competitors, the company's shipping costs are surprisingly low. If your order is worth up to $100, you pay a flat shipping fee of $15. If your order is worth $100+, shipping comes free of charge.
Delivery Areas
FultonFishMarket.com ships its seafood throughout the contiguous United States. It is currently unable to deliver to addresses in Hawaii and Alaska.
All orders are shipped via FedEx. Deliveries are made Tuesday through Saturday. If you place your order by 1 PM, you can expect to have it delivered within 2 business days. If you are not happy with your order, you should reach out to the company's staff via email and request a refund.
FultonFishMarket.com Pros & Cons
To make sure FultonFishMarket.com meets all your standards and expectations, it is important to know its biggest advantages and disadvantages. With a short overview of its pros and cons, you can easily decide if FultonFishMarket.com is the right company for you.
Pros
Unparalleled variety of seafood products
Delivered fresh, only a day after catch
Both luxurious and budget items available
Reasonable pricing
Free shipping on orders over $100
Cons
Product availability not guaranteed
Bottom Line
FultonFishMarket.com strives to provide something for virtually every seafood lover. Its offer is amazingly diverse, its products are carefully handpicked and truly fresh, and its pricing is more than ok. Apart from the range of options available, what we appreciate most is the fact that the service offers free shipping on larger orders, unlike most other seafood deliveries that charge extra for large shipments. Whether you just want to get some pollock or cod for your weeknight dinners or wish to feast on caviar, you should definitely stop by FultonFishMarket.com when you are craving good seafood.