Benefits Of Meat Of The Month Clubs
Finding good meat is not easy. Whether you shop online or at a brick-and-mortar store, you need to invest a considerable amount of effort to ensure that you have bought meat that is fresh, high-quality, properly raised, and adequately priced. Even with all these boxes ticked, there is no guarantee that you will get cuts that suit your taste. You may spend a lot of time shopping and still not get exactly what you need.
Meat of the month clubs came into existence in order to solve these rather annoying issues. They are designed to make meat shopping simple by providing convenient, time-saving home delivery solutions tailored to different meat lover profiles. In recent years, the market has grown to include specialized clubs that focus on everything from steaks to charcuterie.
The key benefits of meat of the month clubs include:
quick and easy ordering;
exclusive cuts;
greater freshness;
better prices;
auto-delivery.
Instead of wasting hours every month trying to find the meat you crave, you can get all the meat you need in the following months in just a couple of clicks. With meat of the month clubs, the whole process is as simple as browse, choose, and subscribe. You can set up your monthly deliveries in minutes and get the products you like at the desired frequency, in the quantity that suits your household size and meat-eating habits.
Apart from the obvious convenience and simple ordering, meat of the month clubs give you the unique opportunity to get your hands on exclusive cuts that you cannot find just anywhere. These services tend to cooperate closely with vast networks of farms and artisans, which allows them to easily obtain coveted cuts that make their subscriptions worth the investment.
Direct cooperation with farmers and artisan shops along with well-planned-out shipping schedules guarantee optimal product freshness. Unlike stores that often source their meat long before you buy it, meat of the month clubs know exactly how many shipments they will make during the month and when the meat will be shipped, so they can notify their sourcing partners in advance and arrange everything so the cuts are freshly crafted immediately before shipping.
Another advantage of a large partner network and direct sourcing practices is better pricing. Meat of the month clubs often get great deals even on the most luxurious products, which makes it possible for them to offer these items at the best prices. The truth is that artisans and farmers prefer cooperating with such subscription-based services that can guarantee sales and easier product placement, which motivates them to lower their prices in exchange for greater security and a steady source of income.
Finally, one more benefit that should not be disregarded is the convenience of auto-delivery. With these clubs, you do not have to remember to place your order on time. You do not have to wonder when the service can deliver the meat you need. You can enjoy the comfort of knowing that just the right amount of your favorite cuts is sure to arrive as planned, so your fridge and freezer are always stocked with virtually no effort required on your part.
What Makes The Best Meat Of The Month Clubs Different
Like in any market, there are great variations in the quality of service and products provided by different meat of the month clubs. Certain clubs offer great meat but do not suit most budgets. Some may pleasantly surprise you one month but disappoint you the other. And then there are those that are pretty good but simply do not suit the needs of too many meat lovers.
What makes the best meat of the month clubs different than the rest is that they offer:
Invariable meat quality;
Amazing product variety;
Great customization options;
Excellent membership perks;
Subscriptions for various budgets.
One of the main reasons why you should go with a top-rated meat of the month club is because that way you never have to worry about your upcoming delivery being less satisfying than the last. You can rest assured that even though the products selection may differ from one month to the other, the quality of the meat you get is sure to remain equally high.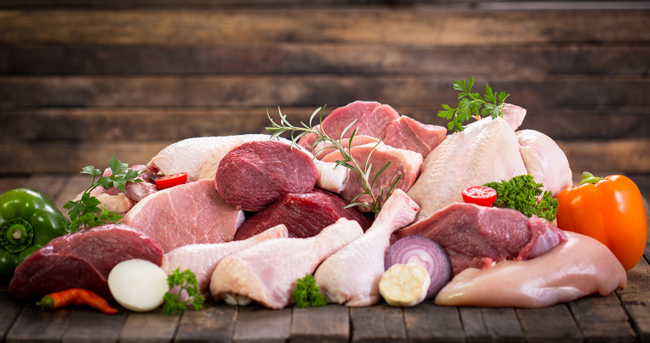 Furthermore, these top-of-the-line clubs almost always boast more varied offers than the rest, allowing you to choose between multiple subscription options designed with different preferences in mind. They know their membership base well and design monthly boxes that satisfy the needs of fans of a vast range of meat types and cuts.
To make sure you are completely satisfied with the service, the best meat of the month clubs enable you to customize your subscription. Even if they offer curated boxes, they may allow you to personalize your box with add-ons or switch between different box types and sizes. Some of them encourage you to handpick every item in your box,  most of them let you tweak your delivery schedule, and they all make it possible for you to decide how long you want to stick with your subscription, so you never have to receive more deliveries than you desire.
Of course, maintaining a large base of loyal patrons requires extra efforts. That is why the best meat of the month clubs strive to offer membership perks that others do not. For example, they may offer free meat gifts with every delivery or nice rewards that help you save cash. Some even provide more valuable bonuses with longer or pricier subscriptions, surprising you with a kettle grill or bringing you a luxurious gift of your choice. These are all amazing extras that are sure to make you happy should you decided to subscribe.
Last but not least, the best meat of the month clubs understand that not all meat lovers are willing to spend an equal amount of cash on their monthly meat deliveries. That is why they either keep all their subscriptions affordable enough for most or offer both budget-friendly and premium subscriptions in order to keep their offer interesting and available to virtually everyone.
Choosing The Right Meat Of The Month Club For You
When assembling our list of the best meat of the month clubs, we do not make our final choice by simply picking the services that meet our strict requirements and satisfy our objective selection criteria. We listen carefully to what our readers have to say. We base our choice on what you as meat lovers and end consumers look for in a club of this kind.
Based on our extensive research, there are 6 key aspects of a meat of the month club that shape and determine customer experience and satisfaction. These include the quality and selection of the meat included in the monthly boxes, the availability of extra items and perks, the sourcing practices the service employs, and the company's subscription flexibility and affordability.
We will now explore each of these aspects in greater detail to help you understand how we choose the best meat of the month clubs for you and what you should pay attention to when deciding which club to join.
Meat Quality
Meat quality is possibly the most important factor that we consider when deciding what our top picks are going to be. We focus on companies that offer natural meat, mostly grass-fed but also grain-fed and grain-finished for better marbling. We immediately disqualify clubs that deliver store-bought-quality meats since such an approach is not in line with the general standards with which meat of the month clubs should comply.
While we do include clubs that provide both budget and premium cuts, we prefer services that allow you to enjoy the highest-grade beef, pasture-raised lamb, heritage pork, organic chicken, and other top-quality meats. Essentially, what we strive to provide is a carefully curated selection of clubs with high-quality standards that provide fresh, properly grown, hand-trimmed, and carefully selected cuts that make their subscriptions worth your cash.
Meat Selection
Virtually every meat lover has a favorite cut and it is not always filet mignon or New York strip steak. That is why in order to satisfy each individual member, meat of the month clubs need to have varied offers that include all the popular meat types and products.
We give preference to clubs that offer multiple subscription options designed with different tastes in mind. Furthermore, we choose companies that enable you to enjoy new products in each delivery, so you can diversify your menu and discover the advantages of different cuts.
Extras
What we mean by extras is the additional perks that you get to enjoy as a member of the club. These can include customization options, add-ons, free gifts, and other bonuses that can improve your experience.
We further take into consideration the availability of items that you can order outside your subscription, whenever you need some extra food. We love services that offer more than just meat and let you enrich your deliveries with seasonings, ready-made sides, and similar products that go perfectly with the meaty delights included in your subscription box.
Sourcing Practices
Like the vast majority of our readers, we take sustainability seriously and never support services that do not care about the way the animals on their partner farms are raised and treated. Our selection exclusively includes meat of the month clubs that cooperate with farmers who employ eco-friendly, humane raising practices. We make sure the meat we recommend comes from farms that allow animals to spend their lives in pastures, interact with one another, and enjoy a natural diet.
This also means that the clubs on our list do not deliver meat that contains any antibiotics, steroids or added hormones that would negatively affect your enjoyment or your health. Simply put, we choose clubs that feature meat grown in close partnership with nature, without any undesired interventions that would diminish meat quality and harm the animals and the ecosystem.
Flexibility
The top meat of the month clubs offer subscriptions that are convenient and easy to mold to your needs. During our search for the best of the best, what we look for are short minimum subscription periods, easy cancelations and modifications, and the option to pause your subscription whenever you want.
Subscriptions should be flexible enough to conform to both your schedule and your eating habits. This means that in addition to effortless pausing and canceling, they should allow you to get just as much meat as you need, as often as you need it. Different box sizes and customizable delivery frequency are features that greatly contribute to your overall satisfaction with the service.
Price
Our goal is to identify meat of the month clubs that suit a variety of budgets. From those that constitute affordable solutions for weeknight dinners to clubs that offer luxury cuts that you cannot find at a supermarket, we strive to include them all in order to satisfy each meat lover's preferences. What they all have in common is that their meat is more than worth the price. No overpriced options are ever included, so you can be sure you are always getting the best value for your money.
Best Meat Of The Month Services
Each meat of the month club in our selection is worth a taste and has special qualities that set it apart from the rest. In the following mini-reviews, you can discover the distinctive features of our top picks. Read on and find out what makes every one of them worthy of a spot on our ultimate list of the best meat of the month clubs in America.
1. ButcherBox

ButcherBox brings you 8 to 11 pounds of all-natural meat every month. You can opt for curated or custom boxes and get beef only or enrich your orders with chicken, pork or both. You can freely change your meat preferences and pause or cancel your subscription at any point.
The service exclusively offers grass-fed, grass-finished beef, heritage-breed pork, and organic, free-range chicken. Plus, all ButcherBox meat products are hormone-free, antibiotic-free, humanely raised, and 100% delicious. Look forward to tasty gifts, like free bacon or salmon.
2. Porter Road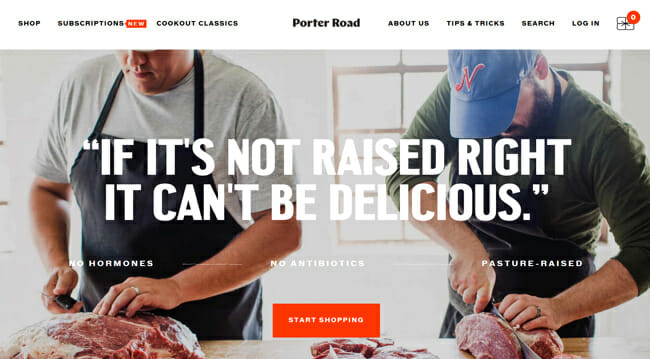 If you choose Porter Road, you can be sure that your deliveries will include nothing but pasture-raised beef, pork, lamb, and/or chicken of the highest quality. The meat of the month clubs at your disposal include the Beef box (6 pounds), the Beef + Pork box (8 pounds), the Best Of Porter Road box (8 pounds of customer favorites), the Basics box (4 pounds of premium meat for easy dinners), the Grill Master Box (6 pounds of BBQ favorites), and the Breakfast box (6 pounds of handcrafted bacon, sausage, and more).
Get deliveries every 2, 4 or 8 weeks, add any of the 20+ gorgeous add-ons at checkout, and enjoy free shipping.
3. Crowd Cow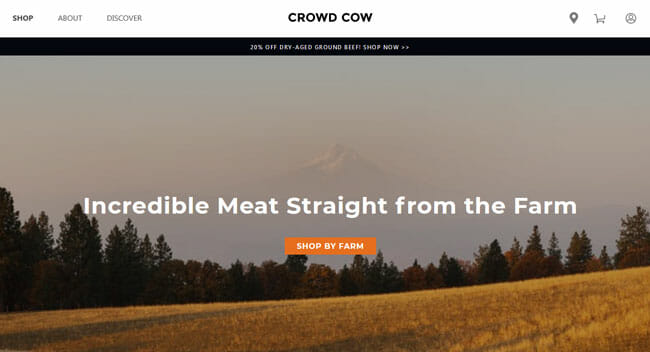 Thanks to its close cooperation with the finest family farms and its focus on whole-animal butchery, Crowd Cow can guarantee the absolute freshness and superior flavor of its meat. Opt for its Ground Beef Share subscription, get pasture-raised beef, pork, and chicken with the Farmers Market box or enjoy the most exclusive cuts with Farmers Market Reserve.
Whichever of the 3 subscriptions you choose, you get to enjoy free shipping on all boxes, plus VIP access to new products, tastings, and fun events for true meat lovers.
4. Omaha Steaks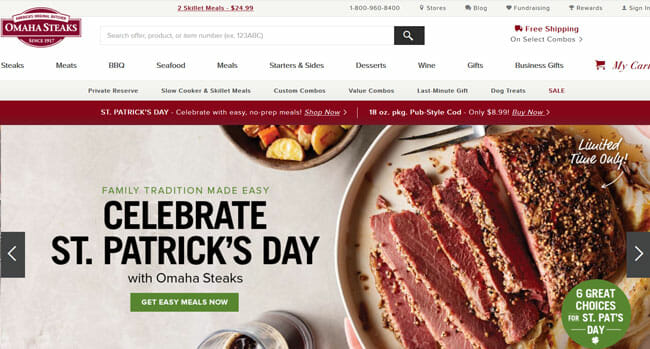 With 3 steak of the month clubs, 6 grill box plans, 3 gift subscription plans for steak lovers, and 3 gift plans for grill masters, Omaha Steaks offers plenty of delicious and convenient solutions for meat lovers who prefer regular deliveries. You can opt for monthly, bi-monthly or quarterly shipments, each including 2-4 handpicked cuts such as filet mignon and ribeye steaks, steak burgers, and much more.
Omaha Steaks meat of the month clubs are designed with diverse preferences and budgets in mind. They all come with free shipping and they are covered by the company's 100% satisfaction guarantee. The most luxurious boxes bring you a valuable free gift of your choice.
5. Carnivore Club
Carnivore Club is one of the best meat of the month clubs for charcuterie fans. Its Classic and Snack boxes bring you regular deliveries of artisan charcuterie and meat treats that you can hardly find elsewhere. Each box contains 4-5 items from handpicked artisan shops.
The Classic box brings you handmade prosciutto, salami, bacon, and other cured delights while the Snack box includes all kinds of jerky and meat bites. The boxes are not customizable, but the Classic box comes with optional snack add-ons. Opt for the monthly, bi-monthly or quarterly subscription.
6. Pig Of The Month BBQ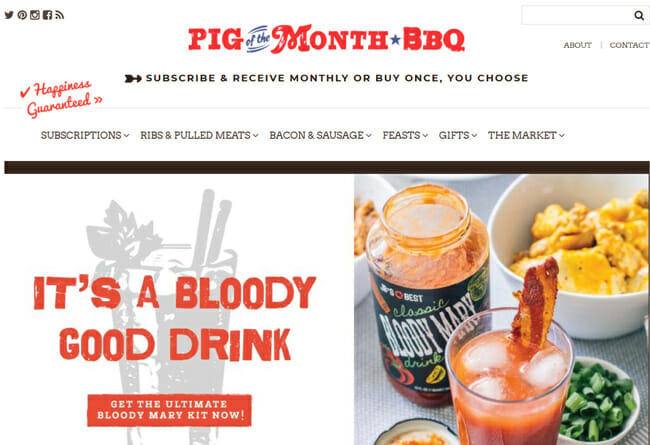 According to Iron Chef Michael Symon, Pig Of The Month BBQ offers the best ribs around. To test this claim, you can join the company's BBQ Of The Month Club and get 4 to 5 slow-smoked, fully-cooked BBQ delights every month, including ribs, brisket, pulled pork, and other favorites.
If you are more of a bacon lover, the company's Bacon Of The Month Club was made for you. This club brings you 2 distinct bacon flavors every month, 1 pound each. You can look forward to chile margarita, pepper parmesan, honey habanero, and many other exquisite flavors.
7. Stock Yards
Stock Yards brings you hand-crafted beef, veal, pork, and lamb cuts naturally raised on Midwestern farms and grain-fed for perfect marbling. Whether you opt for the Stock Yards club or the Steakhouse Club, you are sure to enjoy the variety of premium steaks, chops, ribs, and roasts you get to taste throughout your subscription period of 3-12 months.
Your subscription box can include everything from deliciously tender New York strip steaks to full-flavored lamb racks, with the weight per box ranging from 24 to 64 pounds, depending on how exclusive the cuts are. A single product type is featured per month. Love it or get your money back.
8. Meat The Butchers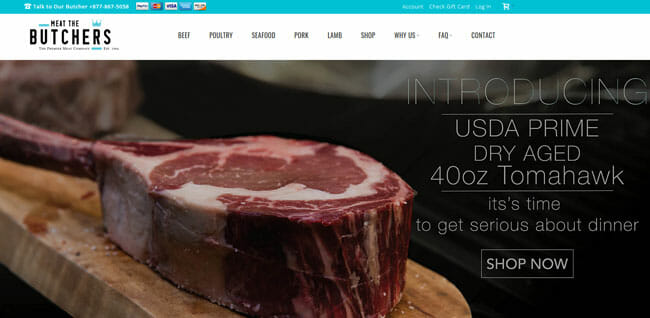 Meat The Butchers brings you 5 unique meat of the month clubs: The Premier Butchers Box for fans of luxurious steaks, InstaMeat for grill lovers, What's For Dinner for easy meal prep, CAlifornian for fans of the So. Cal eating style, and Burger Kit for those who prefer gourmet burgers made of the finest, Prime, grass-fed, and dry-aged beef.
You can get between 6 and 12 pounds of meat per month and enjoy exceptional cuts particularly chosen for you. As a subscriber, you get to earn points with every box and exchange them for store credit or gift cards.
9. Kansas City Steaks

Known for the outstanding quality of its meat and exclusive focus on premium cuts, Kansas City Steaks is one of the top choices for discerning carnivores. It offers 3 fully customizable meat of the month clubs and 3 clubs that bring you the finest cuts in the company's offer, handpicked by meat connoisseurs.
You can choose between 3-month, 6-month, and 12-month subscriptions and decide whether you want the boxes to be shipped to your home or sent as a gift. Get 1 premium item per box, like Super-Trimmed filet mignon, Prime rib roast, Prime steakburgers or beef Wellington.
10. Moink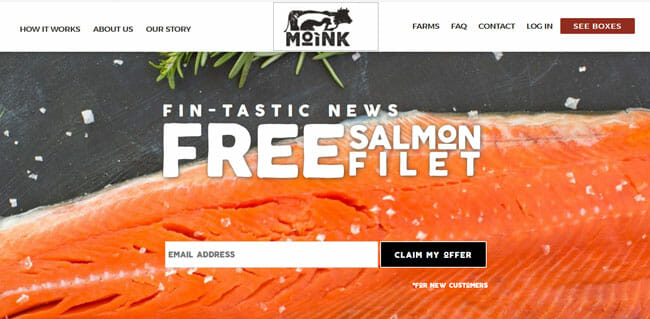 With Moink, your subscription box can be anything you want it to be. You can decide what types of meat you want to get, choosing from all-natural beef, lamb, pork, and chicken. You can opt for seafood or exclude it from your deliveries. You can get 13-16 pounds of meat of your choice per box and choose from a variety of add-ons. You can receive deliveries every 3, 4 or 6 weeks, depending on your needs.
Whatever works for you, Moink can make it happen. Shipping is always free and your satisfaction is guaranteed.