Compare Prices
The following price comparison is designed to help you easily figure out which of our top-ranked low-calorie meal box delivery services best fits your budget. We have brought all the pricing information to one place, including the shipping costs and details about the companies' delivery areas, so you can identify the perfect fit in a single glance.
Company
Price Range
Shipping
Delivery Areas
Sunbasket
Price Range
Shipping Cost
$6.99
Delivery Areas
Home Chef
Price Range
Shipping Cost
$0
Delivery Areas
Blue Apron
Price Range
Shipping Cost
$0
Delivery Areas
Green Chef
Price Range
Shipping Cost
$7.99
Delivery Areas
FreshDirect
Price Range
Shipping Cost
$5.99
Delivery Areas
HelloFresh
Price Range
Shipping Cost
$6.99
Delivery Areas
Benefits Of Low-Calorie Meal Delivery Kits
According to many researchers, a low-calorie diet can lead to many significant changes in your metabolism and body chemistry, even if you're not obese or overweight. Eating less could potentially lead to better health and a longer life. On top of that, it can also potentially prevent diabetes, heart disease, cancer, and other diseases while slowing the aging process. 
A healthy low-calorie diet can, naturally, help you lose weight without too many sacrifices. The key is eating healthy foods filled with nutrients but low in calories. You can also significantly improve your quality of life, boost your mood, and feel less tension when faced with mundane problems. Calorie-restricted diets can also improve the duration and quality of your sleep. If you are experiencing difficulties caused by sleep apnea, cutting your daily caloric intake can help improve the symptoms of this conditions. Lastly, you can experience a higher sexual drive, which can lead to better sexual relationships. 
Apart from the inherent benefits of eating fewer calories per day, you'll also get to experience all the advantages of low-calorie meal delivery kits. You'll save a lot of time and money while receiving only the cleanest and most natural ingredients available. You won't have to plan your meals in advance, you can simply choose what you like every week and have it delivered to your home address. Delicious, easy-to-follow recipes will allow you to hone your culinary skills while making healthy and delicious low-calorie meals for your entire family. 
How Are Low-Calorie Meal Delivery Kits Different
Diets that restrict your overall caloric intake can have numerous benefits but also pose a potential danger to your health if you go to extremes and deprive your body of essential nutrients, vitamins, and minerals. People can become overly zealous when it comes to losing weight, which can easily lead to malnutrition and its potential set of health problems. The best low-calorie meal delivery kits offer carefully planned diet programs that'll allow you to lose weight while meeting your daily nutritional requirements. 
Low-calorie meal delivery kits offered by renowned meal prep delivery companies are also accompanied by professional advice from individuals who dedicated their lives to everything nutrition-related. In other words, you won't be left to your own devices once you decide to lose weight or simply follow a healthier lifestyle. This is especially important if you're over 50 since depriving yourself of important nutrients at that age can have a whole slew of long-lasting negative effects. 
What's more, the best low-calorie meal delivery kits allow you to save a bunch of time since you won't have to go shopping for groceries or prepare any of the ingredients required for your meals. All you have to do to cook mind-blowing meals in just 30 minutes or less is take your pre-portioned ingredients and follow the recipes. Everything in your kit will come fresh, completely free of GMO and artificial substances, organic, natural, and sourced from local purveyors. The caloric value will always be clearly indicated, so you won't have to worry about going over your daily limit. 
Choosing The Right Low-Calorie Meal Delivery Kit For You
Calculating the right caloric intake to fit your dietary goals and preferences is a very challenging task if you don't have previous experience with counting calories and making personal dietary plans. Our comprehensive list of the best low-calorie meal delivery kits is here to assist you by suggesting some of the top-quality meal prep delivery companies that can help you achieve your goals and adopt a healthier lifestyle. In order to make sure only the best of the best is included on our list, we implemented our traditional set of ranking criteria, which we are about to share with you. 
Restricting calories leaves a lot of dishes on the other side of the fence, so meal options and overall meal variety are our two ranking factors that make sure you won't get bored of your new diet. Having a healthy selection of different meals every week and rotating weekly menus certainly helps avoid the danger of repetitiveness. 
Nutritional value and portion size are super important when restricting your daily caloric intake in an efficient and healthy manner. We already talked about the significance of getting all the required nutrients throughout the day, so only meal box delivery companies that meet this criterion made it to our list. Portion sizes are rather subjective, so we're happy if we see kid-friendly options. 
Finally, we go over the subscription flexibility and price to ensure you can pause, skip or cancel your delivery without any hidden fees and that you get exactly what you paid for. 
Best Low-Calorie Meal Delivery Kits
What all of our top picks have in common is that they are currently the best on the market. Now it is time to discover what makes each of these low-calorie meal prep delivery companies unique. Explore their distinctive features in the mini-reviews below and choose the one that best satisfies your personal needs.
1. Sun Basket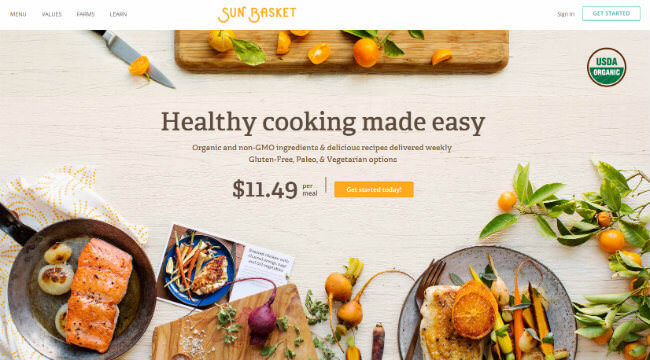 Sun Basket is currently the best meal box delivery service to help you plan a perfect low-calorie diet according to your personal taste and dietary requirements.  
The company offers USDA-certified organic meal kits with new options on the menu every single week. You have a wide choice of recipes that follow Paleo, gluten-free, vegan, lean & clean, and vegetarian programs. All the ingredients are 100% organic and clean and the recipes are created by experienced chefs.
2. Home Chef
Home Chef allows you to create an ideal low-calorie diet plan while avoiding repetitiveness with new meal choices every week. The recipes are very easy to follow and take only 30 minutes to prepare. The ingredients are delivered fresh and pre-portioned to save you some extra time. Every recipe card also holds some professional tips and tricks to further hone your culinary skills.  
You can also create your personal Taste Profile that allows you to customize your subscription with numerous micro adjustments.  
3. Blue Apron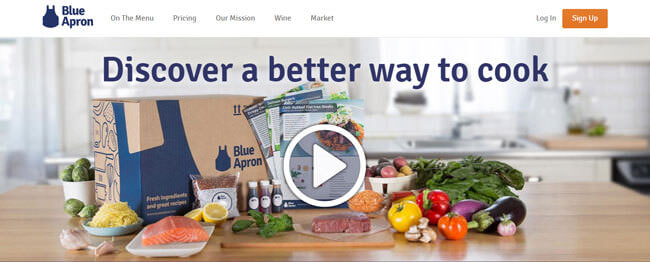 Together with wellness experts at WW (Weight Watchers reimagined), Blue Apron has created a 2-serving meal plan that can help you reduce your calorie intake and keep your body in good shape. Every week, you can choose from 6 recipes, 3 of which have about 500 calories or fewer per serving. The remainder of the menu includes optimally balanced dinner recipes that often contain fewer than 600 calories. Handpick your favorites, cook your low-calorie meals in just 20-35 minutes, and enjoy the amazing flavors of sustainable, seasonal ingredients. If you order 3 recipes per week, shipping is on the house.
4. Green Chef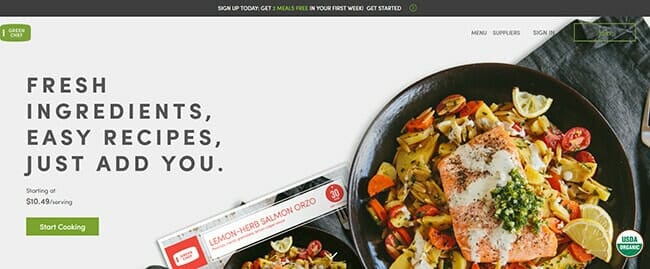 Green Chef offers low-calorie meal delivery kits with dinner options that make veggies shine in innovative and delicious ways. The company is all about eating and living green, which goes perfectly with your new low-calorie aspirations.  
Green Chef is a USDA-certified organic meal box delivery that works closely with farmers to offer natural, fresh, and sustainably sourced ingredients. Its low-calorie meal kits contain absolutely no GMO or any other harmful substances that could endanger your health.  
5. FreshDirect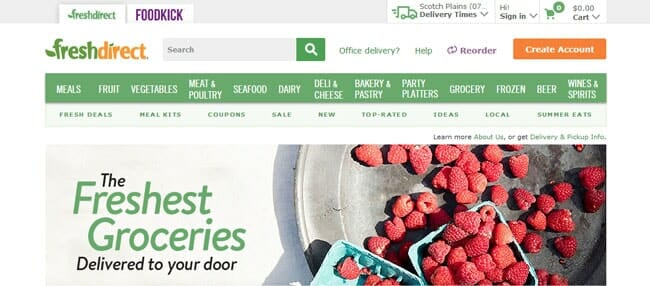 FreshDirect is the ultimate low-calorie meal kit delivery for all your dietary needs. The company offers a variety of different meal options under 500 calories. You can choose from an impressive number of different entrées, kabobs and marinated meats, marinades and sauces, side dishes, dips and salsas, green salads, wraps and sandwiches, sushi pieces, pizzas, breakfasts, deli salads, etc.  
In order to help you with your choice, FreshDirect offers numerous sorting options as well, including total fat, calories, serving size, nutritional value, and others.  
6. HelloFresh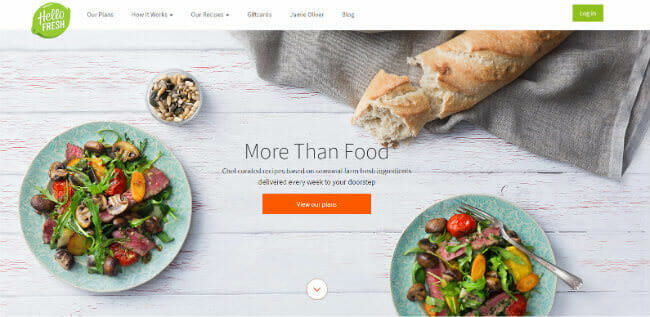 HelloFresh is a meal prep delivery that offers a wide variety of different recipes and ingredients that bring a rustic and rural feel to your low-calorie diet. The company makes sure you never grow bored of your low-calorie meal delivery kit by offering new challenges and innovative culinary ideas every month.  
The ingredients are farm-sourced and incorporated into delicious chef-crafted recipes. The instructions are very easy to follow and every recipe features nutritional info.