You'll agree that, short of being a millionaire, it's rather difficult to imagine somebody else doing your daily/weekly grocery shopping for you and delivering everything to your very doorstep. Is it really, though?
What if we also add fresh and high-quality ingredients into the mix, followed by an ample choice of meals to pick from and comprehensive instructions for a whole slew of delicious recipes? Then we would have scratched the surface of a meal delivery service that is Home Chef.
It sounds nice, for sure, but it definitely costs a bunch of money, right? This mini guide will focus on the meal delivery's subscription plans and show you that you can have fresh ingredients delivered to your doorstep every week without burning the proverbial bank to the ground.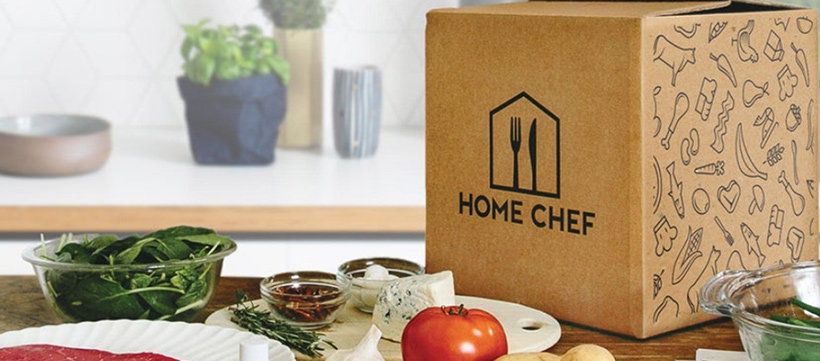 What You Get
Home Chef's weekly menu consists of 18 items, varying from one week to the next, and the universal price is $9.95 per serving for dinners and $7.99 per serving for lunches. The standard price may vary in some cases, but that usually happens during holidays when limited edition, premium meals are put on the menu. These meals regularly come with multiple side dishes and a dessert and their price is always clearly indicated on the site.  
There are two available add-ons to your main courses, including a seasonal fruit basket and a smoothie. They cost $4.95 each and the smoothie add-on rotates every week.
Meal Plans & Delivery Charges

With Home Chef, you can order 2, 3, 4, 5 or 6 meals every week. On top of that, you can also customize your number of servings and set it to 2, 4 or 6. That is not all – the excellent Flexible Servings feature allows you to add 2 or 4 servings to select meals and enjoy seconds, leftovers or a fun dinner with friends.Home Chef displays weekly menus up to 5 weeks in advance, so you have ample time to plan what you want for lunch this Monday, as well as a couple of weeks from now.
Shipping is absolutely free for any order over 45$ and costs 10$ if you order below that price. Home Chef delivers its meals to 90% of US territory, but you can always check if your region is eligible for shipment by entering your ZIP code on the site.
Home Chef Coupons & Gift Certificates
In addition to the already budget-friendly price compared to the food quality, Home Chef coupons allow you to save some extra cash with every new purchase. Keep a lookout for new coupons every month and enjoy some free Home Chef meals.
Home Chef also offers electronic gift cards with simple voucher codes you can redeem online. You can buy Home Chef gift cards for 60$, 120$, and 240$ or choose a custom amount. You can email them to yourself for printing or choose a different recipient.
Is Home Chef Worth It?
In our humble opinion, Home Chef trumps those expensive fancy restaurants several times over. It offers high-quality ingredients you'll never find in grocery stores, with a new set of exquisite recipes every week and frequent coupons to further lower the already affordable pricing.
Enjoy as your kitchen turns into a 3-star restaurant every single day. Bon appetit!