Some meal kit services try to be super-fancy, others compete for the title of the cheapest on the market. Home Chef's goal is to strike the perfect balance between quality and affordability. With prices just around the industry average, it is a smart and simple home cooking solution most Americans can afford – if not every week, then at least once or twice a month.
For those of you who are reluctant to subscribe, here is an honest overview of this company's offer and pricing that aims to answer one of the most popular questions about the service: Is Home Chef worth it?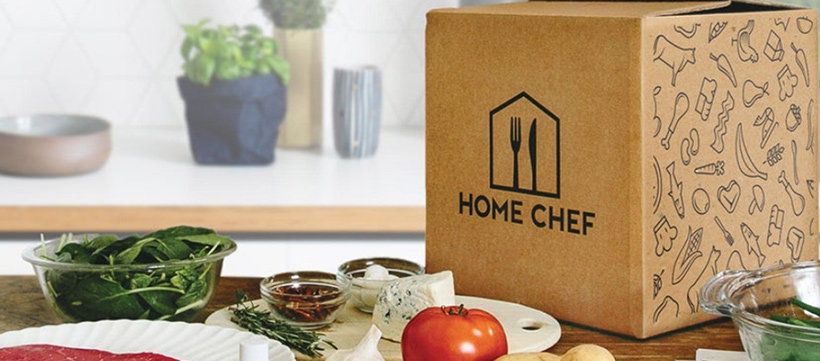 What You Get In A Home Chef Delivery
With Home Chef, your weekly deliveries include 2, 3, 4, 5 or 6 meal kits of your choice. You can choose between 2-serving, 4-serving, and 6-serving kits, depending on the size of your household. Over a dozen dinners, 3 five-minute lunches, and a couple of sweet but healthy add-ons like smoothies are at your disposal every week.
Once you pick out the recipes you like, the service gets busy sourcing and pre-portioning the ingredients your recipes call for. All the food you need to cook the meals (except for salt, pepper, and similar basics) is neatly packed in individual containers and sachets. Your ingredients along with nicely designed recipe cards are carefully tucked into a box with plenty of ice packs that keep your food cool until you can pop it into your fridge.
Home Chef ingredients are of rather high quality and they are sometimes organic. In other words, they are the kind of groceries most health-conscious frugal people choose when they go shopping. If you prefer premium protein options, Home Chef can accommodate your needs – but at an extra cost.
How Much Does Home Chef Cost
Home Chef does not have any specialized menus or meal plans. Its plans only differ in the number of people they feed: 2, 4 or 6. Every customer has the same 18 menu items to choose from and the prices are the same for everyone. The universal price for dinners is $9.95 per serving, lunches cost $7.99 per serving, and add-ons cost $4.95 per portion. If you substitute standard with premium proteins, you can expect to pay an extra $1.99 per serving.
The standard price for dinners may vary in some cases, but that usually happens during holidays when limited-edition, premium meals are put on the menu. These meals regularly come with multiple side dishes and a dessert, which is why they cost more. Their prices are always clearly indicated on the site and usually amount to $19.95 per serving.   
Home Chef 2-Serving Plan Cost
Home Chef's 2-serving kits can work equally well for couples and singles who want to enjoy Home Chef meals twice a day. With this option, you can expect to pay:
$39.80 per week if you order 2 dinner recipes;
$59.70 per week if you order 3 dinner recipes;
$79.60 per week if you order 4 dinner recipes;
$99.50 per week if you get 5 dinner recipes;
$119.40 per week if you get dinner 6 recipes.
If you order both lunches and dinners, your weekly total is decreased by $1.96 per serving for all lunch items.
Home Chef 4-Serving Plan Cost
With Home Chef's 4-person option, the price per serving remains the same, but the weekly total doubles since you get twice as much food as with the 2-person option. Therefore, the cost of your weekly delivery amounts to:
$79.60 if you order 2 dinner recipes;
$119.40 if you order 3 dinner recipes;
$159.20 if you order 4 dinner recipes;
$199.00 if you order 5 dinner recipes;
$238.80 if you order 6 dinner recipes.
If you substitute a dinner with a lunch recipe, you pay $7.84 less per 4-serving meal.
Home Chef 6-Serving Plan Cost
Let us discover how much you pay per week if you want to cook for 6 people. Your weekly total amounts to:
$79.60 if you order 2 dinner recipes;
$119.40 if you order 3 dinner recipes;
$159.20 if you order 4 dinner recipes;
$199.00 if you order 5 dinner recipes;
$238.80 if you order 6 dinner recipes.
Once again, take note that lunch items cost $1.96 less per serving in comparison to dinners, so the cost of your deliveries is significantly decreased if you do not order dinners only.
Home Chef Shipping Costs
With Home Chef, shipping is free for any order worth $45 or more. This means that all subscription boxes qualify for free shipping, except for 2-person boxes featuring 2 recipes. If you choose to order 2 meal kits for 2, you pay $10 per delivery. Although a shipping fee of $10 is not considered low in the meal kit industry, it is tolerable. And after all, the service does offer free shipping on all orders but the smallest ones, which makes it more generous than many meal kit services out there.
Home Chef Coupons & Special Offers
There are 2 ways you can reduce the cost of your weekly deliveries from Home Chef. First, you can make use of the Home Chef coupons we collect for you and get at least a couple of free meals in your next delivery. The service regularly offers discount coupons, particularly for first-time customers, so whenever you decide to subscribe, chances are you can save $30+ on your first order.
Second, you can join the Home Chef referral program. If you know someone who would like to give the service a try, you can share your referral invitation link with your food-loving friend. If this person chooses to subscribe, you get $30 in credit and your friend gets $30 off the first order. You can use your credit to pay for your future deliveries.
Home Chef Returns & Refunds
If you receive defective products from Home Chef or are unsatisfied with your delivery in any way, you can get a credit or a refund. You should reach out to the support staff via email within 7 days after you receive your order. Depending on the situation and order value, the service may choose to provide a full or partial credit or refund.
It is worth noting that Home Chef does not offer full refunds for orders worth over $100. In such cases, you can get a credit or refund equal in value to the defective portion of the delivery. You may be required to produce evidence such as photos of defective goods in order to allow the service to make sure your refund request is not fraudulent.
Is Home Chef Worth It?
Reading the previous passages, you discovered how much Home Chef meal kits cost. This means that you now probably have a good sense of how well they fit into your budget. But the question remains of whether these kits are actually worth your money and whether they are better than various alternatives. To solve this dilemma, let us see how Home Chef compares to similar meal kit services, takeout, and cooking on your own.
Home Chef Vs. Competitors
With the average price per serving just below $9, Home Chef is more affordable than the majority of popular meal kit delivery services, including Sun Basket and Green Chef. That said, some of these more expensive services do offer all-organic ingredients and extra benefits like more special diet options, which justifies the higher prices. However, most often, pricier solutions are not better than Home Chef when it comes to ingredient and service quality.
Based on our research, we have found that in comparison to a large number of its competitors, Home Chef offers:
More meal options (lunches, add-ons, and allergy-friendly, vegetarian, calorie-conscious, and carb-conscious dishes);
Greater customizability (like premium protein options, ingredient exclusion, and flexible servings);
Better suitability for families of different sizes;
More choices with respect to how much food you can get per week;
Easier recipes;
Fresher ingredients;
Dishes that suit the tastes of a larger number of home diners.
With 18 fresh recipes on its menu every week, Home Chef offers significantly greater variety than even some of the best meal kit delivery services out there. Combine that with 5-minute lunches and add-ons that most services do not provide and you get an offer that is pretty hard to beat.
Second, Home Chef is one of the services that provide the greatest range of customization options. It lets you exclude ingredients you do not want to see on your plate. It enables you to enjoy premium proteins if standard options do not suit your preferences. It has even introduced the unique Flexible Servings feature, which makes it possible for you to get more servings of a specific meal. That means that you can always have enough food when you are having friends over for dinner without being forced to order more than you need for the remainder of the week.
Unlike most meal kit services, Home Chef does not only offer kits for couples and families of 4 but also an option for 6 people. Furthermore, it does not limit your choice to just the standard 2 or 3 meals per week but lets you get anywhere between 2 and 6 meals in your weekly deliveries. It is worth mentioning that you can change the number of meals you get whenever you want, so your deliveries can suit your changing needs.
This is a bit subjective, but we have to say that we found Home Chef meals easier to make than many other meal kit options we tested. Some of the Home Chef dishes we tried were ready in just 5-15 minutes and the instructions were never complicated. Plus, we found that the meals we cooked with Home Chef were even more impressive than they seemed on the website and we love pleasant surprises like that.
Speaking of pleasant surprises, we like that Home Chef ingredients are even fresher than one may expect. We have seen our fair share of wilted produce in our deliveries over the years, which is why we count this as a major advantage.
Finally, there are services that we love but that may be a bit too prone to experimenting. Home Chef does sometimes get creative with ingredient combos – but not to the point where meals would get too exotic or strange for most home diners. It mostly focuses on familiar tastes and healthy renditions of comforting classics, which makes it a great fit for families and individuals who could not be described as adventurous eaters.
Home Chef Vs. Takeout
Home Chef meals do not necessarily cost less than takeout. If your schedule does not allow you to spend half an hour in the kitchen preparing your dinner, then you can opt for reasonably priced takeout without spending significantly more money in comparison to cooking with Home Chef. However, Home Chef meals are generally much healthier than takeout options. Not to mention that you get to know exactly what goes into your meals and you get to enjoy them fresh out of the kitchen. It is common knowledge that takeout is usually high in calories and saturated fat, so enjoying it frequently can be bad for your heart health and cholesterol. Furthermore, the ingredients many restaurants use cannot be described as fresh or good for you, unlike the ingredients you get from Home Chef.
Plus, the company's lunches take just 5 minutes to make, no cooking is required, and they are more nutritious and often much more affordable than what most people get to enjoy during their lunch breaks. This is another very good reason to give preference to Home Chef.
Home Chef Vs. Conventional Cooking
Of course, cooking with Home Chef is much easier than conventional cooking, keeping in mind that you do not have to shop for groceries, search for recipes or measure the ingredients. You just need to have a reliable pan, a good pot, some salt, pepper, and oil, and a bit of free time. Home Chef provides everything else. This is the convenience factor that is always worth paying for unless you enjoy doing everything on your own and have the time to do it.
When it comes to cost-efficiency, it all depends on your cooking and shopping habits. Whether it is unused kale or leftovers that smell funky, if you tend to throw away a considerable amount of food on a monthly basis, you may find Home Chef to be better for your budget. It helps you reduce food waste to a minimum and avoid purchasing food you do not need, which can help you save a bunch of cash.
If you were to calculate how much you would spend if you were to cook Home Chef meals on your own by purchasing the groceries yourself, you would find that your meals would not cost infinitely less than they do when you order from Home Chef. You could save a few bucks for sure, but with Home Chef, you do pay for the time saved and the convenience provided since you have a team of people getting and measuring your groceries, crafting your recipes, and delivering everything to your home. The company's kits could save you more than a few hours every week, which is an important benefit to consider.
Home Chef Is A Good Choice For…
We do not find Home Chef to be the best choice for people who prefer exotic foods or 100% organic ingredients. Furthermore, it is not a perfect fit for diabetics or individuals who are vegan or going keto or Paleo. However, we find that it can perfectly satisfy the needs of:
Small and large families;
Picky eaters;
Inexperienced cooks;
Busy couples;
People with food allergies;
Meal kit fans who appreciate customizability;
Professionals seeking quick and healthy lunches to take to work;
Home cooks who want to have their dinners planned out throughout the workweek;
Fans of classic American, Italian, and Asian dishes.
If you fit into any of these categories or just seek an easy home cooking solution that is not overpriced, we believe that you should give Home Chef a shot.