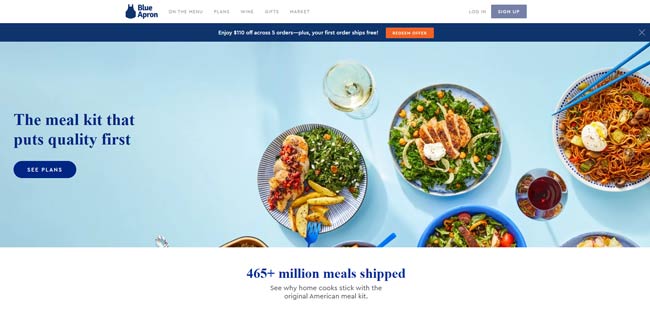 Blue Apron is one of those meal deliveries that put the quality of their food above everything else. This is why they've shipped over 465 million meals so far. To better understand just how big of a number that is, if you took all the meals and stacked them up on top of each other, they would pierce the Earth's stratosphere! This is why we offer you this special Blue Apron Coupon Code that will get you $110 off your first five orders. We know that you're going to fall in love with this meal delivery service and now you can try it out at a very low price. However, we're getting ahead of ourselves, let us tell you a little bit about what you're getting yourself into.
Blue Apron will send you fresh ingredients and easy-to-follow recipes directly to your doorstep. They use only the best possible ingredients sourced from reliable suppliers that support sustainable practices and engage with artisanal purveyors and family-run farms. You'll be able to learn how to make incredibly tasty and healthy meals in a matter of minutes. This means you can look at this whole experience as a free cooking school. Your professors will be five-star chefs and your classroom will be your own kitchen so you won't have to leave the comfort of your home to learn this new trait.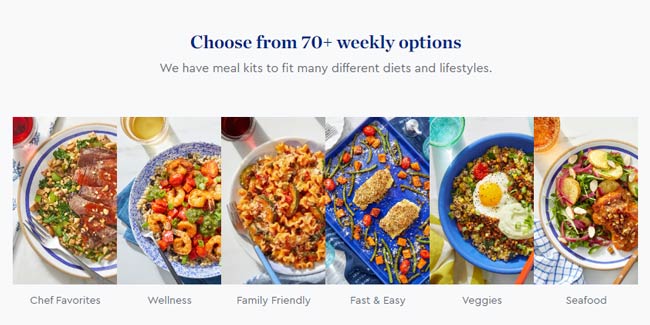 And remember, this subscription is very flexible. You can skip, pause or cancel your orders with a click of a button. Your account puts you in charge of everything, including the menu selection. You can choose between six different menus:
Chef Favorites – Blue Apron chefs choose the best meals for you
Wellness – Nutritionist-approved recipes
Family Friendly – Kid-friendly meals for the whole family
Fast & Easy – Save time with Quick Prep and Heat/Eat options
Veggies – Tasty plant-based meals
Seafood – Delicious seafood delicacies
After you've selected the dishes you want to eat, it's time to select how many of them you want each week and that's it, you're done. All you have to do now is wait for those delicious boxes of goodies to arrive. They come in special, recyclable packaging. Now, you're probably wondering how much Blue Apron costs. Well, with this special Blue Apron Coupon Code, it costs significantly less but that doesn't mean it's not affordable even without the coupon. Especially when you consider the quality of the ingredients and everything you'll be getting for free.
So, let's say you've chosen the Chef Favorites, 4 servings, and 4 meals per week. The ordinary price per serving is $7.99 and before we go any further we would like to show you some of the meals on the menu this week. You might've noticed that we said this week, this is because the menus keep changing and updating, adding exciting new dishes and tweaking favorites. So, here are some of the dishes on the menu today:
Pineapple-BBQ Pork Chops (with Roasted Potatoes, Broccoli and Cotija)
Pork Belly Tacos and Pineapple Salsa (with Black Bean Salad)
Fettuccine Pesto Bolognese (with Parmesan)
Shrimp Scampi and Gnocchi (with Sicilian-style Romanesco and Pancetta)
Oven-Baked Chicken and Chickpea Curry (with Naan)
By using our special Blue Apron Coupon Code your price per serving will not be $7.99 but $5.80! This means that your first order or box will not be $137.83 but only $92.84! And remember, you can update your preferences and skip, pause, or cancel at any time. If you want to learn more about this wonderful meal delivery company, you can read our detailed Blue Apron review.