As if their selection of weekly menus wasn't varied enough, Home Chef brought back Skinnytaste meals! Now you can enjoy meals that are both tasty and "calorie-friendly". And we could really use those after the holidays. For example, this week we have Skinnytaste Gochujang-Glazed Salmon on the Home Chef Menu. This exotic-sounding meal is just as delicious as it is nourishing. Take a break from your usual selection and try something new in this new year.
Skinnytaste has been going strong for 14 years with whopping 17 million visitors enjoying Gina Homolka recipes. She's a busy mom of two girls, author and recipe developer. The recipes are perfectly balanced and very seasonal, making them a perfect choice for any time of the year. This is a time-limited offer and in just a couple of weeks we will be back to our regular programming.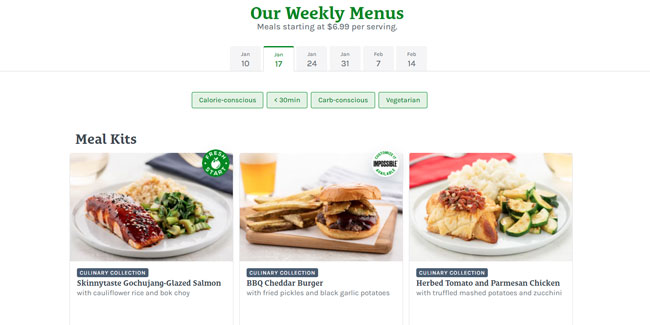 If we had to pick one feature that blew us away, Home Chef menu would be the winner without a doubt. If you're still new to this whole Meal Delivery thing, we urge you to at least try it. Remember, you can cancel or skip weeks with just a few clicks. Although we are sure you're going to love Home Chef and you can read our detailed review here. So, let's take a look at Home Chef Menu for this week:
First of all, we have Skinnytaste Shrimp Scampi, fitting in perfectly with the rest of the menu. BBQ Cheddar Burger, Herbed Tomato and Permsan Chicken and Goat Cheese and Herb Stuffed Chicken are just three of many tasty meals you can choose. Our favorite for this week is Fondue Crusted Turkey Meatloaf with Roasted Butternut Squash and Pecans.
We know it's a mouthful but we just love it! And we have prepared a special offer for all Top 10 Meal Delivery Services visitors! You will get $90 off your first four orders with Home Chef. That's $30 off your first box, $30 off your second box, $15 off your third box, $15 off your fourth box!