Wild Zora Review
Advertiser Disclosure
This website features affiliate links. For purchases made via these links, we earn commissions that allow us to keep producing helpful content. To find out more
click here
.
Close
Some Paleo fans may know Wild Zora as the company that acquired Paleo Meals To Go in early 2018. Both Wild Zora and Paleo Meals To Go are proud of their selections of Paleo and primal meals and snacks made of real, wholesome food. Their common goal of bringing healthy and tasty food to lovers of Paleo cuisine around the nation is what brought the two companies together and inspired them to merge their offers into a single, richer selection of guilt-free Paleo treats now available at the Wild Zora online store. Join us as we go through its online shelves in this Wild Zora review.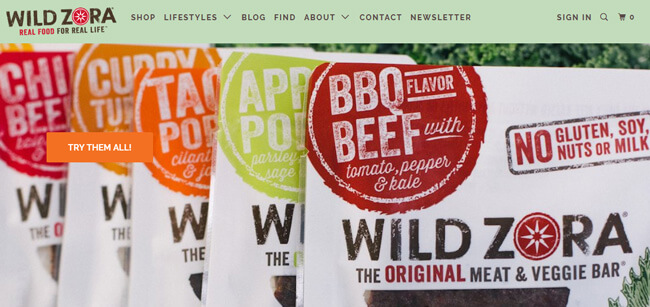 How Wild Zora Works
You do not need a subscription to shop at Wild Zora. Simply stop by when you are craving some real food, pop the items you like into your cart, and wait for your shipment to arrive. Zero commitment, maximum simplicity and satisfaction.
The assortment of items does not change all that often, but this can be great news for people who like to stick to their favorites instead of trying out new products all the time. You can always order the items you love, so there is no risk of getting something that does not suit your taste.
Both Wild Zora and Paleo Meals To Go products are designed to suit the needs of people on a variety of special diets. From AIP to Whole30 and various food allergies, these two brands cover a whole range of dietary needs that other services of this kind simply do not accommodate. We will talk about this in greater detail in the following sections of our Wild Zora review.

What Makes Wild Zora Different
There are two crucial characteristics that make Wild Zora unique and in a way superior to other similar options on the market. Firstly, this company uses only the highest-quality ingredients and employs a special approach to ingredient sourcing. Namely, it does not just look at the labels and choose ingredients that are organic. Instead, it goes one step further and carefully examines the way animals were treated before they reached the production facilities.

Wild Zora believes that healthy and happy animals are more important than a label that says "organic" and it opts for animal products in accordance with this philosophy. It only uses meat that is 100% grass-fed, pasture and humanely raised, and free from hormones and antibiotics. Since organic meat can still be grains-fed, it takes extra care that it obtains meat from farmers who feed their animals the natural way – with zero grains and a whole lot of healthy greens.
Secondly, it does not only provide products that are suitable for a number of special diets, it also strives to satisfy the needs of people with different healthy lifestyles. It offers meals and snacks designed for people who stick to real food, fans of Paleo and primal diets, Whole30 dieters, people on the AIP regimen, diabetics, and athletes. Furthermore, its products are free from gluten, grains, soy, dairy, chemicals, and preservatives and many of them are nut-free, low-carb, and low-glycemic. Thus, it offers a range of safe and healthy choices for individuals who want to eat completely natural food that perfectly suits their needs.
Meals And Recipes
In the Wild Zora store, you can find around two dozen healthy items, about half of which are crafted by Paleo Meals To Go. If you are looking for bars made of all kinds of natural meat, healthy greens, fruit, and fragrant spices, you should browse the products exclusively created by Wild Zora. If you want to stock up on just-add-water meals and fruit snacks, Paleo Meals To Go products are made for you. You can get different kinds of delicious chilis, curries, and stews, as well as fruity breakfasts, all of which are absolutely perfect for backpacking and camping.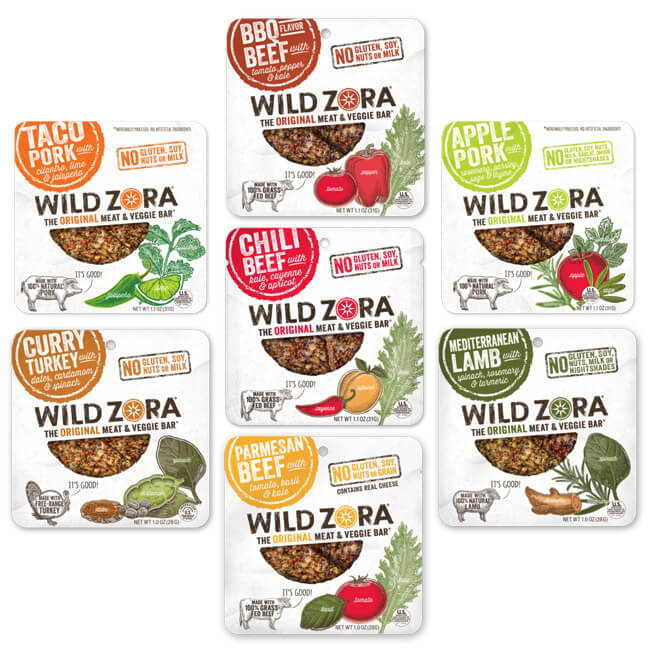 To make it easier for you to find what you need, Wild Zora allows you to filter the products by special diets (AIP, Whole30, Paleo), protein source (beef, lamb, pork, turkey), flavor (barbecue, spicy), and product type (bars, meals) and narrow your choice down to items that are nightshade-free and allium-free.
What we find particularly impressive is that the meals and snacks available at Wild Zora have a long shelf life in spite of being all-natural. All of them can sit on the shelf for 9 months and some of them are designed to last for 5 years, although they may lose some of their flavors after 2 years. However, it is important to make sure that you keep them in a cool and dry place, like your pantry.
Pricing
The price you pay depends on the product type you choose. Wild Zora bars are sold in 6-packs, 10-packs, 20-packs, 30-packs, and 40 packs and normally cost around $28.50 per 10-pack ($2.85 per bar).
Paleo Meals To Go savory meals cost $11.95 per meal, fruity breakfasts cost $9.95 per pouch, and fruity snacks can cost as little as $3.50. When purchasing, be sure to make use of the discount coupon FREESHIP to get free shipping.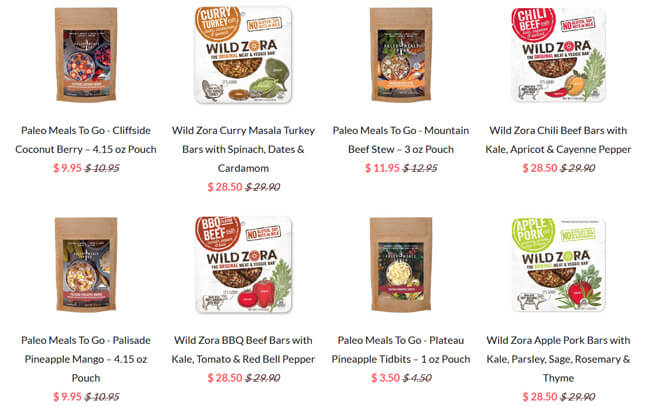 Delivery Areas
Wild Zora ships its products throughout the US, so you can have them delivered to your doorstep regardless of your location. Alternatively, you can buy its meals and snacks at selected stores. At the moment, Wild Zora products are available in more than 500 stores across the country. To find stores nearby, you can use the handy store locator available on the official Wild Zora website.
Wild Zora Pros And Cons
To make sure Wild Zora meets all your standards and expectations, it is important to know its biggest advantages and disadvantages. With a short overview of its pros and cons, you can easily decide if Wild Zora is the right meal delivery service for you.
Pros
Nice selection of Paleo and primal meals, bars, and snacks
AIP-friendly, Paleo, diabetic-friendly, and Whole30-compliant products
Free from gluten, grains, nuts, soy, dairy, and more
Low-carb and low-glycemic products
All meat 100% grass-fed and pasture-raised
Easy, just-add-water meal preparation
Shelf life of up to 5 years
Sample Snacks
Wild Zora features an impressive collection of snacks in its offer. To get a better idea of what you will receive in your delivery, check out our curated selection of the items you can enjoy with Wild Zora.
Apex Fruit Snacks
Wild Zora Snack Pack
Bedrock Beef Chili
BBQ Flavour Beef
Bottom Line
Wild Zora is an excellent choice for active individuals who want to eat healthily. All of its products are Paleo-friendly, exclusively made of 100% natural ingredients, and they are suitable for a whole range of special diets. They are easy to pack, so you can take them with you on your camping trips or enjoy them on a daily basis, whenever you need a protein-rich meal or snack. The prices are rather affordable and the shelf life is long, so you can easily fill your pantry with all of your favorites and have them at hand at all times.