Sizzlefish Review
Natural & Sustainable Seafood Of Superior Flavor

Advertiser Disclosure
This website features affiliate links. For purchases made via these links, we earn commissions that allow us to keep producing helpful content. To find out more
click here
.
Close
For more than 3 decades, Sizzlefish supplied the top US grocery companies with top-quality seafood. Now, it is expanding into the direct-to-consumer realm and bringing deliciousness straight from the ocean to your doorstep.
Its offer is pretty diverse, its seafood is always natural and healthy, and its pricing is reasonable. Due to its dedication to sustainability, it is described as an ocean-friendly choice by the Monterey Bay Aquarium Seafood Watch.
If you like what you have read so far, stick around as we explore this seafood delivery service in greater depth in our honest Sizzlefish review.
How Sizzlefish Works
As a Sizzlefish customer, you can decide whether you want to subscribe and receive regular deliveries of quality seafood or you wish to shop at your leisure and get whatever you need, whenever you wish.
If you opt for one-off purchases, you can freely choose from over a dozen kinds of fish, ranging from catfish to walleye, and 8 types of shellfish products, including lobster, shrimp, calamari, crab cakes, and more. Most species on offer are wild-caught, but you can purchase premium farmed fish as well. All products are flash-frozen.
In case you are interested in getting a subscription, you have three options at your disposal. You can opt for:
The Sizzlefish Prime subscription, which lets you enjoy 14 portions of fish and shellfish of your choice, delivered to your home every 1-5 weeks;
The Sizzlefish Prime Plus subscription, which brings you 14 portions of your favorite seafood every 1-5 weeks and lets you choose from a vaster range of products than Sizzlefish Prime;
The Wild Seafood Favorites box, which brings you 12 portions of wild fish and shellfish every month, curated by the Sizzlefish team.
Sizzlefish subscriptions are highly flexible. You can skip orders up to 7 deliveries in advance and modify your subscription directly from your Sizzlefish account. You can opt for a different delivery frequency, change the contents of your upcoming boxes, and edit your preferences and account details anytime. However, in order for the changes to apply to your next shipment, you should modify your subscription before your order is processed and prepared for delivery.
It is important to note that you cannot cancel your subscription on your own, straight from your account. You need to get in touch with the Sizzlefish staff via email or phone and request to have your subscription canceled for you.
What Makes Sizzlefish Different
From its partnership with the Monterey Bay Aquarium Seafood Watch to its exclusive focus on all-natural seafood of the highest grade, there is a lot that sets Sizzlefish apart from its competitors. Unlike some other seafood delivery services that force you to make compromises, Sizzlefish ticks all the boxes. It is a good choice for the planet, the ocean, your health, your palate, and your wallet. There is not much more we could ask for.
On top of that, it is highly transparent about its approach to the business. On its website, you can discover reasons why it ships its seafood frozen and why it does not only sell wild-caught fish and shellfish. You can find out why farmed seafood is an eco-friendly choice and how it can help prevent fishing to the last fish. You can learn that Sizzlefish flash-freezes its seafood immediately after processing to ensure you enjoy maximum freshness and flavor. In other words, you get to learn everything you need to know to feel even better about your decision to order from this service.
For even more good news, Sizzlefish has an excellent referral program and offers a multitude of gift options. As far as the referral program is concerned, you get $5 every time you successfully refer a friend and your friends get to enjoy 10% off sitewide. If you are interested in gifts, you can opt for individual products, samplers or gift cards worth $35 to $350.
Sizzlefish Products
So far in this Sizzlefish review, we have only briefly touched upon the selection and diversity of the products in the company's offer. In this section, we will talk a bit more about what you can purchase at the Sizzlefish online shop and what you can expect to get in your boxes if you choose to subscribe.
Fish
When shopping for fish at Sizzlefish, you can expect to find catfish, cod, grouper, haddock, halibut, rainbow trout, rockfish, sablefish, salmon, sea bass, smoked fish like salmon and mackerel, and sashimi-grade tuna and walleye.
These are all wild-caught species, with the exception of Atlantic salmon, rainbow trout, and catfish. The company's fish mostly originates from the US, but you can get rainbow trout from Colombia or haddock from Iceland as well. Package sizes generally range from 1 to 3.5 pounds.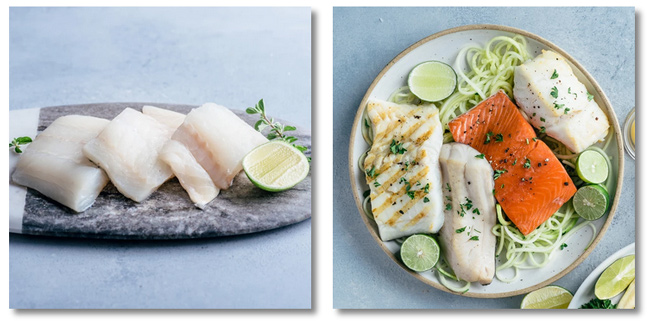 Shellfish
The Shellfish category does not feature as many options, but it still has a lot to offer. You can opt for lobster tails, shrimps, scallops, calamari, mussels, soft-shell crabs, crab cakes or king crab. Like in the case of fish, shellfish mostly comes from the US, but the service also sources mussels from Ireland and offers Canadian lobsters.
Collections
For customers with unique preferences and dietary needs, Sizzlefish has prepared a number of gorgeous variety packs. You can opt for the Omega-3 Collection, High-Protein Seafood, Paleo-Friendly or Whole30 Approved pack, and Healthy Eating Collection, as well as Tailgating Favorites and Grilling Favorites. These convenient variety packs normally contain 10+ portions of assorted seafood.
Sizzlefish Prime Subscription
Like we mentioned previously in this Sizzlefish review, the Sizzlefish Prime subscription brings you 14 portions of seafood in each delivery. Portion size ranges from 4 to 5 ounces. You get to choose the items you want to get in your delivery and you can opt for salmon, trout, catfish, cod, haddock crab cakes, shrimp, and/or scallops.
Sizzlefish Prime Plus Subscription
The Sizzlefish Prime Plus subscription is quite similar to Sizzlefish Prime in that it lets you freely choose the products you wish to receive and it brings you 14 servings per delivery, 4-5 ounces per serving. However, the range of products available with Sizzlefish Prime Plus is far greater. You can choose between salmon, trout, catfish, cod, haddock, crab cakes, shrimp, scallops, halibut, sablefish, rockfish, red snapper, sea bass, and walleye.
Wild Seafood Favorites Box
The Wild Seafood Favorites box differs from the previous subscriptions in that it does not let you choose your fish and shellfish yourself but instead brings you delicious wild seafood preselected by the Sizzlefish crew.  You can expect to get any of the wild-caught species available in the company's online shop, including salmon, cod, haddock, crab cakes, shrimp, scallops, halibut, sablefish, rockfish, red snapper, sea bass, walleye, smoked salmon, lobster tails, ahi tuna, and softshell crabs.
The Wild Seafood Favorites boxes are delivered monthly and contain 12 portions of seafood on average. Portion sizes range from 4 to 6 ounces. In addition to seafood, you get Sizzlefish recipes that allow you to discover new ways to prepare the seafood in your box.
To get a better sense of what this subscription brings you, here is an example of the Wild Seafood Favorites box:
3 packs of gulf shrimp (8 shrimps per pack);
2 portions of halibut;
2 portions of cod;
1 pack of smoke-roasted sockeye salmon;
2 portions of king salmon.
Every item you get is sustainably sourced, flash frozen right after harvest and processing, and delivered in vacuum-sealed individual pouches.
Pricing
Sizzlefish is not the most affordable seafood delivery service on the market, but its pricing is more than reasonable.
If you shop commitment-free, you can expect to get:
Wild salmon for $7.49 per 4-ounce portion;
Wild rockfish for $9.28 per 4-ounce portion;
Smoked wild mackerel filets for $12.33 per 6-ounce pack;
Wild halibut for $9.92 per 4-ounce portion;
Wild cod for $7.14 per 4-ounce portion;
Sushi-grade ahi tuna for $39.98 per pound;
Wild gulf shrimp for $9.16 per 5-ounce pack;
Wild sea scallops for $8.33 per 4-ounce pack;
Canadian lobster tails for $18.62 per 5-6-ounce tail.
With the subscriptions, the prices are as follows:
The Sizzlefish Prime subscription costs $97.86 per box, $6.99 per serving;
The Sizlefish Prime Plus subscription costs $111.86 per box, $7.99 per serving;
The Wild Seafood Favorites box costs $99.95 per delivery, $8.34 per serving.
What is great is that shipping is always free, no matter where you live and how much seafood you order.
Delivery Areas
At the moment, Sizzlefish exclusively ships to addresses within the contiguous US. It neither ships to Hawaii and Alaska nor delivers to PO boxes, FPO addresses or APO addresses. Its carrier of choice is FedEx.
Seeking the most cost-effective solution that would allow it to offer free shipping, Sizzlefish has opted for FedEx Ground as its default shipping method. It only uses FedEx Express for boxes sent to the West Coast. However, if you do not live on the West Coast but prefer a faster shipping method, you can email the service and request to have your box shipped via FedEx 2-Day or Next Day Express. You should just keep in mind that faster shipping methods incur additional fees.
Orders are dispatched on Mondays, Tuesdays, and Wednesdays. If you place your order by noon on Monday, Tuesday or Wednesday, you can expect it to be dispatched the same day. Orders placed on Monday and Tuesday afternoons are shipped on Wednesday. In case you order anytime between Wednesday afternoon and Sunday by the end of the day, you can expect your box to be dispatched the following Monday.
Boxes spend between 1 and 3 days in transit, depending on the location of the recipient.
Sizzlefish Pros & Cons
To make sure Sizzlefish meets all your standards and expectations, it is important to know its biggest advantages and disadvantages. With a short overview of its pros and cons, you can easily decide if Sizzlefish is the right company for you.
Pros
Sustainable, all-natural, highest-grade fish and shellfish
Numerous wild and farmed species available
Partnership with the Monterey Bay Aquarium Seafood Watch
Shop with or without a subscription
Seafood gifts and gift cards
Free shipping on all orders
Cons
Subscription box size is not customizable
Seafood only available in large packages
Bottom Line
We started off this Sizzlefish review with high expectations and we can honestly say that certain aspects of the service are even better than we hoped. There are plenty of delicious and healthy options to choose from, the subscriptions are flexible and well-designed, and quality is exceptionally high across the board. The prices are not too high and the free shipping policy is a great bonus. It would be nice if the products were available in smaller packages and if you could choose between different subscription box sizes, but even with these minor flaws, Sizzlefish remains a seafood delivery service we gladly recommend.