Chocolate gifts for any occasion
Shari's Berries Review - UPDATED Feb 2018
Shari's Berries is a premium delivery service that offers the most sophisticated chocolate gifts for your family, friends, and loved ones. You can select gourmet dipped strawberries, a box of delicious truffles or a colorful basket of organic fruit and surprise that special someone for their birthday or any other occasion. Of course, you can also buy chocolate for yourself and enjoy the magical world of Shari's Berries. Read our detailed Shari's Berries review to find out more about this exquisite company!
How Shari's Berries Work
The main goal of Shari's Berries is to help you show others how much they mean to you by surprising them with premium chocolate gifts. Their specialties are dipped treats because they believe that everything can and should be dipped in chocolate! Shari's Berries uses only farm-fresh strawberries and dips them into the finest chocolate available. They also make cake pops, cheesecakes, pretzels, and other magnificent sweet delights.
But that's not all! Shari's Berries puts some extra effort into making their treats not only tasty but beautiful as well. Cakes and strawberries are decorated with chocolate chips, dreamy sprinkles, and luxurious toppings. Shari's Berries pays close attention to the way their gifts look, so they decorate all their cookies and dip all their cherries!
In the end, one of the most important features of a good gift – wrapping. Gifts from Shari's Berries come beautifully wrapped, with bows and gift cards to give your present a personal touch.
All cherries, strawberries, and chocolates are delivered in handsome boxes. They are sent in extra packaging that protects them from bumps in the road. This way, you don't have to worry that anything will happen to your gift. You don't have to worry about melting either since strawberries and other treats are packed to arrive in flawless condition. Ice-packs and temperature-controlled layers are added to prevent toppings or chocolate from melting.
In case you need some additional information about the way Shari's Berries work, about their gift offer or anything else, you can contact them 24/7 via phone or you can simply send them an email.
Gift Options
Shari's Berries has a gift for absolutely any occasion you can think of. There are gift boxes and baskets for common celebrations, like birthdays and anniversaries, but that's not all. With a box of delicious Shari's Berries, you can also congratulate someone on graduating, wish a long and happy marriage or even express your condolences. You can send a thoughtful Shari's Berries gift just because you want to remind someone you love them or to say that you're sorry. There are also special offers for seasonal occasions, like Spring gifts or presents for St. Patrick's day, for instance.
There are separate sections for ladies and for gents, where you can select a perfect gift for a special woman or man in your life. Shari's Berries also gives you the opportunity to choose a gift according to his/her interests. Therefore, you can select some superior flowers and berries for her or maybe a cheesecake or majestic chocolate cravings crate for him.
If your partner/husband/brother/father loves sports, you can order a box or two of adorable sports themed berries or a pack of mouthwatering dipped pretzels. And for the utmost enjoyment and greatest delight, there are baskets of white truffle popcorn, butter toffee peanuts or countless tempting treats that include chocolate mixed nuts, gummy bears, chocolate toffees, and much, much more.
Shari's Berries' gift selection includes a bakery section as well. There are sumptuous tortes, yummy brownies, creamy tiramisu cakes, gourmet cupcakes, and fresh-from-the-oven birthday cakes.
Business people will also appreciate Shari's Berries' special gift offer, which includes business gifts. Surprise your colleagues or business partners with a box of first-class dipped strawberries, a basket of organic fruit, cheese and snacks or with a glorious chocolate bliss box. With Shari's Berries, you can celebrate a business anniversary or just show your co-workers that you care.
Pricing
Luxurious presents from Shari's Berries' offer might seem a bit pricey at first, but considering the quality of their berries, superb taste of their cakes, and amazing richness of their gift baskets, it makes sense that such sophisticated gifts cost a bit more than a bag of gummy bears. However, that doesn't mean that they are expensive.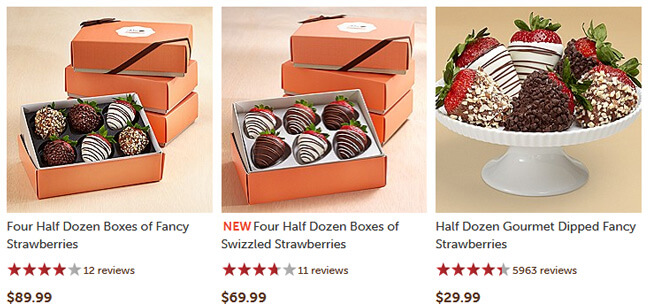 For example, you can get gourmet dipped strawberries or chocolate covered Oreo cookies for only $29.99. If you want to send 3 dipped cheesecakes and a dozen of chocolate-dipped strawberries, your bill will be $54.97. Prices go up to $269.99 for 3 serving trays of fancy dipped strawberries, but as you can see, there are also more affordable options in their rich offer.
As for shipping, you will have to pay between $9.99 and $39.98 per order. Care & Handling costs $2.99 and is charged separately.
Delivery
Shari's Berries provides nationwide coverage, including Alaska and Hawaii.
Any of their superb gifts can be delivered from Tuesday to Saturday, all year round with the exception of national holidays.
In case you are sending gifts to Alaska or Hawaii, you will have to pay additional shipping charges in the amount of $19.99.
It is also possible to make an exception and deliver a gift on Monday, but you need to pay between $4.99 and $9.99 for this service.
Pros
Great variety of gifts for all occasions
Farm-fresh berries & organic fruit
Gifts for all occasions & business gifts
Nationwide coverage, including Hawaii and Alaska
Cons
Can be pricey
Shipping is charged additionally
Handling & Care is charged additionally
Bottom Line
At the end of this Shari's Berries review, we can only say that Shari's Berries' gift selection is colorful, rich, and luxurious. There are gifts for everyone and for any occasion. Gourmet dipped strawberries, chocolate-dipped cherries, sumptuous three-layer chocolate cakes, countless sorts of cookies and truffles – all of this and much more is included in their amazing offer. While they are not the most affordable chocolate gift delivery company, they definitely give you a lot of value for your money.