Personal Trainer Food Review
A Weight Loss Meal Service That Cares

Advertiser Disclosure
This website features affiliate links. For purchases made via these links, we earn commissions that allow us to keep producing helpful content. To find out more
click here
.
Close
According to the folks behind Personal Trainer Food, weight loss is 90% food and only 10% exercise. That is why this meal delivery service promises to help you lose weight quickly simply by following its carefully devised pound-shedding plans. No sweating in the gym, no panting and stumbling along the running track. Just a healthy, balanced diet free from everything that is bad for you, along with some easy exercises that take little time and do not leave you struggling to catch your breath.
Unlike some other weight loss meal delivery services, Personal Trainer Food brings you all the food you need throughout the day, including all the meals and snacks, so you can relax and watch the inches melt away. If you are not a fan of heavy exercising and want to fast-track your weight loss plan, keep reading this Personal Trainer Food review.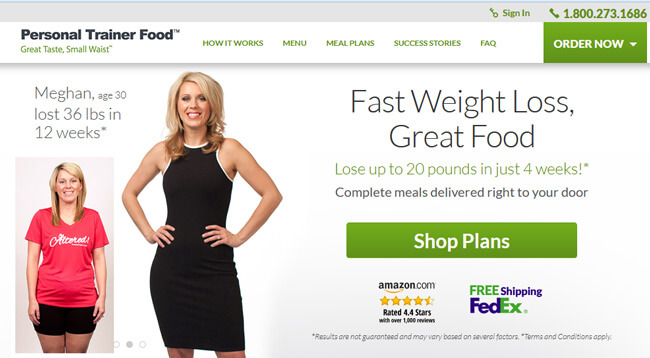 How Personal Trainer Food Works
The goal of Personal Trainer Food is to simplify and demystify weight loss. It offers breakfasts, lunches, dinners, and snacks that are perfect for burning fat and keeping your body in good shape.
You can choose from 3 different plans, depending on your needs and desires. You can order only lunches and dinners, receive all three meals you need during the day or personally hand-pick breakfasts, entrees, veggies, and snacks you want to get in your box.
You can opt for a one-time order of 28 days' worth of food or subscribe for deliveries of 14 days' worth of healthy meals delivered every 2 or 4 weeks. While the company says in its FAQ that you can skip deliveries or cancel your account whenever you want, its Terms and Conditions state that changes or cancelations may not be possible, so it's best to contact the company directly for any modifications to your order.
What Makes Personal Trainer Food Different
As we have already mentioned in this Personal Trainer review, what sets this service apart from the majority of the competition is that it covers all your dietary needs with healthy, ready-made meals and snacks. Furthermore, it offers several plans, so you can choose the one that fits you perfectly or create a custom plan of your own.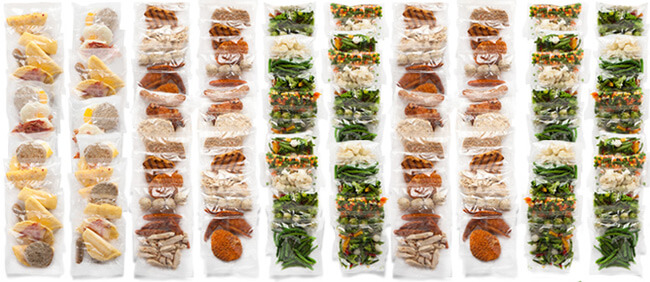 What is also important is that Personal Trainer Food does not push you into a highly restrictive diet but allows you to enjoy everything in moderation, as long as it has certain nutritional value. That means that it does not do away with carbs but brings you healthy carbs that eliminate the cravings you normally deal with when following a weight loss plan.
Personal Trainer Food supports your efforts to shed pounds every way it can. It even offers Loyalty Rewards that you receive every time you order a 28-day meal plan. That way, it allows you to save cash and gives you additional motivation to stay on track.
Meals And Recipes
Personal Trainer Food meal options
Personal Trainer Food menu includes more than 100 delicious, fully prepared items, categorized into breakfasts, entrees, vegetables, and snacks. The meals are rich in quality, lean proteins and healthy vegetables, as well as eggs, nuts, and cheese for variety and proper nutrition. They do contain moderate amounts of good carbs, but they eliminate bad carbs that prevent your from getting slim.
The calorie count per meal is generally low, ranging from 120-400 calories. However, while it is good to know that your calorie intake is controlled, it is also important to keep in mind that with Personal Trainer Food, there is no calorie counting. The service perfectly portions each meal, so you can just enjoy the food without worrying about numbers. Of course, you get full nutritional info for each meal you receive, so you can keep track of your calorie and macro intake if you really want to.
The meal plans at your disposal include REV!, Core, and You Choose.
The REV! plan is an accelerated weight loss program particularly designed for women. It brings you breakfasts, lunches, and dinners that promote speedy fat burning. Along with the food, you get weekly weight-loss calls, personal weight loss coaching, a water bottle, a tape measure, a lunch kit, and daily email support.
The Core plan brings you healthy and satisfying lunches and dinners designed to allow for natural weight loss, without putting too much stress on your body. It also comes with email support and weight-loss coaching.
The You Choose plan differs from the other two plans in that it allows you to design your custom plan. You get to select all the items that come in your boxes. You can choose 140 items for the period of 28 days, ranging from entrees and sides to breakfasts and snacks.
If you wish, you can add the company's nutritious shakes to your order. They are not just great for those moments when you are craving something sweet, but they are also good for fueling your body while keeping your calorie intake low. Each serving contains 100 calories, 15 grams of protein, 4 grams of fiber, and plenty of vitamins and minerals.
Heating And Storage Tips
Personal Trainer Food delivers frozen meals that you should place in your freezer as soon as they arrive. You can keep your meals in a freezer for up to 6 months. However, it is always best if you eat them within a month or so, because you do not want to risk the meals losing their nutritional value. If you do not have enough room in your freezer, you can store some of the meals in your fridge. You can keep meat and breakfast items in a fridge for up to 14 days. You should avoid refrigerating vegetables, because once they thaw, the extra water makes them soggy and they easily go bad.
The meals are always ready to heat. They come in microwaveable pouches and take just 3 minutes to reheat. The process is perfectly simple. Just take the desired pouch out of your freezer, place it onto a microwave-safe plate without piercing holes in the pouch, and pop into your microwave for 3 minutes. Take the meal out of the microwave, remove the pouch, and enjoy.
Pricing
The prices at Personal Trainer Food range from around $19 to $22 per day, depending on the plan you choose and whether you are opting for a one-time, 28-day purchase or want to subscribe for automatic deliveries made every 2 or 4 weeks.
If you opt for a one-time purchase, the REV! plan, including 28 breakfasts, lunches and, dinners, costs $599. Alternatively, you can get recurrent deliveries of 14 breakfasts, lunches, and dinners for $274.
With the Core plan, one-time purchases of 28 lunches and dinners amount to $509 while deliveries of 14 lunches and dinners cost $229. The You Choose plan allows you to create your own combination of 140 breakfasts, protein entrees, veggie sides, and snacks. It costs $629 with a one-time order. You can also get deliveries of 70 items of your choice for $259.
In case you want to get shakes as well, you can get them as add-ons once you choose your meal plan and pay $13.99 for 7 shakes.
It is good to know that the service offers a 30% discount to all new customers. Therefore, with your first order, you pay just $14 to $16 per day, depending on your plan. Subsequent orders come with a $25 discount.
Shipping is always free, even on Saturday deliveries.
RevTM
Order
Price per order
Price per meal
One time 28 day order
$599.00
$7.13
14 Day Subscription
$274.00
$6.52
Core
Order
Price per order
Price per meal
One time 28 day order
$509.00
$9.08
14 Day Subscription
$229.00
$8.17
You Choose
Order
Price per order
Price per meal
One time 28 day order
$629.00
$7.48
14 Day Subscription
$259.00
$6.16
Delivery Areas
Personal Trainer Food is available in 48 US states. At the moment, it does not ship to Alaska and Hawaii. You can choose the delivery day that works for you and no signature is required, so you do not have to be in to receive your box. Deliveries are made via FedEx. In case your delivery gets delayed for more than 48 hours, which hardly ever happens, you can contact Personal Trainer Food directly and get a replacement.
Personal Trainer Food Pros And Cons
To make sure Personal Trainer Food meets all your standards and expectations, it is important to know its biggest advantages and disadvantages. With a short overview of its pros and cons, you can easily decide if Personal Trainer Food is the right meal delivery service for you.
Pros
Offers breakfasts, lunches, dinners, and snacks
3 different weight loss meal plans
Create your custom plan
Reasonably priced
Loyalty program
Money-back guarantee
Free shipping
Cons
Cannot order fewer than 28 meals per delivery
Sample Dishes
With Personal Trainer Food, you get delicious meals prepared by pro chefs at affordable prices. To find out what kinds of delights you will receive in your delivery, we have chosen a couple of sample dishes that accurately represents its offer and can help you decide if it is the right service for you.
Cranberry and Cognac Sausage
Diced Chicken Thigh
Gluten Free Breaded Chicken
Peppered Chicken
Bottom Line
To conclude this Personal Trainer Food review, the service is designed to help you get on track and stay on track. There is no bouncing back, as the plans are not too restrictive and allow you to eat healthily while losing weight faster than before. The service lets you customize your plan to fit your preferences and everything is rather reasonably priced. If you are having a hard time staying away from food that does you no good, this service's meal plans may be just what you need to start eating better and say goodbye to those extra pounds.
Personal Trainer Food FAQ
How many calories a day do you eat on the REV! plan from Personal Trainer Food?
Personal Trainer Food is based on the concept of helping people transition from processed to natural foods as the only healthy way to lose weight. Meals range from approximately 120 to 400 or more calories.
How long does it take to deliver Personal Trainer Food?
In some areas, the delivery can be scheduled for as soon as the next day; in others, you have to wait 6-7 days from the moment you place your order. Once the order is shipped, you will receive a tracking number.
How much weight can I lose on Personal Trainer Food?
Personal Trainer Food claims to provide an effective and natural weight loss solution. In one of its studies, the average weight loss was 35 pounds over a period of 3 months.
How to cancel Personal Trainer Food?
To cancel your Personal Trainer Food subscription plan, you need to call the company at 1-800-273-1686 x2 during business hours at least 10 days prior to your next scheduled delivery date.
How to order Personal Trainer Food?
You can place an order on the company's website. Opt for the desired plan and choose whether you want a one-time delivery of 28 days' worth of food or wish to subscribe for automatic deliveries made every 2 or 4 weeks.
What is the Personal Trainer Food RECON plan?
RECON is the exclusive program for men developed by Personal Trainer Food. The program offers a complete weight loss strategy with "real-man food" delivered to your door, a progressive fitness plan, and weight loss coaching.
How much is Personal Trainer Food after your first order?
After your first order, your 14-day subscription will cost $274 if you choose the REV! plan, $229 if you opt for the Core plan, and $259 if you select the You Choose plan. Find out more here.
Where is Personal Trainer Food located?
Personal Trainer Food is based in Fort Worth, Texas.
How to heat up Personal Trainer Food?
Pre-cooked meals are delivered in bistro steamer bags and can easily be heated in a microwave. Place your meal in the bistro bag on a plate in the microwave. Heat it for the recommended length of time that is listed on the bag.
View All FAQs