MamaSezz Review
Advertiser Disclosure
This website features affiliate links. For purchases made via these links, we earn commissions that allow us to keep producing helpful content. To find out more
click here
.
Close
Based in Brattleboro, Vermont and launched in 2016, MamaSezz is a vegan meal delivery that brings you always fresh, fully cooked, whole food plant-based meals made of organic ingredients whenever possible. Its mission is to make healthy, plant-based eating both easy and affordable. Based on what we could see, it is doing a great job achieving this goal.
In this review of MamaSezz, we will focus on everything from the quality of the company's meals and richness of its menu to its budget-friendliness and ordering options. Stick around and discover several good reasons to give MamaSezz a shot.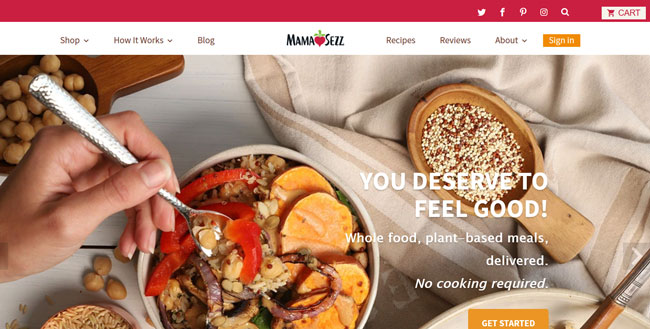 What Is MamaSezz
MamaSezz is a prepared meal delivery that specializes in fresh plant-based meals designed to help you improve your well-being through diet. It eliminates all foods that can be bad for your health, from saturated fats to refined sugars and allergens.
The idea for MamaSezz was born way back in 2011, when one of its co-founders, Meg Donahue, found out that doctors did not know how to help her mom Millie win her fight against final-stage congestive heart failure. Together with her partner Lisa Lorimer, Meg nurtured her mother back to health after discovering the amazing benefits of whole food plant-based diets. This experience inspired Lisa and Meg to learn more about this way of eating and help others jump on the bandwagon and improve their health by eating right.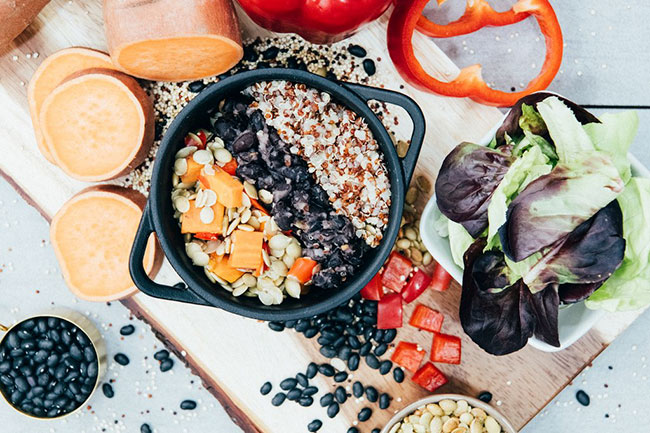 Before founding MamaSezz, Lisa Lorimer already had experience in the food industry, being the former CEO of Vermont Bread Company. Meg prepared for her role as a co-founder of MamaSezz by enrolling in the T. Collin Campbell Center's Plant-Based Nutrition program, where she explored the science behind the diet responsible for her mother's miraculous recovery.
With their combined knowledge and great enthusiasm, they embarked on a journey that led to the creation of MamaSezz, a meal delivery that is all about making good food readily available to everyone. The service keeps its food quality high and its prices low and it has even partnered with the likes of PETA and the American Institute for Cancer Research to craft plant-based meals for an incredible range of dietary and medical needs.
How Does MamaSezz Work
MamaSezz products are divided into 3 major categories: individual meals, meal bundles, and 2-week challenge kits. Individual meals and 2-week challenge kits are available for one-off purchases. Meal bundles can be bought with or without a subscription.
If you opt for one-off purchases, you can get as many products as you like and order as often as you wish, with no rules or limitations. You are the one deciding what goes into your delivery and you have more than 35 different dishes at your disposal whenever you shop.
If you opt for a meal bundle subscription, you can pick your favorite bundle and set up recurring deliveries. You get to choose your desired delivery frequency and decide whether you want to receive your bundle every 1, 2, 3, 4, 5, 6, 7 or 8 weeks.
All meals are made to order and delivered fresh to your home on Thursday or Friday the week after you place your order. The weekly cut-off for both one-time and recurring deliveries is Sunday at 8 PM ET. If you fail to order by that time, you can always email the MamaSezz staff and they promise to do everything they can to arrange for your delivery to arrive the following week.
What Makes MamaSezz Different
There are 3 aspects of MamaSezz that make it different than most other meal deliveries on the market. First of all, it is entirely plant-based, if you do not count the use of honey in certain meals. Second, it is one of the cheapest prepared meal delivery services currently on the market. Third, it manages to make meals that actually taste pretty good without using a number of common ingredients that most people cannot imagine their meals without.
In addition to being free from animal products including meat, eggs, and dairy, all MamaSezz meals are free from GMOs, oil, gluten, wheat, refined sugars, preservatives, peanut, and sesame. Many of them are completely free from salt and sugar as well.
In other words, these meals contain virtually zero foods that are known for causing diet-related health problems. This is definitely the main distinctive feature of this company and the reason for its popularity among people who want to align their diet with their health goals.
What is further important to note is that MamaSezz meals come with a 100% satisfaction guarantee. As a company that stands behind its product, MamaSezz lets you get a replacement or a refund problem-free if you are unhappy with your order for any reason.
In case you have friends who would really like MamaSezz meals, you can send them gift cards and let them stock up on meals of their choice. Gift card values range from just $10 to $200.
MamaSezz Meals And Recipes
Like we said before in this MamaSezz review, the service's menu features 3 distinct product types. It has nearly 60 items total, including close to 40 distinct meals, about 15 meal bundles, and 1 or 2 two-week challenge kits.
All individual meals can be found in the A La Carte Products section of the menu. They can contain anywhere between 1 and 5 servings per pack and include plant-based versions of classic lunch and menu items like lasagna, chili, soups, stews, scalloped potatoes, mac without cheese, and meat-free burgers.

Apart from full meals, you can get meal components like sides and proteins that you can combine into custom meals. Mashed sweet potato, riced cauliflower, marinara sauce, and walnut taco "meat" are just some of the items that you can mix and match to create complete meals that perfectly suit your needs.
You can further get breakfasts, such as granola, veggie sausage or turmeric chickpea scramble. Breakfasts can be found in the A La Carte Products section, but they are also featured separately in the Healthy Breakfast section for easier browsing.
Another meal category that gets its separate menu section is S.O.S-free. These dishes do not contain any sugar, oil or salt. There are nearly 20 S.O.S-free meals available, including the likes of mushroom chickpea stew, stuffed acorn squash, and ricotta-style mushroom and tomato bake.
Moving on to meal bundles, you can choose from 2 bundle varieties. You can go with the classic options created with different households and dietary needs in mind, such as the Family bundle, the Just For Me bundle, the Healthy Heart bundle, the Peak Performance bundle, and the Weight Loss bundle.
Alternatively, you can opt for specialty bundles created in partnership with renowned chefs, doctors, and organizations like PETA, TrueNorth, the American Institute For Cancer Research, the Plant-Based Nutrition Support Group, and Chef AJ from Foodie TV.
Meal bundles normally contain 21 meals, that is, 3 meals a day for a week, unless indicated otherwise. Along with fully cooked meals, you get a 7-day meal plan and a brochure with detailed information about the content of your box.
Finally, if you are interested in a two-week challenge, you can usually choose from 1-2 kits designed to help you get used to eating a whole food plant-based diet. The kits include 3 prepared meals a day for 2 weeks along with meal plans complete with prep instructions and shopping lists.
Nutrition Facts
Although the company's meals come in ample portions, they are rarely high in calories. An average MamaSezz meal contains 300-400 calories per serving, but you can easily find items that have as few as 120 calories per plate.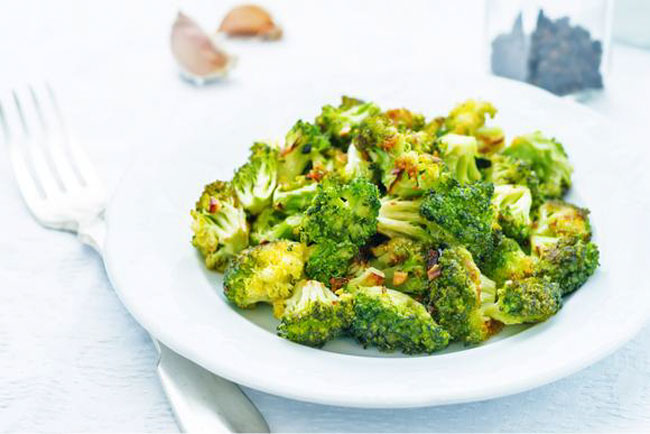 The meals are generally low in fat and sodium and many of them are rich in fiber. Most meals are high in carbs, with about 30-40 grams of carbs per serving. A single plate usually contains about 10 grams of protein.
Heating And Storage Tips
While MamaSezz meals are shipped fresh and contain no preservatives, they have a pretty long shelf life. They can last up to 18 days in your fridge. Each meal comes with a "use or freeze by" date printed on the packaging, so you never have to wonder whether a meal is still good to eat.
If you order a lot of food, you should place the extra meals in your freezer soon after delivery to ensure optimal nutritiousness and flavor after thawing. In a freezer, the meals can last for up to 2 months.
When it comes to heating, you can choose any method that works for you: microwave, oven or stovetop. The meals mostly come in microwave-safe, oven-safe trays, so all you need to do is remove the plastic wrap and follow the provided heating instructions. Normally, the meals are ready to eat after a few minutes in a microwave set on high, 15 minutes in an oven preheated to 350ºF or 5-10 minutes in a saucepan on a stovetop.
How Much Does MamaSezz Cost
At MamaSezz, all meals come at individual prices averaging at about $4 to $6 per plate. Meal elements like sides and proteins start under $2 per serving. Since there is no minimum order, your delivery can cost as much or as little as you desire.
The shipping fee depends on what you order and where you live. Meal bundles always come with FREE nationwide shipping. As far as a la carte orders go, you pay:
$19.95 per delivery for orders under $89 and you get free shipping on orders worth $89+ if you live in Zone 1 (Connecticut, Delaware, Indiana, Kentucky, Maine, Maryland, Massachusetts, Michigan, New Hampshire, New Jersey, New York, North Carolina, Ohio, Pennsylvania, Rhode Island, Tennessee, Vermont, Virginia, Washington DC, and West Virginia);
$39.95 per delivery for orders under $89 and $19.95 per delivery for orders worth more than $89 if you live in Zone 2 (Alabama, Florida, Georgia, Illinois, or South Carolina);
$88.95 for orders under $89 and $69.95 per delivery for $89+ orders if you live in Zone 3, that is, any of the remaining continental US states;
$130 per delivery if you live in Hawaii or Alaska.
Now that we have covered all the basic pricing information, it is time to get more specific. View the exact prices of different types of MamaSezz products in the table below.

MamaSezz Pricing
Product Type
Price
Price per serving
A la carte dishes
$6.99 to $17.99
$1.66 to $6.00
Bundles
$149 to $169.00
$4.16 to $6.25
2-week challenge
$299.00
$6.23
Where Does MamaSezz Deliver
The great news is that MamaSezz delivers its healthy meals all over the United States, including Hawaii and Alaska. All orders are shipped via FedEx. No signature is required, so you do not have to sit at home and wait for your meals to arrive.
The meals come in eco-friendly boxes filled with enough dry ice to keep them cool throughout transit, that is, for up to 3 days. If there is anything wrong with your shipment, be sure to reach out to MamaSezz via email and make use of its 100% satisfaction guarantee.
In case you live in Keene, New Hampshire or Brattleboro, Vermont, you can pick up the meals yourself at the company's locations and save cash on shipping.
MamaSezz Pros And Cons
To make sure MamaSezz meets all your standards and expectations, it is important to know its biggest advantages and disadvantages. With a short overview of its pros and cons, you can easily decide if MamaSezz is the right meal delivery service for you.
Pros
35+ fresh and healthy meals on the menu
Plant-based and allergy-friendly
Mostly organic ingredients
Free from oil, refined sugars, and preservatives
Salt-free and soy-free options
Highly affordable pricing
Free shipping on meal bundles
Cons
Steep shipping fees
Uses honey in vegan meals
Some meals are inherently bland
Sample Dishes
With MamaSezz, you get delicious meals prepared by pro chefs at affordable prices. To find out what kinds of delights you will receive in your delivery, we have chosen a couple of sample dishes that accurately represents its offer and can help you decide if it is the right service for you.
Lazy Lasagna
Lentil Dhal with Quinoa
Mushroom Chickpea Stew
Riced Cauliflower
Bottom Line
To conclude this review of MamaSezz, we can say that the service offers high-quality plant-based meals at surprisingly low prices and lets you enjoy a vast variety of healthy dishes with zero commitments. While the meals taste rather good, they are not exactly designed to be indulgent or satisfy the cravings of gourmet foodies since they often eliminate salt and other ingredients that add flavor. Therefore, you should not expect much flavor-wise if you opt for the likes of S.O.S-free meals.
On the other hand, MamaSezz meals are truly healthy and they make it easy for you to do your body a favor and let it take a break from all the foods that prevent its optimal functioning. If you want to clean up your diet at least every once in a while, we warmly recommend giving MamaSezz a try.