IdealShape Review
Fat-Loss System That Actually Works
Advertiser Disclosure
This website features affiliate links. For purchases made via these links, we earn commissions that allow us to keep producing helpful content. To find out more
click here
.
Close
For more than a decade, IdealShape has been providing dieters with both the resources and the motivation necessary to take back control over their bodies, lose weight, gain confidence, and transform their lives. This successful company specializes in meal replacement shakes and bars that taste great, do not cost much, and naturally control hunger and cravings. Keep reading this IdealShape review and discover IdealShape's unique weight loss formula.
How IdealShape Works
IdealShape is a weight loss system whose core elements include meal replacement shakes and bars and weight loss drinks and supplements. It is designed to help you achieve your goals more quickly and easily, whether you want to lose 10 or 100 pounds.
If you opt for IdealShape, you get to choose the path that works best for you. You can order individual shakes, bars, drinks, and supplements as often as you wish and use them to enhance your weight loss results. Alternatively, you can opt for one of the IdealShape bundles designed to help you lose weight, tone up or just eat more healthily. The bundles provide everything you need to follow the IdealShape programs, including IdealShape food products, shakers, guides, and simple recipes to complement your IdealShape diet.
No subscription is necessary; you can shop completely commitment-free unless you prefer auto-shipments. Along with the products you order, you get constant support from IdealShape experts. From at-home workouts that can help you get into shape faster to fun and helpful tips on how to stay motivated and reach your ideal shape, you can get everything you need to steadily progress toward your weight and lifestyle goals.
What Makes IdealShape Different
IdealShape is not an ordinary meal delivery service or weight loss system. Instead of meals, it provides uniquely crafted meal replacements and supplements, as well as tasty recipes that can help you shape your diet in accordance with your goals. Unlike many other meal delivery services for weight loss, it does not merely offer food that promotes fat-burning. Instead, it lets you become a part of its online community, where you can get support and tips, follow workout tutorials, participate in weight loss and exercise challenges, and boost your motivation and confidence. Instead of going through weight loss alone, you get to join the IdealShape family and transform your body with fellow dieters and IdealShape dietitians, nutritionists, and trainers by your side.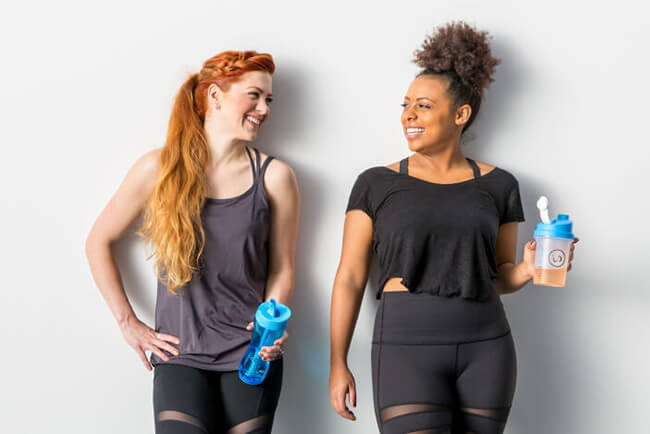 IdealShape products differ from other meal replacement products in that they do not exclusively use fiber. In fact, they are the only meal replacements that contain Slendesta, a natural protein extract that functions as a hunger blocker and makes sure you feel full for 3 hours, that is, until your next meal. It eliminates the main obstacle that stands between you and weight loss – the constant cravings that do not correspond to the actual needs of your body.
As an IdealShape customer, you can become a part of the Customer Loyalty Program and get 10% off any item, as well as free shipping on every order. Furthermore, you can join the Referral Program and earn credit worth $15 for every successful referral while your friends get a 10% discount on their first order.
Meals And Recipes
As we mentioned previously in this IdealShape review, the products this company offers can be bought individually or in bundles. If you opt for individual items, you can choose from 19 delicious flavors of meal replacement shakes, half a dozen types of meal replacement bars, just as many kinds of weight loss drinks, and two dozen weight loss supplements. The flavors are always amazing and range from chocolate cream pie and cookies 'n' cream to strawberry yogurt and key lime pie.
If you want to follow an IdealShape meal plan, you can choose between 3 main options: Weight Loss, Tone Up, and Healthy Living. Just like their names suggest, Weight Loss is designed to help you lose as many pounds as you need, Tone Up helps you tone your muscles and boost your metabolism, and the Healthy Living plan allows you to enrich your diet with all the vitamins and nutrients your body needs.
For each meal plan, IdealShape has designed corresponding bundles that include meal replacement shakes and bars, drinks, supplements, e-books with recipes and guides, and shaker bottles. You can choose between 30-day, 60-day, and 90-day bundles and you get to pick the flavors for all the products in your bundle.
Pricing
Meal replacement bars come in 7-packs and normally cost $14.99 per box. You can opt for single boxes or save cash by purchasing variety packs including 2, 4 or 8 boxes.
Meal replacement shakes come in 30-serving tubs and cost $49.99 per tub. The prices of weight loss supplements differ depending on supplement type and range from $9.99 per 30-serving bottle of L-Carnitine supplement to $149.99 for 4 bottles (60 servings each) of IdealBlock advanced carb blocker.
Weight loss drinks usually cost $39.99 per 30-serving container. All 30-day bundles cost $119.99, 60-day bundles cost $219.99, and 90-day bundles cost $319.99. IdealShape purchases come with a 30-day satisfaction guarantee.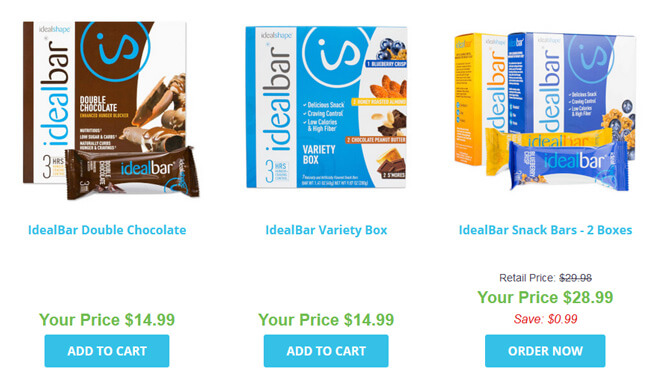 Delivery Areas
IdealShape ships throughout the US, including Hawaii and Alaska, as well as Guam, Puerto Rico, and the Virgin Islands. It also offers international shipping and its products are currently available in Canada, Australia, New Zealand, and China.
For orders within the continental US, shipping is free on orders of $79 or more. US orders below that price and deliveries to Hawaii and Alaska come with a standard shipping fee ranging from $4.99 to $9.99, depending on the weight of the package. For tracked deliveries to Canada, the shipping fee amounts to $9.99 per shipment. International shipping fees range from $19.99 to $29.99.
IdealShape Pros And Cons
To make sure IdealShape meets all your standards and expectations, it is important to know its biggest advantages and disadvantages. With a short overview of its pros and cons, you can easily decide if IdealShape is the right company for you.
Pros
Vast assortment of meal replacement shakes and bars
Drinks and supplements for faster weight loss
Meal plans for weight loss, muscle toning, and healthy eating
Professional help from personal trainers, nutritionists, and dietitians
Budget-friendly prices
Commitment-free ordering
Free shipping over $79 within the continental US
30-day satisfaction guarantee
Cons
Meal replacement shakes lack texture and consistency
Bottom Line
At the end of this IdealShape review, we can conclude that IdealShape products have 4 crucial advantages: they contain the powerful Slendesta hunger blocker, they taste good, they are quite affordable, and most importantly, they are effective. They have already helped thousands of dieters reach their goals and their creators even offer a 30-day satisfaction guarantee, which shows how confident they are of the quality and effectiveness of their products. The only potential flaw is that the shakes are a bit thin, which may be a problem for dieters who prefer thicker shakes. However, this is a truly minuscule flaw, so we can say that we are thoroughly satisfied with what IdealShape offers. If you have been looking for a weight loss solution that is simple and budget–friendly, IdealShape may be just what you need.
IdealShape FAQ
Where can I buy IdealShape shakes?
IdealShape shakes can be ordered online from the IdealShape website or purchased at the company's store in Lindon, Utah.
Where can I find nutrition facts for IdealShape products?
All IdealShape products feature a nutrition facts label on the container. Nutritional information for each product is available on the company's website as well.
What ingredients does IdealShape use?
IdealShape uses a blend of fiber and protein, including the hunger-blocking Slendesta, a white potato protein extract. Full ingredient lists are available on the product page of the company's website, as well as the packaging.
Does IdealShape work?
As evidenced by numerous success stories, IdealShape is an effective diet program that can lead to a steady and sustainable weight loss if followed strictly.
What is the best IdealShape flavor?
The most popular flavors of IdealShakes are Chocolate, Vanilla, Cookies N' Cream, Strawberry, and Salted Caramel. Black Cherry, Peach Mango, and Pineapple Passion are the most popular IdealBoost flavors.
Does IdealShape contain lead?
Some IdealShape products may contain lead. Such products are labeled with a sticker warning consumers about the lead content.
How does IdealShape work?
The IdealShape program relies on meal replacement shakes, bars, drinks, and supplements. In addition to food, IdealShape provides weight loss support, guides, and simple recipes to complement your diet.
Where can I buy IdealShape products in Canada?
Canadian customers can order Ideal Shape products online via the company's website.
View All FAQs