Get Maine Lobster Review
Advertiser Disclosure
This website features affiliate links. For purchases made via these links, we earn commissions that allow us to keep producing helpful content. To find out more
click here
.
Close
Get Maine Lobster is the #1 rated Maine Lobster delivery company. With over 300.000 satisfied customers it's no wonder that the company grew an amazing 600% in 2020. However, you should know that they deliver much more than juicy and fresh Maine lobsters. They also have Fresh Atlantic Swordfish, Maine Haddock, Fresh Atlantic Salmon, and more!
So, you already know how this whole thing works. All you have to do is pick what you want to eat and when and that's it. All orders ship via UPS Overnight Service and typically arrive earlier in the day. You will get the highest quality and freshest seafood delivered right to your doorstep.
In this Get Maine Lobster review we will go over everything you should know about this premium seafood delivery company. The company that before started delivering to the public was working only with restaurants. So, when we say you will have a restaurant-grade dining experience, we're not kidding.
How Get Maine Lobster Works
Shopping at Get Maine Lobster is very easy and actually a pleasant experience. Just like with any other online shop, you just select what you want to buy, add it to your cart and proceed to checkout. Be careful though, because just as you think you've done with your order, you might discover that Fresh Maine oysters are just $74.99. However, adding them to your cart is very easy and intuitive.
If you continue reading this Get Maine Lobster review you will find out more about their menu, shipping and pricing options. Also, we should mention that you don't have to subscribe to anything. So, this can be just a one-time thing although that's all it takes to fall in love with their delicious seafood.
You can also add a note to your order and pick a delivery date. They recommend you order a few days earlier just to be on the safe side as the demand for their deliveries is skyrocketing. And don't worry this won't influence the freshness of your order, just the scheduling on their part. This is why Get Maine Lobster is quickly becoming the best Maine Lobster distributor in the USA. They really care about their customers.
Finally, we recommend you check out their page Best Sellers page because it often offers huge discounts.
What Makes Get Maine Lobster Different
First of all, we already mentioned in this Get Maine Lobster review that the company used to work only with restaurants. This means that you will be getting the highest quality seafood delivered right to your doorstep. The company was acquired by Mark Murrell back in 2019 and quickly started delivering to the general public. They focus on the experience and quality which explains a bit higher prices. However, we think that it's always better to pay a little more and get the meal you're going to love. If you buy something just because it's cheap it's not going to be the same.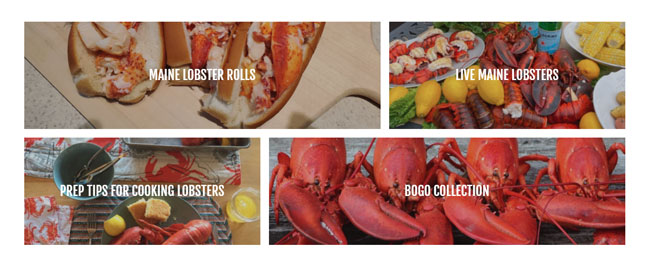 You should also know that Maine lobsters are harvested the old-fashioned way, with each harvester hauling in 250 to 300 traps a day, one trap at a time. And while this might be a bit slower and not so cost-efficient process, it's preserving the environment and valuable natural resources. Sustainability is another important issue that Get Maine Lobster is dedicated to. And this is not just coming from them but also from The Maine Lobster Council ensuring the health of the lobster resource.
Finally, Get Maine Lobster offers a variety of different seafood and not just lobsters. When you add their Buy One Get One Free deal, you soon begin to discover that you actually like Mussels or Swordfish. Ordering is also very easy and your package will arrive just in time for you to enjoy another delicious meal. In the next section of our Top 10 Meal Delivery Services Get Maine Lobster review we go over everything they offer.
Get Maine Lobster Products
Products you order are delivered nationwide, straight from Portland, Maine dock. So, let us discover all the delicious products that Get Maine Lobster offers:
Lobsters
You can choose between tasty and fresh live Maine Lobsters and Lobster Tails. When it comes to the live ones, you can order the Big Box with 12 live lobsters (1.2 – 1.4 LBs) or anywhere from 2 to 20 succulent, 100% wild-caught Maine lobsters. It's also very easy to select the size of the lobsters which varies from 1.1 – 1.2 lbs to 1.4 – 1.6lbs. Now, if you're hungry for some fresh Maine Lobster Tails here are your options: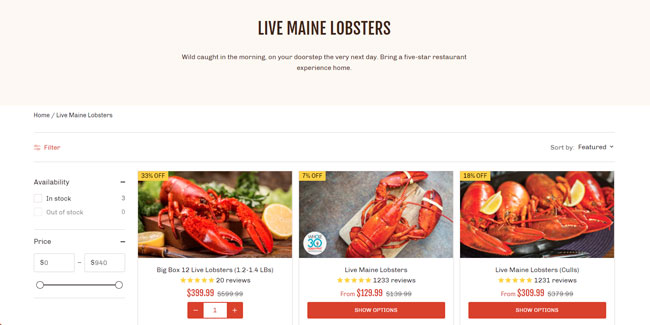 Petite Maine Lobster Tails (3-4oz)
Sweetest Maine Lobster Tails (4-5oz)
Large Maine Lobster Tails (5-6oz)
Over-Sized Maine Lobster Tails (6-7oz)
Maine Lobster Tail Feast
Lobster and Seafood Rolls
If you're looking for perfect, pre-cooked Lobster Meat you've come to the right place. This section offers some of the most popular items you can order like Famous Lobster Roll Feast and Jonah Crab Roll Kit. Also, Get Maine Lobster's Quarter Pound Lobster Roll Kits are just as popular. Finally, if you need something frozen their selection includes Frozen Maine Lobster Roll Kits and Frozen Lobster Meat.
Fresh Catch
As we previously mentioned in this Get Maine Lobster review, the freshness of their products is unmatchable. Maine is ideal for oyster growth and this is why their Fresh Maine Oysters are one of the most popular items in this category. However, we must mention also mention Fresh Maine Scallops and Fresh Maine Mussels. Here's the full menu:
Fresh Maine Oysters
Fresh Maine Scallops
Fresh Maine Mussels
Fresh Atlantic Swordfish
Gulf of Maine Fresh Halibut
Fresh Atlantic Salmon
Fresh Maine Haddock
Fresh Fish Sampler
Seafood appetizers
Get Maine Lobster is the only place to find the best seafood appetizers. Whether you want something as classical as Lobster Mac and Cheese or Crab Cakes or exotic as Stuffed Clams, you will find it here. And the prices are also very affordable. So, start your dinner right with one of these items and then move on to the big boys.
Pricing
Several times in this Get Maine Lobster review we talked about how their lobsters are a bit pricier but totally worth it. And we will say it again and again. The prices of seafood in general have gone up in recent years. Especially for those companies who are dedicated to preserving the sustainability of the Maine lobster industry. With that being said, here are some of the price ranges:
Live Lobsters – $129.99 (2 lobsters) – $399.99 (12 lobsters)
Maine Lobster Tails – $99 (4 tails)
Maine Lobster Tail Feast – $154.99 (8 Sweet & Petite Maine Lobster Tails, 4 Savory Maine Crab Cakes, 2 Pints Luscious Lobster Bisque, 4 Decadent Maine Whoopie Pies)
Famous Lobster Roll Feast (8 people) – $324.99 (Lobster Roll Kit for 8, 2 LBs Luscious Maine Lobster Mac & Cheese, 4 Pints Classic New England Clam Chowder, 8 Decadent Maine Whoopie Pies)
Fresh Maine Oysters – $74.99
Fresh Maine Scallops – $154.99
Fresh Maine Mussels – $74
Fresh Atlantic Swordfish – $99.99
Fresh Atlantic Salmon – $79.99
Fresh Maine Haddock – $74.99
This is not everything that you can get at Get Maine Lobster. There are also Quarter Pound Lobster Roll Kits for just $159.99 and one pound of Frozen Maine Lobster meat costs just $129.99. Additionally, the more meat you order the lower the price will be. So, you might want to plan this one out.
Finally, we have to talk about their Buy One Get One Free offers. At the time we are writing this Get Maine Lobster review there are whopping 19 different offers ranging price from $159.99 to $314.99. Here are some of the items:
Buy 1 lb perfectly cooked lobster tail meat, get 2 lbs marinated steak free! – $159.99
Buy four 4 oz fillets, get 8 lobster tails free! – $184.99
Buy 4 oversize lobster tails (6-7 oz.), get 4 lobster rolls free! – $234.99
Buy 4 Fresh Maine Lobsters (1.1 – 1.2 LB), Get 4LBs fresh Mussels Free! – $239.99
Delivery Areas
Get Maine Lobster products are available throughout the United States, including Hawaii and Alaska. They deliver Tuesday through Friday for all orders. You should also know that all live lobster and fresh seafood orders must be placed before 9:00 AM EST for delivery the next day. All frozen orders must be placed by 12:00 PM EST for delivery the next day. The Fedex Tracking Number for your shipment will be emailed to you on the evening your order is picked up.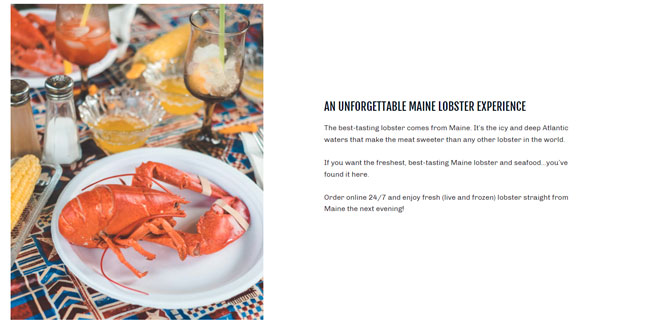 Shipping rates vary and they will be calculated once you reach the checkout page. However, we can tell you in advance that they vary between $19.99 and $34.99 depending on which product(s) you select. And remember, 100% of orders ships directly from Maine. Get Maine Lobster does not deliver to APO/FPO and P.O. Boxes.
Get Maine Lobster Pros & Cons
In this section, we will briefly go over some of the advantages and disadvantages. It's important to get the full picture and all the information you can possibly get. This will help you make the right decision.
Pros
Sustainable, highest-grade seafood
Harvested the old-fashioned way
Wild-caught, Hand-harvested & hand-selected
Fresh from Maine
Flash-frozen for unrivaled freshness (frozen items)
100% satisfaction guarantee
Detailed prep instructions included
Cons
A bit pricier
High shipping fees
Bottomline
At the end of this Get Maine Lobster review, we have only one thing to say: Get Maine Lobster if you can. We know that it's a bit pricier option but it's totally worth it. If you like your seafood to be sustainably caught, humanely treated, and extremely fresh, there's only one place to go. Finally, you don't have to subscribe to a box or enter any kind of commitment. So, there's practically nothing to lose and everything to gain. It's time to treat yourself and try something new.