Foodstirs Review
Gorgeous Organic Baking Kits & Mixes

Advertiser Disclosure
This website features affiliate links. For purchases made via these links, we earn commissions that allow us to keep producing helpful content. To find out more
click here
.
Close
If you love baking but rarely have enough time for a proper baking session, Foodstirs can help speed up the process so you can bake as often as you wish, even when on a tight schedule. If you would love to bake but are afraid that the results would not be as impressive as you would want them to be, once again, Foodstirs can save the day and help you successfully start a loving friendship with your rolling pin and oven. If this does not sound good enough, maybe it is worth noting that Foodstirs is the brainchild of Galit Laibow, Greg Fleishman, and none other than Sarah Michelle Gellar.
Therefore, if you want to discover the wonders of dough on your own or share the joy with your little ones and bake something healthy, delicious, and beautiful, keep reading this Foodstirs review and find out how easy baking can be with this interesting delivery service.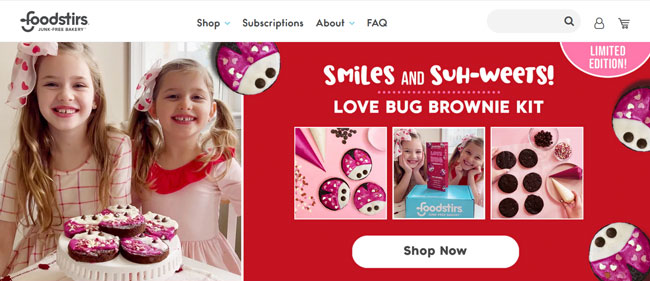 How Foodstirs Works
With Foodstirs, you can shop commitment-free and handpick the lovely items from its shop. You can choose from a variety of baking mixes, baking kits, and even cool sweatshirts, t-shirts, and tote bags. If you want to subscribe, you can become a member of its Baker's Club and receive regular deliveries of baking kits shipped out every other month.
All bi-monthly subscription boxes feature different holiday-inspired and season-inspired themes. They include baking mixes, decorations, shapes and supplies, and simple 6-step recipes with clear instructions that even the most inexperienced bakers can follow.
You can decide on the length of your subscription and choose to receive between 1 and 12 kits. At the end of the subscription period, your subscription is automatically renewed and reset to the 1-kit subscription plan. If you want to end your subscription, you can get in touch with Foodstirs' customer support via phone and have your account deactivated. Be sure to state your intention to cancel by the last day of the month in order to avoid being charged for the next shipment.
What Makes Foodstirs Different
It is not every day that we stumble upon a delivery service that exclusively focuses on baking. However, that is not the only distinctive feature of this service. Namely, it is the quality of its baking mixes and kits that truly sets it apart. Its products are organic and ethically sourced and everything from mixes and decorations is healthy, natural, and suitable for different diets. Everyone over the age of 6 can enjoy whipping up a wonder with Foodstirs baking kits.
Apart from focusing on organic ingredients, the service goes an extra mile to ensure its mixes and kits are perfectly good for you. Namely, it is currently the only quick-scratch baking brand that uses biodynamic sugar in its mixes. Biodynamic sugar is not refined and it is made of organic cane juice that is harvested, evaporated, and crystalized, all within a single day. It is commonly referred to as the most sustainable sugar currently available.
If you want to get a special gift for a fellow baker, you have plenty of options to choose from. You can opt for a gift subscription, a $25, $50 or $100 gift card, Sarah Michelle Gellar's cookbook or some nice wearable swag with funny and sweet baking-related print.
If you choose to join the company's referral program, both you and your friends can get great discounts. Everyone who joins Foodstirs using your referral link gets 25% off any subscription and you get 25% off for every successful referral.
Meals And Recipes
In the previous sections of this Foodstirs review, we mentioned that this company focuses on providing healthy, certified organic, non-GMO baking kits and mixes. All products are certified kosher, vegetarian-friendly, and nut-free. The Organic Vanilla Frosting Mix is gluten-free as well.
The recipes do call for eggs and milk, but all of the products are vegan-friendly, except for the Organic Sunday Stacks Pancake Mix, and eggs and milk can be substituted with flaxseed and almond and coconut milk. Customers who are vegans can reach out to the support staff and get great recommendations for adequate substitutions for non-vegan ingredients included in the recipes.
In the Foodstirs shop, you can find 7 different baking kits and around a dozen of baking mixes that can be purchased individually or in 3-packs. Both the kits available in the shop and the ones you receive with the subscription include organic baking mixes, plant-based food dyes, and lovely decorations and baking supplies, including sprinkles, cupcake liners, lollypop sticks for cake pops, molds, cookie cutters, and more.
The recipes are wonderfully easy to follow and kid-friendly, with precise instructions that guide you through the entire baking process. Apart from what is included in your kit, you just need perishable goods such as eggs and milk and standard kitchen materials. Foodstirs products have a long shelf life and can sit in your pantry for up to 12 months.
Pricing
If you choose to join the Baker's Club, you can opt for the 1-kit, 3-kit, 6-kit or 12-kit subscription. With the 1-kit subscription, you pay $18.99 per kit, the 3-kit subscription costs $18.34 per kit, the price of the 6-kit subscription is 16.84 per kit, and the 12-kit subscription costs $15.26 per kit. All subscriptions come with shipping included, except for the 1-kit subscription.
Now, let us take a look at the prices of individual items available at the store. Baking mixes normally cost $5.99 per pack or $17.99 per 3-pack. Baking kits cost $18.99 each. When it comes to wearable swag, sweatshirts cost $25, t-shirts cost $15, and tote bags cost $20. You can get Sarah Michelle Gellar's cookbook Stirring Up Fun With Food for $16.95.
As we mentioned previously, shipping is included in longer subscriptions but it is not free for all orders. The cost of shipping depends on your location.
Delivery Areas
Foodstirs ships its goods all over the US. At the moment, it does not offer international shipping. The goods are shipped via USPS and the standard shipping time is 5 to 7 business days. Subscription kits are shipped on the 10th of every even-numbered month. The company does not accept returns.
Foodstirs products can also be found in large stores such as Whole Foods and Kroger. It is possible to make a purchase via Instacart as well.
Foodstirs Pros And Cons
To make sure Foodstirs meets all your standards and expectations, it is important to know its biggest advantages and disadvantages. With a short overview of its pros and cons, you can easily decide if Foodstirs is the right meal kit service for you.
Pros
Subscribe or shop at your leisure
A lovely selection of healthy baking mixes and kits
Certified organic, non-GMO, and kosher
Vegan-friendly and nut-free
12-month shelf life
Great gifts for home bakers
The only quick-scratch baking brand using unrefined, biodynamic sugar
Cons
Shipping is not free on all orders
Only one gluten-free item
Sample Dishes
If you subscribe to Foodstirs, you can easily prepare culinary masterpieces using only the ingredients and recipes found in your meal kit box. You may not be a pro chef just yet, but with Foodstirs, you can easily make restaurant-grade meals. You don't have to take our word for it – check out the images below to get a better idea of the types of dishes you can enjoy with Foodstirs.
Chocolate Chippy Cookie Cake
Darling Daisy Cookie Bouquet
Rainbow Cake Pop
Rainbow Pancake
Bottom Line
Foodstirs is an enchanting service created and run by parents who know that baking is one of the best activities for bonding and having fun with the little ones. The lovely recipes and baking kits and mixes it offers can help both adults and kids learn how to bake without getting discouraged by complex or unclear instructions or failed attempts at a cake pop. With Foodstirs, you can get perfect results every time. Plus, the products are incredibly healthy, certified organic and kosher, and suitable for various diets, so virtually everyone can enjoy them. Finally, the prices are quite affordable, so there is nothing preventing you from enjoying an utterly satisfying baking experience with delicious results.
Foodstirs FAQ
Where can I buy Foodstirs products?
You can buy Foodstirs products via the Foodstirs website. You can order with or without a subscription. The company's products are also available at select retailers, such as Target, Whole Foods, and Kroger.
How do I cancel my Foodstirs subscription?
You can cancel your Foodstirs subscription by reaching out to the company's customer support staff via phone or email.
Who owns Foodstirs?
Foodstirs is a private company owned by Sarah Michelle Gellar, Galit Laibow, and Greg Fleishman.
View All FAQs