Farm Fresh To You Review
Advertiser Disclosure
This website features affiliate links. For purchases made via these links, we earn commissions that allow us to keep producing helpful content. To find out more
click here
.
Close
Farm Fresh To You is a family-run delivery service that offers fresh, organic fruit and vegetables grown with love and care. It allows its customers with a busy, urban lifestyle to enjoy the perks of eating healthy food touched by nothing but nature, which is the kind of luxury not many people around the country can enjoy. If you want to know exactly where your food is coming from and provide your family with only the best, keep reading this Farm Fresh To You review.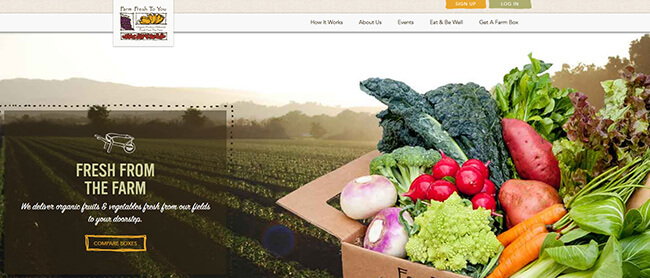 How Farm Fresh To You Works
Farm Fresh To You brings you 100% certified organic produce and handmade products originating from its farm, which has been in the possession of the company owners for two generations, as well as other local organic farms. It offers more than 60 varieties of organic produce and over 100 specialty farm products created by local artisans.
You can decide whether you want to have the produce and products delivered to your home or office and you get to choose between 6 specially designed boxes, including various combinations of seasonal organic produce. The boxes contain only fruit and/or veggies by default, but you can customize them to include any artisanal products that you want to try out. Each box comes in several sizes, designed for 1-2, 2-4, 4-6 or more people.
Along with the food items, you also get news from the farmers that grow the produce that reaches your kitchen, produce tips, information about farm events the company organizes, and lovely recipes that call for the ingredients you can find in your box.
Farm Fresh To You is a subscription-only service. However, you can modify your subscription any way you want by adjusting the delivery frequency, quantity, and content of your boxes. You can change your preferences at any time and you can pause your subscription whenever you want, so you only receive the produce and products when you really want them.
What Makes Farm Fresh To You Different
Ordering from Farm Fresh To You is like having friends or family who live in the countryside and send you all of your favorite fruit, veggies, and products they made by hand whenever you are craving something completely natural and delicious. Apart from seasonal produce, you can get hand-crafted jams, cured olives, nuts, dried fruit, seasonings, honey, flowers, milk, eggs, dairy products, and more, all of it organic and as delicious and fragrant as it can be.
As we have already mentioned in this Farm Fresh To You review, the service does not only deliver to homes, but to offices as well. Corporate clients can choose between the standard 6 boxes and also order office snack packs and additional items, such as organic coffee, fresh flowers, healthy, organic breakfasts, and other items that can boost the mood and efficiency of the people in the office. Business owners can also take advantage of the excellent Workplace Wellness program and offer wonderful wellness perks to their employees, thus creating a more pleasant workplace and make their employees love their jobs more.
Raising awareness about the importance of a healthy diet, this company allows its customers to help raise funds for local schools simply by shopping at Farm Fresh To You. You can find out if your local school participates in this program, get its unique promo code, enter it when you purchase at Farm Fresh To You, and contribute to the noble cause of allowing children in your area to eat tasty, organic food that helps them grow up strong and healthy.
If you like Farm Fresh To You, you can send a gift card and share the lovely food with someone you love. Alternatively, you can refer a friend and save $25 on your purchases. Your friend also gets $15 credit as a gift from you and the company.
Meals And Recipes
We have already said in this Farm Fresh To You review that the company lets you choose between 6 different boxes designed for the various preferences of its customers. Now we will take a closer look at each of the options at your disposal.
You can opt for the Fruit Only box, which contains nothing but perfectly ripe and tasty, 100% organic fruit. You always receive the best fruit of the season and depending on the size you choose, you can usually get between 8 and 10 delicious varieties.
The second option is Mixed Fruit and Veggie box, which is the most popular box among Farm Fresh To You customers. This option allows you to enjoy 8 to 18 varieties of seasonal, organic fruit and vegetables.
No Cooking box is designed for busy individuals who need a lot of energy, but do not have a lot of time to spend in the kitchen. The majority of items in this box belong to the category of fruit, but you also get veggies that are quick and easy to prepare, such as avocados and lettuce. You normally get between 8 and 12 fruit and veggie varieties.
Organic Snack Pack allows you to enjoy healthy food on the go. It does not contain any veggies and brings you 7 to 10 varieties of fresh, seasonal fruit.
Traditional CSA (Community-Supported Agriculture) lets you support hard-working organic farmers while eating the most carefully grown seasonal fruit and veggies. The number of varieties per box ranges from 9 to 12.
Finally, you can opt for the Veggie Only box and get 10 to 12 varieties of natural, nutrient-packed vegetables.
We have already talked at length about possible customizations, including wonderful artisanal farm products, but here we will just mention another great customization option. Along with your box, you can also order produce in bulk at a much lower price. This is a special offer available only as an addition to a box and it is not sold separately.
Once you receive your box, you can get creative with the recipes particularly designed to highlight the items in your box, eat the deliciously juicy fruit and veggies on their own or browse the collection of healthy recipes available on the company's website. With dozens of recipes at your disposal, you can never run out of amazing meal ideas to delight your family and use the natural treasures you receive from Farm Fresh To You.
Pricing
The price of your delivery depends on both the type and the size of your box. It is important to note that larger boxes do not contain larger quantities of all produce, but extra items and larger quantities of certain items. All boxes come at fixed prices. Of course, if you decide to customize your box by adding more products or increasing the quantity, the price of your box goes up as well.
With Fruit Only boxes, you pay $26 for a Small-sized box, $33 for a Regular-sized box, and $46 for a More-sized box. Mixed Fruit And Veggie boxes come in 4 sizes: Small, which costs $26, Regular, which costs $33, More, which costs $46, and Monster, which costs $58.
No Cooking boxes come in Small, Regular, and More sizes and cost the same as Fruit Only boxes: $26, $33, and $46, respectively. Organic Snack Packs come in 4 sizes, including Mini, which costs $35, Small, which costs $60, Medium, which comes at the price of $85, and Large, costing $110. There are only two sizes of Traditional CSA boxes: Regular, which costs $33 and More, costing $46. Finally, Veggie Only boxes also come in two sizes, Regular, at the price of $33 and More, at the price of $46.
Shipping is included in the prices of the boxes, so there are no additional costs.
Delivery Areas
Now, the incredibly disappointing part. Farm Fresh To You does not deliver to US states other than California. You can check whether Farm Fresh To You produce and products are available in your area by entering your zip code on the company's official website. We sincerely hope that the company will soon find a way to expand its delivery area.
Farm Fresh To You Pros And Cons
To make sure Farm Fresh To You meets all your standards and expectations, it is important to know its biggest advantages and disadvantages. With a short overview of its pros and cons, you can easily decide if Farm Fresh To You is the right company for you.
Pros
100% certified organic produce
Over 100 artisanal farm products
Great office delivery programs
A variety of customization options
Flexible subscription
Shipping included in the prices
Cons
Only available in California
Bottom Line
Farm Fresh To You gives you the wonderful opportunity to feature only the healthiest produce and farm products on your table. Everything in the company's offer is organic and locally sourced and you can enjoy it either at home or at the office. There are plenty of options to choose from and the subscription is so flexible that you can order whatever you want, as often you want, without ever feeling trapped. The only downside of the service is that it is only available in California, which is a real shame, considering it is an amazingly convenient and reasonably priced service that allows you to eat healthily without any effort.
Farm Fresh To You FAQ
How can I cancel Farm Fresh To You?
To cancel your Farm Fresh To You subscription, you should contact the company via email or by phone.
Is Farm Fresh To You worth it?
Farm Fresh To You is a reasonably priced service that makes healthy eating easy. It delivers fresh, organic fruit and veggies straight from the farm. The company also offers more than 150 specialty farm products that you cannot find in stores.
What box sizes does Farm Fresh To You offer?
For individuals and families, Farm Fresh To You offers 4 box sizes suitable for 1-2, 2-4, 4-6 or 6-8 people. For offices, it offers boxes for 5, 10, 15-20, and 30 people. The range of box size options available depends on the box type you choose.
View All FAQs