Quick, Tasty & Convenient Superfood
Daily Harvest Review - UPDATED Feb 2018
Daily Harvest was founded in 2014 by Rachel Drori, a hard-working mom from New York who needed an easier way to get her hands on delicious smoothies that would keep her fit and healthy. Today, Rachel is an expert on superfood, bringing you a vast range of quick and tasty solutions for a healthy diet. If you feel like you may be craving what she's offering, you can find out all about her superfood wonders in this Daily Harvest review.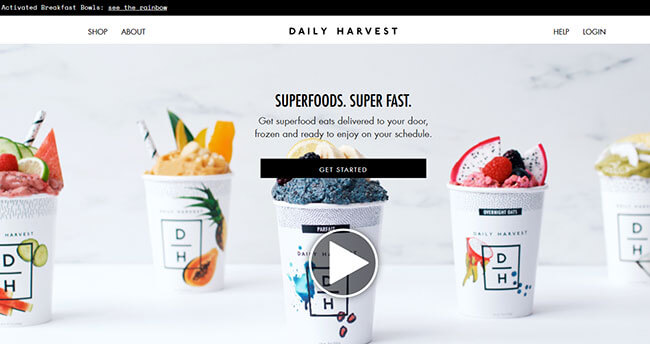 How Daily Harvest Works
Daily Harvest is a subscription service that allows you to choose between 3 subscription options, depending on your needs. You can opt for a weekly subscription and receive 6 or 12 cups of flash-frozen, unrefined, organic ingredients ready to soak, heat or blend, or decide on a monthly subscription that brings you 24 cups of superfood goodness.
Apart from picking the number of cups you wish to receive, you also get to pick the recipes you like. You can order cupfuls of ingredients perfect for smoothies, chia parfaits, soups or delicious overnight oats. There are around 2 dozen recipes at your disposal, all perfectly healthy and extremely good for you.
The subscriptions are as flexible as they can be. You can change the number of cups you want to receive, skip a week of deliveries or cancel your subscription whenever you wish, as long as you do it before the weekly cutoff time (Saturday, 6 p.m. EST).
What Makes Daily Harvest Different
There are many meal deliveries out there claiming to offer healthy meals made of premium-quality ingredients. However, most of them still use refined goods and flavor enhancers to make their food taste better. Daily Harvest does nothing to diminish the nutritional value of the produce it uses. There are no refined ingredients and everything in the cups is completely natural and devoid of any potentially harmful substances.
Daily Harvest takes healthy eating seriously, which is why it has an in-house chef and an in-house nutritionist working together to create perfect combinations of equally perfect ingredients. All of the recipes they come up with are incredibly nutritious and healthy, but they are also incredibly flavorful and satisfying. Their job is to show Daily Harvest customers that food that is good for you can taste amazing and they excel at what they do.
Frozen food is something many people dread, with all the poor-quality frozen meals giving it a bad name. Daily Harvest works hard on proving that frozen food can be just as good as the fresh kind. The ingredients used for its recipes are picked at peak maturity and flash-frozen in order to keep all the valuable nutrients inside, so none of the goodness is lost in the process. Keep in mind that the content of the cups is not meant to be defrosted. Use them fresh from the box or your freezer, so you can make the most out of their healthy content.
The gift of food is possibly the best gift of all, especially if it's super-healthy, delicious, and comes in a handy cup. You can send Daily Harvest gift cards to the people you care about and allow them to pick the smoothies and soups they want to have delivered to their doorstep. A healthy, handy, instant gift practically anyone would appreciate.
Another wonderful feature of the Daily Harvest menu is its suitability for various special dietary needs. Read more about this in the following section of this Daily Harvest review.
Meals and Recipes
As mentioned before in this Daily Harvest review, no matter which subscription plan you choose, you get to pick what you eat. All menu items are at your disposal, all of them including 100% natural, non-GMO, organic ingredients. Before you choose a cup, you can read detailed information about each ingredient and feel even better about your choice, knowing it can do wonders for your body.
At the moment, Daily Harvest offers 23 different recipes: 14 smoothies, 3 chia parfaits, 3 different overnight oats, and 3 soups. They come in pre-portioned, single-serving cups ready to be popped into the freezer or enjoyed the same day.
When it comes to preparation, it comprises 2 simple steps – add liquid of your choice and blend, soak or heat. You can combine your smoothie cups with water or milk of any kind (coconut, almond, dairy, you name it), add the base of your choice to your soups, and turn any cup into whatever you want it to be. Your delicious meal is ready in minutes, with hardly any work and without any mess to clean up.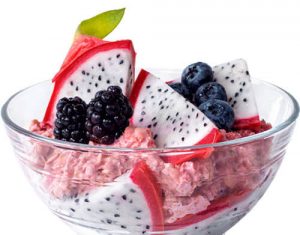 The recipes are perfect for all kinds of special diets. They are all vegan-friendly and all bowls are suitable for the Paleo and vegetarian diets. The Daily Harvest menu is completely dairy-free, gluten-free, and soy-free (with the exception of Mushroom + Miso soup). Soon, it will also be kosher-certified and fully organic-certified. Unfortunately, if you are allergic to any of the ingredients, there is nothing Daily Harvest can do about it at the moment – the recipes cannot be altered to accommodate your needs.
Pricing
If you opt for weekly deliveries of 6 cups, you pay $7.99 per cup. Weekly deliveries of 12 cups come at the price of $7.49 per cup. The monthly subscription for 24 cups is the most affordable option and it costs $6.99 per cup. Shipping is always free, so you only end up paying for what you eat.
Delivery Areas
At the moment, Daily Harvest delivers to 95% of the US. Unfortunately, it does not deliver to Alaska and Hawaii. You can check whether it is available in your place of residence by clicking the Get Started button on the homepage of the Daily Harvest website and entering your zip code. In case it is not on the list of delivery areas, the company promises to let you know as soon as they start delivering in your area.
The deliveries are made on Thursdays and Fridays and you get to choose the delivery day that works best for you. You do not have to sign for your delivery and it can wait for you on your doorstep until you come home to pick it up.
Pros
Natural, organic, non-GMO ingredients
Recipes developed by an in-house chef and nutritionist
Flexible subscription
Free shipping
Dairy-free, gluten-free, and mostly soy-free recipes
All bowls suitable for the Paleo diet
Perfect for vegans and vegetarians
Cons
No customization for allergies
Does not ship to Hawaii and Alaska
Sample Dishes
Bottom Line
Daily Harvest food can best be described as a world of flavors, colors, and nutrients in a cup. This company allows you to eat healthy without all the usual hassle. It picks the best ingredients possible, all 100% natural and unrefined, and combines them in incredibly creative and innovative ways. Basically, it offers a quick, simple, and perfectly convenient way for you to give your body all the nutrients it needs while enjoying food that looks and tastes amazing. It is not too expensive either and the shipping is always free, so there is nothing standing between you and a healthy diet. Be sure to give this one a shot.