Cameron's Seafood Review
Premium Maryland Seafood Fresh Off The Boat
Advertiser Disclosure
This website features affiliate links. For purchases made via these links, we earn commissions that allow us to keep producing helpful content. To find out more
click here
.
Close
Selling more than 75,000 bushels of seafood per year, Cameron's Seafood is one of the most prominent seafood retailers in Maryland and beyond. It has been in the business for more than 3 decades, but it only started operating as an online seafood delivery service in 2017.
While the company offers everything from fresh rockfish to steamed Maine lobsters, it primarily focuses on the famous Maryland blue crabs and promises to bring them to your home in less than 24 hours. Not only that, but it exclusively provides the highest-grade seafood and ships the same day's catch whenever possible, so you can be sure you are getting the best and freshest specimens available.
If the very thought of succulent crustaceans makes your mouth water, keep reading our Cameron's Seafood review to find out if this service can satisfy your cravings while keeping your budget happy.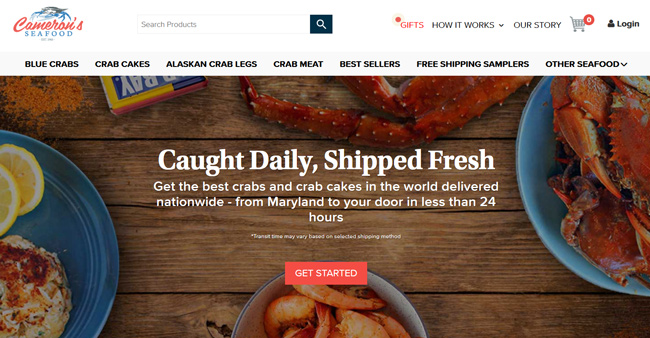 How Cameron's Seafood Works
Shopping at Cameron's Seafood does not require a subscription. You can order anytime, with zero commitments, and have as much seafood as you want delivered to your doorstep on the date that works for you. There is no minimum order and you can freely decide on both the selection and the number of products in your box.
The company has about 50 items in its online shop, including whole steamed blue crabs, crab cakes, crab meat, crab legs, crab soups, lobster, shrimp, scallops, oysters, calamari, crawfish, clams, and mussels, as well as a dozen different kinds of fresh fish. While most products ship fresh, the service also delivers flash-frozen seafood during the off-season.
When placing your order, you can decide exactly when you want it to arrive at your doorstep. You can have your favorites shipped immediately or schedule your delivery up to 60 days in advance. The deadline for order modifications and cancelations is 1-2 days before the scheduled delivery date. As long as your order has not been shipped yet, you can change it by emailing your request to the company's support staff.
In case you want to get seafood of your choice on a regular basis, you can set up auto-deliveries. That way, you can save time on building your orders and get the items you love every month on the same date you received your first delivery. The service sends you an email two days before your order is processed, thus giving you enough time to make changes before the seafood is prepared for shipping. Once you are billed, your order can no longer be modified.
Your auto-delivery subscription comes with no strings attached. You can skip deliveries, opt for a different delivery frequency or cancel your subscription anytime. Just open your order confirmation email and click the Manage Your Subscription link to make the desired changes. Alternatively, you can reach out to the support staff via email and ask them to help you cancel or adjust your subscription to your needs.
What Makes Cameron's Seafood Different
If you are a fan of Maryland crabs, you probably already know that many restaurants and services across the country use deceptive labeling. They offer Maryland-style products made of crab meat that may not even originate from the US. Such bad practices have made it increasingly difficult to identify real Maryland crabs and avoid overpaying for products of unknown origin and inferior quality and freshness.
The main benefit of shopping at Cameron's Seafood is that you can be sure you are always getting what you paid for. As a participant in the True Blue program launched by the Maryland Department of Agriculture, this service is guaranteed to offer 100% authentic, sustainably caught Maryland crabs straight from the Chesapeake Bay.
The crabs are sourced live from the boats, steamed immediately with special spices, and shipped fresh the same day they are caught, as long as they are in season. During the off-season, you can purchase flash-frozen Maryland blue crabs or opt for fresh specimens from North Carolina and Louisiana. In any case, you always get the highest-grade products of known origin and superior texture and sweetness.
To make sure you remain a loyal customer and enjoy risk-free shopping every time, Cameron's Seafood offers a 100% satisfaction guarantee on all deliveries. If you are unhappy with your order for any reason, you should just get in touch with the service within 24 hours and easily get a refund or a replacement.
For the seafood lovers in your life, the company has prepared a vast variety of mail-order seafood gifts starting under $20. If you are not entirely sure what to get, you can opt for an e-gift card worth anywhere between $20 and $250.
Cameron's Seafood Products
Cameron's Seafood does not have a huge product selection, but it still does a pretty good job satisfying the various preferences of seafood fans who can taste the difference between fresh, authentic products and cheap alternatives. At the moment, it has more than 40 items on offer, divided into 9 major categories for easier browsing. All the products are fresh, except for a couple of them that are clearly labeled as frozen.
Let us discover what is waiting for you in each section of the Cameron's Seafood online shop.
Maryland Blue Crabs
As mentioned previously in this Cameron's Seafood review, Maryland blue crabs are the company's main product. They are sustainably caught in the Chesapeake Bay, pre-steamed, and delivered to your doorstep fresh or flash-frozen, depending on the season.
You can opt for:
Colossal jumbo male Maryland crabs measuring 6.25+ inches from tip to tip;
Premium large male Maryland crabs measuring 5.25 to 6.25 inches from tip to tip;
Standard male Maryland crabs measuring 5 to 5.50 inches from tip to tip;
Standard female Maryland crabs measuring 4.50 to 5.75 inches;
Maryland soft shell crabs larger than 5 inches;
Maryland blue crab claws.
Crabs come in packages of different sizes. You can get half a dozen crabs, a dozen crabs, half a bushel or a whole bushel. If you do not have the time to handpick the items in your cart, you can get the Maryland seafood sampler featuring 6 large crabs, 8 ounces of jumbo lump crab cakes, 1 pound of spiced shrimp, and 32 ounces of crab meat bisque.
Maryland Crab Cakes
The company's famous crab cakes are ready to cook and they come in 2 basic varieties. You can opt for Maryland jumbo lump crab cakes or get the delicious crab cake stuffed jumbo shrimp. Also available is the Maryland crab cake sampler featuring two 4-ounce jumbo lump crab cakes, two 8-ounce jumbo lump crab cakes, and 32 ounces of crab meat bisque.
Maryland Crab Meat
If you want to make your own crab cakes or wish to enrich your salads and casseroles with delicious crab meat, you have 2 options at your disposal. You can opt for lump Maryland crab meat or jumbo lump Maryland crab meat. The difference between the 2 products is in chunk size, with the jumbo option containing larger chunks of meat.
Crab meat normally ships frozen and it is sold by the pound.
Maryland Crab Soups
The company's Maryland crab soups are made from scratch daily. They are ready to heat and come in convenient 32-ounce containers. You can choose between Maryland crab meat bisque (featured in the New York Times), Maryland crab gumbo, lobster bisque, and clam chowder.
If you want to try out different soups and enjoy free shipping, you can get the Maryland crab soup sampler, including crab meat bisque, crab gumbo, and lobster bisque, 1 container each.
Alaskan Crab Legs
Alaskan crab legs available at Cameron's Seafood come from crabs caught in Alaska and flash-frozen on the boats to ensure they arrive perfectly flavorful.  You can choose between colossal Alaskan snow crab legs, colossal Alaskan king crab legs, and colossal Dungeness crab legs. The package size ranges from 3 to 12 pounds.

Lobster
If you are in the mood for Maine lobster, you can get steamed lobsters in 1.5-pound packages, order flash-frozen 10-12-ounce lobster tails or go with flash-frozen lobster meat sold in 2-pound bags. Lobsters and lobster meat are ready to eat while tails require cooking.
Shrimp
When it comes to shrimp, you can opt for raw or ready-to-eat spiced shrimp or get flash-frozen and fully cooked jumbo cocktail shrimp. The products are sold by the pound, with 16 to 20 shrimps per 1-pound bag.
Shellfish
In the Shellfish section, you can find a variety of delicacies from the Chesapeake Bay. The selection includes fresh sea scallops and shucked oysters and flash-frozen calamari, crawfish, mussels, and clams. Packages vary in size, ranging from a pint to 5 pounds.
Fresh Fish
Finally, the company offers gorgeous fresh fish sold by the pound and delivered flash-frozen. You can opt for salmon, tilapia, swordfish steaks, red snapper, catfish fillets, rainbow trout, cod, tuna steaks, Chilean sea bass, mahi mahi, flounder or rockfish.
Pricing
While not the lowest on the market, the prices at Cameron's Seafood are rather reasonable. Here is a quick pricing overview that can help you get a sense of the service's affordability:
Maryland blue crabs start at $33.99 for 3 pounds of crab claws and go up to $109.99 for half a dozen colossal jumbo male crabs;
Crab cakes start at $14.99 for a 4-ounce cake;
Crab meat costs $49.99 to $69.99 per pound;
Crab soups cost $25.99 per 32-ounce container;
Alaskan crab legs range from $86.99 to $153.99 per 3-pound package;
Steamed lobsters cost $24.33 per pound, lobster tails cost $49.99 apiece, and lobster meat comes at a price of $44.99 per pound;
Shrimp costs $25.99 per pound;
Fresh fish costs between $14.99 and $44.99 per pound.
If you are interested in one of the samplers that come with free shipping, you can expect to pay $97.99 to $208.99 per sampler.
For orders worth $199 or more, shipping is free of charge. However, depending on your location, your order may need to weigh at least 10 pounds in order to qualify for free shipping. For smaller orders and order values, shipping costs range from $19.99 to $44.99.
Delivery Areas
Cameron's Seafood delivers all over the United States, including Hawaii and Alaska. Its carrier of choice is FedEx. Deliveries are made Tuesday through Saturday. If you place your order by 3 PM, you can receive your delivery the next day, provided that you do not order on Saturday or Sunday, in which case your box can reach you on Tuesday.
After your order has been dispatched, it should arrive within 1 to 3 days, depending on the shipping methods you choose. Available methods vary in accordance with location and include FedEx 1-Day Ground, 2-Day Ground, 3-Day Ground, 2-Day Air, and Overnight.
The service provides tracking information for all shipments. You do not have to be at home to receive your delivery as no signature is required. However, you should make sure that there is a safe place to leave the box to avoid potential delivery delays.
Cameron's Seafood Pros & Cons
To make sure Cameron's Seafood meets all your standards and expectations, it is important to know its biggest advantages and disadvantages. With a short overview of its pros and cons, you can easily decide if Cameron's Seafood is the right company for you.
Pros
Sustainable, highest-grade seafood
At your doorstep in less than a day
Maryland blue crabs, lobsters, shrimp, oysters, and more
Fresh from the Chesapeake Bay
Free shipping on orders over $199
100% satisfaction guarantee
True Blue certified
Cons
Limited variety and availability
Does not ship live seafood
Bottom Line
Finishing off our Cameron's Seafood review, we can conclude that this delivery service is an excellent choice for fans of Maryland seafood. It only offers the highest-grade products, it ships the same day's catch, and it brings deliciousness to your door within a single day. Its product selection is not the most impressive we have seen, but it is sufficiently large and every item on offer comes with a 100% satisfaction guarantee.
If you like your seafood fresh, sweet, sustainably caught, and professionally steamed, Cameron's Seafood could easily become one of your favorite sources of premium fish and shellfish.