Brodo Review
Slow-Simmered Broths For The Soul
Advertiser Disclosure
This website features affiliate links. For purchases made via these links, we earn commissions that allow us to keep producing helpful content. To find out more
click here
.
Close
In November 2014, world-renowned chef Marco Canora came up with a fun idea. He wanted to sell broth in sippable to-go cups out of the small takeout window at his famous restaurant Hearth in New York. He did not expect much at the beginning, but what started out as a modest experiment turned into Brodo, a trendsetting business that made New Yorkers fall head over heels for soul-warming, gut-healing liquids that tasted like home. Thanks to the amazing customer feedback, Brodo broths are now available for home delivery.
Keep reading this Brodo review to find out how these must-try broths are made, explore the range of options available, and learn all about the service's pricing and delivery area.
What Is Brodo
Brodo (Italian for broth) is a delivery service that brings all-natural, traditionally made broths to your home. It was launched by a James Beard Award-winning chef and it is known for the superior quality, clarity, and flavor of its slow-simmered broths.
When it first appeared, Brodo was nothing more than an extra to-go item offered at Chef Marco Canora's restaurant. Now, it is a well-known brand with 4 NYC locations and its own nationwide delivery program.
The main reason for Brodo broths' popularity and speedy growth is the taste. Using only the finest ingredients and employing traditional brewing methods with no shortcuts, Chef Marco managed to create incredibly flavorful liquids that are downright addictive.
In the meantime, the brothy drinks he created for the takeout window of his restaurant have been adapted to suit the requirements of home delivery. Customers across America can order broths and flavorings separately and choose to enjoy broths only or recreate one of Brodo's signature drinks at home simply by steeping a sachet.
Mentioned and praised in major publications like The New York Times, Elle, and Bon Appétit, Brodo is one of the best-known broth brands in the country. Lately, Americans have become increasingly aware of the health benefits of bone broth and Brodo has given them an easy and delicious way to adopt the healthy habit of sipping this liquid that has an important place in traditional cuisines across the world.
How Does Brodo Work
As a Brodo customer, you can decide if you want to place a one-time order or subscribe and receive broths of your choice on a regular basis. You can get 4 to 30 items per delivery and choose from about a dozen products in the company's online shop.
Brodo products are divided into 2 categories: broths and botanicals. There are 4 different broths on offer and just as many kinds of Brodo botanicals – flavoring sachets that contain the spices used to create drinks at Brodo's New York locations.
Whether you opt for a one-off order or regular deliveries, you can order 4, 6, 10, 12, 18, 24 or 30 cups of broth and 15-sachet tins of botanicals. You can get as many different flavors as you wish and as many cups and tins of the same flavor as you want.
If you choose to subscribe, you can receive your broths and/or botanicals every 2 or 4 weeks. There is no minimum subscription period and you can skip or cancel anytime.
What Makes Brodo Different
The concept of bone broth may be simple, but brewing it right takes knowledge, experience, and patience. Chef Marco has perfected the art of making broth and made sure that Brodo's sippable delights are unlike any other broth on the market.
It all starts with really meaty bones that come from grass-fed, grass-finished beef and organic, pasture-raised poultry. The bones are always antibiotic-free, hormone-free, and completely natural. Plus, they have plenty of meat on them to ensure the right flavor depth.
The bones are cooked together with carefully selected organic veg, such as carrots, tomatoes, and onions. Seasonings that are used are traditional and include the likes of black peppercorns and bay leaf. No additives, preservatives or flavorings are used at any time.
To make sure that the broths are nutrient-dense, Chef Marco uses nearly equal amounts of water and whole ingredients. There is never any extra water to dilute the broth and make it less nutritious and tasty.
With all the ingredients inside, the broths are simmered for up to 24 hours so all the flavors and nutrients end up in your cup. To achieve optimal taste and clarity, Chef Marco and his team regularly hand-skim the undesired fat and foam off the surface.
This slow, careful process results in a perfect batch of broth that is nutritious, delicious, and worth talking about.
Brodo Products
Like we said before in this review of Brodo, the service offers just shy of a dozen products, including broths and botanicals. Here are the flavors that you can try out.
As far as the broths are concerned, you can opt for the Chicken, Beef, Hearth or Seaweed Mushroom broth. All varieties come in 30-ounce cups and contain 35 to 80 calories per serving. They have up to 450 milligrams of sodium per 8-ounce cup and they are completely free from sugar, gluten, and dairy.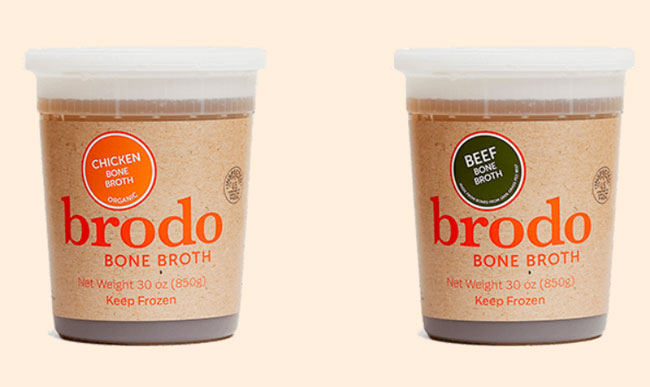 The Chicken broth is made of chicken bones, necks, and feet, along with onions, carrots, sea salt, black pepper, and bay leaf. Its flavor is rich but not too strong and it is just what we wish we could achieve when we cook chicken broth the traditional way. In a word, it is a true classic and the definition of comfort food, whether you add noodles, veg or nothing at all.
The Beef broth gets its flavor from grass-fed beef bones, carrots, onions, celery, ginger juice, tomato paste, sea salt, peppercorns, and bay leaves. It is stronger than the Chicken variety and so rich and satisfying it can serve as a meal. The ginger juice and tomato paste stand in perfect balance with deep beef flavors. These additions are as ingenious as they are delicious and healthy.
The Hearth broth is a mix of beef, chicken, and turkey broth. It is made of chicken drumsticks and feet, beef bones, turkey legs, onions, carrots, celery, tomato paste, sea salt, peppercorns, and bay leaves. It is hard to say which broth is our favorite, but Hearth was probably the one that impressed us the most due to its uniqueness and abundance of flavors that mesh so well.
Finally, the Seaweed Mushroom broth is 100% vegan and made of wakame seaweed, shiitake mushrooms, dried chickpeas, whole tomatoes, celery, carrot, and onions. Its flavor is deep and amazingly combines earthy and sea elements. It is a must-try even if you prefer bone broth.
If you are interested in botanicals as well, you have 4 options to choose from: Deeply Rooted, Spicy Fennel, Sweet Spice, and Tuscan Sun.
Deeply Rooted contains ginger, turmeric, lemon peel, and black pepper and it is truly refreshing. Spicy Fennel combines black pepper, chili, fennel, anise, ginger, liquorice root, and tomatoes; it packs just the right amount of zest and spice. Sweet Spice is an exciting mix of ginger, cinnamon, nutmeg, liquorice root, and cardamom seeds and it is perfect for adventurous broth lovers. Last but not least, Tuscan Sun is a lovely combo of rosemary, lemon peel, thyme, sage leaves, black pepper, and lemon myrtle flavors.
Botanicals are sold in packs including 2 tins of the same flavor, each containing 15 sachets. If you want to give them all a try, you can opt for the variety 4 pack, which brings you a 15-sachet tin of each of the flavors.
Heating And Storage Tips
Brodo broths are frozen fresh and delivered ice cold. You can keep them in your fridge for a week or store them in your freezer for up to a year. You can thaw them in your fridge or heat them from frozen.
While you can just pour your broth into a cup and heat it in a microwave, the best way to heat is on a stovetop. Just empty the cup into a pot, cover, and simmer for a few minutes. If you are heating frozen broth, you may need to loosen it a bit first by running the cup under cold water.
Using botanicals is just as easy. Just steep the sachet of choice for 2 to 5 minutes and enjoy.
How Much Does Brodo Cost
At Brodo, the prices of broth start at $19.99 per cup with one-time deliveries and $16.99 per cup with subscriptions. The minimum order value is just $50. Unfortunately, shipping is not free. The standard shipping fee amounts to $9.99 per delivery.
If you opt for a one-time order, you pay:
$19.99 for a 30-ounce cup of any broth;
$24.99 for a 2-pack of Brodo botanicals (30 sachets).
With the 4-week subscription, you get 10% off, so the prices amount to:
$17.99 for a 30-ounce cup of broth;
$22.49 for 2 tins/30 sachets of Brodo botanicals.
The 2-week subscription brings you a 15% discount on all items in your order. That means that you pay:
$16.99 for 30 ounces of broth;
$19.99 for 30 sachets of Brodo botanicals.
As mentioned earlier, Brodo botanicals are not only sold in 2-packs but are also available within the variety 4-pack, which costs $49.98 with one-time orders, $44.98 with the 4-week subscription, and $39.98 with the 2-week subscription.
Where Does Brodo Deliver
Brodo delivers its broths to all 48 states within the continental US. Unfortunately, it does not ship to Alaska and Hawaii. Orders are shipped Monday through Thursday. You should place your order by 5 PM on Wednesday to have it shipped the same week.
Once your box is shipped, you should expect to have it delivered within 3 days. Your broths are packed with plenty of dry ice and tucked into eco-friendly insulation to ensure they arrive cold or partially frozen and perfectly safe to eat.
If you live in New York, you can get the company's broths at one of the 4 Brodo locations in the Upper East Side, the West Village, the East Village, and SoHo.
Brodo Pros & Cons
To make sure Brodo meets all your standards and expectations, it is important to know its biggest advantages and disadvantages. With a short overview of its pros and cons, you can easily decide if Brodo is the right meal kit service for you.
Pros
Broths crafted by an award-winning chef
Traditional recipe for superior flavor and purity
Organic, grass-fed, antibiotic-free, and hormone-free meaty bones
Enriched with organic veg
Slow-simmered for up to 24 hours
All-natural, hand-skimmed, and never watered down
Sample Dishes
If you subscribe to Brodo, you can easily prepare culinary masterpieces using only the ingredients and recipes found in your meal kit box. You may not be a pro chef just yet, but with Brodo, you can easily make restaurant-grade meals. You don't have to take our word for it – check out the images below to get a better idea of the types of dishes you can enjoy with Brodo.
Hearth Bone Broth 2
Hearth Bone Broth 2
Seaweed Mushroom Broth
Variety 4 PK
Bottom Line
In this review of Brodo, we tried to highlight all the key facts you should possess before ordering. As we are finishing off, we can only say that we honestly cannot think of anything that we do not like about Brodo broths and botanicals. We absolutely love the flavors, ingredient quality is obviously high, and the broths are definitely richer than virtually all others we have tried.
If we had to point out a flaw, it would be the lack of variety. We hope that the service will soon expand its offer to include more interesting flavors. In that case, we would be happy to give it an even higher rating.