22 Days Nutrition Review
Advertiser Disclosure
This website features affiliate links. For purchases made via these links, we earn commissions that allow us to keep producing helpful content. To find out more
click here
.
Close
You have probably heard about that one time when Beyoncé and Jay Z went vegan for 22 days, but did you know that, after that experience, Beyoncé and her trainer Marco Borges actually started a vegan meal delivery service called 22 Days Nutrition? Well, now you know. When the company first started out, it delivered organic, vegan meals to encourage people to try out this lifestyle. In the meantime, it has transformed into a meal planning service that helps you cook delicious vegan meals and provides organic plant-based protein powders and bars to boost your energy.
Continue reading our honest 22 Days Nutrition review to find out more about the service and determine if it can meet your dietary needs and taste.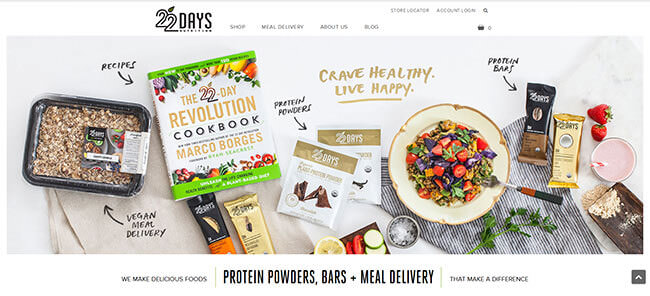 How 22 Days Nutrition Works
22 Days Nutrition allows you to easily transition to veganism with Beyoncé's #1 meal planner. The meal planner brings you Marco Borges' expert guidance, recipes (hundreds of meal ideas in the searchable database), grocery lists, printable menus, nutritional analyses of all meals, and exclusive tips, advice, and on-demand help 7 days a week.
The goal of 22 Days Nutrition is to help you create a completely personalized meal plan. That is why you first take a short quiz that helps the service understand your dietary needs. You can choose from 4 meal planning options: following Beyoncé's plan, creating new healthy habits, exploring plant-based eating the right way, and optimizing your fitness performance.
Once you pick the option that works for you, you decide on your serving size. You have 3 sizes at your disposal: M, which works for most women, L, which works for most men and highly active women, and XL, which is designed with athletes in mind and supports heavy training.
Next, you decide whether you just want to cook for yourself or someone else as well. If you are cooking for a family, you should state how many extra portions you need per meal and choose the right serving size for each serving. In addition to the standard M, L, and XL serving sizes, you can choose the S size, which is suitable for children.
In the following step, you can state how many minutes you can afford to spend on each daily meal (breakfast, lunch, and dinner). Prep & cook time options range from 10 to 120 minutes.
After you choose the desired prep & cook time, you should inform 22 Days Nutrition about your cooking skill level. The levels include Beginner, Intermediate, and Advanced. You can pick just one skill level or choose to see all recipes that suit your dietary needs.
Then, you get to choose the meal plan that works for you. You have 4 options at your disposal, including:
Family Plan, which is designed to improve your health and provide your body with all the nutrients it needs;
The 22 Day Revolution, which excludes soy and gluten from your meals and aims to revitalize your life;
Beyoncé's Kitchen, which lets you cook the same meals Beyonce ate while getting ready for Coachella;
Performance Fuel, designed to fuel your workouts.
If you have any food allergies or dislikes, you can state them after you pick your meal plan. You can choose from over 700 common ingredients and eliminate as many foods as you wish.
Once you let the service know what you do not want to see on your plate, it is time to choose the kitchen tools and appliances you want to use when preparing your meals. The options include a microwave, an oven, a stovetop, an immersion blender, a regular blender, a Vitamix or a similar appliance, a food processor, a crockpot, and a grater. There is no limit on the number of tools and appliances you can select.
Depending on your preferences, you can choose to use the US Imperial system of measurement or the Metric system. Finally, once you accept the company's data policy, all that is left for you to do is create an account including your email address, name, and desired password.
You can opt for the yearly or the quarterly subscription. If you so desire, you can cancel your subscription at the end of your subscription period.
At all times, you can order the company's organic plant-based protein powders and bars with zero commitments. You can order as many items as you need, whenever you need extra proteins in your diet.
What Makes 22 Days Nutrition Different
22 Days Nutrition was created in order to promote healthy eating with quality plant-based ingredients. A vegan diet that has been planned very meticulously and with great knowledge of nutritional science is bound not only to promote better health but also to aid in weight loss. There is no particular weight-loss menu here, but you can definitely expect to get in shape if you follow your personalized diet plan carefully.
As for variety, you might be happy to hear that the recipes the service offers are surprisingly innovative and diverse. The folks at 22 Days Nutrition really excel at creating different, creative, imaginative, and delicious menus for all tastes and preferences.
The general vibe is a combination of New Age philosophy adjusted for the 21st century and contemporary aesthetics with a hint of opulence and luxury, which means the company's marketing and design teams are doing a great job at attracting new customers and "converting" people to veganism.
The very concept of 22 Days Nutrition is based on the latest psychological discoveries according to which it takes 21 days to make or break a habit. The service offers valuable assistance that allows you to effortlessly get to day 22 and say goodbye to unhealthy eating habits for good.
You can learn more about the 22 Days Nutrition philosophy by reading Marco Borges' books available for purchase via the company's website. In addition to books, you can buy 22 Days Nutrition merchandise including hoodies and blender bottles.
Meals and Recipes
22 Days Nutrition meal options
The recipes offered by 22 Days Nutrition are an absolute delight. They are a perfect example of how the vegan diet can be delicious, healthy, and rewarding at the same time. You can expect to cook meals such as Shiitake Mushroom Yellow Curry, Cream of Eggplant Penne, Fajita Bell Pepper Pinto Beans, Sweet Potato Adzuki Bean Bowl, Choco Delight Banana Loaf, and other yummy dishes.
The calorie count for 22 Days Nutrition meals is normally low to average and depends on the portion size you choose. The breakfasts usually contain 250-400 calories while lunches and dinners range from 400 to 600 calories per serving.
As far as protein powders and bars are concerned, there are not many options at your disposal, but they are all rather delicious. The powders come in 15-serving and 33-serving packages and 3 flavors: strawberry, chocolate, and vanilla. They all contain 20 grams of protein, 0-1 grams of sugar, and 110-120 calories per serving.
The protein bars contain 15 grams of protein, 4-5 grams of sugar, and 150-170 calories per serving. There are 4 flavors to choose from, including salted caramel, peanut butter chocolate chip, fudge brownie, and chunky peanut butter. All the bars and powders are always organic, non-GMO, vegan, gluten-free, and soy-free.
Pricing
We wanted to make our 22 Days Nutrition review as comprehensive as possible, so we checked the prices of all the company's products. The protein bars are sold in 4-packs and cost $7.99 per pack, that is, $1.99 per bar. The protein powders cost $24.99 per 15-serving package and $39.99 per 33-serving package, which means that you pay $1.21 to $1.66 per serving. 
If you wish, you can subscribe and receive your favorite bars and/or powders every 2, 4, 8, 12 or 24 weeks. Subscriptions come with a 10% discount on every delivery. If your order is worth $65 or more, you get to enjoy free shipping.
When it comes to the meal planner, you can opt for the quarterly subscription and pay $39 per quarter. Alternatively, you can subscribe for a year and pay just $99 per year, which amounts to only $1.90 per week.
Delivery Areas
When it comes to delivery areas, 22 Days Nutrition delivers anywhere in the continental United States. As with many similar delivery services, Alaska and Hawaii are not covered. With 22 Days Nutrition, you can change your delivery address whenever needed. This way, you can have your protein bars and powders delivered even when you are on a vacation. You just need to change the address 10 days before the delivery date.
We would like to reiterate that the service does not deliver meals. It only delivers protein bars and powders and provides digital meal plans, recipes, and grocery lists. If you wish, you can use the grocery lists it provides to purchase your groceries online via AmazonFresh, Instacart, and Peapod.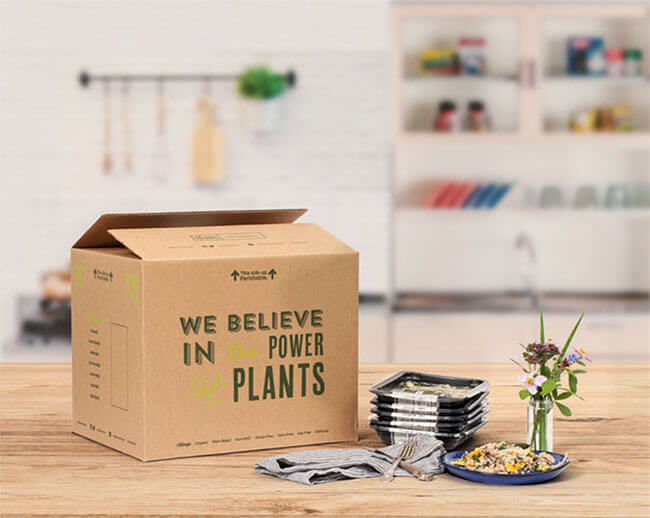 22 Days Nutrition Pros And Cons
To make sure 22 Days Nutrition meets all your standards and expectations, it is important to know its biggest advantages and disadvantages. With a short overview of its pros and cons, you can easily decide if 22 Days Nutrition is the right meal delivery service for you.
Pros
Fully personalized vegan meal plans
Innovative, allergy-friendly plant-based recipes
Organic, energy-boosting bars and powders
Nationwide coverage
Free shipping on $65+ orders
10% discount with subscriptions
Cons
Does not deliver meals, only recipes and grocery lists
No month-to-month meal planning subscriptions
Sample Dishes
With 22 Days Nutrition, you get to prepare delicious plant-based meals even a meat lover would enjoy. To find out what kinds of delights you can prepare with this service, we have chosen a couple of sample recipes that accurately represent its offer and can help you decide if it is the right service for you.
balsamic sweet potato brown rice
banana cranberry muffins
lemon eggplant nutmeg rice bowl
meals plan
Bottom Line
While doing research for this 22 Days Nutrition review, we found out that this meal planning service does a great job making plant-based cooking easy. If you lack ideas for your vegan meals, you should definitely check out 22 Days Nutrition. Its recipes prove that vegan food can be both delicious and highly nutritive. The prices are quite affordable, especially considering that the company's protein bars and powders are USDA certified organic and you get all the help you need to cook and eat well all year long.
22 Days Nutrition FAQ
Who is 22 Days Nutrition owned by?
22 Days Nutrition's owner, founder, and CEO is Marco Borges, a world-renowned exercise physiologist and celebrity personal trainer.
When was 22 Days Nutrition founded?
The company was founded in 2010.
How can I find out if 22 Days Nutrition delivers groceries to my area?
22 Days Nutrition delivers groceries via AmazonFresh, Instacart, and Peapod. Thus, you should check whether one of these services ships to your area.
Where is 22 Days Nutrition located?
22 Days Nutrition's headquarters is in Miami, Florida.
How can I cancel 22 Days Nutrition?
You can log into your account and cancel future deliveries or you can call the company at 800-822-9080. If you cancel before Wednesday at 11:59 PM EST, you can expect to receive 1 more order. Otherwise, you can expect to receive 2 more orders.
View All FAQs