Taking veganism to the next level
22 Days Nutrition Review - UPDATED Apr 2018
You probably heard about that one time when Beyoncé and Jay Z went vegan for 22 days, but did you know that, after that experience, Beyoncé and her trainer Marco Borges actually started a vegan meal delivery service called 22 Days Nutrition? Well, now you know. The company delivers 100% organic, vegan, gluten-free, and soy-free meals to your doorstep to encourage you to try out this lifestyle. Unlike many other meal delivery services, this one does not deliver boxed ingredients with cooking instructions – it delivers actual, ready-made vegan meals.
We've performed a thorough research in order to present you with this detailed 22 Days Nutrition review, which can tell you more about this popular meal delivery service.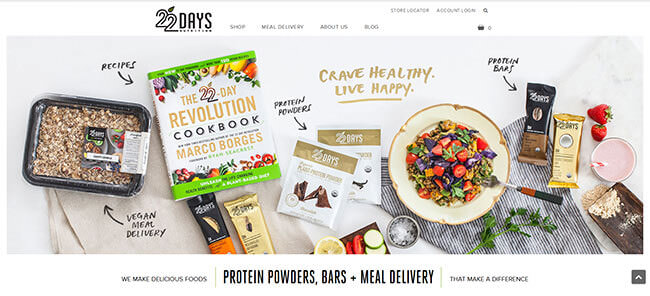 How 22 Days Nutrition Works
22 Days Nutrition doesn't deliver pre-portioned ingredients like most meal delivery services. With this pro-vegan meal delivery, you get fully prepared meals which can be reheated and served in ten minutes. No tiresome grocery shopping, no cooking, just perfectly healthy, delicious vegan dinner on your table.
You can choose whether you want to get one, two or three meals per day for five, seven or 22 days. There's also an option to order any of the 15 meals from the weekly menu. All meals are prepared by an experienced vegan chef. They are all USDA Certified Organic, gluten-free, GMO-free, fresh, and delivered in generous portions.
22 Days Nutrition is particularly careful to avoid the most common allergens, especially gluten and dairy, as well as soy. However, since vegans usually rely heavily on nuts and seeds, it's almost impossible to avoid including some of those allergens in their recipes. The menus are always the same for everyone, although they vary from week to week. Therefore, it's not possible to customize the menu to fit your particular dietary requirements (but you can order meals a la carte). You can check the plan for the upcoming week and cancel your delivery if some meals contain ingredients you're allergic to.
What Makes 22 Days Nutrition Different
22 Days Nutrition was created in order to promote healthy eating with plant-based, organic ingredients. A vegan diet that has been planned very meticulously and with great knowledge of nutritional science is bound not only to promote better health but also to aid in weight loss. There is no particular weight-loss menu here, but what we're saying is that you can definitely expect to shed some pounds if you follow this diet plan carefully, especially if you sign up for the most comprehensive plan that includes 22 days of perfectly balanced vegan meals.
As for the variety, you'd be surprised how imaginative the vegan diet can be. You'd expect just a bunch of dried fruits, some beans, and unsavory cereals, but the chefs working for 22 Days Nutrition really do an amazing job at creating different, creative, imaginative, and delicious weekly menus.
Not only are the recipes innovative, but so is the service at 22 Days Nutrition. You can forget about the trouble of finding quality organic groceries and cooking. 22 Days Nutrition brings cooked meals to your doorstep for breakfast, lunch, and dinner. They can plan meals for you or you can make a plan on your own, it's completely up to you.
The general vibe is a combination of New Age philosophy adjusted for the 21st century and contemporary aesthetics with a hint of opulence and luxury, which means their marketing and design teams are doing a great job in attracting new customers and "converting" people to veganism.
Meals and Recipes
22 Days Nutrition meal options
The recipes are an absolute delight. They are a perfect example of how the vegan diet can be delicious, healthy, and rewarding at the same time. You can expect meals such as Shiitake Mushroom Yellow Curry, Cream of Eggplant Penne, Fajita Bell Pepper Pinto Beans, Sweet Potato Adzuki Bean Bowl, Choco Delight Banana Loaf, and other yummy dishes.
With 22 Days Nutrition, you can choose between weekly meal plans and ordering a la carte. Weekly meal plans come with three options for your vegan meal delivery. There are 5-day, 7-day, and 22-day plans. If you opt for one of these plans, a professional vegan chef from 22 Days Nutrition prepares your food for 5, 7 or 22 days. You can get 2 or 3 meals a day, all of them carefully selected by the chef. Although you can't pick the recipes, you don't have to worry about the quality of the food. Your deliveries are always 100% organic, tasty, and perfectly portioned.
For those who like to choose their meals, there are orders a la carte. Every week, a fruitful menu of 15 different recipes is presented to you and you can order whatever you want, regardless of the number of meals per week. With weekly plans, you get your orders on Fridays, but with the A La Carte plan, your delivery can arrive in 2 days.
22 Days Nutrition offers 6 breakfast recipes and 9 lunch/dinner recipes every week. For example, you can enjoy Raspberry Chia, Blueberry Poppy Seed Muffins, and Mixed Berry Oatmeal for breakfast. For lunch, you can eat Coconut Curry Kidney Beans or Creamy Cauliflower Pasta, for instance.
Pricing
22 Day Nutrition gives you the freedom to order whatever and whenever you want with the A La Carte Plan. As already mentioned, there are also three weekly meal plans. We wanted to make our 22 Days Nutrition review as comprehensive as possible, so we checked the prices of all four plans.
The A La Carte Plan is a great choice for all of you who'd like to try everything before deciding on a weekly meal plan. Breakfasts cost $6.95 per meal and the lunch/dinner dish is $12.95. The minimum order amount is $75, so it would be good to plan a bit in advance or to place an order when you're having a dinner party.
When it comes to weekly meal plans, you can choose from three different plans based on the length of time. Then, you choose how many meals per day you want to receive. The 5-day plan starts at $12.50 per meal and if you choose three meals per day, it will cost you $187.50. The 7-day plan starts at $11.50 per meal or $241.50 total for three meals per day. The 22-day plan is $9.50 per meal or $627.00 total for the entire plan of three meals per day.
Shipping for the third week of the 22-day plan is free and for the first two weeks, you pay $20 weekly. 22 Days Nutrition offers you its Auto Ship service, which provides you a 5% discount for every order. You can sign up for Auto Ship anytime you want and you won't have to worry about placing your orders because food will automatically be delivered to your doorstep every week. You can skip or cancel Auto Ship whenever you want as well, you just have to do it 10 days before the next order. Auto Ship isn't available with the 22-day plan.
Delivery Areas
When it comes to delivery areas, 22 Days Nutrition delivers anywhere in the continental United States. As with many other meal deliveries, Alaska and Hawaii aren't covered. With 22 Days Nutrition, you can change your delivery address whenever needed. This way, you can have your vegan meals delivered even when you're on a vacation, you just need to change the address 10 days before the delivery date.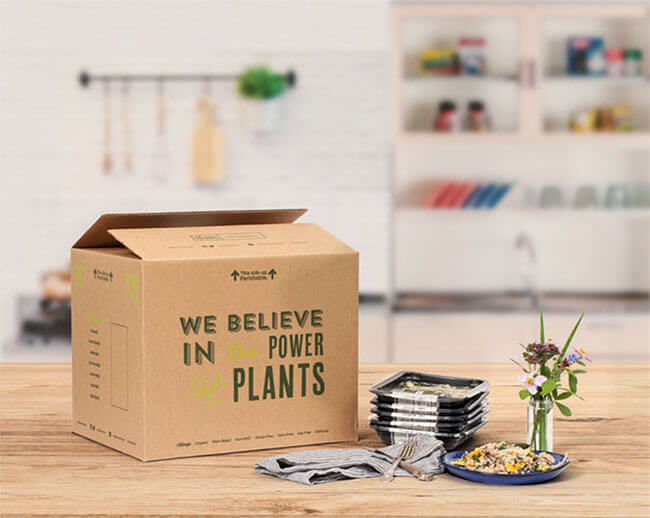 Pros
Organic, healthy ingredients
Innovative vegan recipes
They offer breakfast, lunch, and dinner
Flexible A La Carte Plan
Nationwide coverage
Cons
No family plan
Can't customize weekly meal plans
Bottom Line
While doing research for this 22 Days Nutrition review, we found out that this meal delivery service really offers 100% organic, healthy, mouth-watering vegan meals. If you lack ideas for your vegan meals, check out 22 Days Nutrition. Their 22-day plan proves that vegan food can be both delicious and highly nutritive. If you're not certain that you can commit for that long, you can always start with ordering a la carte. And the most important thing – these marvelous meals can be delivered to your doorstep anywhere in the US.