20Dishes Review
Easy Meal Planning With Batch Prep

Advertiser Disclosure
This website features affiliate links. For purchases made via these links, we earn commissions that allow us to keep producing helpful content. To find out more
click here
.
Close
20Dishes is an Oregon-based meal planning service that promises to help you save tons of cash and time with its customizable meal plans, handy shopping lists, and uniquely efficient meal prep system. According to its founders Kelly Bejelly and Orleatha Smith, the primary goal of the company is to make cooking 10 times faster and easier.
The service was launched in 2014 and it has quickly grown into a highly praised meal planning assistant that offers valuable help to home cooks on a wide range of special diets. From keto to AIP, it covers all the demanding dietary regimens that can benefit your health but tend to eat up your free time.
Discover whether this service can indeed make healthy cooking effortless in this detailed 20Dishes review.
How 20Dishes Works
In short, 20Dishes is a subscription-based service that combines smart meal planning with batch prep. It provides customized 7-day dinner meal plans along with step-by-step batch prep instructions and pre-populated grocery lists that you can further edit to suit your needs. All the resources provided allow you to get ready for the entire week by prepping all your weekly meals in a single hour.
As a 20Dishes subscriber, you first get to choose the meal plan that works for you, with 6 healthy options for different diets at your disposal, including Keto, Paleo, AIP, Gluten-Free, Vegetarian, and Real Food a.k.a. clean eating. You can customize your plan according to your preferences and decide how many people you want to cook for, ranging from just 1 to as many as 20 portions per meal.

Every week, you get a 7-dinner meal plan with daily macros. If you wish, you can get breakfast recipes along with the dinner ideas included in the plan. Once you get your meal plan, you can go shopping with the detailed grocery list provided by 20Dishes. With all the ingredients in your kitchen, you are ready for the Food Prep Day, that is, the day when you prepare all your food for the week. All you need to do is follow the step-by-step instructions and you can prepare your weekly meals in no more than 60 minutes.
For 7 days following the Food Prep Day, you just need to take the pre-prepped food out of the fridge and have your meals ready in up to 30 minutes. That means less time in the kitchen and zero guesswork.
If you are new to 20Dishes, you can try it out for a week for free and become a subscriber if it works for you. Once you subscribe, your plan automatically renews. If you do not want to receive any more meal plans from 20Dishes, you can prevent automatic renewal by canceling your subscription via email.
What Makes 20Dishes Different
Unique in more than 1 way, 20Dishes differs from meal kit and meal delivery services in that it does not deliver food and it differs from most other meal planning services in that it offers more than just meal plans. Essentially, it provides absolutely everything you need to prepare your meals, except for the ingredients that you get to purchase yourself in accordance with your budget.
The most prominent feature of 20Dishes is that it focuses on batch prep. That way, it helps you save more than 20,000 minutes per year in comparison to how much time you would spend in the kitchen if you did not follow the 20Dishes meal prep system.
What also sets it apart from the rest is that it does not only offer customized meal plans, highly-optimized grocery lists, and beginner-friendly meal prep instructions but also gives you private access to hundreds upon hundreds of kitchen-tested recipes and lets you enjoy the support of other members of the 20Dishes community, who are always ready to answer your questions and share their experiences with you.
Finally, as a 20Dishes subscriber, you get the exclusive opportunity to add your own recipes to the 20Dishes cookbook. For every recipe you share, the 20Dishes team is there to provide a quicker and easier way to prepare it, so you can enjoy it even more.
Meals And Recipes
Previously in this 20Dishes review, we mentioned that you can choose from 6 customizable meal plans, including Keto, Paleo, AIP, Gluten-Free, Vegetarian, and Real Food. In total, there are more than 1,000+ recipes to try out, including dinner and breakfast ideas. Let us take a quick look at what each of the meal plans offers.
Keto
The Keto meal plan is designed to make your switch to the ketogenic diet easier by turning comforting classics into healthy, keto-friendly dishes you can enjoy guilt-free. All recipes available with this plan are thoroughly tested and contain no more than 7 grams of carbohydrates per serving.
Paleo
With the Paleo plan, you get to cook meals filled with fresh veggies, healthy proteins and fats, and nutritious nuts and seeds. The recipes are quick and easy, often family-friendly, and many of them can be prepared in a slow cooker for minimized effort and optimized flavor.
AIP
The AIP plan follows the rules of the Paleo Autoimmune Protocol. Since this dietary regimen is particularly strict and eliminates a wide range of foods that are known to cause inflammations, the 20Dishes team had to get extra creative to allow you to enjoy sufficient variety while sticking to the plan. The recipes are as simple as they get and surprisingly satisfying.
Gluten-Free
Whether you suffer from celiac disease or just wish to steer clear of gluten, the Gluten-Free plan can help you avoid common problems caused by a gluten-rich diet. The recipes available with this plan feature nourishing foods with plenty of interesting gluten-free substitutes and they are all quick to prepare and require only the most basic cooking skills.
Vegetarian
The Vegetarian plan was created with lacto-ovo vegetarians in mind. It primarily features gluten-free and soy-free recipes designed to boost your health and let you create scrumptious meals with minimum effort.
Real Food
Finally, if you just want to eat healthily and do not have any particular dietary restrictions, the Real Food meal plan is the right choice for you. This plan focuses on whole foods and it features recipes that are perfectly family-friendly and suitable for picky eaters.
Pricing
With 20Dishes, you can opt for the yearly or lifetime subscription. The yearly subscription costs $84 per year, which amounts to less than $0.05 per day. The lifetime subscription is even more budget-friendly and lets you pay just $149 and use 20Dishes forever.
The yearly subscription is automatically renewed – unless you decide to cancel before the end of the subscription period. Both subscriptions come with a 7-day free trial and a 7-day money-back guarantee.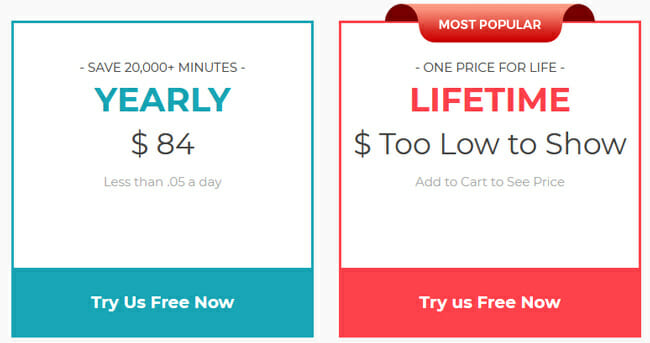 Delivery Areas
As explained previously in this 20Dishes review, this service does not deliver ingredients or ready-made meals. It only provides meal plans, grocery lists, and other digital resources that can help you save time on cooking.
Since it does not deliver any physical goods, 20Dishes is available to all individuals interested in the service, regardless of their location.
20Dishes Pros And Cons
To make sure 20Dishes meets all your standards and expectations, it is important to know its biggest advantages and disadvantages. With a short overview of its pros and cons, you can easily decide if  20Dishes is the right company for you.
Pros
Keto, Paleo, AIP, gluten-free, vegetarian, and clean eating meal plans
1,000+ breakfast and dinner recipes with macros
Add custom recipes of your own
Step-by-step prep instructions
Pre-populated, customizable grocery lists
Community support
7-day free trial
7-day money-back guarantee
Cons
Does not deliver food
No monthly plans
Bottom Line
Finishing off this 20Dishes review, we can conclude that this service is a great solution for home cooks who are on a tight schedule and want to eat healthily without spending too much time in the kitchen. It can be of great help when switching to a stricter diet like keto or AIP and it provides more than enough variety no matter which plan you choose. The absence of shorter subscription options is a significant downside, but luckily, the 7-day free trial and the 7-day money-back guarantee allow you to thoroughly test the service before you decide whether it works for you.