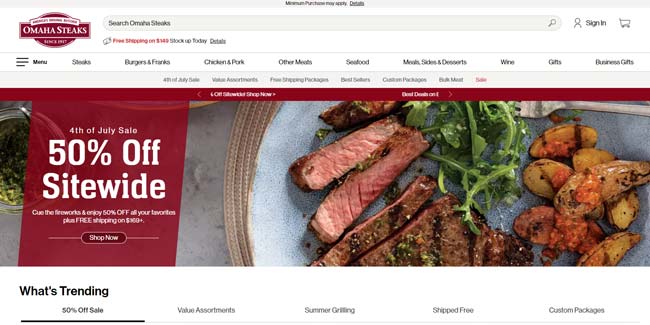 4th of July is just around the corner and Omaha Steaks has a special offer for all of you carnivores out there. They're a premium meat delivery company offering not just delicious high-quality steaks but also a wide variety of other meats and even seafood. All of their beef is hand-selected and chosen for quality by beef experts trained in family tradition. Every Omaha Steak is aged at least 28 days to maximize the beef's tenderness and natural flavor. When they've reached their peak, they're flash frozen ensuring the highest possible quality whenever you decide to eat them. Tradition is the key word here as Omaha Steaks has been around since 1917. Yes, you read that right, that's more than 100 years of top-class business practice.
In fact, they're so sure of the quality of their products they're offering an iron-clad 100% money-back guarantee. This means that if you're not, as they put it, "absolutely thrilled" about your purchase you can demand your money back or simply replace the purchase. The choice is yours, no questions asked. Now that's something you rarely hear when it comes to any kind of delivery, let alone delivery of high-quality meat cuts. Here's their complete menu:
Steaks (Filet Mignons, Top Sirloins, Strip Steaks, Ribeyes…)
Burgers & Franks (Gourmet Burgers, Franks, Brats and Sausages)
Chicken & Pork
Other Meats (Skewers, Tips, Bison, Lamb, Turkey, Veal, Hams…)
Seafood (All Fish Fillets, Salmon, Cod, Tuna, Mahi Mahi, Grouper…)
Meals, Sides and Desserts (Comfort Foods, Skillet Meals, Soups and Stews…)
Wine
Gifts and Business Gifts
As we already mentioned, Omaha Steaks offers an incredible discount for all Top 10 Meal Delivery Services visitors. So, if you're looking for a meat delivery service to celebrate the 4th of July properly, you've just found it. Order now and you will get 50% off all items in their store. However, we would like to bring to your attention their special 4th of July Grill Pack which usually costs $272.94 and that's now just $136.47! This is what you will get in that package:
4 (6 oz.) Butcher's Cut Top Sirloins
2 (1 lb. pkgs.) Beef Sirloin Tips
4 (6 oz.) Boneless Pork Chops
4 (6 oz.) Omaha Steaks Burgers
4 (3 oz.) Gourmet Jumbo Franks
1 (3.1 oz. jar) Omaha Steaks Seasoning
100% Satisfaction Guarantee
Summer Best Sellers Pack offers even more meat at the low price of just $155.47 with even more goodies that will make this 4th of July a day to remember. If you want to know more about this company, you can read our Omaha Steaks review.