So, you've finally decided to try this new thing called Meal Delivery Service and now you have to make an important decision. The battle between two prevailing options ensues: re-portioned ingredients vs fully-cooked meals? To clarify a bit what's this all about we will delve deeper into this question and try to answer it honestly. First of all, we would like to give you our initial answer: in a battle between meal delivery services that deliver pre-portioned ingredients vs fully-cooked meals there are no clear winners. It all depends on your lifestyle and preferences.
At this time, we would also like to bring to your attention the fact that you can easily skip, pause or even cancel these subscriptions. So, for example, if you try a meal delivery service that delivers fully cooked meals and you don't like them, it's easy to switch to the pre-portioned ingredients and vice versa. Actually, it might be a good idea to switch things up a bit from time to time. Mostly because these two options offer different advantages and drawbacks.
What you get with pre-portioned ingredients meal delivery services?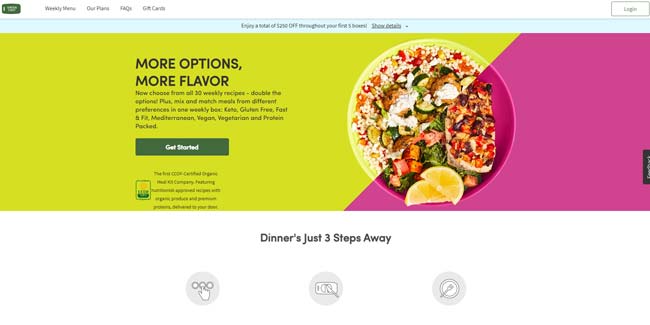 In order to fully analyze these types of meal delivery services we will focus on the top one and that's Green Chef. This is a very popular Colorado-based meal kit company launched in 2014. With almost ten years of experience behind them, they've established themselves as probably the best meal delivery company in the US. The whole process is very simple, you register, choose from over 30 weekly recipes, and then you get a box containing pre-portioned ingredients delivered to your doorstep.
And right away we have to point out something that might skew our analysis here. Since both of the companies we will be talking about here are extremely good, the quality of their meals is simply excellent. This, in turn, makes the main advantage of the pre-portioned ingredients option nonexistent. Usually, people think that if you cook something yourself it's going to taste better and the raw ingredients have less chance of spoiling. However, that is not the case with the top meal delivery services.
And those are the only ones we will be talking about here. After all, you're currently visiting the site Top 10 Meal Delivery Services. Moving on, once you get the box, all you have to do is use the easy-to-follow recipes and instructions to make your meals. They can be ready in less than 30 minutes, which is really not a lot. Additionally, the whole experience can be compared to a cooking class. You will learn how to make different dishes and how to cook them to perfection.
And on top of that, you will get to taste and try meals you would have never found on your own. You can choose from a wide selection of traditional American dishes to more exotic meals from all over the world. Why shouldn't you try some Thai or Indian dish? Who knows, it may become your favorite meal. So, if you have a bit of time on your hands and you're eager to learn, this is the right option for you. If you want to know more about the company we talked about in this section, you can read our detailed Green Chef review. 
Finally, we would also like to talk about the pricing. If you decide to use Green Chef you can expect that a single serving will cost you $4.79. Of course, this is the price with the special discount we have prepared for all our visitors. The regular price is $11.99.
What do you get with fully cooked meals meal delivery services?
The best meal delivery service offering fully cooked meals is Factor meal delivery. There are several reasons why we think Factor is so good. First of all, they use only premium ingredients from their network of trusted partners. Secondly, all meals are approved by registered dietitians. Thirdly, all meals are prepared by top chefs in kitchens adhering to the highest possible standards. You can compare this experience to ordering a meal to go from a top restaurant in your area.
If you want to know more about this company, we recommend you check out our Factor review. Moving on, the advantages of fully cooked meals are quite obvious. You don't have to cook them which means they can be ready in a matter of minutes. This option is recommended to all of those who don't have that much time or energy on their hands and still want to eat healthy and nutritious food. The process is fairly simple, you register, choose from over 35 weekly options, and then wait for the box of goodies to be delivered to your doorstep. 
And right away we have to make something clear: Factor meals will stay fresh for full 7 days in your fridge. This means that you don't have to eat them right away. And another thing that's really important: all meals are not frozen. Although there's nothing wrong with freezing your food, Factor simply does not use this method and instead opts for an insulated box containing gel packs that keep your food just as tasty as it was when it left their kitchen. All of the packaging is recyclable.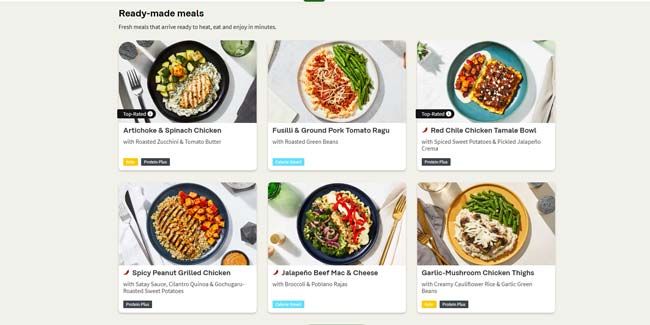 You can use a microwave or an oven to reheat your meals to the temperature you desire. All the advantages we mentioned in our last section apply to this one as well. You will try new meals and new tastes. However, we would also like to mention something that oftentimes gets forgotten in this discussion. What we're talking about is all the cleaning you will have to do after preparing a meal in your kitchen. The dreaded "doing the dishes" chore.
They say that only certain things are taxes and deaths, conveniently forgetting about doing the dishes. With Factor or any other fully-cooked meal delivery service, you don't have to think about that. You will save the maximum amount of energy and time. Finally, it's time to talk about prices. The price per serving, with our special discount, is $4.40. This is about the same as with the above-mentioned option. And the same goes for the regular price which is $10.99.