Compare Prices
The following price comparison is designed to help you easily figure out which of our top-ranked companies like HelloFresh best fits your budget. We have brought all the pricing information to one place, including the shipping costs and details about the companies' delivery areas, so you can identify the perfect fit in a single glance.
Company
Avg. Meal Price
Shipping
Delivery Areas
Sunbasket
Avg. Meal Price
Shipping Cost
$6.99
Delivery Areas
Home Chef
Avg. Meal Price
Shipping Cost
$0
Delivery Areas
Blue Apron
Avg. Meal Price
Shipping Cost
$0
Delivery Areas
Green Chef
Avg. Meal Price
Shipping Cost
$7.99
Delivery Areas
Marley Spoon
Avg. Meal Price
Shipping Cost
$0
Delivery Areas
Gobble
Avg. Meal Price
Shipping Cost
$6.99
Delivery Areas
Dinnerly
Avg. Meal Price
Shipping Cost
$8.99
Delivery Areas
EveryPlate
Avg. Meal Price
Shipping Cost
$8.99
Delivery Areas
What Makes These Meal Kit Services Worthy HelloFresh Alternatives
All of the meal box delivery services on our list allow their customers to easily prepare impressive meals using fresh, natural, locally sourced ingredients that are delivered straight to their doorsteps, along with creative recipes that are incredibly easy to follow. The ingredients are premeasured and come in just the right amount, so none of the lovely food goes to waste. Furthermore, by using the most sustainable packaging available on the market, these companies are making a great contribution to keeping our planet alive and healthy as well. 
If we have not made it clear enough, HelloFresh is absolutely awesome. Still, regardless of how lovable this company may be, you may feel the need to see what else is out there and discover more amazing meal kit services that resemble the one you already know and like. No one understands the need to explore the world of meal kits better than we do, which is why we have decided to introduce you to other companies like HelloFresh. 
We have handpicked a total of 10 meal prep delivery companies that are quite similar to HelloFresh in terms of the concept they employ, the variety of options they offer, the quality of the food they provide, and the amount of effort they invest in keeping their customers happy and healthy. Of course, we have not overlooked the pricing, which is a significant factor in deciding which company to go with. 
What Makes These Meal Kit Services Different Than HelloFresh
You might have noticed that there are a couple of qualities that are common to all the meal kit companies featured on our list. These include the premium quality of the ingredients provided, the simplicity and impressiveness of the recipes, and the flexibility of the subscriptions. It is also important to reiterate that there are no major differences in the pricing, so you do not have to worry about the companies' offers not suiting your budget. You can decide based solely on your preferences and your expectations from a meal kit service that can serve as an alternative to HelloFresh. 
While these meal box delivery services are similar in several aspects, each of them has a distinctive offer and possesses special features that may inspire you to give it a try. 
For example, Sun Basket offers lovely recipes for children and its offer also includes gluten-free, vegetarian, and Paleo dishes. Blue Apron allows you to customize your deliveries based on what you like and offers great wines to make your dinners even more special. Marley Spoon is obviously special because it cooperates with culinary queen Martha Stewart, but it is also a great choice because it offers a variety of meals for different dietary needs, including low-calorie, low-carb, gluten-free, and dairy-free dishes, as well as dishes for children, vegetarians, and vegans. Plated offers plenty of options to choose from, including the number of meals per week, the number of servings per meal, the variety of meals on the menu, and the yummy desserts, which is not something many meal kit services offer. With Home Chef, you get even more options regarding the number of servings and meals in comparison to both Plated and other meal kit companies featured here. Not only that, but you also get to purchase breakfasts, fruit baskets, and smoothies along with your dinner kits.  
Choosing The Right HelloFresh Alternative
You may remember us gushing over HelloFresh at the beginning of this list. That is because it is really one of the best meal kit services we have had the pleasure to try out. However, it would be unfair to say that it is the only meal kit service worth considering. As all of the companies featured on this list prove, as amazing as HelloFresh may be, there are equally amazing alternatives to this service that you can turn to if you want to mix things up a bit. 
In order to provide you with the best meal box delivery that can mirror the meal kit delivery giant that is HelloFresh, we've used our traditional set of ranking criteria and filtered out all contestants but the very best. Here are some of our most important ranking factors.  
Meal options and variety are examined to make certain you never grow bored of your chosen meal kit delivery. We want to see a rotating menu with new delicious meals every single week, alongside a myriad of customization options to fit your dietary preferences. 
Nutritional value and portion sizes are essential since we need to make sure your chosen recipes can provide you and your family with all the necessary nutrients on a daily level and also account for your youngest ones with appropriate portion sizes. 
Lastly, we check the overall flexibility of every meal kit delivery service, as well as its prices. It is very significant to have the option of pausing, skipping or even canceling your delivery without any penalties and additional charges. Furthermore, we need to ensure that the value provided matches the requested price tags.  
Compare Meals And Prices
Now that you know how we chose our top-rated HelloFresh alternatives, it is time to discover why we selected the exact services that you can see on our list. Below, you can find out what makes all of these companies similar to HelloFresh and what makes them better than the popular meal kit delivery. You can also check out the pricing for each of our top picks, so you can figure out whether your favorite is also a good fit for your budget. Finally, in order to help you get an even better sense of what you can expect from these HelloFresh alternatives, we have highlighted all of their main advantages along with their downsides and selected a few of their recipes that we loved the most. Enjoy browsing and discover your new favorite meal kit provider.
1. Sun Basket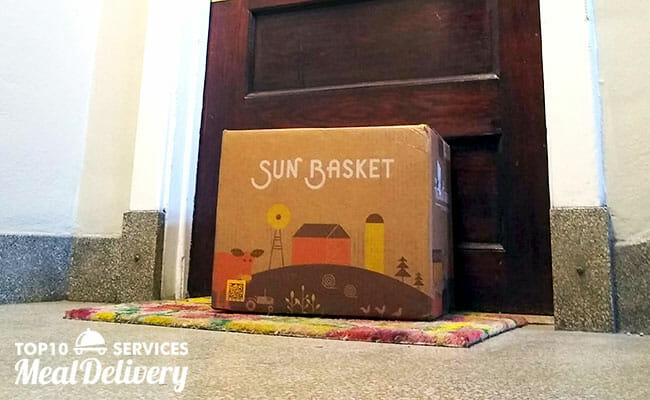 In our mind, Sun Basket is the best HelloFresh alternative on the market. It is an organic meal box delivery that brings you high-quality, fresh, and natural ingredients and carefully crafted recipes that guarantee a lot of fun in the kitchen and great enjoyment at the table. You can choose between the Classic and Family menus and 11 distinct meal plans, including Chef's Choice, Vegetarian, Vegan, Pescatarian, Paleo, Lean & Clean, Gluten-Free, Diabetes-Friendly, Quick & Easy, Carb-Conscious, and Mediterranean.
In addition to 18 dinner ideas on the weekly menu, Sun Basket provides over 100 mostly organic extras like 5-minute salads, soups, noodle bowls, burgers, snacks, drinks, and a whole lot more. You can get as many extras as you like and stock up your fridge and pantry in clicks.
Sun Basket's recipes are some of the most creative and satisfying we have tried and include the likes of Greek Islands Salmon Over Zucchini Noodles And Wilted Greens and Chilaquiles Verde With Fried Eggs And Queso Fresco.
2. Home Chef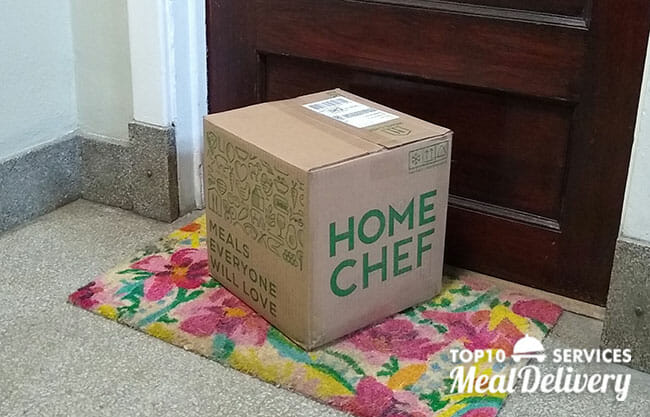 Unlike HelloFresh, Home Chef does not only provide dinner recipes. Its weekly menu features over a dozen dinner options, 3 no-cooking 5-minute lunches, and delicious, vitamin-packed smoothies. You can decide whether you want to order 2, 3, 4, 5 or 6 meal kits per week and cook for 2, 4 or 6 people. All the ingredients are fresh, responsibly sourced, pre-measured, and clearly labeled. Some of them are even pre-prepped to save you time.
With the exception of 5-minute lunches and smoothies, most recipes require you to spend about half an hour in the kitchen. Like HelloFresh, the service offers omnivore, vegetarian, allergy-friendly, calorie-conscious, and family-friendly options.
One of the greatest advantages of cooking with Home Chef is that you can customize your meal kits and switch, upgrade or double the proteins in your meals. For more good news, its prices are more than ok and it does not charge for shipping if your order is worth $45 or more.
Home Chef's recipes are delicious twists on all-time classics that suit a variety of tastes. You can look forward to cooking and enjoying comforting dishes like Blue Cheese Buffalo Chicken Peppers With Crispy Jalapenos and Nashville Hot Chicken Tacos With Creamy Slaw.
3. Blue Apron
Blue Apron is a company that is extremely similar to HelloFresh. It specializes in healthy eating and provides fresh seasonal produce and premium-quality, sustainably sourced meat and seafood. Its professionally designed recipes allow you to create incredible dinners for 2 and 4 people.
Like HelloFresh, it offers 4 meal plans. You can opt for the 2-Serving Signature plan, the 4-Serving Signature plan, the 2-Serving WW Freestyle (Weight Watchers reimagined) plan, and the 2-Serving Vegetarian plan. Each plan comes with a corresponding weekly menu and there are 22 menu items available every week. The recipes usually require you to spend 20-40 minutes in the kitchen.
The service is as affordable as HelloFresh and provides innovative recipes like Seared Chicken & Nectarine Chutney With Mashed Potatoes & Sautéed Kale and Chipotle-BBQ Chicken Tacos With Toasted Pepita & Romaine Salad.

4. Green Chef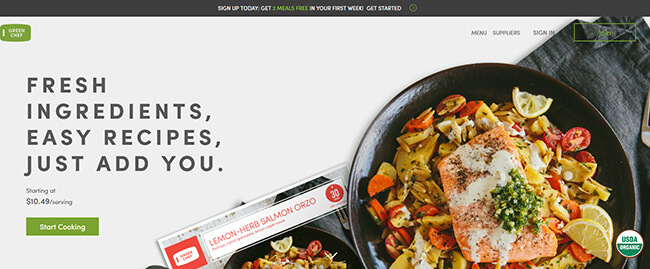 What makes Green Chef an amazing HelloFresh alternative is that it provides easy recipes for 2 and 4 people but brings you higher-quality ingredients and covers a much more impressive range of special diets. All of its ingredients are USDA certified organic and it offers certified gluten-free ingredients as well, which is pretty rare.
It has designed meal plans for Paleo and keto dieters, vegans and vegetarians, and omnivores and carnivores. Its meals normally take about 30 minutes to prepare. Cooking is made easier with semi-prepped ingredients and pre-made sauces, dressings, and spices.
If you are not a highly skilled cook, you are sure to be proud of your cooking results when you try out Green Chef recipes like Mongolian Steak Bowl With Sautéed Butternut Squash, Cabbage, Ginger, And Sesame Seeds and Shrimp Pasta Primavera With Parmesan & Pesto, Green Beans, Creminis, And Carrots.
5. Marley Spoon
Marley Spoon is an excellent HelloFresh alternative that cooperates with legendary chef Martha Stewart. In comparison to HelloFresh, it offers 20 instead of 17 recipes per week. In addition to vegetarian, calorie-controlled, and allergen-free dishes, it provides vegan-friendly and low-carb options as well.
It brings you premium-quality ingredients and simple, 6-step recipes for meals that often take less than half an hour to make.
Marley Spoon meal kits include Martha's favorite spice blends that make every meal extra flavorful. The prices are reasonable and shipping is always free.
With Marley Spoon, you can enjoy exploring Martha Stewart's cookbook and hone your cooking skills with creative recipes such as Garlic-Herb Steak & Potatoes With Charred Peppers & Shallot and Creamy Pesto Lasagna With Spinach & Roasted Red Peppers.
6. Gobble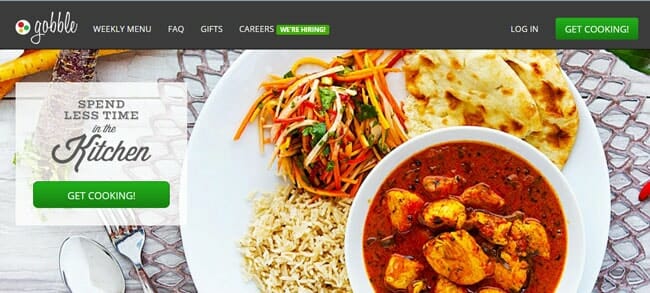 Gobble's offer is similar to HelloFresh's in that it is designed for couples and families and lets you cook healthy meals using sustainably sourced, all-natural ingredients. However, what makes Gobble a potentially better choice for busy home cooks is the fact that it lets you make a gorgeous dinner in just 10-15 minutes. On top of that, it provides a convenient lunch subscription that allows you to prep 6 lunches in an hour and a half.
All of the ingredients you get are chopped, trimmed, sliced, and marinated by pro chefs, so you do not have to waste time on prep. Every recipe has only 3 steps you should follow, allowing you to become a great home chef without investing hours upon hours every day.
Gobble's 24-item menu is designed with omnivores, carnivores, pescatarians, and vegetarians in mind and features scrumptious dishes like Gourmet Mushroom & Caramelized Onion Pizza With Chopped Italian Salad and Shrimp Scampi With Cherry Tomatoes & Arugula.

7. Dinnerly
Dinnerly is one of the best HelloFresh alternatives for home cooks who love meal kits but generally find them to be too pricey. It is currently the cheapest meal kit delivery service on the US market and provides high-quality ingredients and chef-crafted recipes at prices that are sure to put a smile on your face.
Like HelloFresh, Dinnerly caters to couples and families and offers only dinners. It allows its users to choose from 14 different dishes on the menu every week. The recipes are all-time classics carefully improved to satisfy even the pickiest of eaters. The produce it provides is 100% natural and fresh and the proteins are grass-fed and antibiotic-free.
If you choose to cook with Dinnerly, you can make amazing meals in fewer than 30 minutes and delight your family and dinner guests with crowdpleasers like Crispy Parm Chicken Fingers With Broccoli & BBQ Ranch Dip and Creamy Turkey Meatballs With Buttered Egg Noodles & Peas.
8. EveryPlate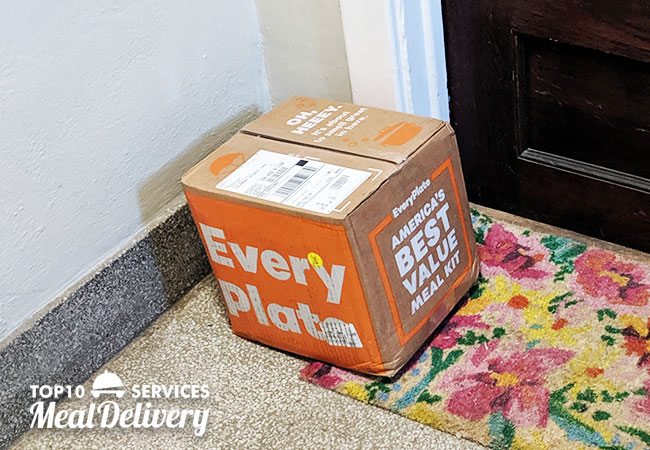 EveryPlate is another boxed meal delivery that offers quality ingredients and beginner-friendly recipes at much lower prices than HelloFresh. It is primarily designed with omnivorous couples and families in mind and features 9 classic recipes on its menu every week. It is perfect for home cooks who like familiar flavors and textures and want to prepare delicious dinners more easily than ever without spending more than usual.
While designed as a super-affordable solution for everyday cooking, EveryPlate allows you to create more luxurious meals when you are in the mood for something special. Every week, it features Premium items on its menu, which allow you to substitute regular ingredients with those of superior quality. The average cook and prep time is 30-45 minutes and if you want to minimize cleanup, you can always find meals that require the use of just one pot or pan.
Well-loved classics that you can find on EveryPlate's menu include the likes of Tuscan-Spiced Chicken With Roasted Tomatoes And Creamy Mashed Potatoes and Honey-Glazed Pork Chops With Roasted Broccoli And Ranch-Seasoned Potatoes.