Compare Prices
The following price comparison is designed to help you easily figure out which of our top-ranked companies like HelloFresh best fits your budget. We have brought all the pricing information to one place, including the shipping costs and details about the companies' delivery areas, so you can identify the perfect fit in a single glance.
Company
Avg. Meal Price
Shipping
Delivery Areas
Sun Basket
Avg. Meal Price
Shipping Cost
$6.99
Delivery Areas
Home Chef
Avg. Meal Price
Shipping Cost
$0
Delivery Areas
Plated
Avg. Meal Price
Shipping Cost
$0
Delivery Areas
Blue Apron
Avg. Meal Price
Shipping Cost
$0
Delivery Areas
Green Chef
Avg. Meal Price
Shipping Cost
$6.99
Delivery Areas
Marley Spoon
Avg. Meal Price
Shipping Cost
$0
Delivery Areas
Terra's Kitchen
Avg. Meal Price
Shipping Cost
$0
Delivery Areas
Gobble
Avg. Meal Price
Shipping Cost
$6.99
Delivery Areas
Dinnerly
Avg. Meal Price
Shipping Cost
$8.99
Delivery Areas
Best Companies Like HelloFresh
What all of our top picks have in common is that they are currently the best on the market. Now it is time to discover what makes each of these companies like HelloFresh unique. Explore their distinctive features in the mini-reviews below and choose the one that best satisfies your personal needs.
1. Sun Basket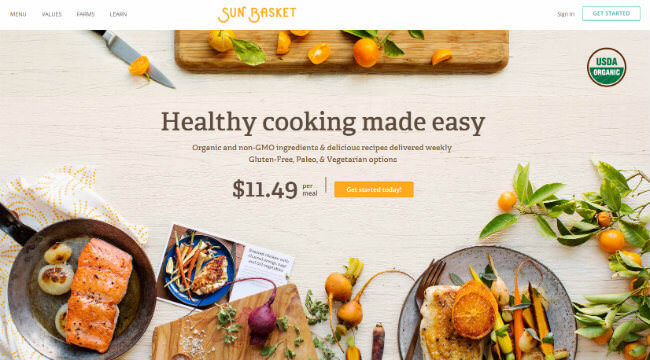 Sun Basket is an organic meal box delivery that brings you high-quality, fresh, and natural ingredients and carefully crafted recipes that guarantee a lot of fun in the kitchen and great enjoyment at the table. You can choose between the Classic and Family plans, which features dishes particularly suitable for the sensitive tummies of children. 
The prices at Sun Basket are quite similar to those at HelloFresh and the subscriptions are extremely flexible. You can skip a delivery or end your subscription at any point, no questions asked. 
2. Home Chef

If you like having many options to choose from, Home Chef is another healthy meal kit delivery you may want to check out. This meal kit service does not only handpick the ingredients it delivers, it also provides you with recipes that suit your preferences.  
Your choices are used to build your taste profiles based on which Home Chef recommends recipes that perfectly suit your wishes. The weekly menu features 13 dinner options, 3 no-cooking 5-minute lunches, and 2 add-ons, including a fruit basket and a smoothie. 
3. Plated


Plated meal kit delivery service offers fresh, high-quality ingredients and simple, delicious recipes designed by professionals for all home chefs who want to enjoy cooking more and stress about it less. However, what makes Plated different is the surprising variety of options you get when it comes to ordering. 
Along with the necessary ingredients, you get amazing artisanal spices that elevate any dish and cannot be found elsewhere. The dishes at your disposal are different every week, so you can never get tired of the company's offer. 
4. Blue Apron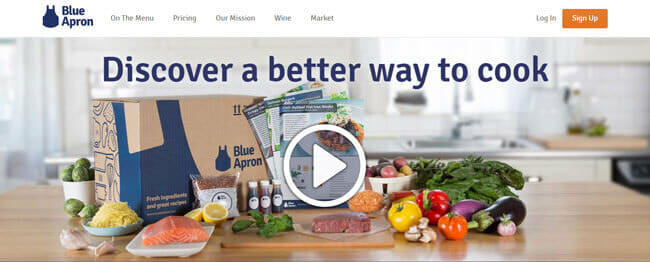 Blue Apron is one of the best healthy meal kit delivery services on the market. It specializes in fresh seasonal produce and premium-quality, sustainably sourced meat and seafood, along with professionally designed recipes for incredible dishes. It offers 4 meal plans –  the 2-Serving Signature plan, the 4-Serving Signature plan, the 2-Serving WW Freestyle (Weight Watchers reimagined) plan, and the 2-Serving Vegetarian plan.
5. Green Chef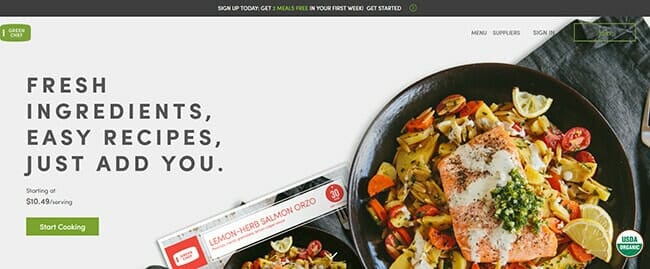 Green Chef is an organic meal box delivery service that features one of the most intriguing food selections on the market. The company's team of food enthusiasts and nutrition experts creates an abundance of recipes for healthy and delicious meals for vegetarians and meat eaters, as well as dedicated Paleo followers. 
All of the ingredients and spices are healthy and organic, including GMO-free soybeans. You'll also be happy to learn that the meats are 100% hormone free. 
6. Marley Spoon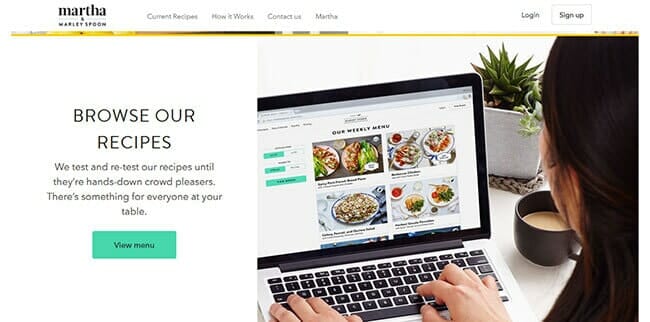 Marley Spoon is a well-known healthy meal kit delivery service that works with legendary chef Martha Stewart. It offers you the possibility to cook like Martha and bring magic into your kitchen with fresh, handpicked ingredients and simple, 6-step recipes for meals that take only 30 minutes to make and bring immense joy to both you and your family. 
While there are no meal plans designed for special dietary needs, the recipes are developed to cover a variety of needs and preferences. 
7. Terra's Kitchen

Terra's Kitchen is a gluten-free meal kit service that offers delicious and healthy food and recipes inspired by the Mediterranean cuisine. Its meal kits are designed to help you get or remain fit while eating the food you love every single day.  
The company's meals range from healthy dinners to salads and snacks and are carefully created to follow a variety of special diets. The sustainably sourced ingredients are always fresh, pre-measured, and chopped for your convenience. 
8. Gobble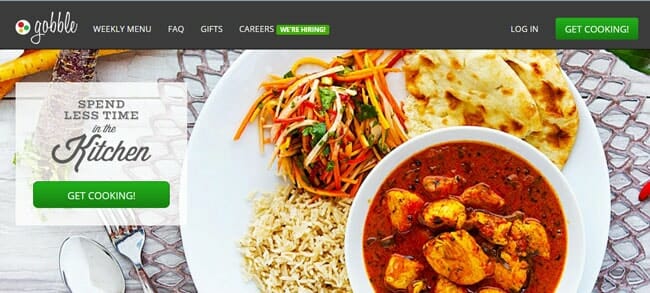 Gobble meal kit service features professional chefs who can create delicious recipes according to your dietary needs and preferences.
It only delivers sustainably sourced ingredients, which include 100% fresh meat, shellfish, and produce. All of the ingredients come pre-chopped, so you can cook a delicious dinner in just 10 minutes.  
Every recipe has only 3 steps you should follow, allowing you to become a great home chef without investing hours upon hours every day.  
9. Dinnerly

Dinnerly is currently the cheapest meal kit delivery service created to make meal kits widely available to the general public.  
At this time, Dinnerly, as its name implies, offers only dinners and allows its users to choose from 8 different dishes on the menu. The recipes are all-time classics carefully improved to satisfy even the pickiest of eaters.  
The produce is 100% natural and fresh and the proteins are grass-fed and antibiotic-free.