Compare Prices
Company
Avg. Meal Price
Shipping
Delivery Areas
Farmbox Direct
Avg. Meal Price
Shipping Cost
$0
Delivery Areas
Imperfect Foods
Avg. Meal Price
Shipping Cost
$4.99
Delivery Areas
Farm Fresh To You
Avg. Meal Price
Shipping Cost
$0
Delivery Areas
Full Circle
Avg. Meal Price
Shipping Cost
$0
Delivery Areas
FreshDirect
Avg. Meal Price
Shipping Cost
$5.99
Delivery Areas
Benefits Of Nationwide Organic Produce Delivery
Organic produce is one of the cornerstones of a healthy diet, but it can be rather expensive and not always easy to find, especially if you want your fruit and veg to be as fresh as they get. Another problem is that suppliers and vendors often stretch the definition of organic to products that are not always grown in accordance with the best organic and sustainable agricultural practices.
This means that consumers across America often have a limited range of organic produce to choose from and they are frequently tricked into paying more for fruit and veg that have spent tons of time in storage and transport and that were not 100% organic to begin with.
Nationwide organic produce delivery is an ideal solution to these problems. Not only does it allow you to get your produce straight from the farm, but it also saves you time on trips to the market and lets you enjoy the comfort of knowing that the produce on your table truly is organically grown.
Therefore, some of the main benefits of nationwide organic produce delivery include:
Superior freshness due to the short supply chain;
Verifiable origin of the organic produce you get;
Great variety of seasonal fruit and veg;
Lower prices due to direct partnerships with farmers;
Convenient home delivery.
In sum, nationwide organic produce delivery is a perfectly easy solution for eating organic 100% time without time or money wasted.
What Makes The Best Nationwide Organic Produce Delivery Services Different
If really good organic produce delivery services were easy to find, our top list would not be this short. The truth is that many services of this kind provide produce that is no better than what you get at your local store, their selections are often limited, and the same goes for their delivery maps. Not to mention that a lot of them tend to offer produce of subpar quality at prices that are way above the average.
The companies on our list offer a great combination of premium produce quality and freshness, fair pricing, and ultimate convenience. This is already enough to separate them from the rest of the lot. However, in addition to these highly important advantages, they offer bonus perks that make them more than just good solutions for eating organic. These extras turn them into services that make you wonder how you ever lived without them. Such bonus advantages may include:
Exceptional product variety;
Great customization options;
Vast range of add-ons like groceries and farm products;
Super-fast delivery;
Extra-long shelf life
100% money-back guarantee;
Unusually low prices;
Free shipping;
Incredible eco-friendliness;
Subscription-free ordering.
The qualities listed above are just some of the reasons why the best nationwide organic produce delivery services on our list are not only different but significantly better than their competitors. They do their best to keep their customers happy and the extra effort they invest is evident in every aspect of the services.
How We Chose The Best Nationwide Organic Produce Delivery
We started our search for the best nationwide organic produce delivery by thoroughly exploring the market. We wanted to discover exactly how many organic produce delivery services there are in the country and then narrow our choice down to those whose delivery maps are not limited to a single state.
In the next step, we determined the quality of the produce and service provided by the short-listed candidates. Once we identified organic produce delivery services with sufficiently large delivery maps and consistently high product and service quality, we assembled a top list that would provide at least one or two superb options for home cooks in virtually every part of the country.
Essentially, our goal was to find at least one top-notch organic produce delivery that ships nationwide and then fill the remainder of the list with worthy alternatives. By worthy alternatives, we mean services that cater for fruit and veg lovers in different parts of the country and provide organic produce that is as fresh and nutritious as the produce provided by our top pick. In other words, we aimed to ensure that no matter where you live, you can find the right organic produce delivery for you on our list. Unfortunately, we were unable to find a good solution for Hawaii, but we are not giving up just yet.
The result of our quest for the best nationwide organic produce delivery is a list of services that provide:
Organic produce of the highest quality and superior freshness;
Product selections that satisfy different tastes and allow for a varied diet;
Extras that organic food lovers would appreciate, like farm-fresh artisanal products;
Fast and affordable shipping and advanced packaging that ensures maximum product safety;
Budget-friendly pricing that allows the vastest majority of Americans to enjoy organic produce without worrying about the price tag.
Put simply, we found services that make superb organic produce readily available to home cooks across the nation and manage to perfectly satisfy the needs of fruit and veg lovers regardless of their location, budget or preferences.
Compare Produce And Prices
You now know what all of our top picks have in common. That means that we can proceed to the fun part and that is finding out what makes each of them unique and discovering the optimal solution for your needs. In the following service overviews, you can learn exactly what all of our top picks offer, what they do extremely well and what they could improve in the future, and what each of them can do to help you eat healthily with minimum effort.
1. Farmbox Direct
Farmbox Direct is that rare gem that perfectly satisfies all of our criteria. It specializes in organic produce delivered straight from local farms, it provides multiple subscriptions that you can easily adjust to your needs, and it delivers its produce expediently and at peak freshness to homes across the continental US. On top of that, it is incredibly eco-friendly and offers delicious extras, like farm-fresh eggs and cheese.
With this budget-friendly organic produce delivery, you can receive weekly or bi-weekly deliveries of organic fruit, veg or both and choose from 3 produce box sizes, including small, medium, and large. If you are particularly interested in enjoying homemade organic juices, you can opt for the Green, Orange or Red juicing box and get 8 different organic fruit and veg in every delivery.
To make sure everything in your box suits your taste, Farmbox Direct lets you make as many as 5 substitutions per delivery completely free of charge. It offers free shipping to over 24,000 zip codes in the US and only charges a small handling fee. Each delivery you get comes with a 7-day money-back guarantee.
2. Imperfect Foods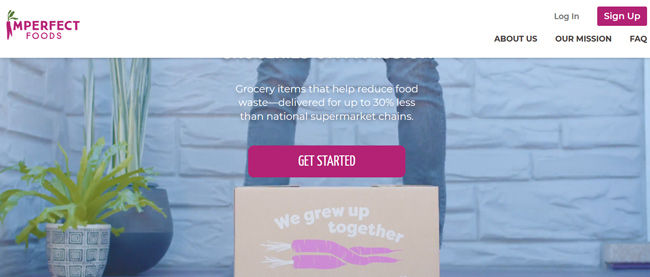 Imperfect Foods is a lovely organic produce delivery whose goal is to save so-called ugly produce, that is, fruit and veg whose unique shape or size prevent them from being featured in supermarkets. This means that with this service, you get organic produce that is properly grown and optimally fresh and healthy but that simply does not meet strict aesthetic criteria. This also means that you can eat organic food while saving a whole lot of cash.
The service offers a fully customizable Green subscription box that includes nothing but the freshest organic produce. Deliveries are made every week or every other week, depending on your needs. Prior to delivery, Imperfect Foods handpicks the best seasonal organic fruit and veg for you and fills your box with about 10 different items. Then it notifies you that your box is ready to be customized so you can remove the items you dislike and add as many of your favorites as you wish. In addition to getting produce, you can buy pantry items with huge discounts due to imperfections like mislabeling or outdated packaging.
Imperfect Foods is highly affordable and environmentally conscious and it offers a satisfaction guarantee on each box it ships. It delivers to select zip codes across the West Coast, the East Coast, the Midwest, and Texas, covering 17 US states.
3. Farm Fresh To You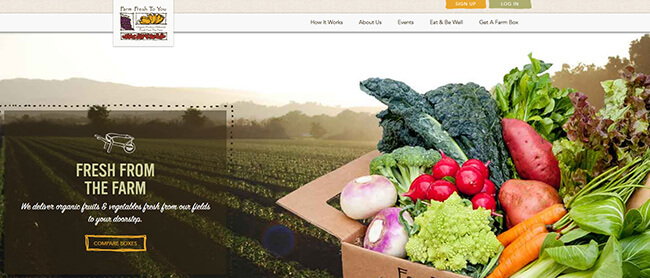 Catering for home cooks all over California, Farm Fresh To You is a certified organic produce delivery that brings you farm-fresh fruit and veg along with amazing artisanal farm products like hand-crafted jams, honey, dairy, eggs, and seasonings. It offers as many as 6 different subscriptions for fruit and veg lovers of different tastes.
The subscriptions at your disposal include Fruit Only, Veggie Only, Mixed Fruit And Veggie, Traditional CSA, No Cooking, and Snack Pack. You can choose from boxes of different sizes that can feed anywhere between 1 and 6 people. Artisanal farm products are available as extras that you can add to your order whenever you need them. You can receive deliveries every 1, 2, 3 or 4 weeks and modify, pause or cancel your subscription anytime.
For more good news, Farm Fresh To You never charges extra for shipping, so you only pay for the organic deliciousness in your box. Your fruit and veg can be shipped to your home or your office, in accordance with your preferences.
4. Full Circle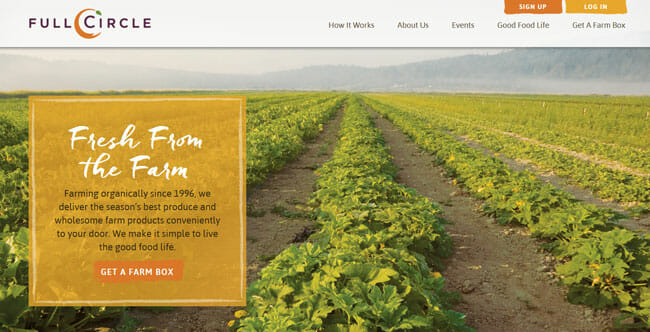 Full Circle delivers certified organic produce and farm products to homes and offices across Washington, Oregon, Idaho, and Alaska. Its offer is similar to that of Farm Fresh To You, but it includes 3 instead of 6 subscriptions. You can opt for Mixed Fruit And Veggie, Traditional CSA, and Organic Snack Pack.
Whichever option you pick, you get the finest seasonal organic produce straight from the farm. With the Mixed Fruit And Veggie Box, you can choose from 4 box sizes suitable for 1-8 people. Traditional CSA is great for couples and families of 4 while Organic Snack Pack contains enough organic fruit for 6-7 people. If you want to get something other than produce, you can pick up add-ons including meat, seafood, dairy, eggs, pantry items, baked goods, coffee, jams, and more.
You can receive your deliveries weekly or bi-weekly. The prices are reasonable, the shipping costs are included in the price, and the subscriptions are flexible and can be easily canceled or paused for as many as 3 months.
5. FreshDirect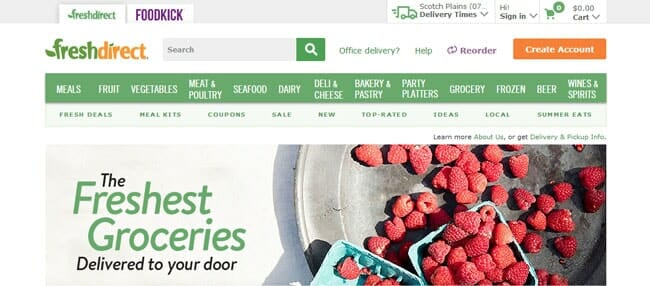 There are 2 main reasons why you may want to buy organic produce online via FreshDirect. These include freshness and variety. FreshDirect's selection of organic fruit and veg includes close to 300 items. Due to the shortened supply chain and direct cooperation with farmers, all the organic produce you get from this service is so fresh it can last a week in your fridge without going bad.
You can opt for locally sourced or imported and exotic fruit and veg and order as much produce as you need. You can also browse other sections of the store and choose from over 3,000 products including meals, meal kits, groceries, baked goods, drinks, and more.
FreshDirect does not ask you to subscribe but lets you shop at your convenience. Its pricing is competitive, the delivery fees are not high, and your order can be anything you want it to be. The only rule is that the food in your delivery needs to be worth at least $30.
You can shop at FreshDirect if you live in New York, New Jersey, Connecticut, Pennsylvania, Delaware or Washington D.C. Each delivery comes with a 100% happiness guarantee.