Benefits Of Keto And Low-Carb Meal Kits
It is no secret that the contemporary American diet heavily relies on carbs. Another well-known fact is that carbs can be super-delicious and wonderfully comforting, which is why most people consume more carbohydrates than their bodies need. Switching to a low-carb diet is an effective way to improve health and stay in good shape, but it can be pretty hard if you are used to indulging in carbolicious foods.
Although carb-restricted regimens like the keto diet are highly popular at the moment, the truth is that a huge number of dieters find them difficult to follow. At first, low-carb meals can seem less than satisfying, adequate recipes can be scarce, and carb cravings may not be easily curbable. For all these reasons, dieters tend to give up rather quickly and go back to their old, carb-centric ways.
With good keto and low-carb meal kit services, you can go through the usually rough adjustment period without feeling stressed out and hungry all the time. These services can help you plan out your meals in advance and introduce you to plenty of tasty low-carb recipes that you can add to your cookbook. They can make cooking easier and quicker and eliminate the need for recipe searching and grocery shopping. Most importantly, they can help you keep your body nourished and your appetite satisfied.
Essentially, what keto and low-carb meal kit services provide is expert assistance that can ensure you stay on track and stick to your new diet. They bring you delicious, filling meal ideas that suit your needs every week, so you can stop wondering what to cook next and start enjoying your meals more.
How Are The Best Keto And Low-Carb Meal Kits Different
Keto and low-carb meal kits are designed to make your life easier as you are trying to get carbs out of your head and your body. However, not all of them do an equally good job making low-carb food as tasty and nutritious as it should be. The best keto and low-carb meal kits are crafted by nutrition experts who know how to keep your organism happy and make your taste buds dance with joy.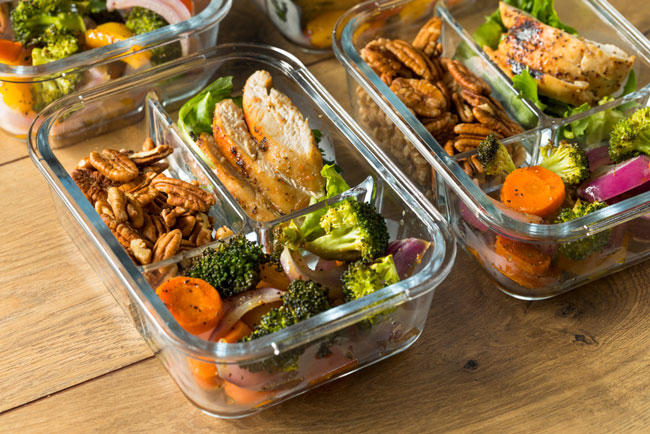 With the top keto and low-carb meal kit services, you have a variety of recipes to choose from whenever you order, each one of them well-suited for your diet and your changing needs as you maintain or progress toward ketosis. Recipes on offer are always simple and quick enough to make cooking less of a chore. Plus, they do not employ any intimidating cooking techniques that would discourage you from giving them a try. Everything is geared toward your convenience and pleasure.
It is important to emphasize that the best keto and low-carb kits are not only palate-pleasing, easy to cook, and low in carbs, they are reasonably priced as well, so you do not have to overstep your budget. In other words, the best keto and low-carb meal kits make your carb-restricted experience stress-free, providing valuable help when you need it the most at a price you can afford.
Choosing The Right Keto And Low-Carb Meal Kit Service For You
Although good keto and low-carb meal kit deliveries are not easy to find, you should not settle for just any service that offers kits that are not loaded with carbs. As evidenced by our top list, there are a number of services that go above and beyond to make your transition to a low-carb lifestyle smooth and effortless. Here are the qualities that we look for when assembling our list of the best keto and low carb kits.
Meal Options
Of course, when looking for the best keto and low-carb meal kit services, we primarily focus on the availability of items that are designed with carb-restricted diets in mind. However, we do not stop there. Individuals on low-carb diets are still allowed to have a variety of other dietary preferences. Therefore, we make sure that the companies we pick offer low-carb or keto kits that satisfy a variety of dietary needs and include options ranging from plant-centric to allergy-free.
Variety
Unfortunately, many meal kit services that proudly state they offer low-carb options actually do not feature such recipes every week or limit your choice to just 1 or 2 dishes. Since these services are usually subscription-based, this means that you are forced to skip deliveries quite often or settle for recipes that need to be modified to suit your diet. To help avoid such unnecessary complications and disappointments, we only recommend services that offer enough keto and low-carb options to fill your weekly deliveries with low-carb delights that suit your taste.
Nutritional Value
Being on a low-carb diet can only be beneficial for your health if you are getting enough nutrients in your meals. That is why we carefully examine nutrition facts for all meal kits we review. We make sure that our top picks allow you to enjoy a well-balanced diet rich in immunity-boosting produce, healthy fats, and proteins. We prefer companies that provide recipes that are not high in calories and contain a limited amount of good carbs instead of unhealthy sugars.
Portion Size
When you say goodbye to rich pastas, pizza, and other filling, carb-loaded foods, portion size matters more than ever. Those carb cravings can only go away if your meals perfectly satisfy your appetite and you feel full throughout the day. However, it is equally important to avoid overeating. The best keto and low-carb meal kits are always carefully portioned and designed to satisfy your needs without adding extra inches to your waistline.
Flexibility
Whether you travel often, do not want to cook every week or simply prefer subscriptions that conform to your needs and schedule, it is important to know that your meal kit service of choice allows you to skip a delivery, modify your subscription or delete your account whenever you wish.
With the best keto and low-carb meal kit services, you do not have to adjust your plans to suit your subscription. Instead, you can decide to cook for more or fewer people, change the number of kits you get per week, modify your dietary preferences, and pause or end your subscription easily, with no questions asked.
Price
Since not many meal kit services are keto-friendly and suitable for carb-restricted diets, the ones that offer low-carb options tend to charge more, simply because they can. Our top choices provide low-carb and keto meal kits at prices that are around the industry average. As expected, they are not more affordable than services that do not suit the low-carb lifestyle. Still, they offer good value for your money and may even help you save cash and reduce food waste with pre-portioned ingredients and efficient meal planning.
Best Keto And Low-Carb Meal Kit Companies
When we say that the companies on our list offer the best keto and low-carb meal kits, we do not expect you to take our word for it. To help you understand why these services are considered to be the finest solutions for low-carb and keto dieters, we will now highlight the main qualities that make them superior to their competitors.
1. Green Chef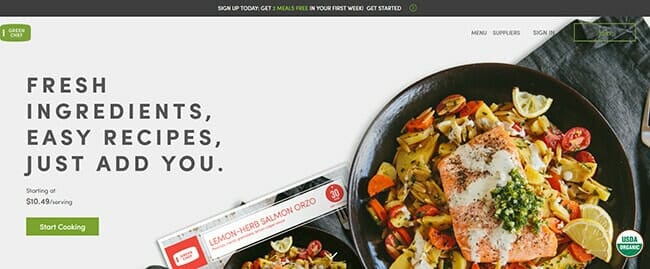 Green Chef is one of the rare meal kit services that offer dedicated meal plans for keto dieters. Every week, its Keto menu features 7 inspiring recipes that are designed in strict accordance with the rules of the ketogenic diet. You can pick any 3 recipes that suit your taste and enjoy cooking with certified organic ingredients. Green Chef's keto recipes are impressively varied and originate from the most famous world cuisines. The best of all is that they usually take just about half an hour to make.
2. Sun Basket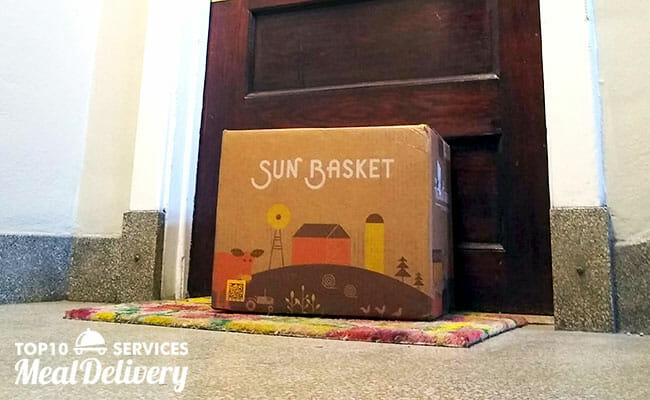 Sun Basket has an incredible team of culinary and nutrition experts, including a top San Francisco chef and a trusted in-house nutritionist. Together, they work to create low-carb meal kits that are delicious, nutritious, and include only natural and organic ingredients. Opt for Sun Basket's Carb-Conscious meal plan and easily cook perfectly satisfying meals with at least 25g of protein and no more than 25-35g of net carbs per serving.
3. Gobble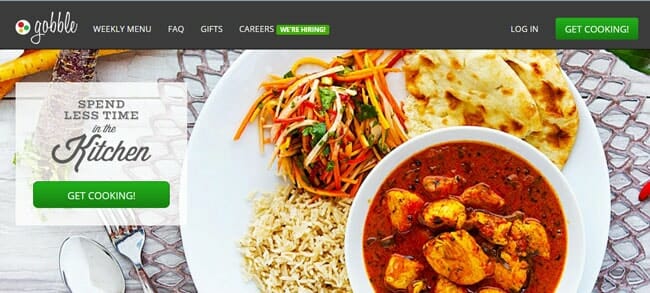 Gobble is a great choice for low-carb dieters who do not have much time to cook but still want to eat healthily. This convenient meal kit service provides surprisingly easy low-carb recipes and quality ingredients that are not only perfectly portioned but also chopped, sliced, trimmed, marinated, and even par-cooked. Whether you prefer meat, seafood or veg, Gobble can help you cook up a low-carb delight in just 10 to 15 minutes.
4. Hungryroot
Hungryroot offers customizable meals and meal plans that you can easily adjust to your low-carb diet. It offers pre-prepped meal elements such as plant-based, low-carb pastas, sauces, dressings, and various proteins and toppings that you can combine into carb-conscious meals ready in no more than 15 minutes. Choose between 3 plan sizes suitable for singles, couples, and families and enjoy healthy low-carb food at great prices.
5. FreshDirect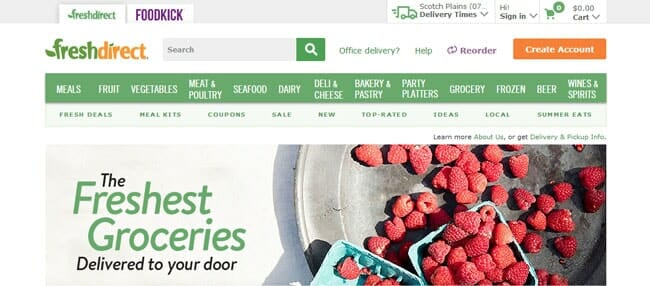 If you like to get all your food online, FreshDirect is the perfect low-carb meal kit delivery for you. This service does not only provide delicious low-carb meal kits that let you cook a great meal in as little as 10 minutes but also brings you ready-made low-carb meals, salads, sides, and hundreds of all-natural and organic grocery items that can perfectly suit your needs. Since FreshDirect products are optimally fresh, they can last longer in your fridge than the food you buy at a supermarket.
You do not need a subscription to order from FreshDirect. You can shop whenever you wish and the minimum order value is just $30.