When it comes to the popular meal delivery companies, Home Chef is certainly among the best. And one of the reasons why is that they're constantly mixing things up and finding new ways to keep their meals tasty and healthy. This time, Home Chef and Rachael Ray have a big surprise for you! First of all, we don't need to talk to you about just how good of a company this is, you can always read our Home Chef review to find that out. Secondly, we also think that Rachael Ray needs no introductions as she practically invented the 30-minute meals. Thirdly, you can already see just how good of a fit these two are because of these things.
And the final piece of the puzzle is you! Yes, you, because now you can experience all of these things in the comfort of your own home and at a special price but more about that later. Each week Home Chef and Rachael Ray will bring you new tastes and new dishes straight to your doorstep. And if you're wondering what kind of dishes we're talking about, here's a quick preview:
Smoky Shrimp Fra Diavolo Linguine with fresh herbs
Deviled Chicken with cheesy butternut squash
Pork Chop with Sweet Onions and Apple and cheesy crushed loaded potatoes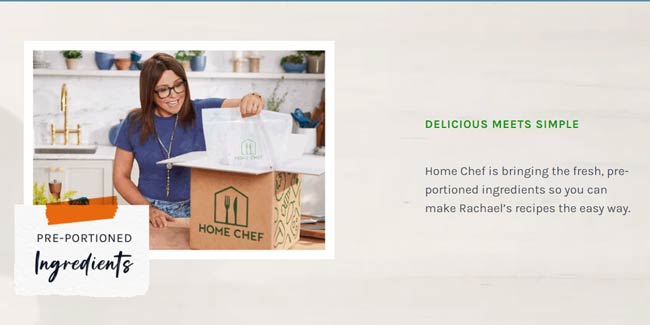 Keep in mind that this is the selection for this week. And next week you can expect to see even more goodness on the menu. So, how does all of this works you might be wondering? Well, the process is very simple. All you have to do is register and pick the meals you want to receive that's it. You will get a box containing everything you need to make those scrumptious meals delivered right to your doorstep. The ingredients are pre-portioned and the instructions are easy to follow. All the meals will be ready in less than 30 minutes. And we're not just talking about any meals here, we're talking about Home Chef Rachael Ray meals!
Finally, if you're wondering how much it all costs, don't worry because Top 10 Meal delivery services have a special deal just for our readers. You will get $90 off your first three orders with Home Chef and you'll have the opportunity to try those delicious and healthy Rachael Ray meals. If you have tried this meal delivery, you already know just how good they are. However, if you're new to all of this, this is a perfect chance to get in on the action and see what you have been missing out on. Trust us, once you discover the magic of meal delivery services, you'll never go back to regular cooking again!