Welcome to another edition of our continuing series of articles where we list all the Best Meal Delivery Coupons and deals, this time for the month of July 2023. You can save a lot of money if you decide to take advantage of some of the offers we have prepared for you. 4th July is just around the corner so the deals and coupons are especially good. Go outside and enjoy that precious time with your family and loved ones by choosing to do something revolutionary. And when we say revolutionary, we really mean it. We know that you already had food delivered to your doorstep before but this is a whole different ballgame.
Just think about all that free time you could be enjoying if your meals would be ready either in under 5 minutes or half an hour tops. Cooking is not just a physically demanding task with all the cleaning and preparations but also a mentally challenging mission. Especially if you have kids who are picky eaters. This is why we think you should use some of the Meal Delivery coupons and offers for July 2023. Just try how it feels to have a 5-star chef in your home. With that being said, it's time to list these offers. Pay careful attention to the first one because it's one of the best we have ever had.
Get 18 Free Meals with Home Chef
Type of meals:  Healthy, Fresh
Type of preparation: Pre-portioned ingredients
Price per serving: $5.20
We'll just say this: 320 million meals were delivered. That's the number of meals Home Chef delivered to their happy customers. That number speaks volumes and we don't need to tell you anything else about this top meal delivery service. What we're going to focus on instead are the details. And we also want to explain to you how Home Chef works. You first build your box by choosing from over 30 meals and 18 Extras. And that's it, now you have to just wait for the box to arrive. We've described the process in detail in our Home Chef review. 
You will receive pre-portioned ingredients and step-by-step instructions on how to make delicious meals in under 30 minutes. What's best of all is that Home Chef and Top 10 Meal Delivery Services have a special offer just for you. You will get 18 free meals with Home Chef, no questions asked. This means you will get 50% off your first four boxes making this an offer you simply cannot refuse. And you can also use the code: AFF30OFF3 to get $90 off.
Save $276 across five boxes with Factor Meal Delivery
Type of meals:  Chef-Crafted, Healthy
Type of preparation: Fully prepared meals
Price per serving: $4.40
If you want to save time and money, this is the right meal delivery service for you. Factor Meal Delivery offers fully prepared meals delivered directly to your doorstep at affordable prices. However, you should know that the reason why the prices are lower is their commitment to their customers. Factor has a lot of customers who keep ordering their yummy meals and this allows them to lower their prices in order to attract new customers. Word of mouth is a powerful thing and soon, you're telling everybody about this new thing in your life.
We know it sounds a bit insignificant but trust us, it really matters. Sometimes that's all you need in your life, a bit of change to put you on the right path. A bit of free time and a meal from heaven. You can expect a new menu of 30+ dietitian-designed options every week. When your box with goodies arrives, just heat it up and your meal will be ready in a matter of minutes. If you want to know more about this company, you can read our comprehensive Factor review. Finally, we are offering you a whopping $276 discount that stretches across your first five boxes with Factor. 
Get 50% off sitewide with Omaha Steaks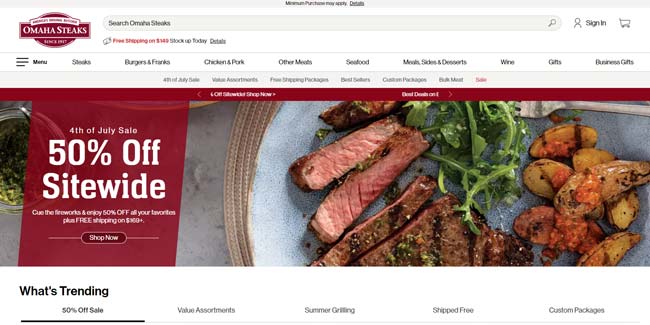 If you're a meat lover, there's only one company you should be thinking about and that's Omaha Steaks. Omaha Steaks is a meat delivery company offering you, not just high-quality steaks but also Burgers & Franks, Chicken & Pork, Other Meats (Skewers, Tips, Bison, Lamb, Turkey, Veal, Hams…), and all types of Seafood. The company was founded all the way back in 1917 and with more than 100 years of experience, it's one of the best meat delivery companies in the world. And they have a special offer for all Top 10 Meal Delivery Services visitors.
You will get 50% off all items on their menu! Yes, you read that right, that means that everything is half-price. So, if you're looking to celebrate the 4th of July properly with top-quality meats of all sorts, Omaha Steaks is the right choice. We would also like to suggest to you try their special 4th of July Grill Pack which usually costs $272.94 and that's now just $136.47! This is what you will get in that package:
4 (6 oz.) Butcher's Cut Top Sirloins
2 (1 lb. pkgs.) Beef Sirloin Tips
4 (6 oz.) Boneless Pork Chops
4 (6 oz.) Omaha Steaks Burgers
4 (3 oz.) Gourmet Jumbo Franks
1 (3.1 oz. jar) Omaha Steaks Seasoning
100% Satisfaction Guarantee