Sunbasket, the most popular meal kit service of 2017 according to our readers, keeps on adding new meal options for special diets to its already diverse menu. After introducing Lean & Clean meals, light, healthy, and low in calories and sodium, as well as heart-healthy meals with the Heart-Check certification, Sunbasket is expanding its offer by launching its own diabetes-friendly meals.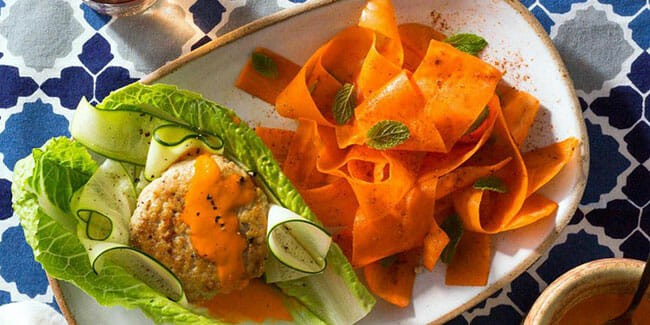 A Smart Decision
The reason behind Sunbasket's decision to introduce diabetes-friendly meal kits is twofold. First, 30 million people in America suffer from diabetes and more than 100 million Americans are at risk for diabetes. From a business point of view, this is a rather large market that Sunbasket can tap into. By offering natural and organic meal kits to individuals suffering from this chronic disease, Sunbasket can further expand its customer base and make diabetes-friendly home cooking far easier.
Second, experience has shown that customers on special diets are more likely to stick to their meal kit subscriptions than those who do not have special dietary requirements. If Sunbasket's diabetes-friendly meal kits manage to satisfy both the tastes and nutritional needs of individuals with diabetes, the company is sure to gain lots of loyal customers.

Sunbasket Diabetes-Friendly Kits
Being a serious company with a strong reputation to uphold, Sunbasket meal kit service has done everything in its power to create meal kits that are truly perfect for individuals suffering from diabetes. Sunbasket diabetes-friendly kits are:
Designed in cooperation with the American Diabetes Association;
Rich in fiber (at least 5 grams per serving);
High in protein (at least 15 grams per serving);
Low in added sugar (less than 10% of total calories);
Low in sodium (700 mg or fewer per serving);
Carb-controlled (20-100 grams or fewer per serving);
Calorie-controlled (under 700 calories per serving);
Varied and numerous.
With 10 diabetes-friendly meal kits on its Classic menu and 5 diabetes-friendly kits on its Family menu, Sunbasket offers plenty of options to home cooks with diabetes. Chef-crafted, nutritionist-approved, and created with the help of the American Diabetes Association, Sunbasket's meal kits seem to be a perfect choice for diabetics across the nation.