CG Meals Review
The healthy, chef-quality meal kits made for busy families

Advertiser Disclosure
This website features affiliate links. For purchases made via these links, we earn commissions that allow us to keep producing helpful content. To find out more
click here
.
Close
Taking a different approach than other meal delivery companies, this newcomer quickly garnered a lot of attention. In this CG Meals review, we will take a look at one of the best meal kit delivery companies for LA and Southern California. They offer healthy meals for busy families at affordable prices. They are fully cooked and come in convenient pouches resembling a Sous Vide method of cooking. This is a low-temperature long time or LTLT for short cooking intended to preserve all the nutrients inside the bag.
This is a refreshing change considering the fact that most of the companies deliver either pre-portioned meals or fast-frozen ones. The Sous Vide method also offers very different tasting meals compared to frozen meals. You just need to have a pot of boiling water and your meals will be ready in minutes. Also, if you find it more convenient, you can just cut open the bag and place it in the microwave. The results will be almost the same, although we do recommend the boiling pot method for the best results.
And finally, we want to mention perhaps the most important thing stemming from this unique approach. CG Meals or California Grill Meals is headquartered in Irvine, Ca. You can pick it up for free at any participating locations in Southern California. They're also offering free local delivery to Orange, LA, Riverside, San Diego, and Ventura. Now, although they do offer nationwide shipping via either UPS/Ground or UPS/Next Day Air Saver, due to the nature of their meals this service works best for the residents of the above-mentioned places.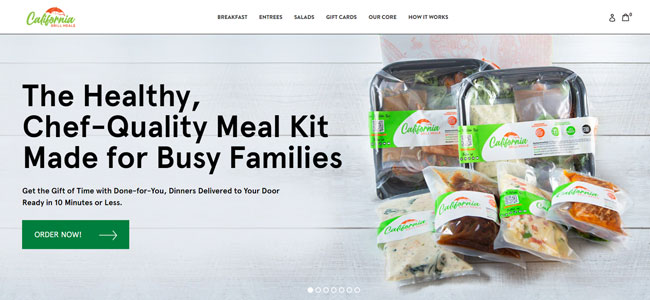 What Makes CG Meals Different
We already mentioned in this CG Meals review that this company is very different from others. First of all, they have been in the restaurant business for a long time. This gave them an opportunity to find the highest quality of ingredients they source and subsequently meals. Their meals were healthy, tasty, and very hardy, something that customers knew to appreciate. So, they decided to expand offering meal delivery within a 35-mile radius from Whittier with a minimum order of $100.
Residents of Orange, LA, Riverside, San Diego, and Ventura love their meals and they constantly keep recommending CG Meals to their friends. Word of mouth is the best way to find out about new great meal delivery services. Second best is, of course, the site you're currently browsing. Their precooked meals can be ready in just a few minutes by using one of the two methods we already talked about. This variation of the Sous Vide method is healthier and safer for your food. It's able to keep your meals integrity and preserve almost all of the nutrients and vitamins.
There are 20+ dietitian-designed weekly options and new menus pop up every month. We always love these stories where a certain restaurant is just so good that they decide to expand their operations to include meal deliveries. We're not talking about some nameless center sending out frozen packages of questionable quality. You can actually drop by and visit California Grill Meals any time you want and even pick up your meals there. This transparent approach is of one the key advantages CG Meals has over its competitors.
How CG Meals Works
CG Meals is a healthy meal delivery service offering two different choices when it comes to ordering food. You can choose a subscription-based model or a one-time order. And don't worry, if you like their food, and we're pretty sure you're going to love it, it's pretty easy to switch from one to another. Plus, there's a permanent 10% off discount if you choose to subscribe. Next up we need to choose how many meals we're going to order. The options are 4, 7, 10, and 14 meals. After you've done that it's time to actually select the meals you want.
There are no limits and if you want, you can order 14 Pot roasts with broccoli and carrots. After you've chosen your meals, all you need to do is fill out the payment and shipping details and you're good to go. CG Meals delivers precooked meals in handy recyclable BPA-free safety pouches. Once you receive them, all you need to do is boil them for a couple of minutes and then enjoy your tasty meals.
CG Meals Menu and Different Meal Options
When you first visit the CG Meals website you will be greeted with a straightforward meal selection. You can immediately see Breakfast, Entree, and Salad options. These meals are the most popular for busy LA people who are looking to eat healthy and tasty meals. The real treasure trove of meals awaits once you select the get started menu. This will take you to the selection page where you can choose between a lot of different meals.
First of all, there are three meat and four diet options. Seafood, Meat, and Poultry will filter all the available meals to include only the ones you want. And you can also choose between Vegetarian, Gluten-Free, Keto, and Paleo meals. We will now list several meals from each of the sections along with more information about them.
Each meal has a very comprehensive label telling you exactly what you'll be eating. Nutrition Facts are also there to inform you about the nutrients and vitamins in the meal. This is the first time we've seen something like that and we've reviewed over 180 meal delivery companies. So, if you have a Vitamin D deficiency or you want to boost your intake of certain vitamins, this is just perfect.
Breakfast
California Omelette (Calories:218, rich in Potassium and Vitamin B6, Ingredients: eggs, oil, spinach, tomato)
Denver Omelette (Calories: 293, great source of Iron and Vitamin C, Ingredients: egg whites, ham, red bell pepper, green bell pepper, onion, red roasted potatoes)
Extra Omelette (Calories: 225, rich in Vitamin D and Potassium, Ingredients: egg white, tomato, bacon, sausage, mushrooms, oil)
Mediterranean Omelette (Calories: 152, rich in Calcium and Vitamin A, Ingredients: egg white, oil, onion, tomato)
Entrees
Mediterranean Chicken Pasta (Calories: 654, rich in Vitamin A and Vitamin C, Ingredients: chicken breast, bow tie pasta, artichoke heart, tomato, basil, kalamata olive, garlic, salt, pepper)
Shrimp Scampi (Calories: 516, rich in Vitamin C and Magnesium, Ingredients: shrimp, basil, tomato, garlic, cajun seasoning, linguine pasta)
Mediterranean Salmon (Calories: 325, rich in Vitamin C and Vitamin V12, Ingredients: atlantic salmon, baby spinach, tomato, red potato, salt, pepper, white wine, oil)
Mongolian Beef & Broccoli (Calories: 721, rich in Vitamin C and Thiamin, Ingredients: beef, teriyaki sauce, soy sauce, & broccoli)
Salads
Chicken Ceasar Salad (Calories: 216, rich in Calcium and Magnesium, Ingredients: chicken breast, romain lettuce, crouton, parmesan cheese, carrot)
Gazpacho Chicken Salad (Calories: 441, rich in Vitamin A and Vitamin B6, Ingredients: chicken breast, medley salad mix, balsamic vinaigrette dressing, cucumber, tomato, green onion, basil, mushroom, feta cheese)
Avocado Tuna Salad (Calories: 384, rich in Calcium and Potassium, Ingredients: salad mix medley, avocado, tomato, sliced black olives, english cucumber, albacore tuna, balsamic vinaigrette dressing)
Cobb Salad (Calories: 363, rich in Vitamin B6 and Vitamin B12, Ingredients: mix medley, chicken breast, bacon, egg, avocado, tomato, blue cheese)
CG Meals Pricing
As we're getting closer to the end of this CG Meals review, it's time to look at the prices of all these delicious meals. Before we list the pricing, we need to emphasize once more that these are fully cooked meals prepared by professional chefs. They bring you the best of both worlds as this is a hybrid model that combines real restaurant-quality meals delivered right to your doorstep. This is the reason why the prices will be a bit higher than your usual frozen meal delivery.
If you want real quality, you need to pay for it. And as we all know, health is priceless. So without further ado, let's look at the pricing list.
4 Meal Kit – $58.85 => $14.73 per meal
7 Meal Kit – $98.95 => $14.14 per meal
10 Meal Kit – $134.95 => $13.50 per meal
14 Meal Kit – $178.99 => $12.79 per meal
If you choose the subscription model, you will get 10% off your purchase. And finally, if you don't live in the areas we're going to talk about in our next section, you should add shipping to these prices.
CG Meals Delivery Areas and Shipping
Due to its unique approach, CG Meals is one of the best meal delivery services in LA. They are currently delivering within a 35-mile radius from Whittier with a minimum order of $100. You should also offer free local delivery with code: CGFRESH to Orange, LA, Riverside, San Diego, and Ventura. They are also delivering nationwide via UPS but this also means you will have to wait a bit to get your food. Since the meals are not frozen, this might not be the best option for you, especially if you add the shipping costs.
We want to be completely honest with you in order for you to have the best possible experience. This is one of the areas that California Grill Meals needs to work on and we're sure that they will find an adequate solution relatively soon. Shipments are processed between Monday and Wednesday. Orders placed after Wednesday at 8 am are processed the following Monday. Transit time is 1-2 days after the order is shipped.
This means delivery could take about 7 days depending on when you place an order. And finally, more about shipping costs. You have two options if you don't live in the above-mentioned places. You can choose UPS/Ground service and expect your package in roughly 4 days paying around $30. Or you can go for the UPS/Next Day Air Saver and get your meals in most likely next day. The price for this option is a higher, totaling at around $80 for 14 meals.
CG Meals Pros and Cons
It's time to wrap this CG Meals review by listing all the things we liked and also the things we didn't like. It's very important to get the full picture before making any decisions, even if you opt-out of the single order option.
Pros
Healthy, chef-quality meal kits made for busy families
Flexible subscription model and a single-order option
Vegetarian, Gluten Free, Keto, and Paleo meals available
20+ dietitian-designed weekly options and new menus every month
Delicious precooked meals ready in minutes
Sous Vide-like method for healthier meals
Cons
Works best only in Southern California
Shipping is expensive
Bottom Line
CG Meals or California Grill Meals is a perfect option for those who are living in Southern California. If you live in other states, they might not be the right option for you currently. Their fully-cooked meals are tasty and the portions are huge. And you can choose from a variety of different meals prepared by professionals in their headquarters in Irvine. This is the same place you can drop by and pick up your meals if that's more convenient for you. If not, they are offering free delivery for residents of Orange, LA, Riverside, San Diego, and Ventura. We recommend you check them out and if you're not ready for their subscription-based model, you can always choose a single-delivery option.