Benefits Of Baby Food Delivery Services
Starting solids comes with a whole lot of challenges, dilemmas, and hard work. Which foods to pick first, whether to go with blends or finger food, how and when to introduce your little one to different textures, and a whole lot of other important questions may be flooding your mind as you are struggling to fit dicing, mashing, and pureeing into your already overcrowded schedule.
Whether you are a full-time parent or work long hours, it is crucial to know that you should never feel guilty about finding it hard to do everything all on your own. Baby food delivery services are constantly rising in popularity because they are becoming better and better at offering superior-quality alternatives to homemade baby food.
In the past years, we have witnessed the amazing growth of the baby food market that is progressively moving away from processed foods filled with preservatives and toward fresh, clean, and nutritious blends and bites that help babies and toddlers grow up happy and healthy.
These services pick the ingredients and prepare their baby meals the same way you do at home. They focus on natural, farm-fresh ingredients, they carefully combine fruit, veg, grains, and healthy fats, and they blend them to just the right consistency. Just like homemade baby food, their products are not made to sit on the shelf for months; instead, they are prepared fresh for delivery and flash-frozen or cold-pressed for optimal safety and nutritiousness.
What baby food delivery services have at their disposal and an average parent does not are large supplier networks and teams of early child nutrition experts and experienced chefs who all work together to create the healthiest possible food for the little ones. With fresh, natural food sourced straight from the farm, dedicated nutritionists and pediatricians crafting the menu, and culinary experts preparing each blend, you can be sure that you are taking perfect care of your tiny human even when you have no time to blitz and mash.
If you opt for a reliable baby food delivery, you get to:
Save hours every week by minimizing shopping, prep, and cleanup;
Avoid overly processed, not-so-natural store-bought baby food;
Enjoy the comfort of knowing that your baby's meals are crafted by experts;
Enable your child to enjoy a variety of premium-quality foods;
Always have an assortment of fresh, ready-to-serve baby meals on hand;
Enjoy the convenience of online ordering and home delivery.
All these benefits make baby food deliveries a great choice for young parents who want to reduce the daily stress in their lives and have more time and energy to enjoy quality moments with their little ones.
What Makes The Best Baby Food Delivery Services Different
There are several more or less subtle nuances that differentiate the best baby food deliveries from those that offer relatively satisfactory services. The main qualities that set them apart from the rest are their dedication to constant improvement and unwillingness to make undesired compromises.
The best baby food delivery services never use any ingredients that are not 100% natural and certified organic. They cooperate with the most trusted and responsible farmers and handpick every single ingredient in their blends. They do not stop at just healthy fruit and veg but use superfoods, good fats, and other nutrient-dense options that guarantee optimal support for all the important functions of the tiny human organism.
Their approach to making baby food does not only focus on the nutritional aspect but also encompasses medical and culinary considerations. That means that their blends are not only perfectly suited for children's dietary requirements but also have a number of added health benefits, like anti-inflammatory properties and digestion support, as well as superior flavor and texture that appeal to the youngest.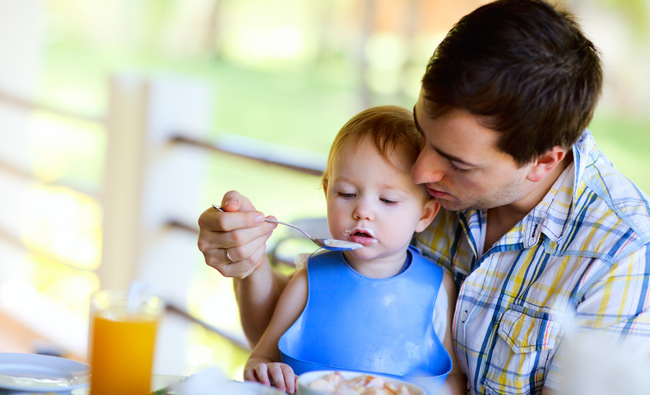 In order to provide the best possible baby food on the market, these services are always in search of more advanced preparation and preservation methods and they strive to keep up with the latest discoveries in the field of early child nutrition. Furthermore, they constantly expand their offers in order to ensure their little patrons get to enjoy the vastest variety of foods that could benefit their health and support their growth.
Finally, the best baby food delivery services aim to stand out from the crowd by bringing something extra to the table. Their subscriptions may be more customizable than others. They may offer free nutrition counseling as a bonus for their loyal patrons. They may grow the produce in their blends on their own, thus taking care of every single step of the blend-making process. Some of them help children at nutritional risk, showing that they are serious about bringing healthy baby food to everyone. Simply put, they invest extra efforts into making sure they establish themselves as brands you can truly trust.
Choosing The Right Baby Food Delivery Service For You
Our mission is to introduce parents to the best possible food choices for their children. When we assemble our top list of the best baby food delivery services, we do not expect you to simply trust our judgment without understanding the way we conduct our selection process.
Every company on our list is handpicked out of dozens of services we have tried, tested, and meticulously researched. If a service is featured on our list, that means that it is one of the few options on the market that satisfy all of our strict criteria. What follows is a concise overview of each crucial selection criterion we apply when deciding which baby food delivery services are worthy of our recommendation.
Meal Options
Just like adults have their own special dietary requirements and preferences, little ones have unique tastes and nutritional needs at each stage of their development. A baby aged 4 or 6 months cannot enjoy the same foods a 1-year-old can. Likewise, some children prefer finger food while others like to enjoy blends straight from the pouch.
Due to the great differences in children's desires and needs at different stages, the best baby food delivery services need to offer a vast array of foods of various textures, flavors, and nutritional properties. Furthermore, they need to offer allergy-free options and make sure their baby meals are suitable for babies with potential dietary restrictions.
Variety
If a service has a total of 5 blends on its menu, it is not likely to fully satisfy your little one's needs, at least not in the long-term. A limited selection of ingredients and blends does not allow for a varied diet or provide your baby with all the necessary nutrients. That is why companies that offer limited assortments of baby foods require you to supplement their meals with homemade food more often that your schedule may allow.
When choosing the best baby food delivery services to be featured on our list, variety is one of the key aspects we focus on since it determines how useful the service can be when devising your little one's menu.
Nutritional Value
Normal health, growth, and development require a well-balanced diet with just the right amounts of essential nutrients. This is particularly important during the first year of a baby's life, which is a time of accelerated development that needs to be supported through careful selection of foods.
The best baby food delivery services never choose the ingredients in their blends arbitrarily. Instead, they rely on pediatricians, nutritionists, and dietitians specializing in early child nutrition to provide valuable insight and help design blends that are in strict accordance with babies' developmental needs. That way, they ensure that if they desire, parents can fully rely on them to provide all the solids their little ones consume during the day.
Portion Size
Obviously, a five-month-old and a toddler do not need the same amount of food to stay healthy and full. Improperly portioned baby foods may make you feel like your baby has not had enough food during a meal or may alternatively make you wonder whether your baby has had more than the tiny tummy can easily handle. That is why the best baby food delivery services take extra care to provide just enough food to keep your little ones satisfied, following the recommendations of medical and nutrition experts and relevant authorities.
Flexibility
There is always a chance that your little one may not like the food you have selected or that the selection of baby food in your deliveries may no longer suit your baby's needs after a while. To prevent any potential issues with cancelations and modifications, we only choose services that offer flexible subscriptions. We want you to be able to edit, pause or end your subscription whenever you want, without any complications. This means that you never have to waste any money on undesired deliveries or spend more than a few minutes trying to cancel a subscription that no longer works for you.
Pricing
Since we only choose services that use fresh, premium-quality ingredients, we do not expect their products to be cheaper than stale processed foods. That being said, we never choose services that do not suit most budgets or those that overcharge for something that should be available to every parent.
The Best Baby Food Delivery Companies
It is time to discover which of the best baby food delivery services in America is the best choice for your tiny human. In the following mini-reviews, you can learn all the key facts about each of our top picks. From ingredient quality and age suitability to bonus perks and extras that make these services more interesting than others, you can discover everything you need to decide which of our top-rated baby food deliveries best suits your expectations.
1. Little Spoon
With Little Spoon, you can choose from more than 2 dozen organic baby blends, conveniently divided into collections suitable for little ones aged 4+, 6+, 8+, and 12+ months. You can handpick every item in your cart and decide whether you need 1, 2 or 3 blends per day.
In addition to using organic ingredients, the service avoids all kinds of preservatives and artificial additives. Its blends are designed by a team of pediatricians and dietitians. Each blend supports a variety of key bodily functions and developmental needs, ranging from bone development to healthy brain function.
Little Spoon delivers across the mainland US and offers free shipping on all orders.
2. Once Upon A Farm
While Once Upon A Farm may partly owe its popularity to its co-founder Jennifer Garner, it has a large and loyal customer base primarily due to the quality of its baby food. The service offers blends that are certified organic, non-GMO, allergy-friendly, free from preservatives, colors, concentrates, and added sugars, and cold-pressed for optimal nutritiousness.
You can shop with or without a subscription and opt for any of over 30 different blends for Stages 1, 2, 3, and 4, as well as delicious organic applesauce for all ages.
Once Upon A Farm blends are nutritionist-designed and pediatrician-recommended. They are among the best and most affordable ones on the market. Subscriptions always come with free shipping.
3. Nurture Life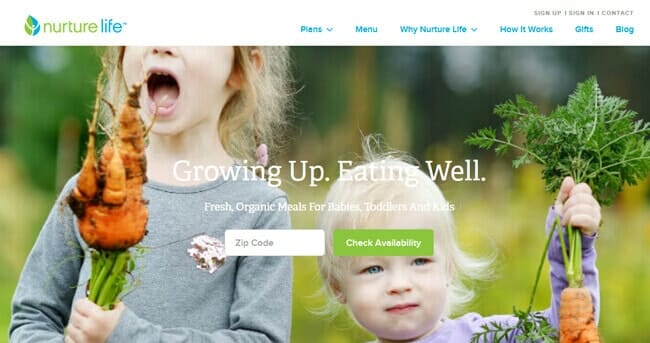 Nurture Life is an organic meal delivery that caters to babies, toddlers, and kids aged 4-14+. Therefore, it constitutes a great solution for large families. It offers 3 distinct menus particularly designed with babies in mind. You can choose from about 30 organic baby meals suitable for babies aged 6+, 8+, and 10+ months.
Every Nurture Life baby meal is made and delivered fresh, contains only the finest organic ingredients, and has no gluten, soy, eggs, dairy or artificial additives. The company's menu is developed with the help of culinary and pediatric nutrition experts.
4. Raised Real
Raised Real is a revolutionary baby food delivery that offers ready-to-make organic baby meals that can fit into a variety of food stages. Its menu includes nearly 20 delicious combos that you can steam in minutes and optionally mash or puree, depending on your little one's needs.
Each meal on the menu is made of organic, non-GMO, sustainable ingredients and free from artificial additives, preservatives, and 8 major allergens. You can get 12 or 24 single-serving meals every 2 or 4 weeks and decide which ingredients you do not want to find in your deliveries. Shipping is free on all orders.
5. Yumi
Designed for babies and parents who love variety, Yumi is an organic baby food delivery service that offers 60+ baby blends, bites, and puffs made of 80+ distinct ingredients, including produce, spices, and superfoods. Its meals are suitable for Stages 1, 2, 3, and 4. They are made of certified organic, non-GMO ingredients and they are free from artificial additives and the most common allergens.
Yumi baby meals are created by a team of nutritionists, pediatricians, and chefs and contain at least 20% of the recommended daily intake of vitamins and minerals. Subscribe and enjoy free shipping as well as free nutritional coaching.