Omaha Steaks VS Stock Yards Comparison
Advertiser Disclosure
This website features affiliate links. For purchases made via these links, we earn commissions that allow us to keep producing helpful content. To find out more
click here
.
Close
Stock Yards and Omaha Steaks are designed to take the stress out of meal planning and this Stock Yards VS Omaha Steaks comparison is designed to make it much easier to choose between them. Get a comprehensive overview of these companies' crucial features and scroll down to discover the definite winner of the comparison.

The Highest-Quality Cuts Crafted By Masters
VS

Premium Steaks, Desserts, Wines & More
Highlights

Stock Yards specializes in hand-trimmed steaks, naturally aged for up to 30 days. In addition to the highest-grade beef, including certified Angus and USDA Choice and Prime, it provides pork, lamb, and veal cuts of superior quality, handcrafted by master butchers. Subscribe or shop subscription-free and enrich your orders with seafood or ready-made dishes and desserts.
Price Range:

$$

Shipping Cost:

$9.99-$21.99

Delivery Area:

50 states

For over a century, Omaha Steaks has been providing hand-cut, natural meat of superior flavor. Shop at your leisure and enjoy juicy steaks, burgers, charcuterie, healthy seafood, gourmet meals, sides, appetizers, desserts, fine wine, and more.
Price Range:

$

Average Price Per Meal:

$2.50

Shipping Cost:

$17.99

*

Delivery Area:

all 50 states plus Canada, Puerto Rico, and the US Virgin Islands
*
Continental US: standard shipping costs $17.99 - $21.99 (depending on order value), additional $39.99 for Hawaii and Alaska, additional $39 for Puerto Rico, additional $42.99 for Canada, additional $125 for US Virgin Islands
Compare Features

Best For
Best for steak lovers
Meat Selection
Stock Yards sells beef, lamb, veal, and pork cuts. It has over 70 products on offer, including steaks, roasts, ribs, chops, racks, burgers, hot dogs, and ham.
Meat Quality
Stock Yards provides hand-trimmed, dry-aged, and wet-aged meat. All its products are of premium quality. It focuses on USDA Choice, USDA Prime, and certified Angus beef.
Other Products
Stock Yards provides a range of extra items, including seafood, side dishes, appetizers, and desserts, as well as convenient meal prep packs.
Sourcing Practices
All Stock Yards meat products come from Midwestern farms that provide naturally raised, grain-fed meat.
Flexibility
Stock Yards lets you shop with or without a subscription. One-time orders come with no minimum order threshold. Subscriptions can be canceled at the end of the subscription period of 3, 6 or 12 months.
Refunds
Stock Yards offers a satisfaction guarantee on all deliveries. If you are not completely satisfied with your shipment, reach out to the support staff and request a replacement or a refund.
Shipping Costs
With Stock Yards, you pay from $9.99 to $21.99 per delivery if you opt for one-time purchases. For subscriptions, there is a flat shipping fee of $9.99 per delivery. Alaska and Hawaii orders come with an additional $9.99 fee.
Delivery Area
Stock Yards ships to all 50 US states.

Best For
Best for carnivores who want to enjoy a fine dining experience at home
Meat Selection
At Omaha Steaks, you can get high-quality beef, bison, veal, pork, lamb, and poultry. You can opt for steaks, roasts, ribs, gourmet burgers, franks, brats, bacon, ham, BBQ items, and much more. However, the company does not sell animal products like organs and fats.
Meat Quality
Omaha Steaks provides both premium and budget cuts. Its offer includes high-quality products like grass-fed, dry-aged, and Wagyu beef. All the meat is naturally raised and free from harmful artificial substances. Every meat product is hand-cut by the company's in-house buchers.
Other Products
Omaha Steaks does not only deliver meat but also brings you fresh-frozen seafood, prepared and ready-to-cook meals, sides, appetizers, desserts, and wine. Meal options include gluten-free, ketogenic, Paleo, and low-sodium.
Sourcing Practices
Since Omaha Steaks ships over 14 million pounds of beef alone every year, it sources its products from farms all across the country. However, it focuses on meat that is naturally grown and naturally aged. Its offer primarily includes grain-fed meat, but you can also opt for grass-fed beef. All the seafood is responsibly sourced from oceans worldwide.
Flexibility
With Omaha Steaks, there are no subscriptions, you can shop as often as you wish and order as much food as you need, with no minimum order.
Refunds
All the items you receive from Omaha Steaks come with a 100% satisfaction guarantee. If you are not happy with your order, reach out to customer service and request a refund or a replacement, whichever suits you better.
Shipping Costs
Omaha Steaks charges $17.99 - $21.99 for shipping within the continental US. The costs depend on the value of your order. Additional fees apply to shipments to Hawaii and Alaska ($39.99 per delivery), Puerto Rico ($39 per delivery), Canada ($42.99 per delivery), and the US Virgin Islands ($125 per delivery).
Delivery Area
Omaha Steaks ships to all 50 US states, Canada, Puerto Rico, and the US Virgin Islands.
Meat Types

Beef
Pork
Lamb
Chicken
Turkey
Duck
Quail
Elk
Venison
Bison
Rabbit
Charcuterie
Organs
Bones
Fat

Beef
Pork
Lamb
Chicken
Turkey
Duck
Quail
Elk
Venison
Bison
Rabbit
Charcuterie
Organs
Bones
Fat
Compare Customer Reviews

Submitted By Brad Campbell on 06/11/2019

Not sure if it's because I've recently switched from vegan to meat, but these may be the best steaks I've had in, like, forever. I'd never heard of SY before, it didn't sound familiar, but it did sound cool and I was, like, why not, I needed to get some meat anyway and I was feeling lazy so delivery sounded perfect. I agree that it's not cheap but it's really not that expensive either or am I just used to paying a lot for meat, I don't know, anyway, I'm thinking of ordering again next week, I'll update my review if it the meat doesn't turn out to be as good.

Submitted By Laurie Holmes on 03/15/2019

Great service, ok prices, the meat is real tender and they do an awesome job aging it so it has that restaurant flavor. I just think that the packs should be smaller, so I could order different cuts without getting too much meat.

Submitted By Nick on 12/07/2019

The ads were so inviting , so I tried a gift package myself before I gifted others this holiday season. Good think I did. The meat was flavorless and very small portion. I get much better quality at the local butcher. One star rating is too kind.

Submitted By Missy thornsberry on 12/03/2019

So I just called to place an order. I wanted to purchase 3 packages for gifts for my 3 children. I was told I could only order 2. That to me is absurd. You have missed out on a sale!

Submitted By JD East on 10/17/2019

I will never again order from them strictly on the basis that they use styrofoam. To be a mail order business, it is incredibly irresponsible to operate in this manner. Other temperature sensitive mail order businesses have stopped using this awful product.

Submitted By paige A Kenausis on 09/25/2019

Hugely disappointing. I loved Omaha Steaks and did not mind paying for them- up until a year ago. We invested in half of a cow- all beef, no chicken, no potatoes, no cobbler- just meat. We got 95 pounds for about $1200 which was not unreasonable for good beef. What we got was. . . meh, at best. Ultimately the meat was comparable to that of a middling grocery chain on a bad day. Maybe what Omaha Steaks used to sell is now what is labeled "prime reserve." Some of the burgers were pretty tasty (the brisket burgers), but very little else was worth even half of what I paid for it. Do not fall for the marketing, so-called deals or hype- just go to a butcher and support the local economy. Omaha Steaks is a marketing machine, and I am kicking myself for falling for it.
Winner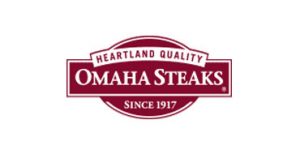 For over 100 years, Omaha Steaks has been one of the most popular and trusted meat delivery services in North America. Join us as we browse the shelves of its online store and discover what kind of meaty delights, decadent treats, and fine wines are included in its offer and how much they all cost in this thorough Omaha Steaks review.