Are you excited for 2023? It's that time of the year again and we thought it was a good idea to find and organize best Meal Delivery Coupons and Deals just for you. Save money, find special time-limited deals and get season specific menus! So, without further ado, let's get straight to the deals and see what's on offer this year!
1. Home Chef – $90 off your first three orders!
It doesn't matter if you choose Fresh & Easy, Oven-Ready or 15-Minute-Kits, this special Home Chef deal is valid! All you have to do is select the meals you would like, adding filters like Calorie-Conscious or Carb-Conscious. You choose from over 30 meals and 18 Extras. And just so you know, this week Home Chef just got a new chef, none other than Rachael Ray. So, if you're looking for delicious and now affordable meal delivery option, Home Chef is a perfect choice.
2. Factor – Enjoy 60% off your first box and 20% OFF the next 4 boxes!
If you're looking for something new and exciting we recommend you check out Factor meal delivery. Offering fresh, ready-made meals delivered to your doorstep, this company is quickly becoming one of the most popular meal delivery services in the US. They take real pride in their never-frozen meals crafted by chefs and designed by registered dietitians. Top 10 Meal Delivery Services and Factor are offering you 60% off your first box and 20% off your next four boxes. This means you can save whopping $277!
3. Freshly – Get $100 off your first four boxes!
Offering gluten-free, dairy-free, plant-based, carb-smart, and calorie-conscious meal options, Freshly is one of the most versatile meal delivery companies in the US. You can easily read the calorie count for each and every meal along with other important nutritional information. And some of these nutritional facts can blow your mind. For example, did you know that 3 Grilled Chicken Breasts (9.75 oz) contain just 165 calories while Roasted Tomato & Parmesan Risotto is almost 500 calories? Both of these meals, however, you will agree sound very tasty. Freshly offers $25 off each of your first four boxes ($100 off).
4. Dinnerly – 60% off your first, 20% off the second and third orders.
Even without this time-limited offer, Dinnerly is one of the most balanced and affordable meal deliveries in the US. Dinnerly meals cost just $5 but with our special offer, they can set you back just $2 per meal. You will get 60% off your first order and 20% off your second and third. With over 45 meals to choose from each week, you will find it very difficult to resist the call of this depandable meal delivery company. On top of that, your subscription is not a subscription at all as you can pause, skip or change your orders with just a click of a button.
5. Marley Spoon – 50% off your first box, 20% off the next four!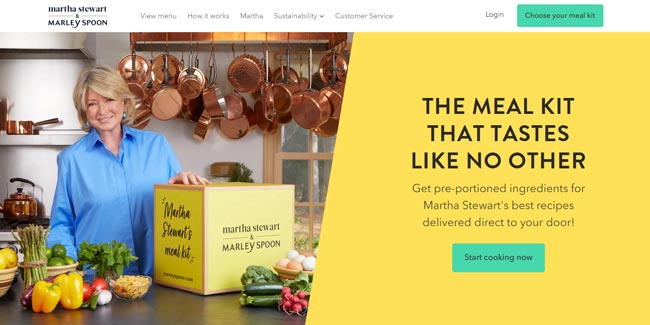 Marley Spoon enables you to get pre-portioned ingredients for Martha Stewart's best recipes delivered direct to your door! You can make Sirloin Steak au Poivre or just go for one of the EasyPrep meals like Seared Chicken & Lemon Butter Orzo. In just six steps and in less than 30 minutes you will have a delicious meal on your table. A meal that you prepared all by yourself! Marley Spoon is perfect for those who have busy lives or are looking for something different in their diet. Their flexible subscription allows you to edit, pause, or cancel your boxes at any time.