The summer is finally here and with it come the best Meal Delivery coupons and deals. We're usually much busier in the months ahead of us so now is the right time to try something new. Or continue using all the help you can get when it comes to the food you eat. We usually talk about how Meal Delivery services make our life easier but this time we wanted to focus on the quality of the food. In the pursuit of profits, companies are willing to exploit those who don't have a lot of choices when it comes to the question of food. Unless you're willing to pay a lot of money, the quality of the food you're eating is probably going to be low.
This is where the Meal Delivery services come in as they provide high-quality meals at low prices. And, most importantly, these meals are delivered to your home. They're able to do this because of their business model and a huge number of customers. And if you're willing to pay just a little bit extra, you're going to be having restaurant-quality meals in the comfort of your home. We're here to help you find and use only the best meal delivery coupons and deals. And here's our selection for the month of June 2023.
Get 18 Free Meals with Home Chef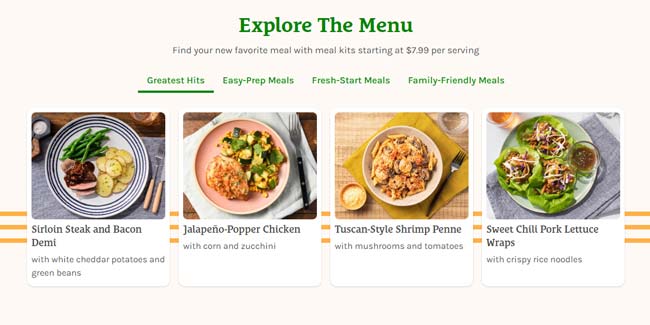 Type of meals:  Healthy, Fresh
Type of preparation: Pre-portioned ingredients
Price per serving: $5.20
Home Chef is currently the most popular meal delivery service in the United States. And for a good reason as they deliver boxes full of pre-portioned ingredients directly to your door. The meals can be ready in under 30 minutes, depending on what type of meals you select. If you're not sure what you want or what would be best, just go for their convenient Greatest Hits menu. On this special menu, you'll find best-selling meals that millions of people have tried before you. And loved! And if you're looking for something a bit different, just go for their Easy-Prep, Fresh-Start, or Family-Friendly meal options.
This time, we have a special offer for all our Top 10 Meal Delivery Services visitors. You will be getting 18 meals for free! Yes, you read that right, with this special discount you will be getting 50% off your first four boxes. This means that you can try this new way of living (and we're not kidding that it's a new way of living), risk-free. And remember, you can always pause, skip or cancel your subscription without any additional costs or penalties. If you want to know more about this awesome meal delivery company, you can read our Home Chef review.
Free Grill Master Apron, 8 Steak Burger plus signature Steak Seasoning with Chicago Grill Company
Type of meals: Meat Delivery Subscription
Type of preparation: You get high-quality meat
Price per serving: $5.60
We have a special surprise for all of our carnivores out there with this exclusive offer from Chicago Grill Company. They offer superior-quality Steaks, Seafood, Burgers, Meats, Desserts, Sites, Assortments, and on top of it all, gifts for all occasions. Because who doesn't like a good steak? And the steaks and other types of meat you can buy here, you can't get anywhere else. Sure, you can get them at those pricey restaurants but do they deliver to your home? You can read our Chicago Grill Company review to find out more about them but we will tell you just one thing about them. A fact that says a lot about the quality and tradition. Chicago Grill Company was founded in 1865.
We think that's all you need to know about them and the quality of their service. So, if you want to try something new, here's a great offer. You will get four free shippings, Free Grill Master Apron, 8 Steak Burger plus signature Steak Seasoning all in one go! Yes, you will get this on top of your order with Chicago Steak Company. And you can order anything you want from their huge menu. We recommend you try their Chicago Steak Sampler that's currently on sale and costs just $229.95 instead of $439.99.
Enjoy $110 off across 5 orders with Blue Apron
Type of meals: Healthy
Type of preparation: You get pre-portioned ingredients, meals ready in 30 minutes
Price per serving: $4.80
If you're looking for top-quality meals, Blue Apron is the perfect choice. They're one of the first companies that started the meal delivery boom decades ago and they're still going strong. After all, did you know that they've shipped 465+ million meals over that period? Those are some impressive numbers. Speaking of numbers, we also must tell you that 80% of their ingredients come directly from producers. This means you'll be getting not only the freshest ingredients but also the healthiest ones. There are more than 70 meals you can choose from each week so even the pickiest of eaters will love Blue Apron.
So, when it comes to the best meal delivery coupons and deals, here's probably the best one: You will get $110 off your first five orders with Blue Apron! And remember, you can easily skip, pause or cancel this subscription. Finally, Blue Apron is also a Carbon Neutral company offering huge discounts to those among us who serve our society the best. So, Military, Veterans, Students, Teachers, Seniors, Medical Staff, and First Responders will get separate, huge discounts. We support this initiative and call on other companies to do the same.