Now it's more important than ever to stay at home and be healthy and like every year, Top 10 Meal Delivery Services has prepared for you a holiday feast of deals. We will be listing all the best Black Friday Food Deals we can find here just for you. From meal to meat and veggie delivery, we got you covered. Your only task is to choose what option suits you best.
Check out these exclusive deals featuring amazing discounts and delicious and healthy meal options. Some of these offers are valid only for a few days so be sure to grab them while they're active.
Take a look at the most current list of Black Friday Food Deals:
Exclusive deal: Save $110 with Home Chef
Offer: Get $110 off your first five orders!
You will not find this offer anywhere, just click on the link below and wait a few seconds. A new window will inform you that you can save an amazing $110 if you decide to try Home Chef meals. With a wide variety of meal plans and affordable prices, Home Chef can really change your life and eating habits.
Get 25% off BistroMD
Offer: Get 25% Off + Free Shipping on Your First Week
For this Black Friday, BistroMD offers a special discount that will set you on a journey of self-discovery and healthy eating habits. Your job is only to select between Standard, Gluten-free, Heart Healthy, Diabetic and Menopause meal plans. You will save an amazing $67.44 and pay just $142.46 for a full BistroMD program. That's 7 Breakfasts, 7 Lunches, 6 Dinners + My Night*!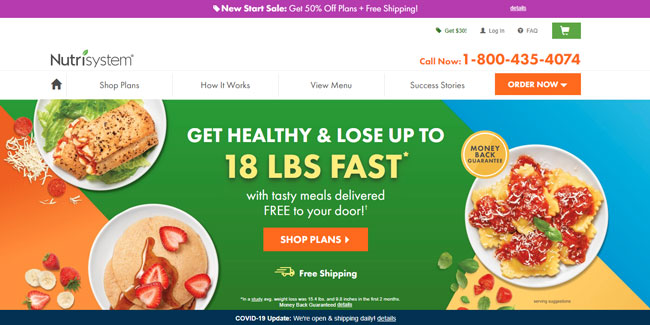 Get 50% off Nutrisystem plans now
Offer: Pay for two months now and get 50% off on both shipments + free shipping
Losing weight and eating healthy is not easy and this is why Nutrisystem is here to help you. They've been in the business of weight-loss and healthy foods for over forty years and this Black Friday they have a special offer. Not only will you get 50% off for two months but also after your second shipment, you'll continue to receive 50% OFF the full retail price for all consecutive 4-week plan shipments.
Get 18 EveryPlate meals for only $3.99 each
Offer: Save $38.99 with this special offer and get meals for just $3.99
Known as one of the most affordable meal delivery services in the country, EveryPlate offers premium quality meals at low prices. Perfect for couples and families, you can choose from 2-person to 4-person plan and how many meals per week you want and you're set. You'll enjoy healthy and delicious meals for just $3.99 if you choose this EveryPlate Black Friday deal.
Save 50% on South Beach Diet
Offer: Get 40% off every shipment and free shipping
Join the diet revolution and learn why South Beach Diet is so effective and easy. With this special offer, you'll not only get 40% off and free shipping but you'll also get five free shakes with probiotics and MCT oil to help support your immunity. Get tasty, healthy and fully-prepared meals and snacks delivered to your doorstep now!
Get a free turkey from Butcher Box
Offer: Sign up today and get a 10–14 lb turkey free in your first box!
If you like meat you've come to the right place because Butcher Box, your friendly neighborhood butcher, has a special offer just for you. You will get a pretty large, 10-14 lb turkey with your first order for free if you decide to join Butcher Box. Just choose what kind of meat you like and wait for the shipment to arrive.
Save $80 on Factor meals
Offer: Get $80 off your first two weeks of FACTOR with code BLACKFRIDAY80
If you're looking for big savings, look no further than this special Factor deal. Just use code BLACKFRIDAY80 and get $80 off your order. It's as simple as that. You will get chef-prepared and healthy meals delivered to your house in no time. Just heat them up and you're ready to go without making a mess in the kitchen.
Save $15 with Wild Alaskan Company
Offer: Save $15 on your first order of delicious seafood
Now is the perfect time to switch to healthy and fresh seafood and Wild Alaskan Company is the perfect choice. They are offering you $15 off your first order of sustainably sourced and highest-quality fish. Join a huge community of people who already discovered Wild Alaskan Company and chat, exchange recipes and much much more.
Get 14 Free Meals with HelloFresh
Offer: Get $46 off your First, $30 off Second, and $18 Off your Third, Fourth and Fifth Boxes!
You don't have to wait for Black Friday to grab this amazing deal from HelloFresh. Just click on the link below and get $130 off your first four boxes. You can cancel or change your subscription at any time so you don't have to worry about it and just do it. HelloFresh is America's most popular meal kit and it's time you found out why with this special Black Friday Food Deal.
Save $20 with Diet-To-Go
Offer: Get $20 off and free shipping when you sign up
Save time, money and get healthy with Diet-To-Go Black Friday deals! You can choose from several personalized plans and meal options and get $20 off at checkout. Plus you get free shipping. Start eating healthy and losing weight now with Diet-To-Go!
Get $120 with Veestro
Offer: Get $30 off your first four boxes at Veestro.com. Code: WELLNESS
With over 2 million meals served, Veestro is a trusted meal delivery service that has prepared a huge discount for this Black Friday Food Deals. However, our readers don't have to wait and can get $120 off their first four boxes at Veestro right now! Just use code WELLNESS and your discount will be applied. Restaurant quality, chef-prepared meals are waiting for you at Veestro.
Save $90 with Sun Basket
Offer: Get $90 off plus 4 FREE gifts ($60 total value)!
Sun Basket offers quick recipes designed for busy people leaving you free to spend your time however you want. All the while eating fresh, organic and delicious food. Sun Basket offers a special deal where you can get $90 off your order plus get 4 free gifts,. You can skip or cancel the subscription at any time giving you all the control.
Get 25% off Nurture Life
Offer: Save 25% on your first two weeks
Nurture Life is a meal delivery service that specializes in fresh, organic meals for babies, toddlers, and kids of all ages. Designed by a dietitian, they offer a 25% discount on your first two weeks of subscription. Find out why more and more families are choosing Nurture Life and save money while doing so. They also offer meals for adults so the whole family can enjoy in these tasty and healthy meals.