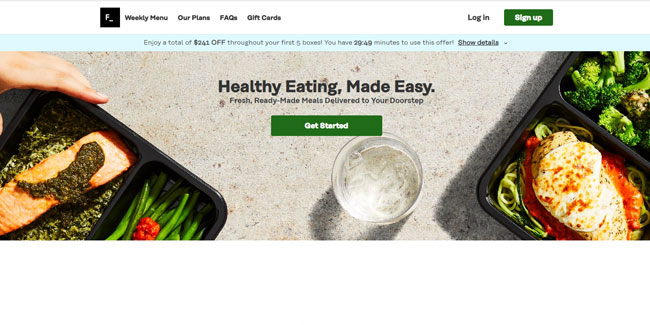 Factor is one of those meal delivery companies that doesn't get the credit it deserves. It offers delicious meals at affordable prices but we think you've heard all of this before. So, this time we're going to do something different. We will list all of the features that make Factor one of the best meal delivery companies.
1. Fresh, ready-prepared meals
Factor delivers fresh, fully-cooked meals right to your doorstep. They're not frozen or flash-frozen and come in a specially insulated box. Once you receive them, just place them in your fridge if you're not planning on eating them right away. They can last up to seven days and you can see the expiration date on the box.
2. Designed by Dietitians and Crafted by Chefs
A team of registered dietitians works with the rest of the staff at Factor to ensure the highest possible quality of the meals. This means they will be healthy, balanced and tasty. Nutritional information is clearly displayed on each box and meal even before you order them, so you can make the best possible selection.
3. Factor offers free Dietitian Consultation
If you have any questions about nutrition or what types of diets would be best for you, Factor's got you covered. You can book a free 20 minute consultation with a registered dietitian and find out what diet would be best for you. Additionally, you can enter their Nutrition Coaching Program that will help you achieve your dietary goals including weight loss.

4. 29+ healthy, restaurant-quality meals each week
Choose between Chef's Choice, Keto, Calorie Smart, Vegan & Veggie, and Protein Plus meal options and select the meals you want. However, you can also switch it up and mix different types of meals any way you like. Additionally, if you use any of the nutrition apps like MyFitnessPal, LoseIt, and Carb Manager, Factor offers native support for them.
5. Flexible Subscription Model
Edit, skip or cancel your subscription at any time! Factor meal delivery offers unprecedented freedom when it comes to your subscription. We're not really sure we can even call it a subscription. You can use your web browser to make these changes although we love their app so much! It's easy to use and it keeps track of everything you need to know about your orders.
6. Pricing
By now you're probably wondering how much this all cost and don't worry we got you covered. Factor is one of the more affordable meal delivery services, especially when you consider all the perks you'll be getting and the sheer quality of the meals. For example, if you choose the 18 meals per week option, one meal will set you back $5.49!
Finally, we have a special offer for all of our Top 10 Meal Delivery Services visitors. Get $241 off your first five Factor boxes! Do something for yourself and your family and try Factor meal delivery, we're sure you won't regret it.