Meat The Butchers VS Omaha Steaks Comparison
Advertiser Disclosure
This website features affiliate links. For purchases made via these links, we earn commissions that allow us to keep producing helpful content. To find out more
click here
.
Close
Meat The Butchers and Omaha Steaks are both hugely popular meat delivery services that go out of their way to keep their customers happy. However, they are designed with different carnivorous appetites and preferences in mind. To help you identify the strengths and weaknesses of both services and decide which one of them you should opt for, we have designed this convenient Meat The Butchers VS Omaha Steaks comparison.

Premium Steaks, Desserts, Wines & More
VS

Premium Meats For Epicurious Carnivores
Highlights

For over a century, Omaha Steaks has been providing hand-cut, natural meat of superior flavor. Shop at your leisure and enjoy juicy steaks, burgers, charcuterie, healthy seafood, gourmet meals, sides, appetizers, desserts, fine wine, and more.
Shipping Cost:

$17.99

*

Delivery Area:

all 50 US states plus Canada, Puerto Rico, and the US Virgin Islands
*
Continental US: standard shipping costs $17.99 - $21.99 (depending on order value), additional $39.99 for Hawaii and Alaska, additional $39 for Puerto Rico, additional $42.99 for Canada, additional $125 for US Virgin Islands

Meat The Butchers is a reliable supplier of fresh and natural beef, pork, lamb, and poultry. It only offers the highest-grade meats, its rich offer includes sushi-grade seafood, and its ordering system is perfectly flexible.
Shipping Cost:

$0

*

Delivery Area:

50 states
*
for orders over $75 to $350
Compare Features

Best For
Best for carnivores who want to enjoy a fine dining experience at home
Meat Selection
At Omaha Steaks, you can get high-quality beef, bison, veal, pork, lamb, and poultry. You can opt for steaks, roasts, ribs, gourmet burgers, franks, brats, bacon, ham, BBQ items, and much more. However, the company does not sell animal products like organs and fats.
Meat Quality
Omaha Steaks provides both premium and budget cuts. Its offer includes high-quality products like grass-fed, dry-aged, and Wagyu beef. All the meat is naturally raised and free from harmful artificial substances. Every meat product is hand-cut by the company's in-house buchers.
Other Products
Omaha Steaks does not only deliver meat but also brings you fresh-frozen seafood, prepared and ready-to-cook meals, sides, appetizers, desserts, and wine. Meal options include gluten-free, ketogenic, Paleo, and low-sodium.
Sourcing Practices
Since Omaha Steaks ships over 14 million pounds of beef alone every year, it sources its products from farms all across the country. However, it focuses on meat that is naturally grown and naturally aged. Its offer primarily includes grain-fed meat, but you can also opt for grass-fed beef. All the seafood is responsibly sourced from oceans worldwide.
Flexibility
With Omaha Steaks, there are no subscriptions, you can shop as often as you wish and order as much food as you need, with no minimum order.
Refunds
All the items you receive from Omaha Steaks come with a 100% satisfaction guarantee. If you are not happy with your order, reach out to customer service and request a refund or a replacement, whichever suits you better.
Shipping Costs
Omaha Steaks charges $17.99 - $21.99 for shipping within the continental US. The costs depend on the value of your order. Additional fees apply to shipments to Hawaii and Alaska ($39.99 per delivery), Puerto Rico ($39 per delivery), Canada ($42.99 per delivery), and the US Virgin Islands ($125 per delivery).
Delivery Area
Omaha Steaks ships to all 50 US states, Canada, Puerto Rico, and the US Virgin Islands.

Best For
Best for fans of dry-aged beef
Meat Selection
Meat The Butchers offers over 70 different cuts at all times, including USDA Prime, Wagyu beef, and beef that is naturally dry-aged for 28 days, as well as all-natural chicken, quail, turkey, pork, and lamb.
Meat Quality
Meat The Butchers exclusively offers Upper Choice and Prime grade meats, thus ensuring that the meat that reaches your home is always of premium quality.
Other Products
In addition to premium meats, Meat The Butchers provides fresh seafood and pantry items like glazes and marinades.
Sourcing Practices
Meat The Butchers sources meat from family-owned farms and ranches that employ humane raising practices and adhere to high standards of sustainability. Its poultry is free-range and its red meat is corn-fed and grass-fed, never grain-fed.
Flexibility
Meat The Butchers allows you to shop commitment-free, with no minimum order. Its flexible meat subscriptions are currently unavailable.
Refunds
If you have an issue with your order, you can reach out to Meat The Butchers customer service via email or phone. Refunds are not guaranteed.
Shipping Costs
Meat The Butchers offers free shipping on larger orders. The free shipping threshold ranges from $75 to $350 and depends on location.
Delivery Area
Meat The Butchers ships throughout the continental US.
Meat Types

Beef
Pork
Lamb
Chicken
Turkey
Duck
Quail
Elk
Venison
Bison
Rabbit
Charcuterie
Organs
Bones
Fat

Beef
Pork
Lamb
Chicken
Turkey
Duck
Quail
Elk
Venison
Bison
Rabbit
Charcuterie
Organs
Bones
Fat
Compare Customer Reviews

Submitted By Barry Marton on 05/23/2019

While Omaha Steaks are as good as mentioned in the reviews in here, the one thing not mentioned is the return policies regarding future orders. I have ordered several times from Omaha Steaks. My orders included many different items that I was encouraged to try. Most were good. Some were not. I called to complain about the items that were not satisfactory to us and s promised, my money was refunded. What they did not tell me was that I was cut off from ordering any more from their company. They cancelled my last order and did not bother to notify me of the reason why. Their reason was because I complained about too many of their products. I found this out when I called to find out what had happened to my last order. So Omaha Steaks will continue to do business with you, as long as you do not complain about their products.

Submitted By Fernando Adams on 02/27/2019

Nearly forgot meat can taste this good. Just one complaint. Not sure how they set the prices but some cheap cuts should be cheaper and some expensive cuts that cost a fortune at the store are pretty affordable. Doesn't make much sense, so you need to be careful not to overpay for the cheap stuff.

Submitted By Maya Jones on 01/24/2019

About a year ago, I noticed we've started to eat meat less and less often, not because we don't love it but because it's no good. Chewy, no flavor, even with the expensive cuts. I decided to do some research and that's how we stumbled upon Omaha Steaks. I loved that they have been around for so long so we gave them a shot. Real glad we did cause the steaks are worth every dime. Haven't tried the meals yet but I'm guessing they're awesome too, it's the same meat, so maybe we'll try them soon.

Submitted By Tom Stein on 02/14/2018

Real meat, fresh, perfectly marbled. If you know your meat, you can taste the difference right away, this is the real stuff, not the crap they sell at the stores. My warmest recommendation.

Submitted By Anna Baylor on 09/22/2017

I saw the gorgeous MTB tenderloin on Facebook and just had to buy it for my hubby's birthday. It was out of this world, but the prices are really high, so waiting for our anniversary to shop again :D
Winner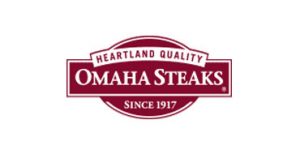 For over 100 years, Omaha Steaks has been one of the most popular and trusted meat delivery services in North America. Join us as we browse the shelves of its online store and discover what kind of meaty delights, decadent treats, and fine wines are included in its offer and how much they all cost in this thorough Omaha Steaks review.